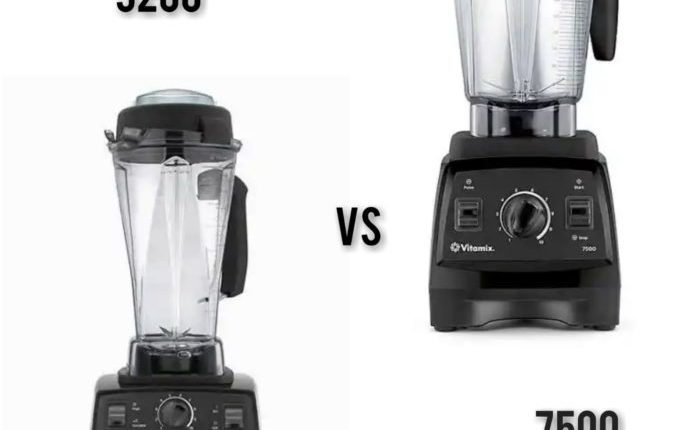 Vitamix 5200 vs 7500 comparisons: which one heat soup better?
Oftentimes, i come across various Vitamix models while making reviews. However, there are two among the models that caught my attention of which i decided making findings on it, which is the Viramix 5200 and 7500.
As requested by friends and families who loves Vitamix product and are considering which one is better between the 5200 and 7500 Vitamix models, I decided to make a review about it, which I called the Vitamix 5200 vs 7500 challenge.
Before going into a deep review about the 5200 and 7500 models, I would like to remind you that sometimes earlier, I analyzed the Vitamix 5200 and 5300 Classic Series blender to see which is best and worth the money.
Related Stories featured on Reviewmast 👇
Although, It happens that both blenders (5200 & 7500) did so wonderful in terms of features and functionality, and out of the box just like the Vitamix 5200 vs 5300. But the question is: What is the difference between the Vitamix 5200 and 7500? Which one is worth it?
Based on our findings, we discovered that there is a noticeable difference between the two blender models. One is taller and skinny(5200), while the other is more powerful(7500).
Let's take a review to see the complete difference between the two Vitamix blenders, and also know if they are worth the price tag they are been sold at.
Note: you can also go through our complete review of the Vitamix E320 Explorian Blender.
What is it about Vitamix 5200 vs 7500 blender?
Although like earlier mentioned above, the most noticeable difference between the two models is the appearance. While the overall design of Vitamix 5200 is tall and skinny, the Vitamix 7500 appears to have slightly more power behind it. In a bid to make the choice from which to buy among both blenders, I'll make an individual review of each.
Also, at the end of our review, we will be able to highlight the major differences between the Vitamix 5200 blender and the Vitamix 7500 blender, plus there capabilities.
Vitamix 5200 blender – Quick reviews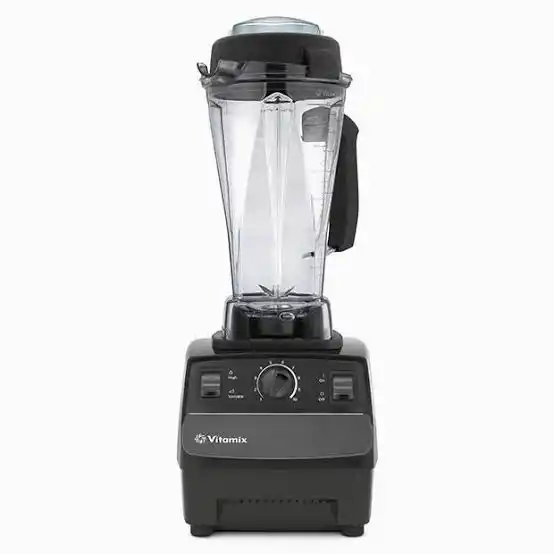 As it is well known, that Vitamix makes one of the best blenders in the market. And have gotten noticeable for been one of the best blender producing company. The features, performance, and power of their products make them equally suited for your home or a professional kitchen.
The Vitamix 5200 series blender is designed featuring Radial cooling fan and thermal protection system, 11.5 Amps and HP- 2-peak motor base, and the 64-ounce container which is ideal for blending medium to large batches. A 30-60secs Self-Cleaning mechanism.
More to that, it also comes with a Variable Speed Control: Easily adjust speed to achieve a variety of textures. And a pulse control for easy control of your blending process. Hardened(aircraft-grade) stainless steel blades that are designed to handle tough ingredients, and speeds fast enough to create friction heat for making soup, plus a 7- year full warranty. Is Vitamix 5200 worth it?
Note: Unlike the Vitamix 7500 with a Low-Profile Container, the Vitamix 5200 blenders as a Self-Cleaning BPA-free Classic Tall 64-oz container and it's of the C-Series platform.
Vitamix 7500 blender – Quick reviews
The Costco Vitamix 7500 which was first and officially release in July 2014, is a Professional-Grade powerful household blending machine, with a BPA-free 64-ounce. Low-Profile Container, dual- 20oz Copolyester container, 32oz Dry Grains Container, 4 inches laser-cut stainless steel blades, Radial cooling fan and thermal protection system, and a 2.2-peak hp motor.
The Vitamix 7500 features a 64-ounce Low-Profile Container, perfect for making family meals and entertaining while fitting under most kitchen cabinets. Also, a 10 variable speeds control button, for refining every texture with culinary precision. A hardened stainless steel blade for yielding quality result even when blending the toughest ingredients, and a pulse button to make desired to blend such as salsa or thick soup.
In addition to that, it comes with a 6 feet power cord, and a 30-60secs self-cleansing mechanism, a Getting Started Guide, Cookbook, Low-Profile Tamper, and a 7-Year Full Warranty. But Is the Vitamix 7500 worth it?
Note: Unlike the Vitamix 5200 blenders, Vitamix 7500 blender comes with a NextGen Stout (64 oz.) pitcher and it's of the G-Series platform.
Difference between Vitamix 5200 and 7500
It's no doubt that a new generation of gadget, is expected to bring in a new/additional set of features and upgrades. In the case of the Vitamix 5200 vs 7500 series blender, they ain't exempted. Let's see the difference.
The 5200 has a 2.0 HP motor, whereby the 7500 boasts of a 2.2 HP motor. The motor power of the later is higher, which means more performance. (Winner 7500).
While the 5200 has no pulse control; the Vitamix 7500 has a pulse control option, which means more control over how you want your ingredients blended. (Winner 7500).
The 5200 has a toggle for high speed only; while the 7500 doesn't have it, which means a turndown. (Winner 5200).
The 5200's pitcher is taller at 20.5 inches and more slender than the 7500 pitchers of 17.25. The Vitamix 7500 gain winner for it portableness, yet powerful.
The blades of the Vitamix 7500 are an inch larger in diameter than the 5200. (Winner 7500).
Colour options for both Vitamix blenders vary, the 5200 has two more additional options above 7500. Which means more choices of colour. (Winner 5200).
Overall dimensions of the 5200 are taller and skinnier. While the 7500 is robust but with the lower pitcher, Which means more advantage for those with almost little kitchen space (Winner 7500).
Vitamix added fan cooling and noise dampening feature to the 7500 that is not on the 5200. Noise dampening mechanism means less noise while blending. (Winner 7500).
The 7500 blenders are built on the Next Gen-Series platform, while the 5200 is built on the C-Series platform.
Vitamix 5200 blender weight 10.56 pounds, while the 7500 weigh 13 pounds. (Winner 7500).
Having seen the difference between the Vitamix 5200 vs 7500 blenders, we could see clearly that they are different in features, but that necessarily doesn't mean that there isn't nearness between them. so what are the similarities? Let's get down to the Vitamix 5200 and 7500 similarities.
Similarities between Vitamix 7500 and 5200
The Vitamix™ does stand by there slogan "if it ain't broke, don't fix it" mentality, and this has made there product outstanding and has worked for years. The similarity is that:
They each come with the standard Vitamix seven-year manufacturer warranty.
The pitchers capacity of both blenders remains the same at 64 ounces.
Both blenders have a six-feet power cord
The pitchers are BPA free and shatterproof.
There are ten-speed settings on each model.
The blades are blunt, laser-cut stainless steel for both 5200 and 7500 blenders.
Both blenders come with a plunger to push your ingredients down towards the blades without the need to pulse.
Comparison Chart for vitamix 5200, 7500 – Recap
Having compare Vitamix 5200 and 7500, and discovered there differences and similarities, lets quickly make a side by side recap of the blender.
| | | |
| --- | --- | --- |
| Features  | Vitamix 5200 | Vitamix 7500 |
| Motor base. | 2.0 peak Horsepower | 2.2 Peak Horsepower. |
| Dimensions/Height | 17.5 x 7.7 x 9.4 inches | 17.5 x 7.7 x 9.4 inches. |
| High-Speed Toggle? | Yes. | No. |
| Warranty? | Yes, 7- Years. | Yes, 7-Years. |
| Pulse Toggle | No | Yes. |
| Available Colour option | Red, Black, White, + Brushed Stainless, & Platinum. | Red, Black, White. |
| Power voltage? | Yes, 120 volts | Yes, 120 Volts. |
| Pitcher/ Container (capacity) | Classic Tall (64 oz.). | Next-Gen Stout (64 oz.). |
| Blade Width | 3 inches width | 4 inches width |
| Motor Cooling type | Ambient airflow | Fan assassinated  |
| Power Cord | 6 – feets | 6 – feets |
| BPA Free? | Yes | Yes |
| Plunger | Yes | Yes |
| Dial Speed Settings | 10-speed accessibility | 10-speed accessibility |
| Material | Platinum plastic | Platinum plastic |
| Price value? | Check the current price on Amazon | Check the current price on Amazon |
Vitamix 5200 vs 7500 features
Comparing Vitamix 5200 vs 7500 features in detail
So far so good, we made an in-depth review of the 2 series blenders, and they both are doing wonderful in terms of features. But let's take a review of there core features and why they matter a lot. Starting with the motor
1. Motor
Base on our findings and analysis, we discovered that the Vitamix 5200 motor has been used for the past decades. Though there is nothing wrong with it. The peak 2.0 horsepower motor could still chop through anything and blend your ingredients just fine.
One issue found for the 5200 Classic Series blender was that the motor would heat up when active for a longer time, and sometimes when crushing lots of dry ingredients, it would bind for a few seconds. That's is why Vitamix decided to see to it and so new, thus introducing the NextGen Series Blender
Beginning with the G-Series blender they introduced the new generation motors. They increased the output to 2.2 horsepower, at a 10% improvement and added cooling fans.
The cooling fan makes blender to run longer without any issue. The extra 10% horsepower allows the blades to spin through any type of ingredient, including dry ingredients such as nuts.
Verdict: The 7500 wins. A more powerful motor base and fan assisted cooling is an improvement for the betterment of the lovers of Vitamix.
2. Vitamix Blades
The two Vitamix blender blades are almost identical. They are made from the same hardened stainless steel and are laser cut. They are dull to the touch and could be term the power of the motor that makes the blades chop and blend. "Please refrain from touching while blending. Thanks".
The only difference in the blades is the size. In the earlier version, (5200 model), the blades are three inches wide and sit at a very slightly higher angle. This being due to the room allowed by the smaller pitcher.
However, In the 7500 blenders, there is more room in the pitcher and the blades added an inch more making it four inches. The 4-inch blades also sit/slightly lower than its 5200 counterparts. But there is simply no difference in operation or performance.
Verdict: This is a tie. Even though the 7500 blades are larger, they do the same job.
3. Warranty
What does it look like having bought a gadget without a warranty? We all certainly need a warranty for every gadget been own. The Vitamix manufacturers never doubted there quality products, no wonder they were so confident issuing a 7- year full warranty for most of there product.
In the case of the Vitamix 5200 and 7500, While making our findings we discovered that both blenders have a 7-year company warranty.
Verdict: Both 5200 and 7500 came with a complete seven(7) Years Vitamix blender warranty.
4. Control
The two Vitamix blender control knobs and toggles aint much different information, they both have on the right a toggle, and on the middle a dial, yet another toggle at the left.
However, on the 5200 c-series model, the right toggle performs dual functionality, which is On/Off switch. This switch is meant to supply power from the electrical cord to the motor. In the middle is a ten position turn dial that will enable you to adjust the speed of the motor to your preferences.
The spring toggle only stays in the "up" position for as long as you hold it. Thus overriding the speed dial and puts the motor into high speed automatically.
On the other hand, The 7500 is slightly different for its pulses function. Adjusting the blender major complaints by customers about the 5200 series. Reason bee that Pulsing often occurs in a recipe that needs a blend of a good puree while adding chunky pieces as well.
A good example of a recipe that needs the use of a pulse function is Salsa. You can add the salsa and blend it up, then add the onion and peppers to pulse them to a smaller chunk as desired.
The request for the removal of the high-speed variable toggle was granted, thus and replacing it with a pulse toggle feature. Like the high-speed toggle, the pulse is also spiring-loaded single position switch.
Verdict: The 7500 wins. Pulse is going to be more useful to users than high speed.
5. Pitcher/Container
If you've ever taken your time to look at the two Vitamix blender container, it's quite clear that first things you will notice right away about both blenders are the difference in a pitcher. The 5200 has a tall, yet slender pitcher that when mounted on the base attached with the lid on, it will measure a whopping sum of 20.5 inches tall.
This was one of the major complaints from the purchaser of the 5200 model. Why? Because storage was a problem and they find it difficult to store the blender on the counter or under the cabinets easily.
In the 7500 model, as well as all other G-Series version as a whole, Vitamix introduced a newer pitcher. Although the same BPA free and shatterproof plastic, but in a more stout appearance. And It is wider by just an inch and shorter by three inches compared to the 5200 model.
When assembled the 7500 dimension stands at 17.25 inches tall. This height difference has sorted out most of the user complaints and feature request about the 5200 pitchers improvement.
Verdict: The 7500 wins. Vitamix does listen and take action. The smaller pitcher is perfect for under-cabinet storages.
6. Tamper
As it's well known that almost every Vitamix blender comes with a tamper, for easy processing of though and thick ingredients without having to stop the machine whenever you want to scrape the sides. Vitamix 5200 Blender Professional-Grade comes with a special design tamper for easy achievement of your blending. Likewise, the 7500 blenders also came with a tamper.
Verdict: Tie, because both blender have a tamper for easy and fast scrapping of ya ingredients inside the blender.
Conclusion: which is better (vitamix 5200 or 7500)
As you can see, Vitamix is at the top of the blender game for a reason been that they make high-quality products. The 5200 and 7500 models are just an exemplary in a long line of quality blenders. But which one is right for you?
Well, the answer would likely vary base on many factors. If you have higher cabinets or a spot to store a taller blender, and also do not plan on running the blender for more than a couple of minutes (to avoid heating), want more colour choices while saving a little bit of money, then the 5200 might likely be the right choice for you.
If you aint concerned about a wider and shorter pitcher but want the higher-powered motor to blend less often and also need the use of a pulse option, then Vitamix 7500 should be at the greater option for your need.
While The Vitamix 5200 C-Series is the best selling Vitamix blender of all time. However, with the new G-Series version, I don't think that the 5200 will stay much longer anymore in the top best selling blender. The Vitamix 7500 is a powerful blending machine in everyday use and is also the winner of the Vitamix 5200 vs 7500 battle line.
With our clear difference between the Vitamix 5200 and 7500 blenders, This indeed looks to be the best time to act according to your reason being here. So why don't you place an order right away for your chosen blender, rather than waiting for another day? As always, we look forward to having you again and wishing you happy shopping.
You may also be interested in the best Vitamix blenders for making smoothies and Juice.