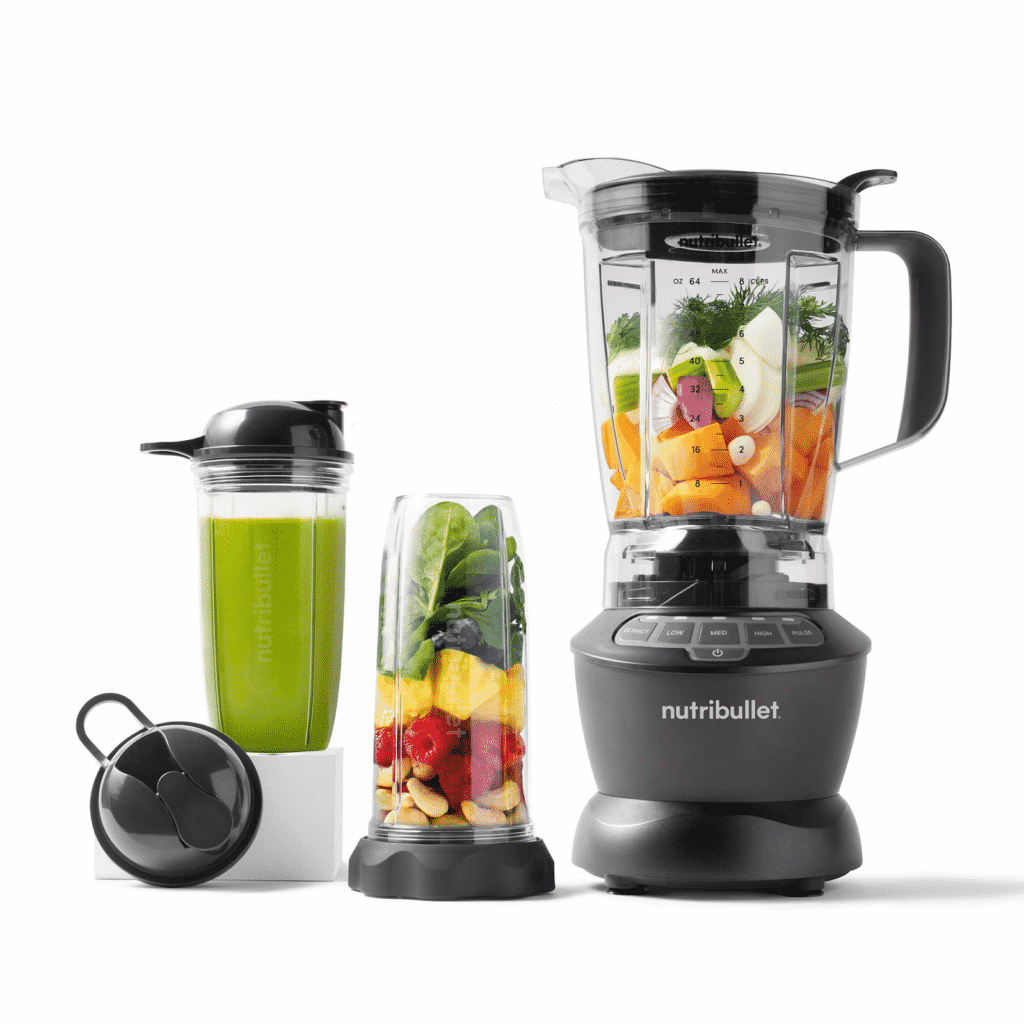 The 7 Best Blenders for nut milk Making [updated 2023]
Have you been looking to get the best blender for making nut milk? There's no doubt about it!  Homemade nut milk tastes so much better than packaged milk or the one bought from the supermarket.  You can control exactly how much sugar and calories you want. 
If you want to make silky-smooth nut milk, you will need a good blender. Food processors can be used to make nut milk and butter, but the results won't be quite as good and smooth as a blender.
If you want to try out some delicious homemade nut milk, then you may want to read through this article that is focused on the best blenders for making nut milk.
Related Stories featured on Reviewmast 👇
Although there are various types of blenders available in the market today, Each of these types of blenders has its pros and cons. In this article, we will discuss the top best blenders for making nut & almond milk. But before that, you may want to consider what makes a blender a choice for blending nuts.
What makes a good blender for nut? 
The best blenders for nut milk combine a strong motor with a thought-through blade design. The more powerful the motor is, the better the result you get. In my opinion, I would prefer blenders with at least 1,000 watts of blending power. 
If you want to get a smooth result, the best blender to use is a high-speed blender like a Vitamix A3500. 
It is advisable to get a nut milk bag or at least a very fine mesh strainer. No matter how powerful your blender is, there will still be a few small unprocessed chunks left. To begin our recommendations, here are some of the blenders to blend nut milk.
Best Nut Milk Blenders – Top Picks
Overall Best → NutriBullet Blender Combo
Best recommended → Vitamix E310
Best Value for money → Ninja Foodi
Best Budget → Ninja BL610 Professional
Best technology → Vitamix A3500
THE 7 BEST BLENDERS FOR NUT MILK
#1. NutriBullet Blender Combo – Best Blender for Nut Milk.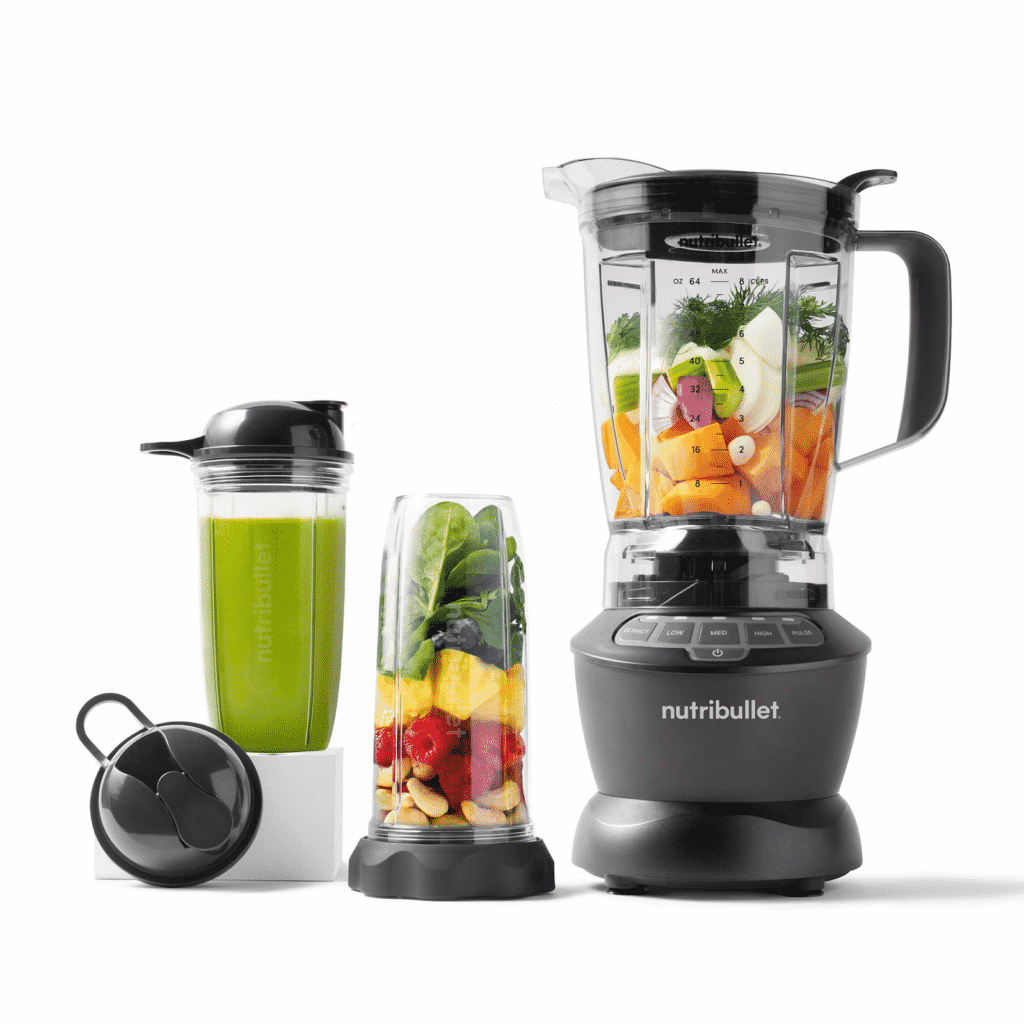 The NutriBullet Blender Combo (or NutriBullet ZNBF30500Z) is NutriBullet's latest generation blender. It's both a single-serve blender and a full-size countertop blender. It comes with a powerful 1,200-watt motor and it is NutriBullet's first blender that comes with a tamper.
The tamper allows you to make perfect nut milk without stopping in between and scraping the sides. This NutriBullet blender comes with a large 64 oz jar, 32 oz and 24 oz cups. The larger jar has the right size for making nut milk for the entire family. The best cup to use when making Nut Milk for one or two persons is the smallest cup. 
Features:
•    It is easy to clean.
•    It is faster to use.
•    Nut milk with the NutriBullet isn't difficult to make at all.
•    It has a handful of buttons, and all buttons are clearly labelled. The 1,200-watt base has more than enough power to make silky-smooth nut milk.
PROs:
The 1,200-watt motor is powerful for a blender in this price range.
Makes perfect silk-smooth nut milk.
It's quieter than most high-speed blenders.
It comes with one large jar, as well two smaller single-serve cups.
It is a 2in1 device; it's both a full-size countertop blender and a personal blender.
The smaller travel cups come with secure lids.
It's the first NutriBullet blender that comes with a tamper.
The pitcher and cups are dishwasher safe.
CONs:
Blades aren't removable hence making it more difficult to clean.
The base is heavy and difficult to move around.
#2. Vitamix E310 – Professional Blender for Nut Milk
Vitamix blenders are used by restaurants and juice bars all over the world. They are durable and powerful. Being an affordable vitamin model does not make it less powerful, It is still very effective than other higher-priced blenders.
Vitamix uses only two different motor sizes in its current models. A 2 horsepower motor and a 2.2 horsepower motor. These motors have more than enough power to make smooth nut milk. The Vitamix E310 has a 2 horsepower motor. There is just a little difference between the 2 horsepower and 2.2 horsepower motor, their blend quality is the same. With a Vitamix, you can make so much more than just nut milk! 
This blender can make chunk-free juices and smoothies, hot soups, fluffy dough, creamy nut butter, frozen desserts, dressings & sauces, baby foods etc.
The Vitamix' motors are so powerful.  They reach speeds fast enough to create friction heat. 
The E310 doesn't come with all the bells and whistles as the expensive models have, It doesn't have Bluetooth, an LCD, or presets. It comes with a classic professional blender design, a pulse function, a 10-speed dial, and an on/off button. It has a 48 oz, low-profile container ( If you want to make large batches, this jar might be too small, you can get bigger containers, but these are somewhat pricey).
On the other side, the low-profile container fits under most cabinets. The size is big enough for most users and is very easy to clean. The E310 is also compatible with smaller smoothie cups.
After you've finished blending, simply add a drop of dish soap and some water, turn the blender on for 30 seconds and let it clean itself. The motor is strong enough to get the jar clean in no time. 
Some Vitamix models come with 7-year or even 10-year warranties, but the E310 come with a 5-year warranty. It is quite okay compared to other brands but it is shorter than some higher-priced Vitamix models. It is assembled in the US and should last for a longer time. 
PROs:
It is the most affordable Vitamix.
It comes with a powerful 2 horsepower motor.
It is an easy-to-use classic Vitamix design.
It had a 48 oz low-profile container which fits under most cabinets.
Its built quality is excellent.
It is assembled in the US and comes with a full 5-year warranty.
CONs:
No fancy functions or presets.
The jar might be too small for larger families.
The E310 is a loud blender.
Read Also: top 5 recommended Vitamix blenders
#3. Ninja Professional BL610 – Budget Pick
The Ninja BL610 Professional comes with a great-looking, sleek design and 1000 watts of blending power. Though not as powerful as a Vitamix, it gets the job done.
It has a large 72 oz jar that can make large batches of nut milk for up to 8 people. 
It comes with "Total Crushing Technology". Six blades are pointing in different directions which lets it crush ice faster than most other blenders. It also blends ingredients super smooth. 
The blade is removable, it allows you to clean the jar more easily. Extra care should be taken when cleaning the blade assembly, the six blades are very sharp.
The jar is made of thin plastic, it is reported that the jar cracks after heavy usage. All Ninja blenders come with a short 1-year limited warranty.
PROs:
•    It is very affordable.
•    It has more power than the regular standard blender.
•    Its Total Crushing Technology turns ice into snow in seconds.
•    Its large 72 oz jar allows the user to make large batches of nut milk.
•    The blade can be removed for easy cleanup.
CONs:
•    The jar cracks and leaks after a while.
•    Smoothies are not as smooth as when using a high blender.
•    It has a lot of plastic, it is not as durable as a Vitamix.
•    It comes with a short 1-year limited warranty.
Read Also: the 7 best Ninja blenders on the market places
#4. Ninja Foodi – Hot & Cold Nut Milk Blender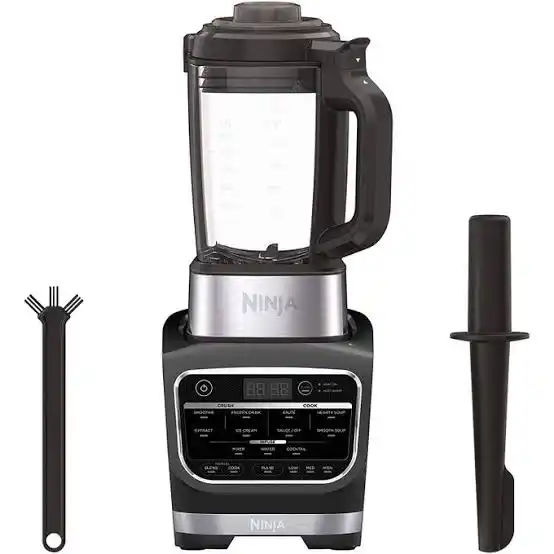 The Ninja Foodi is Ninja's latest generation blender. It is one of the few Ninja blenders that come with a tamper to push down ingredients. It includes a 64 oz glass jar and features a 1400-watt motor. It is much more than just a regular blender! 
It is one of the few (and probably the best) blenders that come with a heating element (it can boil cold ingredients to steaming hot in minutes and also be used to make hot soups, sauces, or even melt chocolate and cheese).
It also comes with a heated cleaning preset (you add some water, push a single button, and the blender will clean itself while you walk away).
It comes with twelve so-called Auto-iQ settings. These twelve automatic programs will do all the work for the user. There is absolutely no guesswork involved. The built-in digital timer will show you the precise blending time at all times.
Sure enough, the 1,400-watt motor has plenty of power. It makes perfect nut milk. 
PROs:
It blends almost as smooth as a Vitamix.
It has a great-looking and responsive touch display.
When compared to other high-speed blenders, it is affordable.
It is one of the few great blenders that come with a glass jar.
Its built-in 800-watt heating element allows the user to cook with it.
12 Auto-iQ settings take out all the guesswork (press one button and walk away).
There's a built-in digital timer that shows the precise blending time left.
The presence of a glass jar won't leach nasty chemicals into your blend.
CONs:
It comes with only a 1-year limited warranty.
The jar cannot be submerged in water because of the heating element present.
Always clean with caution or use the automatic self-cleaning function.
The built-in heating element makes the glass jar heavy.
#5. Nutri Ninja BL480 – Best Personal Blender for Nut Milk
If you're looking for a good personal blender for nut milk, it's worth checking out the Ninja BL480 with Auto-IQ. This single-serve blender has it all! A powerful 1,000-watt motor, durable BPA-free cups, and smart presets.
It comes in two jars, a regular 24 oz cup, and a smaller 18 oz cup. It can liquefy almost everything in just a few seconds. It runs completely hands-free, it is convenient. Just press a single button and walk away while it does the job for you.
The Ninja BL480 has a digital display that shows the user the time left. It is also more powerful than the previous generation Nutri Ninja. It pulverizes everything so thoroughly, that even seeds get liquefied. It is very easy to use. It has only a few buttons and everything is clearly labelled and self-explanatory.
Once the Auto-IQ setting is selected, the Nutri Ninja goes through automatic blending cycles. It'll blend for a while, stop, and starts blending again. It goes on for 60 seconds in the Ultra Blend mode. The Blend mode runs shorter at 30 seconds. 
There is a manual guide that gives full control over the blend.
PROs:
It is one of the most powerful personal blenders.
It comes with two thick, durable cups; a regular 24oz and a smaller 18 oz jar.
It runs 100% hands-free.
It comes with two smart Auto-IQ settings and automated blending cycles.
The size is perfect for travel and smaller kitchens.
The smaller size makes it very easy to clean.
It has a booklet with great smoothie recipes.
CONs:
The 1,000-watt motor is noisy for a small blender.
The warranty is short at only 1 year.
It is not big enough for large families.
#6. Vitamix A3500 Ascent Series Blender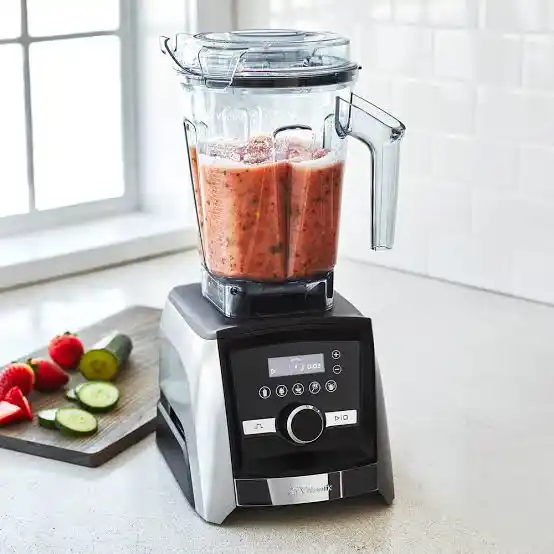 Vitamix A3500 is the best blender made from the premium brand of blender Vitamix. It gives all you could ever want in a blender and even some more. It is quite easy to use. 
Only a few blenders can compete successfully with it in this performance department. The A3500 is made with a polished black finish and a smart panel for easy usage.
Producing nut milk in the A3500 is not stressful at all. You do not have to buy any form of attachment or blade. The container in the box is more than excellent enough for the job.
For very good results, you should take into consideration one of Vitamix's numerous official nut milk recipes. That way, you'll be able to make the perfect nut milk with minimum hassle. The brand offers custom recipes based on your container's size.
The A3500 comes with a powerful motor and extremely durable blades. It's quite easy to clean all thanks to self-cleaning technology. 
The 10-year warranty crowns it all up.  It covers all expenses in case you need it, from shipping to labour. The only con of buying the A3500 is the price. It's a little steep for a blender, but the investment will be worth it in the long run. 
PROs:
World-class in design and performance.
Excels at nut milk – doesn't need a separate attachment.  
CONs:
It's quite a huge  investment to make
#7. Ninja BN701 Professional Plus Blender
The Ninja BN701 is among the most powerful, affordable, and reliable blenders around. If you can't afford a Vitamix blender but still want to own a quality blender, the BN701 is what you require. 
It is composed of an attractive black and grey body. It comes with a 72oz pitcher, excellent for large quantities of food. Its 7 one-touch programs allow you to easíly automate food-making.
Unlike other brands, Ninja BN701 is sold with a "stacked" blade assembly. It moves from the bottom to the top in a spiral-like shape. 
This gives room for the blender to mix up food recipes without having to tamper them to the base. 
 PROs:
An affordable blender
Easy to use and maintain.
CONs:
Struggles with mixing dry foods.
Buyer's Guide – How to Buy the Best Blender for Nut Milk
The following factors should be considered in decidingmilk making blender. 
How durable is the blender 
Hard nuts are usually hard whether soaked or not and can be hard on your blender's motor and blades. Therefore there is the need to look for something that can last long.  
Its blending Power
The torque of your blender is very important. It makes the blender to power through the mixture as it maintains its speed. 
Size of Jar and its capacity 
Nut milk-making blenders with smaller jars are more suitable to use than ones with larger cup sizes. 
Self or ease of cleaning 
Making nut milk can be messy.  The ease with which you can clean your blender should as well be considered when choosing to purchase
Warranty
The longer the warranty, the more likely the blender will remain functional long-term.  
Budget
Before making a purchase, there's a need for you to first decide what you want. Is it an expensive blender or a cheap one? 
Your needs
Do you plan to use a blender only for nut milk? Or do you also need it for smoothies, soups, food processing tasks and lots more? 
Conclusion
In conclusion, the best blender for making nut milk should be one with sturdy power, durable, with a small cup and lots of other qualities. In this regard, we highly recommend that you go with the Vitamix E310.
Although the NutriBullet is the best overall blender for making nut milk. It has a powerful motor that can blend nuts and seeds into creamy smoothies. This blender is great for making nut milk, but it does not work well for making ice cream.
If you are a Brand lover, don't forget to checkout some of the best Ninja blenders or the top most recommended Vitamix models.