10 Best Ninja Blenders [updated 2023] – Top 5 Picks & Reviews
Ninja blender is one of the best blender brands on the market with good reputations attached just like the Vitamix blender with lots of released blenders. However, while they have good blenders, there are still some models below users expectations.
When planning to buy a blender, you will want to buy a good blender that can meet your demand. Such as if you intend to make smoothies and you prefer a ninja blender over another brand, you will want to go for the best ninja for smoothies. Same for protein shakes, or soup.
What is the best ninja blender?
Related Stories featured on Reviewmast 👇
If you are wondering what ninja blender to buy since ninja has got a lot of good blenders. Don't worry, we've done the guesswork for you by making our findings and coming up with the best ninja blenders. Also, we included buyers guide to help you make a proper decision on which food processor is best to buy.
Are Ninja blenders worth it?
Sure, the ninja blenders are worth it. Among the benefits of these models is that they have a very affordable price range, they are built on Cutting-edge blending and nutrition extraction technology, The product range offers a choice for any size kitchen and their Customer service supports is top-notch.
Which is the best Ninja blender to buy?
Generally, there are lots of models to choose from. If you want to buy a blender, we have compared different ninja blenders. So based on our Ninja blender review, we discovered that majority of their models are good but they all have their strengths and weakness.
However, having compared all Ninja blenders, Below are our top picks of which you can make your preferred choice from the available recommended Ninja models.
The Ninja blenders – Top picks
Best Overall: Shark Ninja blender BL660 | this high-performance model has lots of features, but still prices at a good rate, making it ranked the Best overall Ninja blender |
Premium Choice: Ninja blender BL770 | this model is fully packed with lots of features, and a powerful motor. Not only does it serve as a blender, but food processor and juicer. However, it's somehow expensive
Best Value for Money: Ninja blender BL480 | unlike the other blenders this machine is an auto-IQ system for blending, pulsating and pausing with a one-touch button, giving you the value for your money |
Best Budget: Ninja blender NN102 | this blending machine offers you both the automated and manual function, plus a sizable number of features at a budget-friendly rate. |
Best smart: Ninja CT682SP blender & food processor | this Kitchen System features an intelligent and auto-spiralizer function, display screen and powerful motor |
The 10 Best Ninja blender models
1. Ninja BL660 Professional Blender – Best Overall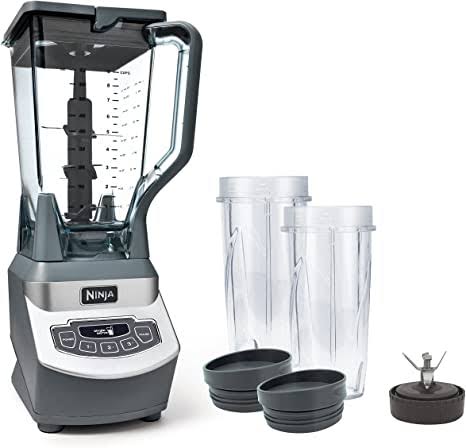 Ninja BL660 professional Countertop blender provides you with an XL 72-oz capacity Blender pitcher to enable you to blend just about anything from frozen fruits to smoothies in other to entertain your family. It also comes with an additional 16 oz Cups with To-Go Lids that makes it easy to make delicious, nutrient-rich juices on the go.
This high powered blender model features an 1100 watts powered motor that provides you with the opportunity to blend, crush and process ingredients, plus 6-Total Crushing blades that are capable of blasting through ice and frozen fruit in seconds. Lastly, All body parts of this ninja blender are BPA free and dishwasher safe.
This Ninja model gives you 3 functions so you can speed up your blending, pulse and also make a single-serve smoothie. If you intend to make smoothies on daily basis, this might not be a perfect one for you, but with the function given compared to the price, we do rate it as the best overall blender.
Read Also: Ninja Foodi Power Blender vs Ninja Professional Plus
2. Ninja BL770 Mega Kitchen System and Blender – Premium Choice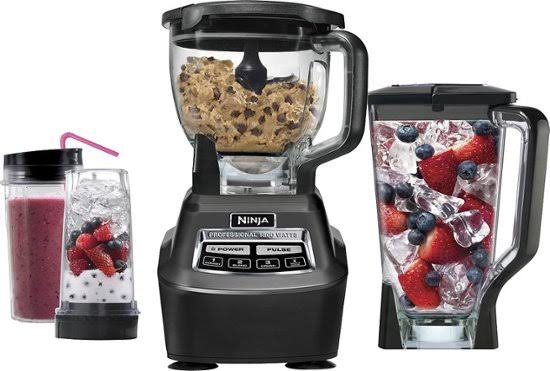 Ninja BL770 model is a Mega Kitchen System that serves as a blender, food processor and spiralizer. It also comes with a 72Oz total crushing pitcher to pulverize ice to snow in a few seconds, and an eight (8) Cup Food Processor Bowl that is perfect for making up to 2 pounds of dough in 30 seconds.
These Ninja mega kitchen tools feature a 1500-Watt Motor Base (2 horsepower) and a dough blade that is capable of grinding, blending and crushing through whole foods, with four-variable speed control settings that give you full control over your blending. and all body parts are Dishwasher-safe.
If you intend to make your favourite drinks, dough and dips, the Ninja BL770 blender would perfectly serve your need. This Ninja model serves 3-in-1 purposes which are nutrient extractor(juicer), food processor and blender. Plus this model is easy to clean and attached to it is a Recipe inspiration guide
Read Also: Is the magic bullet better than the Ninja?
3. Ninja BL480 Nutri Ninja Blender – Best Value
Ninja BL480 model is a versatile blender that you should have. This blender provides you with 18Ounce and 24-ounce cups both of which are BPA free, and they can be used for measuring ingredients before blending them. It offers the necessary specifications that every durable blender should have and also gives you enough power to process blending.
This Ninja blender features a 1000 wattage powerful motor base and a Pro extractor stainless steel blades that are meant to perfectly blend vegetables, fruits, rice, and seeds at a full speed of 21,000 rpm. Additionally, it has an Automated iQ programming system that allows blending, pulsating and pausing of your machine through a single touch of a button in other to process food.
Compared to another blender on the market, the Ninja BL480 is very prudent. Not just like a blender machine, this model is ideal enough to make juice can simply be used as a Juice maker. Plus body parts are dishwasher safe.
Read Also: The 10 Best blender for the money in 2021(Reviews)
4. Ninja CT682SP Blender/Food Processor intelligent Kitchen System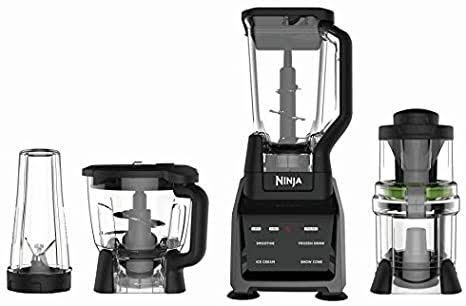 Ninja CT682SP blender is an Intelli-Sense Kitchen System that provides you with a 72 oz. total crushing blast through the ice to whole fruits in other to make frozen drinks, ice cream within seconds and 64 oz. Precision Processor that allows you to chop, puree, garnish and make the dough, with an additional 24 oz. Single-serve cup to make smoothie and take on the go.
This High-performance Ninja Blender features a powerful 1,200 wattage motor base and 12 Smart Programs setting that are precisely calibrated patterns for pulsing and speeding of your blending machine in other to create fresh salsa, pizza dough, margaritas and ice cream just at the touch of a button. plus an auto-spiralizer function to turn fruits and veggies into fresh noodles
Additionally, this Ninja model has a touchscreen display that lets you easily switch between vessel-specific Manual/ Smart Programs, and a Smart Vessel Recognition automatically displays a unique menu where you can easily adjust speed, power and torque.
Read Also: Best mid-range blender for 2021 (Reviews)
5. Ninja NN102 Blender – Best Budget blender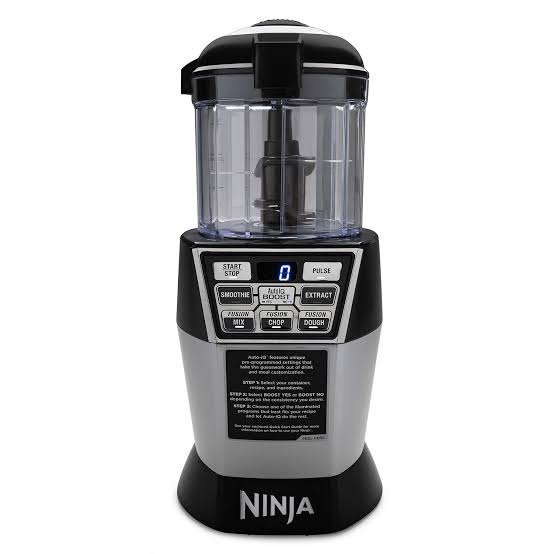 The Ninja NN102 blender serves as a blender and a food processor by providing you with a 24 oz. Tritan cups with two spout lids that can accommodate enough ingredients, make smoothies to take on the go and a Nutri bowl that serves majorly for food processing.
This Ninja blender model features: 1200 wattage capacity motor base, a Precision Prep Blades and Dough Blade for fully starts king down of whole foods, ice, and seeds in other to deliver fast nutrient and vitamin extraction, and 5 Auto-iQ technology programs (Smoothies, Extraction, Mixing, Dough kneading) and boost to help deliver smoothies, juices, and desserts intelligently at the touch of a single button.
It also comes with 2 Manual Programs for a pulse and starts/stops function so you can have control over your blending. With thickener, you can transform fresh nutrients into a flavorful meal through Nutrient Fusion, make delicious s meals through protein fusion, prep cravings with cakes, make cookies through sweet fusion and also easy desserts through frozen fusion.
Read Also: Best budget blender 2021 – Reviews
6. Ninja BL456 Nutri Pro Compact Personal Blender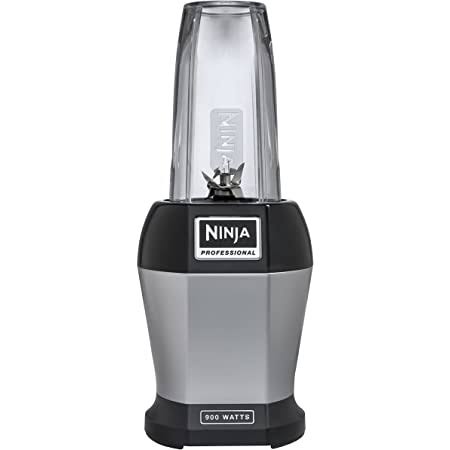 Ninja BL456 Nutri Pro is a compact Personal Blender that provides you with a powerful nutrient extraction system for extracting nutrition from whole fruits and veggies, including portions that are normally discarded. It comes with 24 oz. Nutri Ninja Cup and 18 oz. Nutri Ninja Cup is BPA free and dishwasher safe.
This Ninja BL456 blender features: 900 watts motor base and Extractor blades for braking and crushing through produce to make an even and consistent smoothie, and 1 single control function for manually pulsing of your blender in other to easily create a consistent blending.
Plus it is a Twist on the spout and to-go lids that enable sipping of your drink on the go, and a 75-Recipe Cookbook. If you need a single-serve blender for personal use, the Ninja BL456 model may be the best personal blender for such an occasion.
7. Ninja QB3001SS Travel Blender – Best under $50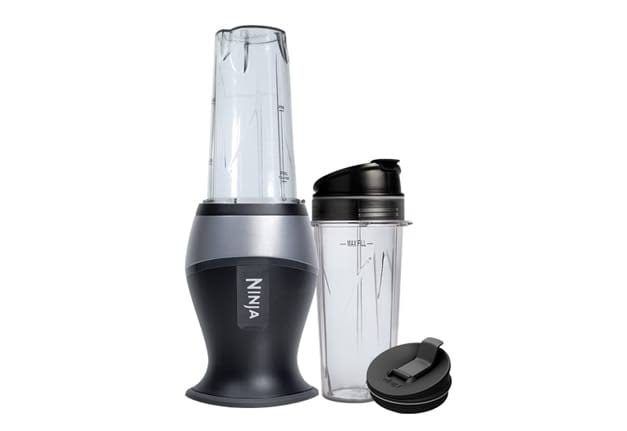 Ninja QB3001SS personal blender is combined with multiple kitchen appliances designed for making Smoothies, Food Prep, and Frozen Blending. It comes with Two 16-oz Nutri ninja cups to make a delicious smoothie from blended fruits, ice and diary, and 2-to lids to sip on the go anywhere you are.
This compact kitchen tool features a 700-watt motor base with pulse technology that requires a light push down on the cup in other to quickly create smoothies, nutrient juices from whole fruits and tough ingredients like leafy greens, nuts, kale and spinach. Plus this model is Dishwasher safe and comes with a 30-recipe inspiration guide.
The Ninja QB3001SS model is a simple and easy to use ninja blender that is suitable for personal and mostly for travel purposes. And cost less than 50 dollars.
Read More: Best Blenders under 50 dollars ( 2021 Reviews)
8. Ninja BL610 professional countertop Blender
The Ninja BL610 Professional blender is a sleek design and outstanding performance that provides you with a 72 oz. Pitcher Total Crushing Technology is perfect enough to make large batches of creamy, frozen drinks and smoothies. As well as making delicious margaritas and daiquiris.
This ninja model features 1000 watts motor base capable of blending up to 64-ounce liquid capacity at a go, and 6 total crushing blades that give you perfect ice crushing, blending and pureeing. Additionally, It comes with 4 Automatic & manual Programs that give you full control over your blending experience, BPA free Dishwasher-Safe parts and Cookbook.
As one of the best ninja blender reviews, if you are looking for the best countertop blender to buy, Ninja blender BL610 may be a better choice on the list.
Read More: 10 Best Countertop Blender reviews
9. Ninja HB152 Model – Best Blender for hot food & Soup in 2021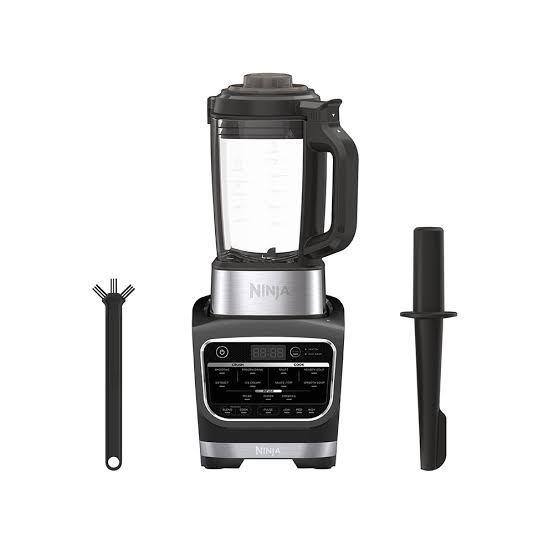 The Ninja Foodi Blender with Heat-iQ took the 9th position on the top choice of the best Ninja blenders. This Ninja HB152 model provides you with a 64 oz. Nonstick glass pitcher that is capable of holding a maximum of 56 Ounce capacity of cold liquid.
The Ninja HB152 blender features: 1400 peak watt motor to Blast through the ice, and crush even the toughest ingredients and high-speed blade for crushing ice to making margaritas and frozen fruits into smoothies, and a one-touch, 12 Auto-iQ Programs control settings designed for the automatic task and 7-manual program for pausing with precision in other to deliver good blending, mixing and cooking experience.
Additionally, it has an 800-watt precision heating element that can make hot soups, sauce and dips, plus a temper and cookbook. This machine not only act as a blender, but also a cocktails maker and cooking blender that can be used to make hot food and soup, frozen drinks, smoothies, and also extract nutrients from fruits and vegetables.
Read More: 6 Best Blenders hot foods and Soup – Reviews
10. Ninja BN801 Professional – Best blender food processor Combo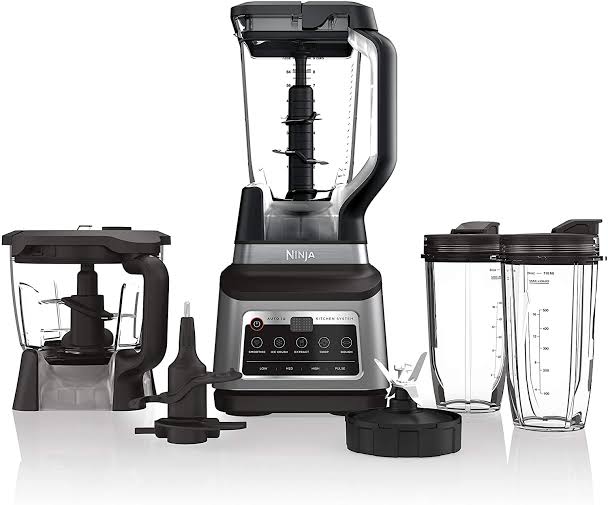 The least on our picks of the top 10 blenders from the Nutri ninja models is the Ninja BN801 model. It provides you with a 72 oz Total Crushing Pitcher for making large batches of dough for the whole family, and a 64 oz max liquid capacity precision processor bowl for chopping and making smooth purees. Additionally, it has a 24 oz. Single-Serve Cups to blend and take on the go with Spout Lids,
The Ninja Professional Plus Kitchen System with Auto-iQ (BN801) features 1400 peak watts motor base of professional power and Stainless Steel extractor Blades that give you perfectly crushed ice to make smoothies and frozen drinks. It also comes with 5 preset Auto-iQ programs that allow you to create smoothies, frozen drinks and extracts nutrients from fruits just at the touch of a button.
This Ninja blender gives everything you need to make large batches of smoothie and frozen drinks for the whole family. It also can be used to make everything from dressings, pureeing and more inside the food processor bowl.
Ninja blender comparison chart 2021
| | | | | |
| --- | --- | --- | --- | --- |
| Model | Wattage | Function | Dishwasher safe | Warranty  |
| Shark Ninja BL660 | 1,100 | Blender | Yes | 1-Year |
| Ninja BL770 | 1,500 | Blender/Food Processor / Spiralizer | Yes | 1-Year |
| Ninja BL480 | 1,000 | √ | Yes | 1-Year |
| Ninja CT682SP | 1,200 | Blender & Food processor | Yes | 1-Year |
| Ninja NN102 | 1,200 | √ | Yes | 1-Year |
| Ninja BL456 | 900 | Blender/Juicer | Yes | 1-Year |
| Ninja QB3001SS | 700 | Blender | Yes | 1-Year |
| Ninja BL610 | 1,000 | Blender | Yes | 1-Year |
| Ninja HB152 | 1400 | Blender | Yes | N/A |
| Ninja BN801 | 1400 | Blender/Food Processor | Yes | N/A |
Buyer's Guide: Things to Consider before buying a Ninja blender.
Use/Purpose: 
When you are about to buy a blender, you need to be decisive about your purpose of purchasing it. The first decision to make is to know what you plan to see or have in your blender. If you are ever planning to make a daily smoothie, you are likely not to need the model made for a cocktail. Likewise, if you plan to make soup, food or any other hot foods, you would need to go for the model that best suits your purposes.
Read Also: Best green smoothie blender reviews
Power:
Pulse Feature / Various Speeds: Motor is the heart of every appliance, when going for a blending machine, you may want to put into consideration what type of ingredients you'll be blending. If you are the type that makes thick smoothies, you are likely to need a stronger blender to compare to those who need it for shakes. All Ninja blender models on our review list can do almost all that you intend on blending, but each model can best handle its task perfectly and are designed for its purposes.
Generally, a model with a 1,000-watts power capacity will give you a smoother, well-blended consistency. But if you go for higher wattage, you will have a better blending/mixing, plus having Pulse Feature is essentially needed. Because It allows you to manually stop and start the blending machine. So in case you want to buy a blender, you must pay attention to the Motor capacity and functions (pulse). However, also know that the higher the power, the louder and heavier the model will become.
Read More: The Best Blenders on the market to buy(All time)
Material:
Blade Design and Material: All the models on our list according to our findings and reviews are said to be constructed with BPA-free plastic. While glass is undeniable the ultimate material, plastic construction can also take a beating and still give you good results. Plastic design is usually more budget-friendly compared to the glass model. You'll want to be mindful of any food appliances you want to purchase regarding the type of plastic used. The reason is that some plastic is not dishwasher safe, and  will not hold up, but become disfigured whenever you insert it into the dishwasher
Read More: Best nutribullet blender in 2021 (Reviews)
Size(s):
Weight & Dimensions: It would be a great mistake if you never considered the size of the blender you want to buy. The available models range in size from ultra-compact personal blenders to large footprint family-size blenders. If you are a family, you are likely to go for the larger size depending on your family sizes. Some are better for a family of two, while some are for 3 or more in the family.
But as a single person, are better of going a single-serve blender, and For travellers who are likely not to need a heavy machine, a lightweight design would be best, so you may want to shop for a more simple and compact design that can serve as a traveller blender. Also, Be mindful of your storage space availability when choosing a blender to avoid 
Cost:
Ninja has a whole wide range of models to choose from across the spectrum of budgets. They've got both the expensive and inexpensive models available ranging from $50 to $100, $200 and even beyond. Based on your needs/wants, you should be able to find one that will better fit your lifestyle and available funds.
Read More: Best Blenders for the Money – 2021 Picks
Warranty:
Lastly, i always recommend going for products that come with a warranty. The longer, the better, this gives an assurance that the manufacturer will stand by and support the product should you face any difficulty with your chosen model. While Most Ninja Blenders come with a 1-Year Warranty. Some of the more expensive models come with a 2-Year Warranty or even longer duration. A longer warranty is most recommended if you find it suitable for your blending purposes.
Conclusion:
As one of the best blender brands, there is no doubt we have lots of Ninja models available to choose from. However, choosing from a huge list can be overwhelming and also become a difficult decision to make.
With our reviews, we were able to cut the size of your anxiety by narrowing down and comparing the top 10 blenders owned by the brand. This limited amount of Ninja blender reviews gives you the easy means to make a quick and better decision.
Base on our findings and reviews, we discovered that (Shark Ninja blender BL660) ranked as the overall best Ninja blender on the market. As it gives you almost everything you'd be needing to make smoothies, foods, sauces, salsa, shakes, and more.
Alternatively, if you are on a budget and yet desire to buy a blender, you may want to go for (Ninja NN102) as it took up the list of the best affordable Ninja blender on the market owned by Ninja. Also, the (Ninja blender BL770) took the premium stage of our best models reviews. You may also be interested in the best Vitamix blenders of 2022.