6 Best Portable Blenders for Traveling on the go in 2023
With the best portable blender, you can create healthy drinks anywhere you go. Whether you're planning a trip to the beach, hiking up a mountain, or going on an extended vacation, a portable blender will allow you to take your smoothie ingredients with you and whip up nutritious drinks at any time of day.
However, there are several different models to choose from; so how do you know which one is right for you? What do you need to look at while picking a good blender for travelers?
If you're a passionate smoothie drinker, then you should know the importance of having a travel blender on hand. You'll need one that is not only powerful but also lightweight and easy to take with you anywhere.
Related Stories featured on Reviewmast 👇
Moreover, while making our findings, we came across a few reasonable ones that are worth mentioning as the best portable blenders for traveling, and are confident that at least one of them will be perfect for you.

We also listed the top options available today and highlighted their features so that you can pick from it the best travel blender of your choice on your next vacation or business trip.
Portable blender Top picks
Best overall: BlenderX Cordless Travel Blender
Best Valued: Ninja Fit 700 Watt Personal Blender For Travel
Most Affordable: nutribullet go portable blender
Best Cordless: Cuisinart EvolutionX Cordless Blender
Most quieter: Oster My Blend blender
The 6 best portable blenders for travel
#1. Best overall: BlenderX Cordless travel blender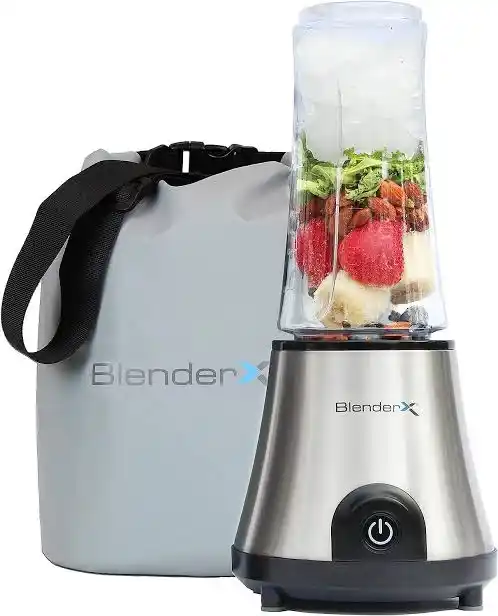 If you're looking for the best blender to travel with is your concern, the BlenderX Cordless Travel Blender is your best bet. The blending machine is the perfect blender for on-the-go, its powerful motor and velocity control make it capable of making nearly any type of smoothie or blend. Not only is it small and lightweight, but its blade can blend up to 72% more food than a traditional blender, making it the best portable blender for travel.
Plus, its detachable base makes it easy to clean up after you're done blending, so you'll be able to enjoy your smoothies and soups in style. However, there are some shortcomings to it such as being expensive and not much durable. Overall, though, the BlenderX Cordless blender is an excellent choice for those who are looking for a quality travel blender that can handle most tasks.
Pros: a powerful 2000-watt motor, multiple colors to fit your style, It's easy to clean, compact and lightweight.
Cons: not particularly the most durable, and it's not an affordable option out there, so if budget is a concern it might not be the best choice.
#2. Best Valued: Ninja Fit 700 Watt Personal Blender For Travel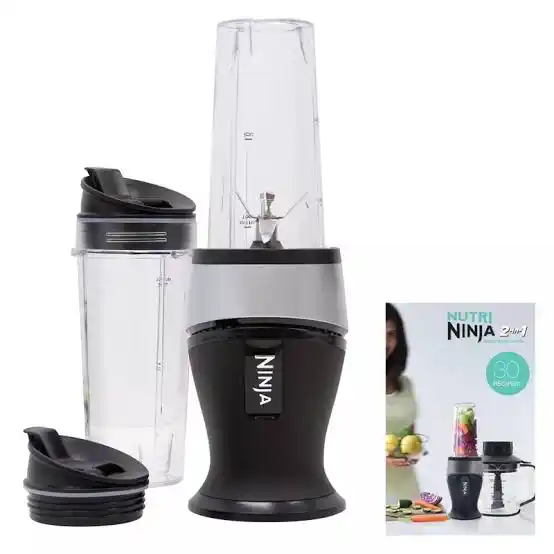 Ninja Fit 700 Watt Personal Blender is another great choice for travelers. This powerful personal blender fits in your bag, making it the best travel blender for frozen fruit. It's perfect for health nuts and smoothie lovers who need to blend on the go without weighing down their luggage.
With a 700-watt power, the Ninja-fit personal blender chops and purées food with ease. It has two speeds plus a pulse so you can create everything from a thick smoothie to a light soup. And since the blades are removable, cleanup is quite simple and quick. However, the shorter warranty periods is a downside to it. But still its considered the most valued.
Pros: powerful 700-watt motor, 16 oz container capacity, lightweight and travel-friendly design, Blends quickly & easily.
Cons: lesser warranty coverage.
#3. Most Affordable: nutribullet go portable blender
The Nutribullet-Go portable blender is the best option if you're looking to buy a high-quality travel blender that's affordable. It has a powerful 350-watt motor and comes with four different blending cups, making it perfect for traveling. The blades are stainless steel and have sharp edges to break down any tough ingredients. The blade is surrounded by an extra thick cup wall which helps keep the drink inside of the cup without spilling out.
However, when considering getting a powerful blender to take on travels for making smoothies, this blender might not be the perfect option. But I versatility, affordability and lightweight design makes it a good one to consider for a start.
Pros: lightweight and easy to take with you anywhere, affordable, quick, and easy to use, multiple blending options.
Cons: not as powerful as blenders with more bells and whistles, may be difficult to clean.
#4. Best Cordless: Cuisinart evolution cordless blender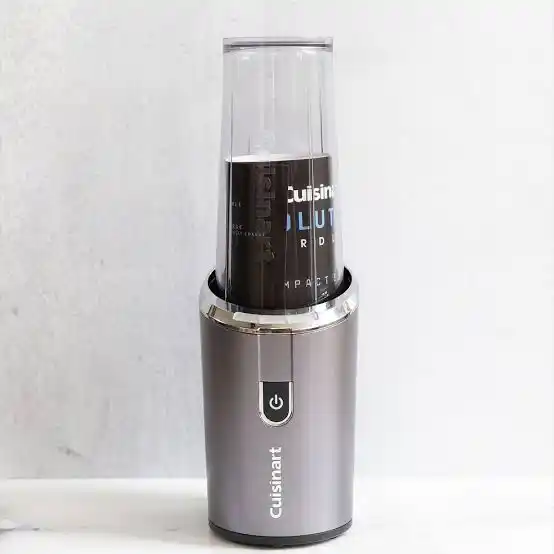 Need to go cordless? Well, If you're looking to go hands-free and make your life easier, then the Cuisinart EvolutionX Cordless Blender is a perfect choice. It's powerful with its 200-watt motor, plus it has a sleek design that's both lightweight and easy to store. The blender has a 40oz glass jar that comes with an easy grip handle so it's easy to pour. It also includes a whisk attachment which is perfect for making protein smoothies or whipped cream.
Though while there are a lot of good things about this blender, there are few drawbacks to it which you may want to watch-out for before getting it. Such as it inability to handle frozen drinks and other hard ingredients well enough.
Pros: a powerful motor that blends quickly and easily, it uses power from the outlet.
Cons: may not be suitable for frozen drinks & other hard tasks because of lesser torque
#5. Most Quietest: Oster my blend blender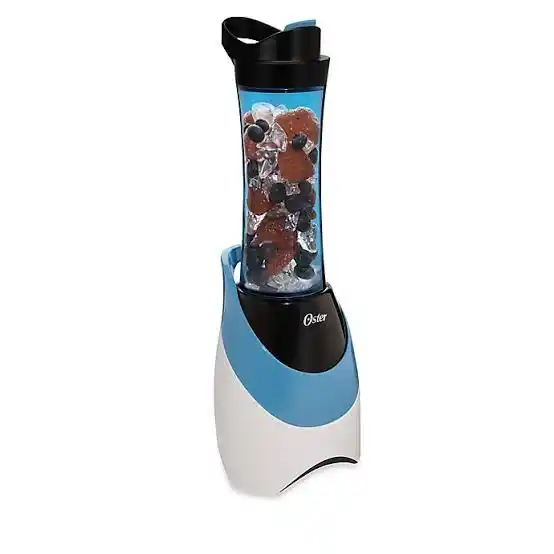 The Oster MyBlend is a good choice if you're looking for a travel blender that won't disturb your neighbors in the next room. It's also one of the most affordable models on our list, so it can be a budget-friendly option. The Oster My Blend has a glass jar with two speeds, so you can choose how much blending power to use. With this model, there are no buttons to press or any other accessories required, just your blended ingredients and some water!
Despite all those good features, the blender lacks preset buttons which might be a disadvantage when it comes to needing the preset function. Plus it has a very short warranty coverage. But even at that, it good features outweigh it downsides, making it a choice to consider.
Pros: 2-speeds settings allow you to choose the right speed for your blend, quiet, Quick, and easy cleanup
Cons: no preset buttons, so you may not have the desired blend always, and 1-year warranty.
#6. Vitamix S30 blender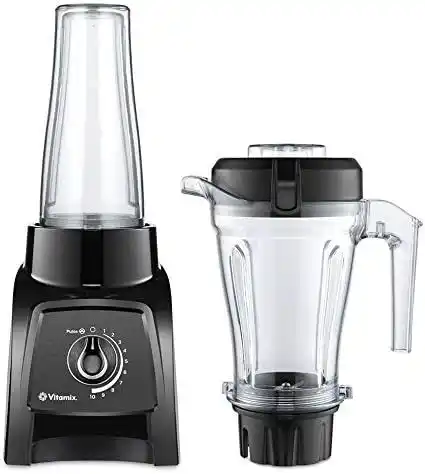 The Vitamix S30 blender is a high-performance appliance perfect for on-the-go meal preparation. You can whip up delicious smoothies, soup, and even ice cream in record time without having to spend hours in the kitchen. But what's great about the Vitamix S30 is that it's also one of the most versatile travel blenders out there. It's lightweight, powerful, and small enough to take with you anywhere.
Not only is it compact and easy to store, but it also comes with two speeds, a tamper, and an easily detachable cup for easy blending on the go. Plus, it doesn't require a power cord, so you can blend on the go without worrying about outlets or finding a power outlet. Though one notable thing to know about it is it expensive price tag which might be a drawback, but still worth it.
Pros: powerful & high-performance two-speed motor settings, fully BPA free, Dishwasher safe.
Cons: fewer warranties and a bit expensive.
Buying guidelines for personal travelers' blender
If you're looking for a blender to take along when traveling, there are a few key factors to consider:
Size and weight: Look for a blender that is compact and lightweight enough to fit in your luggage without taking up too much space or adding too much weight.
Power source: Consider how the blender is powered. If you're traveling internationally, make sure the blender can handle different voltage and plug types. You may want to choose a blender that can be charged via USB or uses batteries for more flexibility.
Capacity: Decide how much capacity you need. If you're traveling alone or with one other person, a smaller blender with a capacity of 10-20 ounces may suffice. If you're traveling with a group, a larger blender with a capacity of 32-48 ounces may be more suitable.
Blade quality: The quality of the blades is important as it affects the blending efficiency. Look for a blender with sharp stainless steel blades that can handle ice and frozen fruit.
Durability: Choose a blender that is made of durable materials that can withstand the rigors of travel. You want a blender that is tough enough to survive being packed and transported, but also won't easily break or malfunction.
Ease of cleaning: Choose a blender with parts that can be easily disassembled and cleaned. A blender with a dishwasher-safe container and detachable blade assembly can make cleaning a breeze while on the go.
Additional features: Look for additional features that may be useful while traveling, such as a built-in strainer, a travel lid, or a carrying case.
Conclusion:
Concluding on the best portable blender for travelers, I think the best blender for taking along on traveling is the Cuisinart Evolutionx Cordless blender because it's compact, lightweight, and easy to clean. On the other hand, If you don't have a lot of space in your luggage or backpack, then the Nutribullet Go Portable Blender is a great option because It comes with all the power and functionality of larger blenders but at an affordable price.
Lastly, If you need a travel blender with USB capability, then you should get the Hamilton Beach Wave Action Blender. With these three most recommended blenders for travelers, you can blend up anything from cocktails to smoothies without having to worry about juice spilling out!