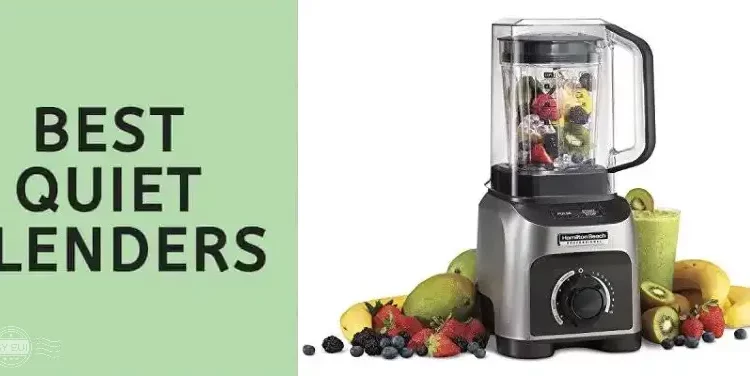 7 Best Quiet Blenders [2023 updates]: Reviews & Top Picks
Ever desire to wake up to have a cup of a freshly prepared smoothie but the loudness of your blender is preventing you from doing so? Well, if the noise is a problem, then you may want to consider a blender that's not noisy.
Quiet blenders can make you have your smoothie and other drinks any day and anytime without disturbing anybody with noise.
Though silent blenders as they are called are not quiet but are blenders to which extra layers of enclosures have been added to bring about a great reduction in the noise level.
Related Stories featured on Reviewmast 👇
Therefore below are the picks of blenders in this category of best quiet blenders. After going through this article, you would have come to a conclusion on which quiet blender to choose.
The Least Noisy blenders – ToP Picks
The 7 Best Quiet blenders of 2022 that is least noisy
#1. HAMILTON BEACH PROFESSIONAL 1500W QUIET SHIELD BLENDER
This product has been around for a while which gives credence to it being a quality product. It has a sleek design. Has a self-cleaning option making it easy to clean. It also blends without leaving chunks behind giving a consistently smooth smoothie, shakes, nut milk etc each time it is used.
It comes with a pre-programmed setting that can easily blend, a variable speed setting which you can set to taste and a varying speed that ranges from 3,000 RPM to 18,00pmpm. The blades are made of stainless steel and have a removable quiet shield.
The blender comes with a BPA-free Tritan plastic which is 32 oz in size and has a power rating of 1500 watts.
The self-cleaning ability makes it easy to clean.
BPA-free Tritan plastic.
Quiet operation.
Five (5) year warranty.
CONS:
Cannot handle ice or frozen ingredients.
Tends to leak or crack.
#2. NINJA PROFESSIONAL 72OZ COUNTERTOP BLENDER
As one of Quietest Ninja blender, the Ninja BL610 blender's cup (size 72oz) is made of BPA-free Tritan plastic is capable of making large batches either for the family for commercial purposes or outdoor usage. It also comes with a Six blade assembly with a power rating of 1000 watts which drives them leaving a consistently chunk free drink.
The noise level despite the power is very low. It is also dishwasher safe and very easy to control or use.
PROS: 
Dishwasher safe
Can blend ice and frozen ingredients
BPA-free Tritan plastic
Quiet operation
1-year warranty
CONS:
#3. VITAMIX 5200 BLENDER PROFESSIONAL GRADE
Though not very quiet, this blender is one of the best in this category. With a hardened stainless blade, a high-performance motor, a cup or jar capacity of 64 oz and a power rating of 1380 watts, this blender can work virtually all forms of ingredients giving you a clean and smooth result.
The cup is made from a BPA-free Tritan plastic which can produce drinks of any type in large batches either for outdoor purposes, commercial use or a large family. The blender is dishwasher safe and very easy to clean. Infact its considered one of the Cheap quiet blenders
PROS:
Easy to clean
BPA-free Tritan plastic
Large capacity jar 
7-year warranty
CONS:
It is loud
Very expensive
#4. JAMBA APPLIANCES QUIET SHIELD BLENDER
Having a peak power of 1.6HP, the design of the blender does not make the process of blending smoothies and other drinks. It is also made with an intuitive control mechanism.
To make it soundproof, this blender is equipped with more sound enclosure reducing the amount of noise it generates. It is compact and can well serve as a personal blender or for small family sizes due to its 32 oz and 20oz BPA-free Tritan plastic cup size.
It has a variable speed setting along with a pulse button and included in the package is a recipe book.
PROS:
5-year warranty
Easy to clean
Easy to store
BPA-free Tritan plastic
Quiet operation
CONS:
Pitcher lacks handle
Can not handle frozen ingredients
Not all parts are dishwasher safe
Possibility of leakage
#5. BLENDTEC TOTAL CLASSIC ORIGINAL BLENDER WITH FOURSIDE JAR
As one of Blendtec's quiet blenders, this is a blender that possesses the attribute of both commercial and home use. Though not entirely quiet because of the power of the motor, the sound it generates doesn't need to be complained about. 
The blender is made of 1560 watts power rating and a 75 oz BPA-free Tritan plastic cup which perfectly serves either a commercial function or a large family size. The stainless steel blade is strong enough to pulverize anything giving a consistently smooth output of smoothie, nut butter, nut milk etc
It is dishwasher safe with variable settings and a variable speed with six program settings and a pulse button. Include also in the package is a recipe 
PROS:
Easy to clean
Pulse function
8-year warranty
BPA-free Tritan plastic
CONS:
Does not have a sound enclosure 
#6. BLENDTEC PROFESSIONAL 800 WITH WILDSIDE+ JAR
Blendtec Pro 800 is quite an amazing and quiet blender. Built primarily as a commercial-grade blender using its powerful motor and blunt blade to blend through anything; hard ingredients, ice or frozen ingredients etc. 
The blender, unlike the previously mentioned model, comes with a sound enclosure that limits the sound it produces during operation. It also comes with self-cleaning ability. It's a cup of size 90 oz and is made from BPA-free Tritan plastic.
With a power rating of 1800 watts and 3.8 HP, the blender also comes with an interactive SmartScreen making it easy to operate. 
PROS:
Quiet operation
Easy to use
Easy to clean
Can handle frozen ingredients and ice
BPA-free Tritan plastic
10-year warranty
CONS:
#7. HOMGEEK BLENDER SMOOTHIE MAKER, 25000 RPM HIGH SPEED 
The blender has a 68 oz cup or jar that is made from BPA-free Tritan plastic. The blender can blend more than other blenders in its class. It has a power rating of 1450 watts and 25000 rpm.
It comes pre-programmed and has a stainless precision steel blade. Its large capacity cup size makes it durable for either commercial purposes or large family usage. The blender can handle frozen ingredients and ice.
It has 8 variable speeds, a pretty-programmed setting and a timer. It however also differs from other blenders in that when the cup is not well seated and locked in the base, the blender will not work. The blender also does not make noise while in use.
PROS:
BPA-free Tritan plastic 
Comes with a timer
Quiet operation
CONS:
How to Choose a Quiet Blender: 4 Things you should consider
Blenders differ in shapes, functions, quality and most importantly quietness or noise level. Therefore a decision to buy one should be succinctly checked to be sure you are buying the right blender for the right purpose.
Every needed parameter should be well checked. The following are a few amongst many things that should be considered before purchasing a quiet blender
SOUND
The noise level of your blender is directly a function of the ingredients you blend with it per time.  However, the noise level of some blenders has been greatly reduced by the addition of enclosures to them.
FUNCTION
Your quiet blender should be well able to blend a vast variety of ingredients. Therefore the function or purpose you want to use the blender for is quite essential too whether it is going to be used for commercial or personal or family use.
PRICE
High prices can sometimes be neck-breaking. High price also doesn't signify quality and this poses a great threat to your decision-making process. It can either influence it positively or negatively.
WARRANTY
This should equally be duly considered. The lifespan of your blender should be long enough to give you the best value for money.
CONCLUSION
Even though various tech products have come and gone, the blender is one amongst many other products that will stay with the man across all ages and generations. 
However, blenders have as well evolved from the era of very loud noise while being used to quiet blenders. 
Among the list of our quiet blenders, Hamilton Beach Professional 1500 watt Quiet Blender remains our top choice with its noise dampening technology.