Best Blenders under $100 [Updated 2023]: Top 5 Picks & Reviews
Blenders amongst many other kitchen equipment are one of the most vital. The jobs a blender can do varies and so do their complexities.
But of great importance in the tour selection process is the purpose or reason you are planning on investing in a blender. Is it to make smoothies which usually and in most cases is the primary reason one decides to get a blender?
If yes, then you should consider buying a blender. Although there are plenty of models out there, from high-end ones costing thousands of dollars to affordable blenders that cost less than $100.
Related Stories featured on Reviewmast 👇
Having a blender is a great way to enjoy delicious fruit drinks at home. They come in various sizes and shapes, ranging from handheld models to countertop models. The type of blender you choose depends on your budget and preferences.
However, when a wrong pick is made for this purpose, in terms of blade and power, then you have a poor smoothie produced. The other functions of a blender include the kneading of dough, emulsifying process, making frozen dessert, fresh juice and lots more.
Now that you know what you need in a blender, let's take a quick look into our top pick blenders that sell for less than 100 dollars.
Best rated blenders under $100 – Top Picks
Editor's choice → Ninja Professional [BL610]
Pocket-Friendly → Magic Bullet [MBR 1101]
Best Design → Nutribullet Pro [NB9-1301]
Value for Money  → Oster Pro [BLSTMB-GTF-000]
The 5 Best Blenders under $100
#1. Ninja Professional [BL610] Total Crushing Blender – Best Overall
Ninja BL610 just like its competitor Vitamix performs well but sold for 100's of dollars. This blender model is our choice in terms of durability and all-around efficiency. The brand name is a trusted and well-known one as the products are usually quite affordable. 
The blender comes with a 72-ounce jar that can accommodate many of your ingredients and also work with high efficiency. It has a 1000 watt motor powerful enough to drive the blades to cut through tough skins. It also comes with four manual speeds.
PROS:
Easy to store
Very effective in crushing ice
Easy to clean
Easy to operate 
CONS:
#2. Magic Bullet [MBR-1101] 11-Set Personal Blender – Best Budget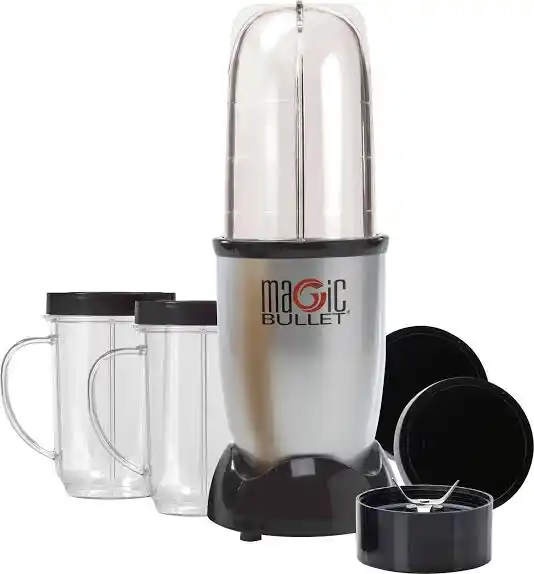 Do you always have a busy morning, this can always come in handy for you. It can be easily stored in any part of your kitchen cabinets as it is small as it is a mini blender and also comes with a sleek design.
It's motor power rating which is 250 watts is not very powerful and as such cannot cut through tough skins and is also inappropriate for crushing ice but soft materials instead. 
The blender comes with multiple cups with handles from where you can drink and also a lid to cover the cups. The blender is very easy to use and has just a single speed.
PROS:
Very easy to use
Very easy to clean 
Very portable and affordable.
CONS:
Cannot cut through tough materials 
Due to its minute size, it can be time-consuming. 
#3. Nutribullet Pro [NB9-1301] High-Speed Personal Blender
This blender, just like the manic bullet, is also a very portable, compact design but with a stronger motor wattage which is 900 watts giving a better experience in blending. Its closeness both in the mode of operation and design is what makes them look alike 
But, it comes with an improved blade that can break down both soft and tough ingredients easily. It can easily be used to mi)l grains alongside its normal function of making smoothies and sauces. It also comes with a BPA-free cup that you can both use to blend and also drink from.
To prevent the building up of pressure, you are not used beyond 60 seconds per time while blending as it doesn't come with a vent it can easily breathe through.
PROS:
Easy to store
Very portable 
Can both mill and blend
Budget-friendly 
Ease y to clean.
CONS:
#4. Oster Pro [BLSTMB-GTF-000] Multi-Purpose Blender – Best Value for money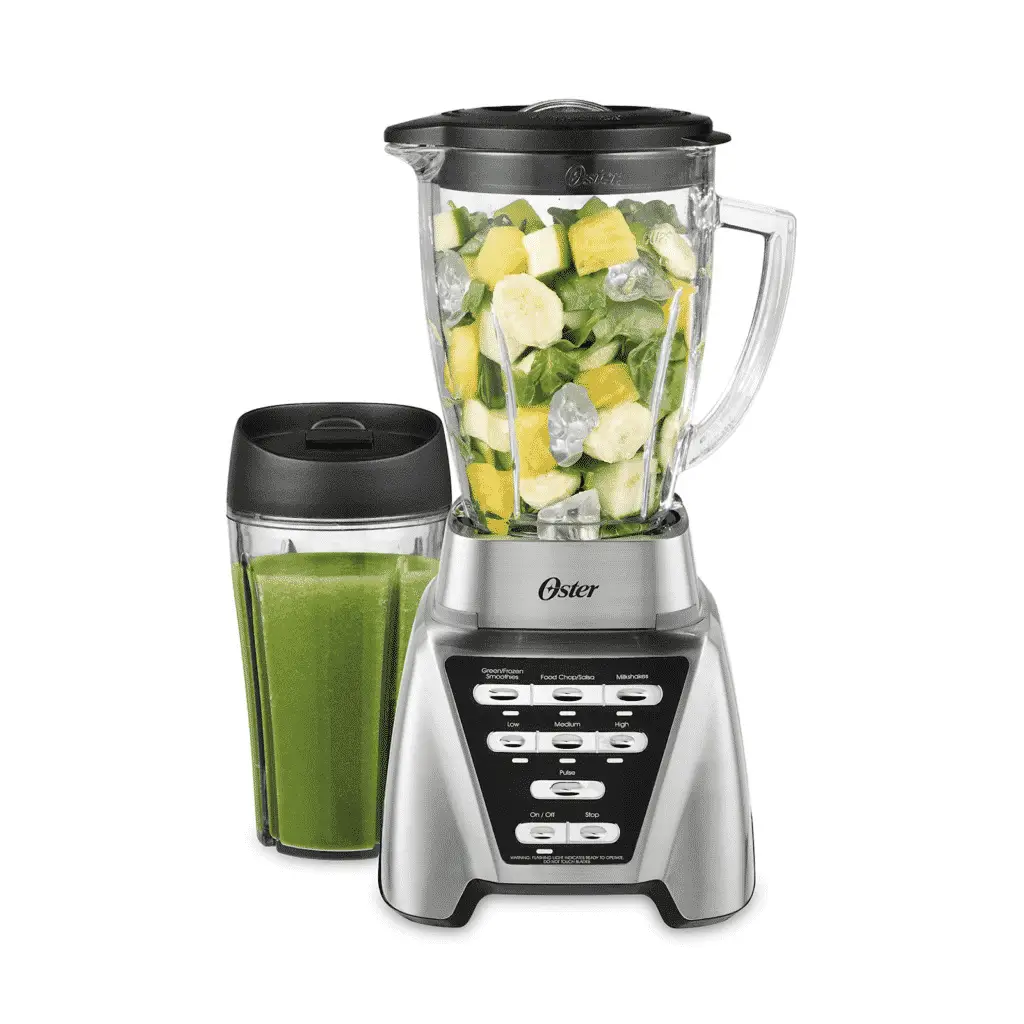 The Oster pro-BLSTMB also goes below a hundred dollars. This blender goes well with the name. It can blend and also perform several other purposes making it very versatile. By doing so, it delivers more value for its money which makes it appear on our top picks of best blenders under $100. The equipment is made up of two units which are the blending unit and the food processing unit.
Both units make use of the same power pod which is composed of a 1200 watt motor that can crush ice and cut through tough skins. The machine has a reset button that can be used to make smoothies, milkshakes etc, a pulse button that can help in crushing ice and easy to use control buttons. 
The cups are all BPA-free Tritan plastic that allows for the processing of ingredients without contamination.
PROS:
Easy to store
Allows for blending with high consistency
Easy to clean
Easily makes though and crush ice
CONS:
Difficulty in blending small batches because of the cup size
#5. Ninja Nutri Pro [BL456] Compact Personal Blender – Best Affordable
The Ninja Profession which sells at under $100 also ranks among the best blenders under $100. It is composed of a 900-watt motor strong enough to perform most blending tasks and can be used only in a limited workspace.
It's also composed of a razor-sharp stainless steel blade that easily cuts through ingredients as the cyclone movement it creates during blending easily draws the ingredient to the base of the blender or blade for quick and easy blending.
It is equally easy to operate. It has no external button which means blending is done using pulse or through the application of pressure on the cup. However, this blender doesn't make a very smooth smoothie and cannot grind chilly powder.
Pros:
Makes batches of recipes
Easy to clean 
Easy to store
Can be easily carried on road trips 
CONS:
Can easily cause lacerations when not handled carefully
It can cause lacerations easily [pointy sharp blades]
Not ideal for a person sensitive to noise.
Buyer's Guide to choosing a Good Blender
Amongst many others, these are a few of the available blenders that are sold for $100 or less. And even though each product functions distinctively from another they are all bestsellers therefore, there's a need to consider certain factors before getting that blender of choice.
Purpose of the blender
Not all blenders are fit for every kind of job so there's a need for you to understand the purpose or reason for wanting to buy the blender and what it must do or have in mind to use it for before you go ahead to buying the blender.
Power
Power is of great essence when it comes to the blending action of blenders as it determines the result obtained. The more the power, the more purpose it can serve and the lower the power, the less the purpose it serves. Power also sometimes helps to determine the best use of a blender.
Durability
Though you are considering low budget spending, in like manner, you should consider durability. Quality is essential as you shouldn't buy a blender today and within the space of two months has packed up. Before your purchase, you can read reviews of other customers just so you would know your product so well before buying.
Kitchen available Space
The space to store the blender when not in use and to keep it while in use is equally important.
Serving strength
The number of people to serve with your product from the machine is quite essential as well. A large number of people to serve will require a blender with a large cup size. For example, serving an extended family might require a blender with a 64 oz cup or larger while a single person must just do well with a 24 oz or even less cup size.
Ease Of Use and cleaning
You wouldn't want to spend your hard-earned cash on something that will frustrate you. There you should be able to easily make use of your blender and also cleaning it afterwards should be stress-free.
Warranty
How long your blender will last is also another vital criterion to consider before making a buying decision on a blender. 
CONCLUSION
Having carefully and succinctly gone through all the above list of best blenders under $100, making a buying decision on any blender of choice shouldn't be any more difficult to you.
Although there are many best blenders under 100, not all of them may suit your situation. Each model has unique features that stand it out from the rest and that can or cannot fit your situation.
If you have limited space, a compact blender like the nutribullet Pro or Nutri Ninja can help you maximize it. The same applies if you wish to quickly prepare your smoothies in the morning since you can even take them as to-go.
Meanwhile, a large capacity blender is a better option if you have a large family to serve on the table. It can also be effective if you'd like to test the full potential of your blender, including features like kneading dough.
As for the heating feature, I'm not a big fan of it in second-rated blenders. This is so, as high-performance blenders like Vitamix usually undergo rigorous testing, plus they use high-grade materials that may lack in cheaper selections.