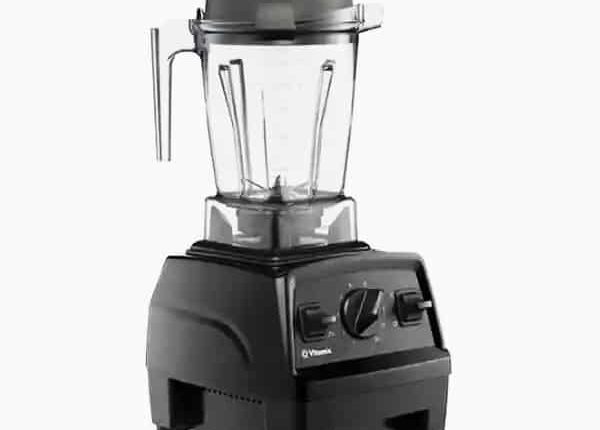 Vitamix e320 Blender reviews: Is it powerful or Loud?
Looking to experience a better blending like never before? Worry no more as our Vitamix e320 reviews would help you make a better determination if you should buy or not.
Also the Vitamix e320 reviews would help you decide if you can step up a better blending compare to Vitamix 310. Below the notable difference between the two explorian series blenders, so you can be sure of what you are buying.
Just so you may know, the Vitamix explorian e320 has proven to be one of the best Juicing blenders.
Related Stories featured on Reviewmast 👇
In my earlier review, I wrote the difference between Vitamix e320 and 7500 which you may want to take a look at.
Also, In a detailed review, I helped to understand what the deal is with the Vitamix Explorian Series, and quickly break down its two models: the E310 vs E320 Vitamix reviews.
What is the difference between Vitamix e310 and e320?
It could be confusing to figure out the differences between models. If you are concerned about the difference between both juicing blenders, I'll like to let you know that the Vitamix E310 has a low profile 48-oz container with a 3inches blade, while the e320 has a larger profile of a 64-oz container with a 4inches blade, making it one of the best small blenders with personal cup adapter for personal use.
The Vitamix e320 explorian series blender has an additional 0.2 horsepower compared to the latter.
Can Vitamix e320 make hot soup?
Sure, Vitamix explorian e320 just like the e310 can make hot soup in just 6-7mins, starting with cold water. The motor is seen to be 2.2 HP that means it is more powerful than the Vitamix one.
Aside from both blender making hot soup, the Vitamix explorian e320 blender is capable of heating soups to a steamy temperature of 170°F, you can also blend hit the coffee and make ice cream using the Vitamix blender.
Note: Avoid steaming beyond 170°F as it's not recommended.
Is vitamix worth the money?
You might still be curious if the Vitamix e320 blender is worth the money, I'd say definitely yes, the e320 is worth the money as it can help you save over $3,000USD/ year. So I consider it an investment to buy a Vitamix blender as it's worth the price.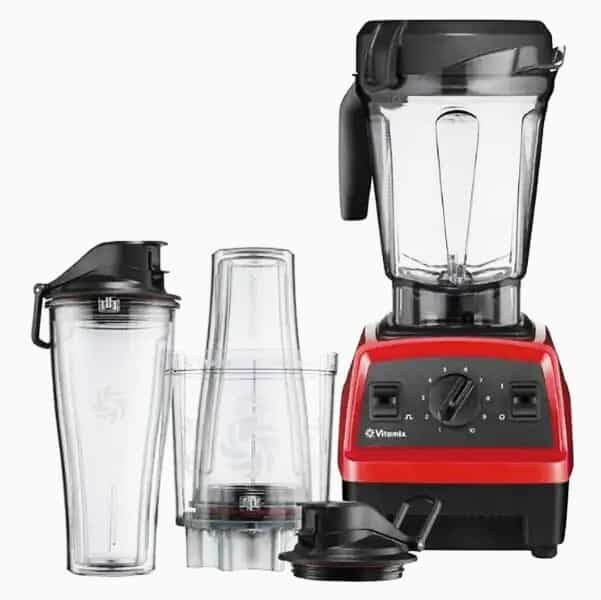 Vitamix E320 Reviews
Vitamix e320 explorian series comes with a tamper and with it cover blades, you use it to grind dry grains and spices. Vitamix explorian series blender is one of the best blenders for juicing.
Compared to its predecessor (Vitamix e310), e320 Vitamix blender has notable features such as the Low-Profile 64-Ounce Container, Variable Speed Control, Easy Cleaning and Pulse Feature.
The Vitamix e320 features a Low-Profile 64-Ounce Container which is designed to fit easily under most overhead cabinets, Variable Speed Control.
The control can be used to adjust the speed at any time ensuring that you have full control over it when blending, easy self-cleaning feature ensuring that your juicing blender is clean within 60secs.
The pulse feature makes it possible and easy to create chunk textures such as salsas with a quick burst of power.
About the Vitamix E320
#1. A high-performance motor makes it easier to blend heavy ingredients into powder, frozen fruit and all other grains into smooth blends. it's a good one just that its powerful motor makes it a bit loud.
#2. Precise container design that helps fold ingredients back to the blades for faster, smoother blends creating the Vitamix vortex. The container is dishwasher safe.
#3. Stainless Steel blades, ensuring that it delivers the same quality result for stage one to the last blend.
#4. Blade fiction heating, guaranteeing that you get a hot substance as a result of its fast speed, you can also get a hot soup in 10mins with the use of the stove.
#5. With the Vitamix e320, You can also perform some other tasks such as turning fruits and veggies into smoothies & juice, dressing & sauce, such as tomato sauce in seconds, and dips & spreads which are healthy and delicious, you can also grind nuts, coffee and many more.
PS: You can also take the time to check out our wonderful review of best masticating juicers that you can choose from when purchasing a slow pressing juicer.
Conclusion: is the vitamix e320 a good blender?
Based on my reviews, I can say the Vitamix E320 blender is a good one. Why? Because it's dishwasher safe and has a self-cleaning function. Although the powerful motor base makes it loud, but not as loud as the E310.