Easy pick: Vitamix 5200 vs 5300 Which has better performance?
Comparisons made easy. So what is the difference between Vitamix 5200 vs 5300? Is Vitamix worth the hype? All these questions could seem very difficult and left unanswered, because of the performance of these 2 classic series blenders.
Although having been one of the best blender brands, the Vitamix 5200 blenders as been featured several times in various products we reviewed for their wonderful performance.
An example of it is the Vitamix 5200 vs 7500 blender review, and also another one entitled "Vitamix 5200 vs e320 review". You can check them out yourself.
Related Stories featured on Reviewmast 👇
This time we consider featuring it with its Co-classic series, the "Vitamix 5300". Thus giving them the credit they deserved. For that reason, we came up with the Vitamix 5200 vs 5300 reviews to see their comparison and performance grade.
Read Also: Vitamix 5200 vs. 7500 or the Vitamix 5200 vs. E310
Introduction
Earlier in 2007, Vitamix brand producers introduced & released to the world at large its first C-series of a countertop blender(5000). Later on Vitamix 5200 Costco blender was released in 2012. This Vitamix 5200 model featured a "2.0-horsepower motor and BPA-free plastic container lid". At that time, it became one of the most advanced blenders you can ever get on the market for the price.
Not long after having to be one of the best sellers in its field of professionalism, the USA based company decided to release another of its classic series, but this time a different model of higher expectation, the Vitamix 5300 blender in 2015. This Vitamix next generation blender was designed and built to last, thus updated to include many improvements compared to its earlier series.
Having been hyped much enough by its producers and users, the question is: Is Vitamix 5300 Good? Is Vitamix 5200 worth it?
Let's walk you through our Vitamix 5200 vs 5300 review to see how we compare these 2 Classic series of Vitamix 5000 blenders with our side by side comparisons and give them the credit they both deserve. So what's the deal? What is the difference between a Vitamix 5200 and 5300? Let's find out.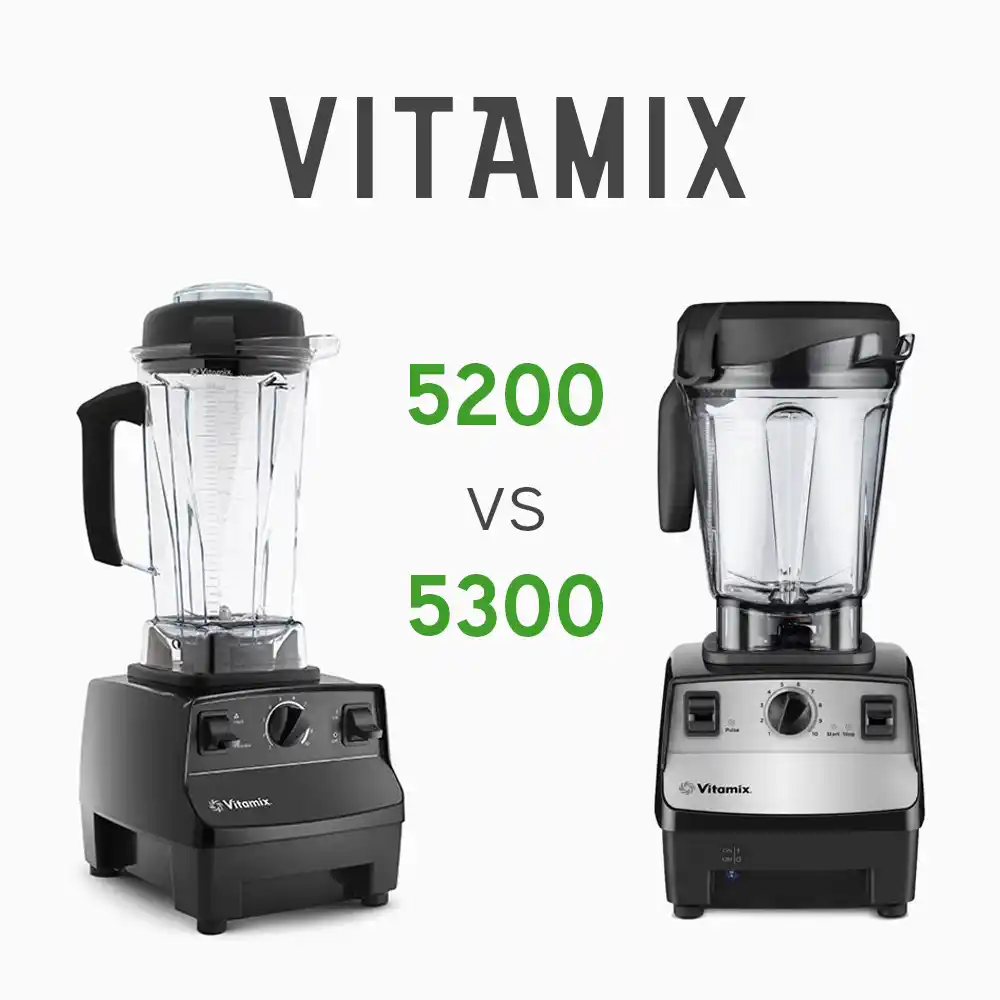 Comparison Difference between Vitamix 5200 and 5300
Since these two (2) models are so close in their model number, is there a significant difference between these two blenders? Well, Each blender has small differences that make it stand out for a certain consumer group. So, Let's take a quick look at them ASAP.
The Vitamix 5200 uses an 11.5 Amps and 2 horsepower motor; the 5300 makes use of a 2.2 HP motor.
The Vitamix 5300 has a Pulse option; the 5200 has a variable speed option.
Height of the 5200 is 8.75 x 7.25 x 20.5 inches; while that of the 5300 is 17.25 inches and a 25 per cent wider blade (3 inches versus 2 inches.)
The Vitamix 5300 has better cooling for longer running than the 5200 does.
Vitamix 5200 weigh at 10.56 pounds and the Vitamix 5300 at 11.95 pounds.
5300 is more expensive.
Note: You can also take a quick look at our vitamix E320 blender review
Vitamix 5200 reviews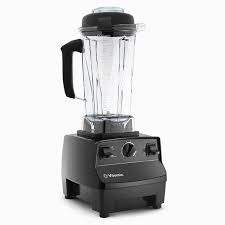 Vitamix 5200 Costco blender is built based on the Vitamix's flagship 5000. Its simple design and intuitive controls make it a great kitchen tool for daily use and well fitted for beginners. The Vitamix Costco features:
A High-Performance Motor which is capable of transforming tough ingredients into smooth blends, Non-resistance/durable Stainless-Steel Blades designed to deliver quality blending, A Variable Speed + High Power pave the way to adjust the speed at any time during the blend and also blend on High for maximum speed & efficiency, Non-resistance/durable Stainless-Steel Blades designed to deliver quality blending.
Additionally, it comes with 64-ounce Container which is an ideal one for blending everything from a single smoothie to a family-sized batch of hot soup, a Specially Designed Tamper that is designed to help process thick blends with the need of not having to pulse your blender, Precise Container Design, Blade Friction Heating technology and said to be very easy to clean.
Note: It's bulky and quite tall, so isn't ideal for low cupboards. Plus, the container and all included accessories that are in contact with food are not dishwasher-safe— perhaps the biggest drawback of Vitamix blenders.
Vitamix 5300 reviews
Vitamix 5300 Costco blender offers power and convenience, and designed to heat, chip, grind, emulsify and blend just about any recipe such as hot soups, baby food, frozen desserts, nut butter, and lot more. The Vitamix 5300 blender features:
A 10 adjustable speeds control that enables it possible to achieve a variety of textures with complete control and equipped with a 2.2-horsepower cool-running motor that propels the blades through tough ingredients to create the highest-quality blends. An Aircraft-grade (hardened) stainless steel blades that can blend multiple types of tough ingredients with ease.
It also comes with a 64-ounce low profile Container which is a perfect need for family meals prepping, a pulse for making chunky salsas, thick vegetable soups, etc, a metal drive system, and a BPA-free container for easy mixing of large batches of food. Backup with a 7-year warranty on all parts against defects.
Note: just like its predecessor, this blender also has no pre-programmed settings. However, a pulse function replaces the 5300's High/Variable speed button and is included to help it chop large chunks of ingredients easily.
Similarities between Vitamix 5200 and 5300 compared
Of course, these blenders are of different models but as far as the classic series is concerned, they are expected to share some similarities. But what could those similarities be? Let's take a quick look at what the similarities are:
Both blenders have a six-foot power cord.
Both models have an adjustable speed dial for there blades.
The Vitamix 5200 and the Vitamix 5300 each have a 64-ounce capacity pitcher.
Motor housing and noise dampening are identical.
Both have a tamper to push down your ingredients towards the blades for thorough blending.
Each model offers a self-cleaning mode for the pitcher and blades.
Both blenders are covered by a 7-year warranty. (free return).
Note: you can also have a look at our review on Vitamix e320 blender.
Comparing the Vitamix 5200 vs 5300 in Details
1. Motor & Base
While making findings as to Vitamix 5200 vs 5300 blenders, we discovered that both blender motors are not the same despite being of the C-Series generation. The Vitamix 5200 utilizes the C-Series generation motor whereas the 5300 makes use of the Professional Series 750 motor(upgraded version).
The difference between these two motors is almost unnoticed. The 5200 has a peak performance of 2 horsepower whereas the 5300 has a total of 2.2 horsepower (extra 0.2). Because of the extra torque, the 5300 blender is a little bit noisier than the 5200. Both motors are encased in the C-Series housing and use an identical dampening to reduce noise.
So who is the winner in terms of motor, Vitamix 5200 vs 5300?
Bottom Line: The Vitamix 5300 carries the vote. The stronger motor and better torque mean slightly faster blending.
2. Blades
The blades on 5200 and 5300 are made of the same laser-cut stainless steel blades and are straightforward to the touch. The sheer power of the motors guarantees that these precisely angled blades chop through just about anything you toss in the pitcher.
PS: Please, it would be safe and healthy if you avoid touching the stainless steel blades, especially when moving to avoid getting your hand chopped off, thanks.
Because the 5200 pitcher is narrower and taller, the blades were designed to be three inches in diameter. While The 5300, though has a wider pitcher, like those found in the G-Series. It is three inches shorter and an inch+ wider thus allowing for larger diameter blades. The 5300 blades are also 1 inch wider at 4 inches in diameter.
So who is the winner in terms of blade, Vitamix 5200 vs 5300?
Bottom Line: This is a win-win for both models. Because the blade size has so little to do with the performance and both will easily chop through ingredients.
3. Cooling
The Vitamix 5200 doesn't have any special cooling ft technology for the motor. It solely relies on vents and the airflow around it to remove the hot air that the motor produces. It's okay if you won't be blending for hours, this blender will work just fine when it comes to power and performance.
The 5300 on the other hand, has in it an in-built cooling fan that forces the hot air out while bringing cool air in through the vents. However, because of the fan, you can run the 5300 much longer than the 5200. If you would be blending for hours, then the 5300 model should be considered.
So who is the winner in terms of venting, Vitamix 5200 vs 5300?
Bottom Line: The 5300 wins. Although the fan was there to do the duty of which it does its job, it isn't that essential as you won't be blending for hours
4. Machine Height
The overall height of both machines is relatively different. Our findings discovered that When the pitcher is placed on the base, the Vitamix 5200 stands at an impressive 20.5 inches. Buyers have laid complaints about this.
Well, It's understandable to know that not everyone seems to have enough space under the cabinets or pantry to store the unit when fully assembled. Again if used with a cabinet over the machine it becomes tough to add ingredients or remove the top due to the height.
So surprisingly the Vitamix 5300 took to mind the complaint by buyers of the previous model(5200) and addressed this concern and took just over three whole inches off the height while designing the 5300 model. The 5300 stands as an ounce capacitances and most of the clearance complaints have cleared up.
To maintain the 64-ounce capacity, the 5300 pitcher is wider. So who is the winner in terms of space, Vitamix 5200 vs 5300?
Verdict: The 5300 wins. Spaces have always been an issue in most kitchens, the 5300 allows for more storage options and thus allows you to have more kitchen tools installed in your kitchen without sacrificing one for the other, unless when necessary.
5. Container sizes, lid & material
Like we said earlier about the height, When it comes to the container sizes, these two Vitamix models have a significant difference in the design of their 64-ounce, which is made of triton and is BPA-free. The Vitamix 5200 blender container size is taller (20.5 inches) than that of the 5300 (17.25 inches), while the Vitamix 5300 is wider than the 5200 model.
The Vitamix 5200 uses the Classic Container type while the 5300 uses the Low-Profile container. The Low-Profile Container is usually found only on the Next-Generation Series blenders making this the only blender from a different series (Classic series) to use it.
6. Price
With the upgrades that were made in the later model(5300), will consider the Vitamix 5300, of course, to be more expensive than its counterpart(5200). We consider the added price to be worthwhile. If don't have the power to get a new one and you're looking to get decent bang for your buck, you can opt for a Vitamix 5300 Certified Reconditioned blender. It looks and works just like a new one, and comes with a 5-year warranty
Conclusion: which model should I choose 5200 or 5300?
So having made a nice review about the Vitamix 5200 vs 5300 blenders, we couldn't agree less than to be blunt about the Vitamix brands, that both blenders are the best of their kind. Based on our side-by-side comparison of the Vitamix 5200 and 5300 blenders, we discovered that both have their strengths and weaknesses.
The Vitamix 5200 classic blender is built based on the Vitamix's flagship 5000 C-Series. Its simple structure and intuitive controls rendered it great for daily home and restaurant use and it's well-suited for beginners. While the Vitamix 5300 C-series is a slightly better performer and priced at better value for money.
Our winner is Vitamix 5300. Why? Because of its advance features such as the increase in horsepower, plus the addition of a built-in cooling fan, and a pulse control that allows the 5300 to perform better which are all missing in the Vitamix 5200.
We hope you find our review on Vitamix 5200 vs 5300 to be helpful. If yes, you may want to take a quick look at our comparison between Vitamix 5200 and 7500. We wish you happy shopping as you go about picking up your favourite blender.