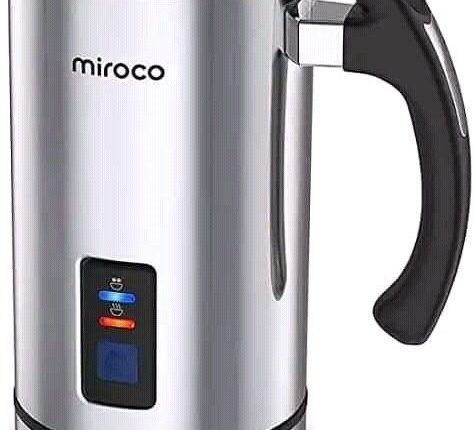 Electric & Automatic miroco milk frothers review
The Reasons Why We Love Miroco Milk Frother the No1 Automatic Hot and Cold Milk Frother Warmer with Heat Froth Whisks for Latte, Coffee, Hot Chocolates, Cappuccino, Heater with Strix Control
When it comes to choosing the right kitchen tool for frothing milk, there is certainly plenty of milk frothers to make your choices from. It can be very difficult to know which device will be best for you. For this, we decided to explore and which we then selcted the miroco milk frother.
Whether you are looking for an Electric Milk Steamer Stainless Steel with Heat Froth Whisks for making Coffee Cappuccinos + or you are simply looking for an automatic cold/ hot milk steamer or foam maker for making cappuccino and latte art with large capacity that's dishwasher safe, then the miroco milk frother could be the perfect milk steamer for your need.
Here we've made a review on the four(5) miroco milk frothers you can make your choice from depending on its colour, features and functionality, so you can easily make your favorite hot and cold brewed coffee and concentrates.
Related Stories featured on Reviewmast 👇
Miroco Milk frother Review
In our analysis, while hunting for the best milk frothers base on experts and users scores on review, the Miroco Milk Steamer was placed 3rd when we looked at the top 10 products by brands which is ahead of the bodum bistro milk frother.
Miroco milk frothers(Electric & Automatic)
Among the list of miroco milk frothers from the manufacturer are: (1) Miroco Milk Frother Electric Milk Steamer Stainless Steel with Heat Froth Whisks for Coffee Cappuccinos, (2) Miroco Electric Milk Frother Soft Foam Milk Steamer with Extra Whisks for Cappuccino Coffee Latte, (3) Miroco Milk Frother Electric Milk Steamer for Making Latte, Cappuccino, Hot Chocolate, Automatic Cold Hot Milk, and (4) the Miroco Milk Frother for Coffee, Dishwasher safe, Stainless Steel Milk Frothing Pitcher, Automatic Cold Hot Milk Steamer, Electric Foam Maker and Warmer for Cappuccino, Latte, Large Capacity, 120V. All these milk frothing machines are designed base on users needs, desires and wants.
MI-MF001 & 1B Miroco Stainless Steel milk frother
Going through the list of miroco frothing machines, the Miroco Electric Milk Steamer Stainless Steel with Heat Froth Whisks caught our attention. This frother which comes in 2 colors(black 1 & white 1B) is an extremely easy to use frothing gadget and makes just enough froth or hot milk for one drink. You can simply froth any type of milk you want. Whether coffee-based drinks, hot chocolate and whole milk effortlessly at home.
You can Heat up to 240ml /8.1 oz and froths up to 115ml / 3.9 oz. Durable and Stylish Design stainless steel and non-stick coating interior ensures that you can clean it without any problem at all. Quickly and Quietly Make a beautiful café-style coffee drinks arts and with a Strix Temperature Controls safety features.
However, Glass is breakable. So you need to be careful while handling it.
MI-MF005 Miroco Automatic Cold Hot Milk Steamer (Recommended)
The miroco detachable & automatic Dishwasher safe milk jug can be removed from the 360 ° detachable base; The inside with a non-stick coating can be rinsed in a few seconds and leaving no stains making it easy to clean and also convenient for use at home or office
This Cappuccino machine comes with a large capacity (24.3oz/720ml) milk heating jug; that's Suitable for 350ml milk frothing which is triple the usual 3.9oz/115ml milk the frothers available in the market; a great frothing machine for family use
With its induction heating technology, you can ensure that it makes low noise, denser and smoother foam. Unlike electric heating, the induction heating ensures even heating improving delicacy and preventing scorching; one of the fast and efficient way of heating/frothing milk.
With this 3 in1 buttons automatic miroco milk frother you can heat and froth milk at the touch of a button.
Miroco Electric Milk Frother + Extra Whisks.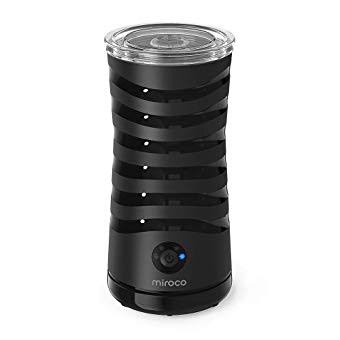 Miroco Electric milk frother with Non-Stick Interior plus Extra Whisks which comes in two (2) designs the black(MI-MF002) and white(MI-MF002W) is designed to prepare café-quality drinks like coffee, cappuccinos, latte, hot milk, hot chocolate and flat whites at the push of a single button on the milk frother, This milk frother prepares three different textures of milk foam (3.9 oz / 115 ml of Hot Airy Foam, Hot Dense Foam and Cold Milk Froth) for heavenly coffees in no time. It is also a good one to heat milk for a breakfast.
This miroco milk frother is equipped with Strix Temperature Controller and switches off automatically when your milk or froth is ready
Note: while preparing for your about to be frothed milk, it's advisable to use whole Fat Milk for frothing.
These frother as an insulated double wall design with a non-stick coated stainless steel cup which makes it super easy to clean up, simply by wiping it with a wet cloth after each use.