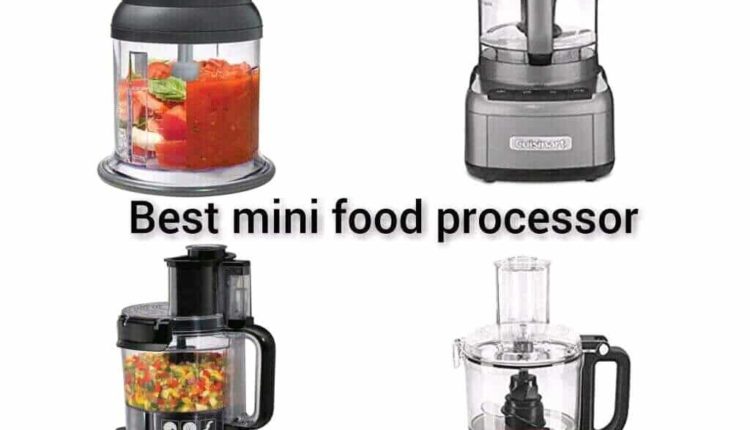 8 best mini food processor reviews
Reduce your cooking time, take advantage and make full use of the choice mini food processor.
Ever wanted to reduce cooking time without sacrificing counter space, for food processor machine due to its size? Why not take advantage of a mini food processor and effectively use it to accomplish your cuisine. A mini food processor also known as a smaller size processor is one of the portable kitchen appliances that is and can be used to make dinner for two people or doing meal preparation like a pro, which is great in apartment kitchens for its portability. Kindly refer to learn more about the uses of a food processor.
Why you need a food processor?
Mini food processors are no doubt equally useful just like the large food processor because they produce even results without the elbow grease of chopping by hands and need no extra knowledge about knife handling to perform task like vegetable chopping. So, whether you are looking to make baby food, fresh chops or gourmet food, this mini options food processing gadget is always handy to use to make your food prep easy without occupying much space even in small kitchens where there is little to no space.
Related Stories featured on Reviewmast 👇
In our about to be reviewed mini food processor machines, we did some ethic task by testing out each mini food processor to make sure they are actually what we would love to recommend them to our readers base on there needs and wants to make food prep easier and for home improvement in general. But how do we make the test?
How we test & choose the best food processor?
As a team of 10 in The kitchen maximizers here is how we go about choosing the best mini food processors you find out here. Like every other kitchen and home improvement gadgets review you've come across and yet to check through, we each pick up a list of items we want to review base on consumers pre reviews and then send a survey polls to our review team from across the globe for unbiased testing of items to ensure they all pass the quality test and which they give feedback on it.
Although some may be equally reviewed while some not, so we collect customer reviews on the best mini food processor from the most reputable kitchen and home improvement stores online such as amazon, aliexpress, Wallmart, eBay and the likes. Whatever your preference, we've browsed through tons of customer reviews and compiled a list of the top-rated mini food processors that customers recommend most—so you'll have no trouble finding the perfect chopper to suit your need.
Overall Best mini food processor: Cuisinart Mini prep plus food processor
Best Cheapest mini food processor: Mainstays 1.5 Cup Mini Food Chopper
Best Valued Mini Food Processor: Ninja Express Chop
Recommended mini food processor for those who easily feel pain while chopping: Black+Decker One-Touch Chopper
Easiest to Use Mini Food Processor: Hamilton Beach Stack & Press 3-Cup Glass Bowl Chopper
Best Cordless Mini Food Processor: KitchenAid Cordless Chopper
Best Mini Food Processor for Beginners: Philips Multi Chopper
Best Mini Food Processor for Liquids: KitchenAid 3.5-Cup Food Chopper
Top Mini food processor reviews
Cuisinart Mini prep plus food processor: Overall Best.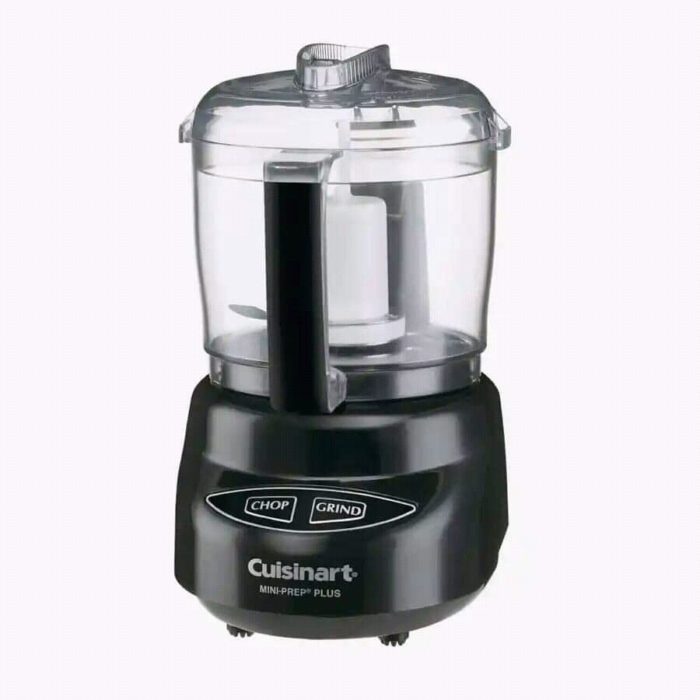 Cuisinart DLC-2ABC Mini-Prep Plus Food Processor ranked at the top of all our 10 reviewed mini-sized food processor test. The 3-cup plastic work bowl-sized food processor is a comfortable size for prepping many ingredients and a perfect little helper for small food preparation task including blending, chopping, emulsifying, grinding and puréeing. The powerful high-speed 250-Watt motor works hard and fast to accomplish every bit of small jobs easily as expected making it our overall best mini processor.
You can pulse or run in both chop and grind modes; you can use it to chop ingredients like herbs, onions, meat and purees, and grind for spices. However, for you to accomplish your task, You must hold both buttons to operate, one spins the blade in the direction of the sharp side and the other button spins the blade in the opposite direction.
Mainstays 1.5 Cup Mini Food Chopper: Cheapest.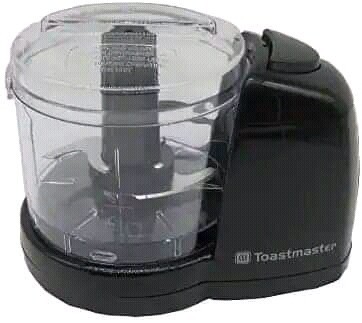 Mainstays 1.5-Cup Mini Food Chopper is a tiny-yet powerful food processing gadgets that hold up to 1.5 cups worth of meal prep ingredients such as dips, sauces, and nut butter. The electric-powered Mainstays mini food processor comprises of just four compartments, three of it are removable and can be rinsed off and popped in the dishwasher, so the cleanup really can't get any easier. Also, featuring a one-touch pulse mechanism, that is to ensure you can easily control the consistency of your food. Not to forget, its also the cheapest mini food processor machine you can ever think about at a price range of $10 for which you can bargain.
Ninja Express food Chopper: Best Valued.
The 16-Ounce bowl Ninja express food chopper is one of the most-loved valued little choppers on the market. It's an extremely easy to use food processing gadget and has a powerful 200-watt mechanism for quick mincing, dicing, chopping, blending and pureeing fresh ingredients evenly. Featuring an anti-spill splash guard and a non-slip base for the easiest and cleanest chopping experience, pulse technology button for ultimate control and consistent results and a storage lid included to keep your food fresh. Lastly, all removable parts of the ninja express chopper are dishwasher-safe and BPA free.
Black+Decker One-Touch Chopper: Most recommended.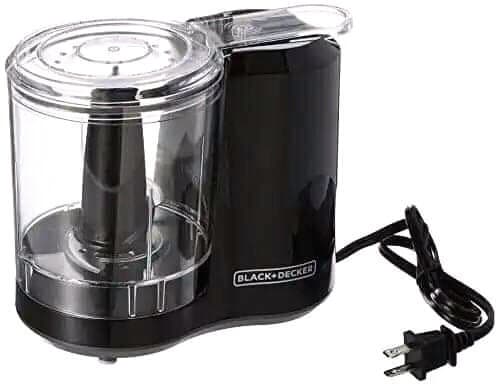 The black and decker one-touch electric food chopper features a 1.5 cups capacity ensuring that you enjoy fast, easy and quickly chopping or mincing of dip, salsa, pesto and more at the touch of a button while preparing your favorite dishes. With black and decker, you can easily prepare ingredients for larger recipes. Also, it has an oil hole ensuring that you can easily add oil to hummus and vinaigrette as you mix without making a mess. Its removable parts are dishwasher-safe for fast and easy clean before and after use. As one of the most recommended mini food processor, the black+decker as a Bi-level stainless steel blade which stays sharp, providing long-lasting performance
Hamilton Beach Stack & Press 3-Cup Glass Bowl Chopper: Easiest to use.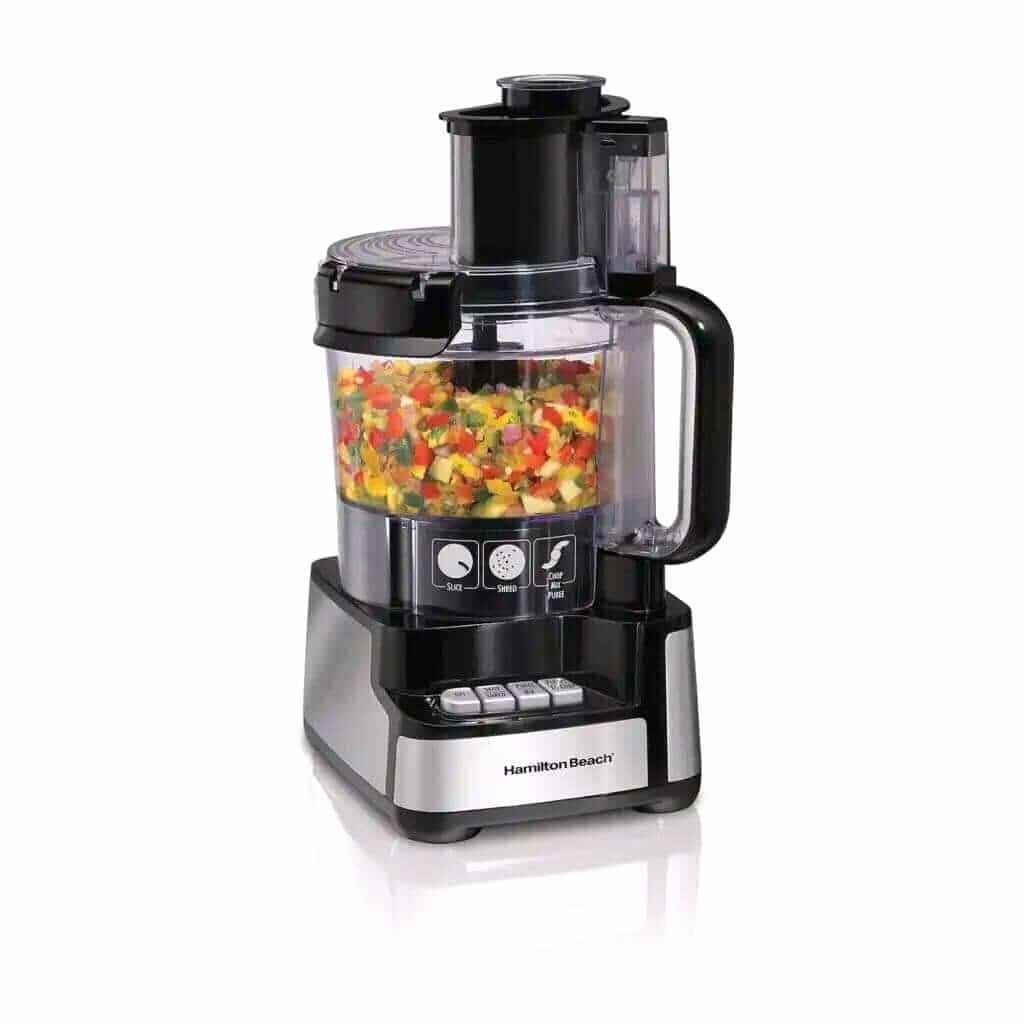 Nothing's better to feel than using garden vegetables to make a fresh summer salsa without staining the chopper, but chopping all the tomatoes, onions, and peppers can get somehow tedious. The Hamilton beach 3 cups are the perfect mini food processing machine for chopping vegetables and Mince fresh herbs without leaving behind the scent. Thanks to the maker, you can now spend less time in the kitchen and more time in the sun by using the Hamilton Beach Stack & Press 3 Cup Glass Bowl Chopper. It enables you to create new opportunities for homemade relishes, dips and spreads. And it is so easy to use.
KitchenAid Cordless Chopper mini-processor: Best cordless.
Whether you Love cordless gadgets or you wish to go cordless this time? This KitchenAid food processor is rechargeable but cordless mini food processor that can be used for chopping and pureeing of meals. Charging of the kitchenaid food chopper last under two hours, but will also give you enough chopping power for some tasks in just 10 minutes. Also, it comes with a whisk attachment for whipping cream and a dishwasher safe Multi-purpose stainless steel blade.
its compact design includes a 5 cup BPA-free work bowl which gives you room for a lot of larger vegetables if you're looking for a versatile option with convenient in-bowl accessory storage. Perfectly equipped with 2-speed settings to mix, chop, puree and whip a variety of dishes at a single stance. However, you have to wait for the battery to re-up If it's not charged already.
Philips Multi Chopper mini food processor: Best for beginners.
Philips MultiChopper food processor is of mini-er food processor within the mini food processor which uses a Chop Drop Technology to enable you to chop like a chef that you've always wanted to be. The large chop drop basket holds in the ingredients, while 3 blades do your chopping. As a beginner, who loves to start chopping like a chef, simply press down on the top of the MultiChopper. It's the high-speed blade allows you to finely chop ingredients such as meat, nuts, herbs, chocolate and more. Start chopping like a professional with No extra buttons, settings or switches.
KitchenAid 3.5-Cup Food Chopper: Best for liquid.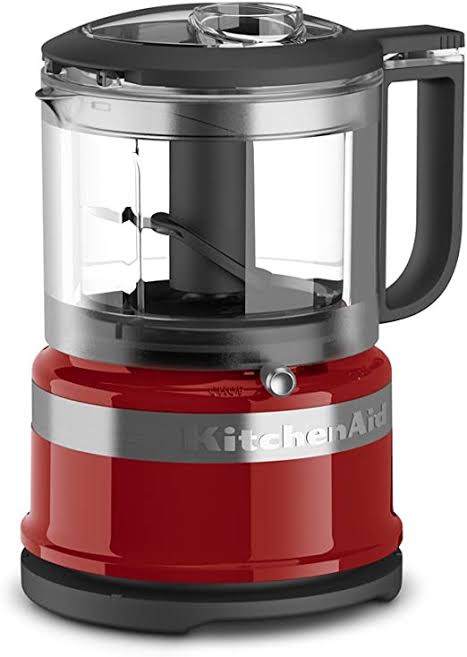 The KitchenAid 3.5-Cup Food Chopper is a lightweight and compact mini food processor, measuring just under 9 inches tall and 6 inches wide, so it's easy to keep on the counter or stash on a shelf. It includes a drizzle basin in the lid that acts as a funnel to help slowly incorporate oils and other liquids. the 3.5 cup kitchen aid sharp, S-shaped removable stainless steel blade has one arm positioned close to the bottom of the bowl to prevent pieces from lodging underneath.
More to that, the kitchenaid mini processor unit has two speeds, one to chop and the other to puree, both are controlled by a lever on a heavy-duty base. To tidy up before or after use, its either you hand wash the bowl, lid, and blade in hot, soapy water, or place them in the top rack of your dishwasher.
FAQ
What should I look for when buying a food processor?
Are you prepared to get the best mini food processor? Here is what to look for when buying a mini food processor. Think about the primary reason why you needed it at first and what you'll be using it for. Some small choppers are ideal for smoothies because they come with takeaway lids which you can just process your ingredients, swap the blade for a sippy-top lid, viola, you are set to go.
Other mini food choppers have a little bit more wattage, which is a great one if you'll be regularly chopping harder ingredients like ice or nuts…if you consider all that ahead before buying your mini food processor, this will ensure you never lack the necessary feature of why you opted for one.
What things can you do with a food processor?
Ever wondered What can you make in a mini food processor?
It's quite amazing to know that the mini food processor is capable of performing a lot of food preps like making homemade nut butter, grinding meats, curry paste, homemade pesto, chopping vegetable for salad, making homemade hummus, dough kneading, ice cream making, green sauce and lots more. You can also refer to the 12 magical ways to use a food processor.
Conclusion
From our mini food processor reviews, we can see that there is a lot of cool mini choppers available for you to choose from base on what you need and wants. Such as the Cuisinart mini food processor and the Kitchenaid mini food processor. You can also refer to our food processor vs blender review to learn additional about both kitchen tools.