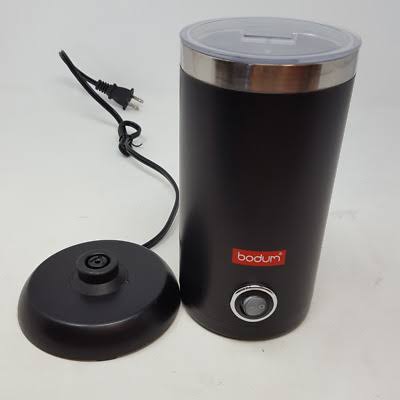 bodum bistro electric milk frother review.
A quick review Regarding Bodum Electric Milk Frother you'll love. Just to give a head up, below are things you Need To Know About the black bodum frothing machine.
While going through various top milk frothers available for frothing milk, we came across one of the best brands: Bodum Bistro Electric Milk Frother and we thought its worth talking about it.
Whether you are about to prepare a delicious cappuccino, a chocolate mocha, sophisticated latte or make your barista-level drinks in your kitchen, we believe with our review on Bodum bistro electric milk frother, you'd be able to transform your daily cup of joe into a coffeehouse speciality and make your Bodum milk frother recipes using this kitchen gadget.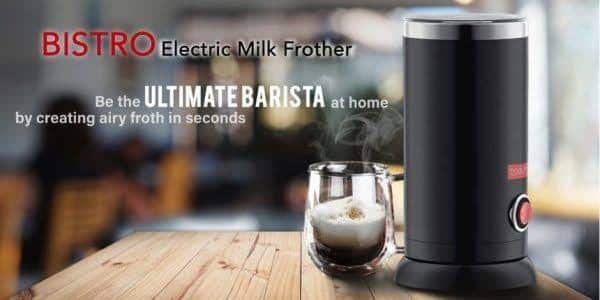 Related Stories featured on Reviewmast 👇
Looking cool and well designed, this magical milk steamer machine ensures all your favourite lattes or drinks are at your fingertips,
Although made in black, this neat and well structured compact device would look great in your kitchen for it auto-shutoff & on, easy cleaning, convenient cord storage and finished black. We suggest You Should Experience Bodum Bistro Electric Milk Frother At Least Once In Your Lifetime for those three(3) reasons and here's Why.
Bodum bistro electric milk frother review.
Ease of use: when looking for an easy to use milk steamer, the Bodum bistro electric milk frother shouldn't be overlooked, as it considered one of the best milk frothers for its ease of use.
Noise level: although the Bodum milk frother doesn't make noise, there is a time when you will experience some strange noise may be because you have the steam wand touching the bottom of the pitcher, over steaming/heating the milk or you didn't aerate the milk enough. Here are tips you can follow to correct the noise level of your bistro milk frother
Easy to clean: the milk steamer as al non-stick coating interior material which ensures easy cleaning, however, never you submerge your milk foamer in water, but you can remove the whisk for cleaning.
Durability: Bodum bistro electric milk steamer is made of steel, the jug is highly durable and damage-proof. Though it features no handle, it doesn't heat up from the outside and is safe to carry. It electrical level is 120 voltage & 500 watts capacity.
Value for money: when looking for a milk frother that's worth the price tag, the Bodum milk steamer is known for its value for money.
The electric milk frother was quite clear to have been designed to make you a professional barista without leaving your doorstep. The heavy-duty motor makes luxuriously thick creamy and long-lasting froth from milk. It Level indicators show you when you have it right and comes with features that ensure you can Make delicious foam for coffee shop-style drinks and Heats 1 cup of milk at a time, a compact design, convenient cord storage, removable base, Stainless steel body, Non-stick coating on interior and a clear plastic lid.
FAQs about Bodum electric milk frother
Is your Bodum milk frother not frothing? Here's our recommended Bodum electric milk frother troubleshooting guide you can follow and the faqs about it.
Does Bodum milk frother heat milk?
Sure, here is how Bodum milk frother work, to make a barista-quality cappuccino, froth cold milk into rich, flavorful foam, just simply press the power button, wait around a minute, and your milk will be frothed to perfection at around 70ºC. Alternatively, remove the whisk and you can use the electric milk frother to heat milk for a mouth-watering café latte or an indulgent hot chocolate.
How do I turn on my Bodum frother?
Are you finding it difficult to turn on the Bodum frother? Although the Bodum milk frother turns off automatically when the milk reaches 70ºC, after around a minute so it never burns and when milk left in the device falls below 50ºC, the device automatically switches on to keep foam at the optimum temperature? Wonderful, right?
Are electric milk frothers any good?
Of course, electric milk frothers are cool and easy to use, more so, there are tens of milk frothers on the market to suit nearly every need, budget and level of beverage obsession. Here's our top recommended brands base on users and expert reviews and rankings 1. SECURA 4-IN-1 ELECTRIC AUTOMATIC MILK FROTHER, 2. BONSENKITCHEN ELECTRIC MILK FROTHER, 3. HADINEEON ELECTRIC MILK FROTHER & STEAMER, and 4. BODUM BISTRO ELECTRIC MILK FROTHER.