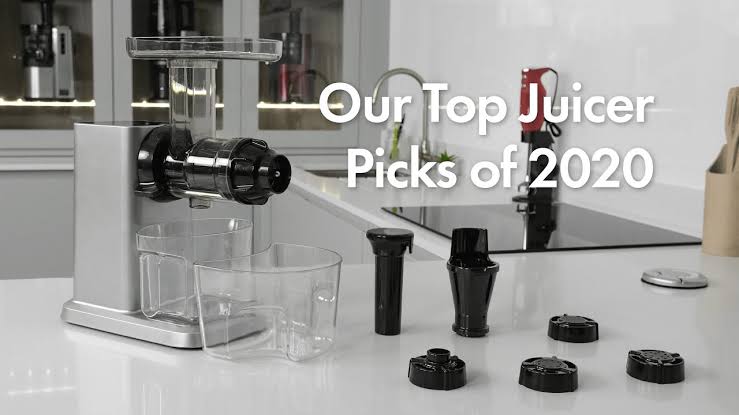 5 Best Omega juicers of 2022 – Top Pick's & Buyers Guide
juicers are one of the best small kitchen appliances you can ever think about. If you are the type that loves juicing celery, beets, oranges, apples or more, and you appreciate making use of a juicer, then you may need to get the best juicer such as the Omega juicer for you to make your favourite juice.
In this article, you will learn about the best omega juicers, and also see which model came up on the list of our top picks. So in case you are curious about which models are good for juicing, here we've made some findings and came up with the best omega juicers.
While making findings to choose which is best, we did our best by a side by side comparison of the models by comparing the available omega juicers models, base on the power, chute and warranty.
Related Stories featured on Reviewmast 👇
Although to make your choice from these best omega juicer reviews, you have to decide which juicer type you prefer. There are two major types of juicers, the centrifugal and the masticating juice extractor. So before going through the top picks, let us see the difference between the centrifugal and cold press models, and also the benefits.
Difference between centrifugal vs masticating juicer
A Centrifugal juicer which is famously known as a high-speed juicer utilizes a flat cutting blade to cut fruits, vegetables and every other market product.
The benefit of Centrifugal machine: deliver your desired juice quickly, and also capable of handling hard produce (fruits and vegetables)
The disadvantage of centrifugal extractor: juice quality tends to be low due to the way the machine operates at a high speed which does cause and inevitable nutrient loss. Also, they are mostly noisy because of motor power.
On the other hand, the masticating juicer which also can be called either slow or cold press juicer operates at low speeds and use an auger to press veggies, fruits, and other products in other to extract the juice from it.
The benefit of Masticating juicers: it gives a higher yield in produce, and the quality of the juice is great in taste with a high quantity of nutrients reserved which is a sign of healthy and natural juice.
The disadvantage of Masticating or cold press juicer: typically, they take a bit more time to finish extracting the juice due to the low process at which the machine operates.
Having seen the difference between the masticating and centrifugal juicer, let us quickly take a review of some of the top 8 Best omega juicer to buy.
Omega Juicers Comparison – Top Pick's
Best Overall: Omega j8006hds masticating juicer | As the over best omega juicer machine, you can use it to juice just about anything from fruit such as apple, citrus, lemon, grapes, to vegetables and kales |
Premium Choice: Omega J8004 juice Extractor | This Juicer machine took the premium stage among the best omega juicers review due to its massive features. Although pricey |
Best Value: Omega J4000 High-Speed Pulp Ejection Juicer | if you need a juicer for the value of your money, this model may serve your needs |
Budget Pick's: Omega vrt350x (Vertical) masticating Juicer | Not only is this model cheap but also good for those who need an inexpensive juice extractor
All Quieter: Omega VSJ843QS Vertical Compact Juicer | If you are the type that loves making juice early in the morning, you may want to go for this quiet juicer. This model is a perfect one for you |
Recommended Juicer UK: Omega VSJ843R Slow Juicer in Silver | As one of the best juicer on the market, this may serve those in the UK, Australia, EU |
The Best omega juicers – Reviews
1. Omega J8006HDS Juicer – Overall Best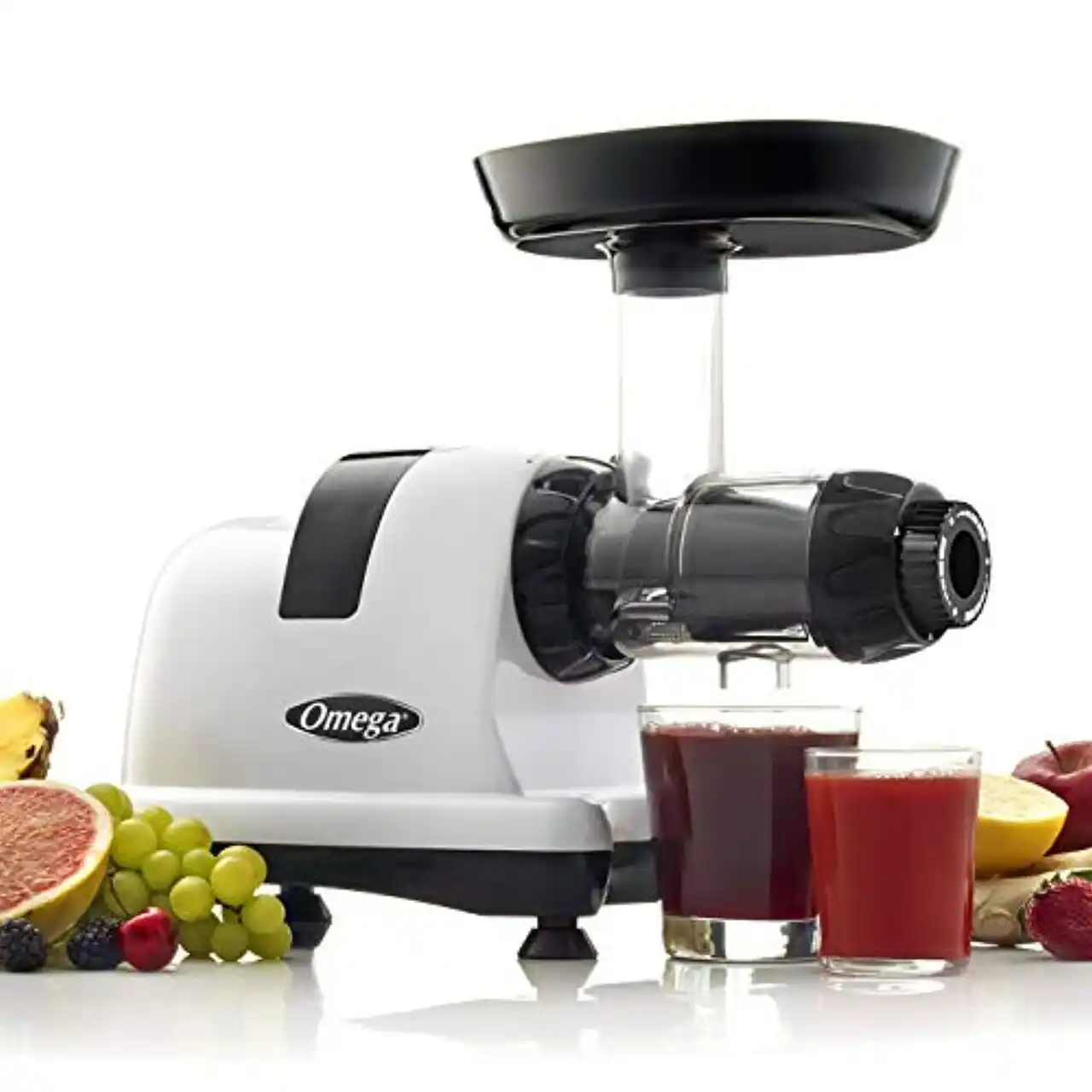 Omega j8006hds juicer is one of the talks about models on the market. It has gained a whole lot of ratings from users over the years due to its performances. These slow speed juicer uses the masticating process to efficiently accomplish their task.
As one of the best juicer that it's known for, these model do not only efficiently extract from fruits, vegetables and leafy greens the liquid (includes both hard and soft produce), but capable of mincing apart juice, grinding peanuts, making soy milk, pasta and baby food.
The "13 pounds" Omega j8006hds masticating Juicer features a powerful 2HP motor's equivalent gear reduction that runs at 80rpm and. It also comes with automatic pulp ejection and dual-stage processing function for maximum yield, GE Ultem auger.
Pros: 200Watt powerful Motor at 80RPM, dual-stage Slow juicing process, Versatile, Automatic pulp ejection, Inexpensive, 15-year warranty
Cons: Small feed chute and Easily Clogs
Although the "Omega juicer j8006hds" is not the newest model in line with the omega juicers, but regarded as the best horizontal juicer. And also happens to be the Overall Best Omega Juicer and a top pick for its versatility and reliability.
Read More: 5 Best Juicer machine reviews in 2021
2. Omega J8004 Nutrition Centre – Premium Choice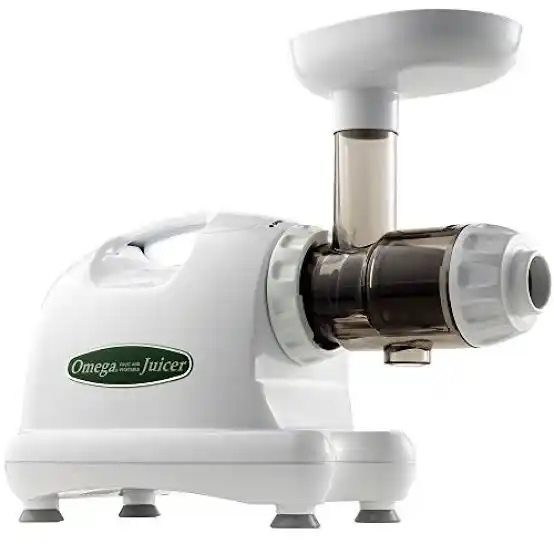 Omega J8004 juice extractor despite not chosen as the overall best omega Juicer has managed to keep its place in the premium stage due to its wonderful features and style of juicing. This Super packed juicer can be used to extract juice from fruits, vegetables, leafy greens, and wheatgrass. Also, you can use it to grind the coffee, make baby food, minced herb, 
While most juice machine runs at a speed of 1,650 to 15,000rpm, this omega juicer model features a dual-stage juice processing system that runs at a low speed of 80rpm to efficiently extract the maximum amount of juice from hard and soft produce in other to protects and maintains healthy enzymes, prevents oxidation and make it possible to store the juice for up to 72-hours.
Pros: powerful 2-HorsePower motor,  Low speed at 8rpm, strong GE Ultem Auger, Dual-stage juicing process, 
Cons: Expensive, 
If you are looking to make delicious and nutritious drinks and snacks that everyone will love, the Omega J8004 juicer may be the perfect model to go for. It can also be used for commercial purposes on a small scale.
3. Omega J4000 Centrifugal juicer – Best Value
Omega J4000 high-speed juicer is a continuous, pulp-ejection style juice extractor with a stainless steel blade whirling at 3500 RPM that is capable of handling just about anything except green leafy vegetables. It's discovered to be quieter than you might expect.
This ommercial grade juicer machine features a 250-watt hp motor that runs at a high speed of 3500rpm. Additionally, it comes with automatic pulp ejection features to make it easier to dump the pulp is full to avoid interrupting the juicing process and filter basket. The cleanup is relatively easy. However, it's advisable that before you remove the lid, you should make sure the blade has stopped spinning to avoid tearing the plastic chute apart.
Pros: 200-watt motor, 3500rpm for fast Juicing process, 
Cons: single speed settings and not efficient enough in juicing leaf greens.
Although the Omega J4000 juicer isn't durable enough, base on its features, we consider it as one of the best omega juicers. If you care more about making juice in a split of seconds, the model this model may be a good choice to buy.
Read More: best juicer for your money of 2021
4. Omega vrt350x (Vertical) masticating Juicer – Budget Pick
Omega VRT350X juice extractor is a vertical style juicing machine that is designed to be compact, modern and efficient. This low-speed juicer has a ULTEM screen, an auto cleaning system function that helps keep the screen clear of pulps during juicing and increases productivity. The nearly-indestructible ULTEM juicing screen helps to withstand heavy-duty juicing.
The Omega VRT350X which weigh "11-pounds" features a 150Watt motor base. Unlike most juicers that operate at a high speed of 1,650 to 16,000 RPM, this cold press juicer model runs at a low speed of 80rpm in other to extract the juice from produce and enable the possibility of storing the juice for up to 72hours without any degradation.
Pros: 150-watt power, lightweight, dry pulp, 10-year warranty, quiet and easy to use
Cons: tends to clog while juicing greens, 
If you are on a budget and you need a good juicer to make juice from fruits such as apple, carrots, and celery, you may want to go for this model.
Read More: Best Budgets juicers reviews for 2021
5. Omega VSJ843QS Vertical Compact Juicer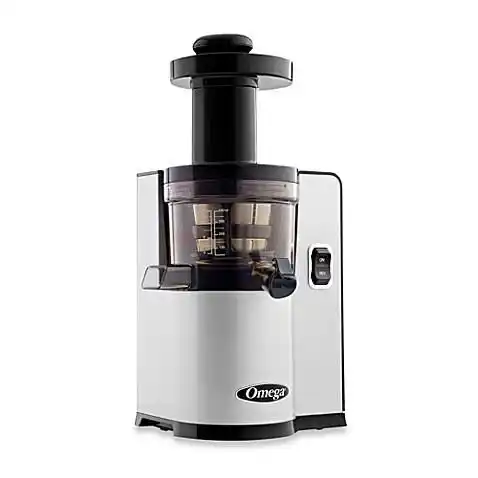 Omega Vsj843qs vertical masticating juicer is a high yield juicing machine that is built to efficiently and gently squeeze juice from fruits vegetables, leafy greens and wheatgrass. This compact designed juicer is capable of extracting juice from its produce.
The omega VSJ843QS juicer features a dual-edge auger with tighter fit tolerance strains and a 150-watt power that runs at a low speed of 43rpm to create optimal efficiency. Also included is a no-drip juice tap that makes it possible to create a mixing function and an Auto cleaning system to keeps the screen clear from splashes of pulp, in other increase the efficiency of the machine, and its easy to use.
Pros: 150watt power, Dual-edge auger, Auto pulp ejection and clean function, 15-years warranty, easy to use.
Cons: small chute which requires you to cut your produce into smaller chunks.
If you are struggling to station your juicer due to lack of space, the best way to overcome such challenges is to go for a compact design, because they take up less space as they are streamlined and narrow. The Omega vsj843qs may be the right model for your need.
Read More: Best compact juicers reviews for 2021
6. Omega nc900hdc Masticating Juicer
Omega nc900hdc masticating juicer machine which runs at a low speed of 80rpm is designed not just to extract juice from fruits, vegetables and leafy greens, but also use it to extrude pasta and make fresh baby food. 
This Omega juicer model features a 150watt power and dual stage" masticating extraction with 5 adjustable settings for maximum juice output. It and a larger feed chute, plus an automatic pulp ejection. Also included are 6 nozzles and 2 juicing screens, and comes with 15-year warranty coverage.
Pros: High Juice Yield, Quiet Motor, Larger chute, Slow Squeeze Juicing, Easy to Clean and 15 Years warranty
Cons: not so durable plastic material.
If you care more about warranty and you want a juicer with a larger feed chute, Considering the generous amount of features we can't help but admit it to be among our top picks of the best omega juicers.
Read More: Best juicer for apples in 2021
Omega juicers Buyers Guide and Tips
No juicer can be said to be the perfect one without knowing what you need. To buy the best omega juicer, you may want to understand how this model varies and how they affect your juicing experience. The omega juice extractors come in two major types, the omega centrifugal juicer, and the omega masticating juicer. Also, they vary in style(Horizontal and Vertical).
Horizontal vs Vertical juicer
Both the high speed and slow juicer comes in vertical and horizontal models. And it's you who is to decide which of this design would best meet your requirements. Knowing your favourite is as critical as knowing the essential as it will help you reach the deal.
Horizontal juicers though might have a big footprint, but they can easily fit in with kitchen décors. Also, they might be better for wheatgrass, plus they are might likely have additional functions to enable it to accomplish a task like grinding and mincing, thanks to extra attachments.
Vertical juicers though have a small footprint, but taller. These models are more likely better for those focusing on juicing from soft produce. Although due to the height is necessary you consider if you are to buy it. Your designated place for installation should play a role here.
Having seen the difference between vertical vs horizontal juicer, how do you decide which juicer to buy?
Motor power:
Choosing a unit with a strong motor is crucial if you are expecting to handle hard produce. The more powerful a juicer motor is the more it can handle hard fruits and vegetables which would also result in delivering higher yield from produce. However, always know that the power the motor, the more like it may be louder 
Juicing Speed:
Like i stated earlier about the advantages and disadvantages of the centrifugal vs masticating juicer, deciding what unit is best for you to depend on which model to go for. If you want to make the healthiest juice, you may want to choose the slowest juicer, because it helps minimize oxidation through the slow juicing process in other to preserve most nutrients from your produce.
If you want to buy a slow juicer irrespective of the brand, you may want to take a low out top collection of the best slow juicers reviews
Weight & Dimension:
It's critically important to consider the weight and dimensions of your juicer. There is no doubt you will want to move your unit from one position to another. If you are the type that often moves your juicer you may want to consider the weight of your juicer. The more lightweight your model is, the easier it would be for you to move it conveniently.
Also considering the place you want to position your juicer, you may want to look out for the dimensions of the model. A small footprint juicer may be the best for such situations, and that small footprint goes with a vertical style. However, this vertical juicer is typically high, so you may need to consider that as well.
Horizontal juicer on the other hand has a large footprint, but they are not high. If you are interested in storing it in kitchen countertops and cabinets, this unit would be ideal for that purpose.
Easy to use/Clean:
No one wants a complicated juicer, and avoiding it at all cost is necessary. Thanks to the omega brand. This company have always considered there customers demand, and have been one of the best company to even provide for even the beginners. Going with an easy to use unit is vital.
Also, you should consider the cleanup process. Buying a model that can be easily cleaned up is a great one. Most especially for those who juice regularly. You may also want to have a look at some of the best juicers for beginners 
Price/ Value:
The price of the unit you intend to shop for should meet your budget. Omega juicers are both available at a premium price, and for those on budgets. If you still choose to go for a certain unit, and you can't afford the new juice extractor, You may opt-in for the rebranded unit. Here are some of the reconditioned Omega juicers to buy.
Juicer Warranty:
Knowing the warranty duration of the model is also an additional factor to consider when you want to buy a juicer. The lengthier the warranty period, the likely the model is to be. Not just that a higher warranty period helps you save the cost of financing the expenses that you would have been incurred on you should your juicer have a defect.
While some juicers come with a shorter period of 5months coverage, there are some with 1-15 years coverage.
Conclusion: Which is the best Omega Juicer
Here's the deal, whether you have decided to go for a horizontal or vertical model, it doesn't have much impact on your juicing experience as both styles are good for juicing. The most important thing is to be sure if you are to go for a masticating or centrifugal juicer machine because that is where the difference lies.
I will recommend you focus more on the masticating juicer because of the juice quality and higher-yielding. I will recommend the Omega j8006hds as our overall best omega juicer for its wonderful features. If you are on a budget and can't afford to miss out on the top picks, i will recommend the Omega vrt350x as the best budget juicer. You can also check out the newest omega juicer model on Amazon.