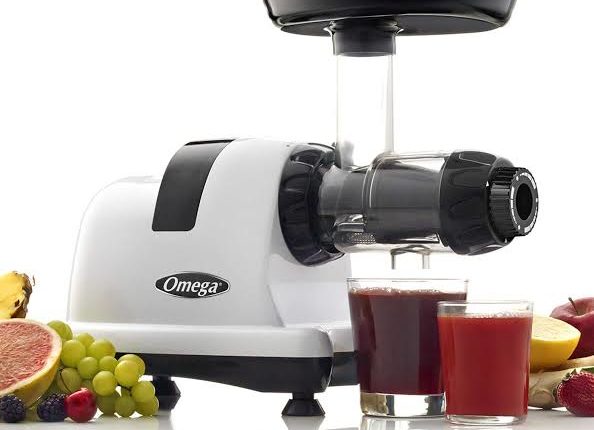 5 Best Masticating Juicers to Buy in 2022
If you are a lover of juice and you plan to get a juicer machine but you just can't wait anymore to get yourself that perfect fruit juicer machine for celery or greens, then you are at the right place where you can now decide to choose from our collection of best masticating juicers.
Although, most juice lovers start with a fast juicer and in most cases, along the line as they advance in the health care journey the masticating juicer becomes there best companion.
what is a masticating juicer machine
Related Stories featured on Reviewmast 👇
Masticating juicer also known as cold press machine operates with an auger turning slowly inside a chamber. It crushes and squeezes the vegetables or fruits, extracting out every single drop of vitamin and nutrient dense liquid that enriches the boxy, and sending the fiber away.
Compared to a fast juicer, the masticating juicer machine is more efficient on thin leaves of which makes it one of the best machine for green leafs. Also at a speed of 60-100 revolution per minute(rpm), the masticating juicer auger takes more time to squeeze out the juice than it counterpart(centrifuge).
The masticating juicer been slow at speed equates to reducing exposure from air, heat and consequently oxidation, thereby preserving the enzymes and life nourishing nutrients from the produce.
Also, the masticating juicer antioxidant features enables whatever juice you maker using the slow juicer machine stay fresh for up to 72hrs, compare to a centrifuge made juice which could only last within 7-9hrs. This make the masticating juicer machine remains the perfect juicer to get and one of the most essential kitchen gadgest.
However, not all masticating juicers are equally designed. A small difference in the material and design would likely translate to a vast difference in your juicing experience. that's why you need the best masticating juicer
So how do you go about with that perfect juicer machine to ensure you have a fresher taste always? When deciding on hunting the best masticating juicer, here are 4 things to be aware of:
#1. Quality material: when you plan to buy a masticating juicer machine your health should be your major priority over money, it would be wise to buy that with very quality material, rather than buying the poor materials just because you dont want to spend, which can easily get you sick.
#2. Tightly fit, but an easy to disassemble parts:  basaically a masticating juicer comes with a feeding chute, an auger, a screen, a juice collector, and a pulp collector. All of these, apart from the collectors, generally should fit tightly and perfectly, making it a solid, sturdy unit. Avoid a loosen juicer.
#3. Dry pulp: good masticators often produces dry pulps which indicates a high juice yield, but could be difficult to identify if that which you want to buy is good. As you can only identify it when been used. So always check up on previous users reviews to ensure you don't fall victim of a bad masticating machine.
#4. Easy to clean before and after use: when you are about to purchase your next masticating juicer, ensure you go for the ones with simple design and avoid those with excessive designs such as too much hole, this could take up your time trying to clean it.
This 4 basic tips is necessary when choosing the best masticating juicer machine.
So, having stated the 4 basic things to look out when buying your next slow juicer. Our best masticating juicer reviews can either be use to prepare celery or leafy greens.
Best masticating juicer machine review 2020
Taking a look at what you need to look for when choosing the best masticating juicers, we came up with this top 5 rated slow juicers which are Omega MM900HDS celery juicer, Omega NC900HDC Juicer extractor, HR1947 Philips masticating juicer, aicok slow masticating juicer and aobosi slow masticating juicer machines reviews from among the list of kitchen gadgets available..
Omega MM900HDS Masticating celery juicer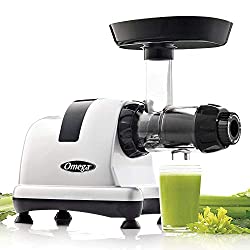 The MM900HDS low speed Masticating celery juicer is one among the best juicers in the market, with great design, features, performance and usability. If you're the type that loves silver juicers and need a masticating unit, definitely you'll no doubt love omega MM900HDS due to it top quality material that's similar to omega series, but with one more feet for extra stability.
MM900HDS masticating juicer comes with a well-specialized end cap designed to process celery, where ensuring you get a high yield return from it with exceptional quality. Nice touch handle for moving the unit around. The performance using it is versatile,  and also able to process fruits and veggies. It usability ensure that you get a 15years warranty from the manufacturer, making it the best masticating juicer for celery.
Omega NC900HDC Juicer extractor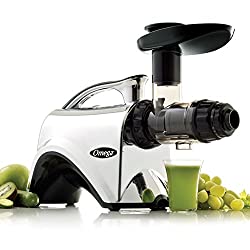 When looking to process leafy greens, Omega NC900HDC Juicer and Nutrition Center Slow Masticating Dual-Stage Extraction is an excellent extractor which you can regularly and easily use as a multi-functional appliance. The juicer auger system forces produce into a tight chamber, grinding and pressing the food to squeeze out the juice from items as fine as wheatgrass and leafy vegetables. With its Nutritional System, you can also make all-natural nut butter, baby food, soy & nut milk, pasta and a variety of healthy snacks.
Omega NC900HDC Juicer Extractor and Nutrition Center Create Fruit Vegetable and Wheatgrass Juice Quiet Motor Slow Masticating Dual-Stage Extraction with Adjustable Settings, 150-Watt, Metallic as a result of this as scored the second-best masticating juicer you can think about.
HR1947 Philips masticating juicer
If you are looking for a cold press and slow juicer that's barely bigger than a compact food coffee machine and yet stylish in look, then the Philips micro masticating juicer HR1947 is the ideal juicer for you. The avance micro masticating juicer uses micro-masticating juicer technology to maximize its yield, this ensures that it squeezes 99% of every last drop from your leafy greens to nuts, however, pricey and with the narrow feed tube.
The avance masticating juicer also has a pre-clean function to leave the inside fibre free once you are done using it, it also comes with a fibre juice filter, non-drip spout, one-litre pulp container and a juice jug with the leg. This makes it one of the most efficient and best masticating juicer machine you can ever have.
aicok slow masticating juicer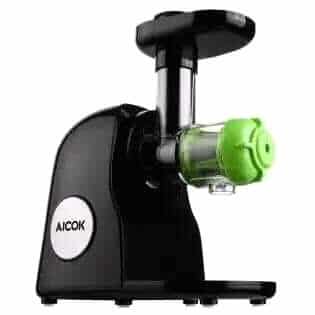 If you are looking to buy a slow juicer that can be used to incorporate more greens into your diet, then the aicok slow masticating juicer should be your best buy juicer. Aicok slow juicer i able to extract rich flavorful fruits or vegetables without having to sacrifice it nourishing taste.
The astonishing aspect about aicok juicer is that it works wonderfully on leafy juice, it's easy to clean, silent on use, very versatile and gives a better juice quality. As one of the best masticating juicer for leafy greens, if you are looking for a better way to enjoy leafy greens and fruits, then you should get one as it's worth the price. But if you are the type that likes creamier juice, I'd say the aicok masticating juicer isn't a good one for you.
aobosi slow masticating juicer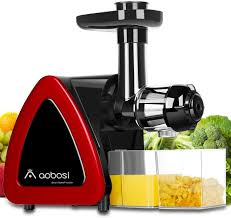 It's no surprise that when you need to extract a nutritional and tasty juice, you'd need an extractor to accomplish it quickly. And so, it's necessary to checkout for a slow masticating juicer machine to get such task done. A machine with a lower speed of 40-65rpm could be said to be a perfect pick for juicing.
Aobosi slow masticating juicer is designed from safe and durable material that's BA-free, thus serve you a long time and ensuring that you experience the best when juicing. Aobosi juicer comes with detachable parts which give the room to ensure proper cleaning after use, also with is the sleek and compact design you are sure to use it anywhere you are for it portability, making it one of the best masticating juicers you can ever think of acquiring.
Having gone through the most rated brands of slow juicers by amazon, aliexpress and eBay shoppers, just like top choiced food processors we were able to choose from among it the top reviewed yet best masticating juicer machines for leafy greens and celery.