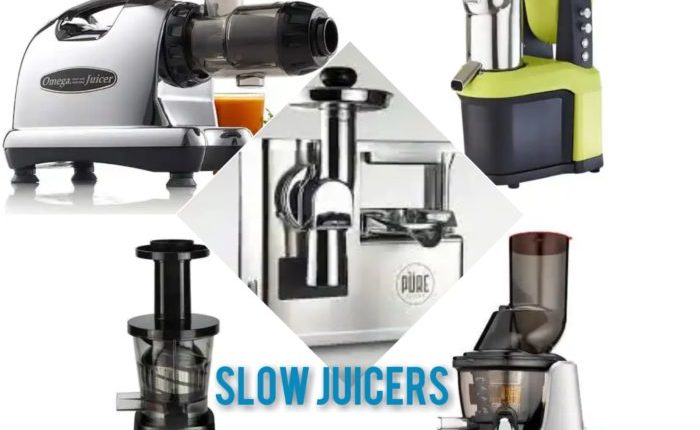 best cold press juicers to level up your home – Review & Buyer's guide
A quick review of 16 best cold press juicers to level up your home & experience higher juice yields, drier pulp, smoother and less foamy result in 2021
Are you the type that appreciate a cup of freshly squeezed orange juice with breakfast, love fruit juice combinations or like to convert your greens or tomato into a delicious vegetable juice & tomato juice from the comfort of your home? Then a cold press juicer is the best way to make the most nutritious extractions from fruits and vegetables.
As we experience a hard journey passing through the year 2020, you'll need the right diet to keep you healthy and fit as you've always wanted to. And consuming healthy fruits is one of the possible ways to guarantee that you are never left behind the daily routine of staying fit and healthy.
For this reason, we decided to make for you a Quick review of 16 best cold press juicers that are worth the investment of which either of them can be used to level up your home & kick start your journey into 2021.
Related Stories featured on Reviewmast 👇
Juicer machine(cold press juicer) though not the cheaper type is one of the essential kitchen gadgets you would need for you to convert your favourite fruits and vegetables into delicious drinks. It enables you to prepare a variety of fresh juices right from the comfort of your home.
Base on user's needs we were able to come up with the best cold press juicers by brand. You may also want to take a look at our review on the 7 Best Masticating Juicers.
Top 16 cold press Juicers for 2021
Best Overall Cold-Press Twin-Gear Juicer: Tribest GSE-5050 Greenstar Elite
Best Versatile Cold-Press Juicer: Omega Juice Extractor and Nutrition Center NC900HDC
Best Value Cold-Press Juicer: Aicook SJ-Z1 Slow Masticating Juicer Extractor 200W
Best Budget Masticating Cold-Press Juicer: KOIOS Slow Masticating Juicer with Reverse Function
Best Compact Vertical Cold-Press Juicer: Omega VSJ843QS 43 RPM.
Best Masticating Juicer with Large Feed Chute: Mueller Austria Ultra Juicer
Best Personal Juicer: Hurom HP Slow Juicer
Best Slow Juicer: AICOK Slow Masticating Juicer
Best Warranty: Tribest GSE-5010 Greenstar Elite Cold Press Juicer
Best for Gifting: Hurom HZ Slow Cold Press Juicer
Best New Release(latest) Juicer: NutriBullet NBJ50200 Juicer Pro
Best Citrus Juicer: SMEG Citrus Juicer
Best Design Vertical Cold-Press Juicer: Hurom H-AA Slow Juicer
Most Durable Vertical Juicer: Kuvings whole Slow Juicer Elite C7000S
Most Affordable Cold Press Juicers on the Market: FAMTOP Juicer
Best Professional Extractor: AMZCHEF Cold Press Juicer.
What are Pros & Cons of cold press juicers?
Pros: Produce a greater juice yield, Preserve more nutrients, Tend to produce less froth, Can handle leafy greens and wheatgrass, May have more functionality than just making juice, Usually quieter, Top models have longer warranties & Tend to last longer.
Cons: Slower juicing process, Generally more expensive, Some horizontal models can be large, May have small feed chutes, requiring more chopping & Need to be cleaned right away to avoid getting gunked.
Best cold press juicer reviews

Below are reviews of best juice extractor that can use for your homemade fruit juice recipes, green juice recipe, fruit juice combinations and many more.
Best Overall Cold-Press Twin-Gear Juicer
Tribest GSE-5050 Greenstar Elite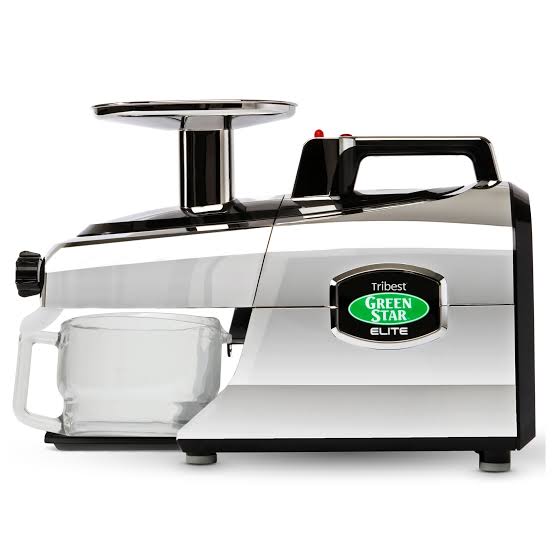 Tribest GSE-5050 Greenstar Elite came out as our overall best cold press juicer machine due to its design, features, performance and usability. The Greenstar elite was made in different colour combination which includes black, chrome, and white. The manufacturer of this juicer used enough top-quality components to ensure maximum quality of construction and extended longevity of the product.
Featuring an automatic pulp ejection that allows users continuous juice extraction and a stainless-steel twin gears which makes it different from every other juicer. The Tribest GSE-5050 gears utilize the cold-press system to juice the ingredients thus ensuring that it generates minimal heat to preserve nutrients from the produce and operates at a single speed of 110RPM.
More to that, Tribest GSE-5050 Greenstar Elite can slices, cuts, and crushes the produce inserted in the feeding chute and it can be used to make nut butter, sorbets and also as a pasta maker. 
Best Versatile Cold-Press Juicer
Omega Juice Extractor and Nutrition Center NC900HDC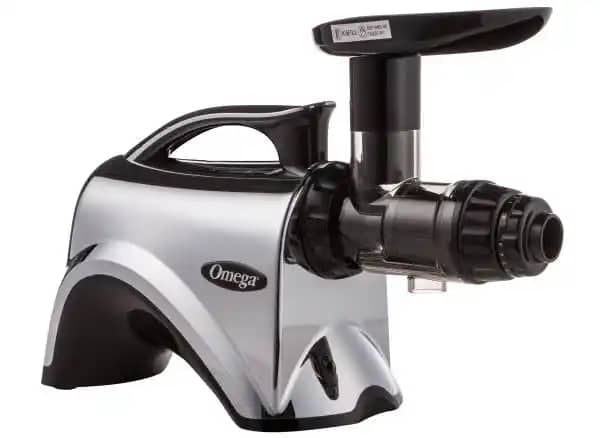 When in search for the most versatile juicer to buy which is suitable for fruits, veggies, leafy greens, wheatgrass, and other ingredients, the Omega Juice Extractor and Nutrition Center NC900HDC came out as the best Juicer. With it, you can make fresh, healthy, and nutritious juices while having a multi-purpose appliance in your kitchen at the same time.
The Omega juicer extraction is designed in classic white housing with black parts that complement the casing well and an adjustable end cap. In it, the adjustable cap is five different adjustments so you can easily set various modifications based on the ingredients you are processing. It also uses a dual-stage masticating extraction to ensure you get the most juice out of every ingredient(juicing recipes).
The automatic pulp ejection features leaves this amazing kitchen gadget almost pulp free. Also, You can use it attachments to mince garlic and herbs, make nut butter, grind spices and coffee and extrude pasta.
Best Value Cold-Press Juicer
Aicook SJ-Z1 Slow Masticating Juicer Extractor 200W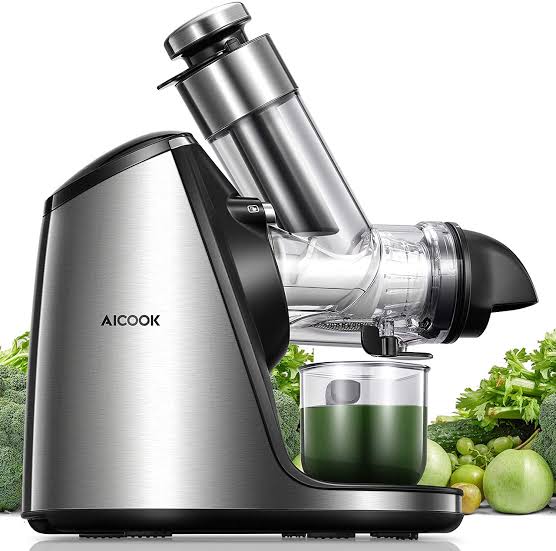 If you are the type who cares a lot about making healthiest juice possible, the Aicook SJ-Z1 Slow Masticating Juicer Extractor 200W is the right way to get that fulfilled. Its helps to preserve a lot of nutrients from the fruits and veggies and thus ensuring the juice remain fresh for up to three days.
It's designed in a way that You can put both hard and soft produce in the sizeable three-inch feeding chute. This Juicer Extractor operates at a single speed of 70RPM(rotations per minute) ensuring that it secures a high level of nutrients in every juice made. Featuring two(2) buttons, first one will turn the product on and off, while the other is meant for you to activate the reverse function to deal with clogs.
Although not the easiest device to clean out there, thanks to it manufacturer making use of the Tritan filter which plays a role in simplifying the cleaning process, so you won't see too much of the food residue sticking to the filter, thus saving some time when cleaning the unit.
Note: The machine might struggle with large carrot pieces, so it's advisable to cut the juicing recipes into smaller pieces to minimize clogging problems.
Best Budget Masticating Cold-Press Juicer
KOIOS Slow Masticating Juicer with Reverse Function
If you are looking for an incredibly formidable juicer that is able to yield a lot of juice and incredibly dry pulp. Then the KOIOS Slow Masticating Juicer with Reverse Function is the way forward. This juicer is efficient and space-saving, thus making it great for first-time users.
KOIOS Cold Press masticating juicer comes with a 7 level system that preserves living enzymes, leading to healthier and more nutritious juice. It comes with a classic black and white colour design combination, making it easily fit into any kitchen décor. Whether you are processing Hard or Soft ingredients, the advanced filter and a strong motor can accomplish such task.
This cold press juicer operates at less than 40dB, making it extremely quiet while performing tasks and with the cleansing brush, the cleaning process becomes easier. However, effort is still needed to make it clean.
Best Compact Vertical Cold-Press Juicer
Omega VSJ843QS 43 RPM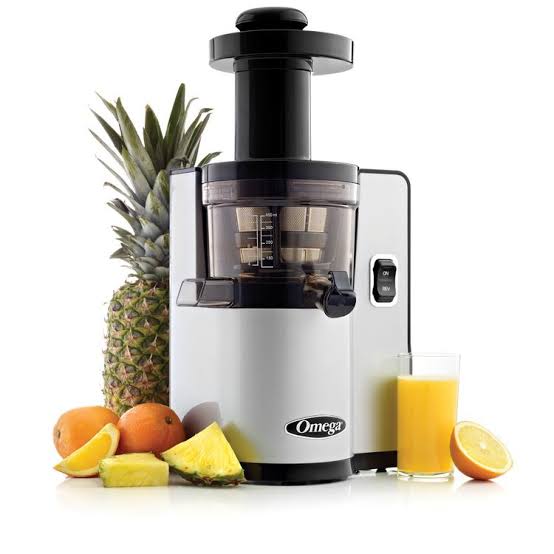 Omega VSJ843QS 43 RPM is an excellent juicing machine that made to efficiently juice while allowing for smoother user experience. Its design was made in a neutral colour combination that will fit most decors, Some parts of the juicer are made BPA-free components, and the product utilizes a dual-edge auger, which helps increase the juice yield.
The omega VSJ843QS features a 30-ounce pulp container to ensure that you don't have to remove it too often and a motor of 150W, which works great combined with the dual-edge auger and works at 43RPM, giving you room to enjoy a generous quantity of vitamins and minerals in your juice. When thinking about performance, the Consistent performance of Omega VSJ843QS is one of its crucial advantages. 
When thinking about usability, this slow speed appliance can be effectively used to achieve a better yield from juicing derived from Leafy greens and wheatgrass, soft and hard fruits and veggies. It also has an Auto-cleaning function which keeps the screen clear and increases the juicer's efficiency.
Note: Harder fruits and vegetable can get stuck, also cannot make almond milk and other nut butter or milk & it's Expensive.
Best Masticating Juicer with Large Feed Chute
Mueller Austria Ultra Juicer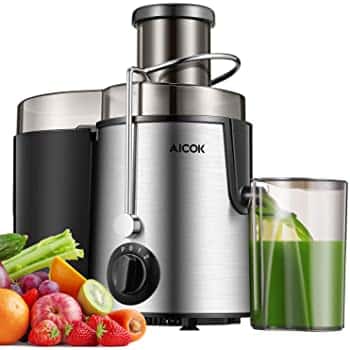 While we were busy taking a review on the best cold press juicer, We bump across Mueller Austria Ultra Juicer, we notice it to be the best Masticating Juicer with Large Feed Chute. This 3-inch wide feed chute featured juicer machine, allow for whole fruits and vegetables to be fed directly through it without needing to cut them up into smaller pieces.
This juicing appliance has a mechanism found within the juicer of which spins at 60 rpm, thus extracting up to 60% more juice and 50% more vitamins and minerals than its counterpart (the conventional centrifugal juicer).
The Mueller Austria Ultra Juicer also comes with a safety sensor button which helps detect and prevent from not operating if it's not been installed correctly, ensuring a safe instalment and thus significantly reducing any possibility of accidents.
Note: Although some vegetables and harder fruits tend to come out as purees and slightly taller height makes it difficult to store in small cupboards. But you will surely love it pre-clean functionality for easier cleanup, Quiet operation for early morning use, Durability for effective use and its Perfect for daily use.
Best Design Vertical Cold-Press Juicer
Hurom H-AA Slow Juicer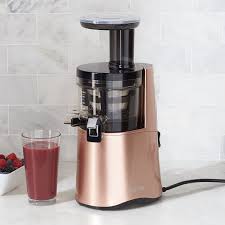 Hurom H-AA Slow Juicer is a powerful, yet quiet juicing machine with higher yield in juicing. This juicer is great at what it does. Its capacity for juicing is perfect for families and a large group of people. The motor is efficient while working silently, and it extracts juice effectively. Its beauty is also incomparable to other juicers on the market.
The three colour variations of this stylish and modern designed juicing gadget are made to complement any kitchen décor. It features a 150W motor power and operates at a speed of 43RPM. While you can't change the speeds, the low-rotation settings and the Slow Squeeze technology will secure that the natural nutrients remain intact in the juice.
However, you can tailor the settings to your preferences on how you want the pulp in your juice with the help of the control level of pulp in Hurom H-AA Slow Juicer. The juicer is compatible with fruits, veggies, soybeans, nuts or milk. Apart from its performance in making juicer this juice extractor can also be used to make ice cream from the chamber. The product features simple controls, and there is almost no learning curve.
Note: it's okay to know that The pulp can build up around the auger, making it difficult to clean. But you will like it for its Sleek and beautiful design, Versatility, Durability, Quiet motor and higher-yielding.
Most Durable Vertical Juicer – whole slow juicer
Kuvings Whole Slow Juicer Elite C7000S
If you are the type looking for an incredibly efficient juicer then Kuvings Whole Slow Juicer Elite C7000S should be your target. Though quite fast for a slow-speed juicer due to it utilizing of masticating technology. So you process anything from veggies and fruits to wheatgrass and herbs. This time savings Juicer machine is durable, long-lasting and requires minimal effort from the user. Making it an excellent investment for those looking to minimize the hassle when juicing.
The 3-in-1 Multi juicer machine which includes BPA-free components, has an incredibly small footprint and doesn't take a lot of room, and is designed in various colours(red, silver & white) so you can easily pick between the red, silver, and white housing, that which can blend with the décor of your kitchen.
This gadget features a three-inch wide chute which makes it incredibly convenient during the juicing process. It also operates at a single speed of 60RPM, utilizes a 240W motor and a masticating technology that preserves more nutrients and makes juice that can last up to three days. The performance is cool to the extent that you can make not just juices alone, but also smoothies and sorbets.
Most Affordable Cold Press Juicers on the Market
FAMTOP Juicer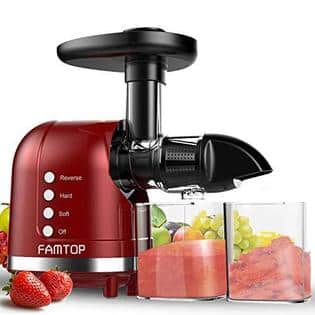 Talking about buying a cold press juicer but can't afford to spend much, here comes the most affordable and yet the best cold press juicer (FAMTOP Juicer) in the market. This juice extractor is durable, efficient, and yields a lot of juice while preserving the nutrients of the fruit and passing it onto the juice that is extracted.
The juicing machine boasts a slow 80-RPM speed, which is the optimal speed requested for masticating fruits and vegetables to get the most juice out of them. It also features a 7-segment spiral masticating system that can thoroughly squeeze fruits and vegetables. It means drier pulp and juice yield that can reach up to 80%.
The juicer can make various healthy foods for the family. Such as extracting gingers, celery, wheatgrass, oranges and other fibrous fruits and vegetables. It also designed to make it easy to enjoy different flavour juices every day.
Note: Although with small chute and slightly difficult to disassemble, you will love the famtop Juicer for it Incredibly dry pulp after juicing, Easy to clean and setup features.
Best Personal-Sized Juicer
Hurom HP Slow Juicer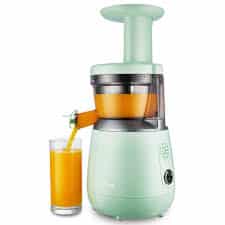 Technically its crystal clear that all juicers on our list can be used in households of different sizes, the Hurom HP elite slow Juicer drew much of our attention as the best personal juicer for it wonderful works. This vertical-style juicer is designed to operate at the same 43 RPMs just like the Hurom H-AA Slow Juicer and its motor is backed by a 10-year warranty and its available in three colors(mint, pink, and white) so you can easily get that which is going to fit in your kitchen counter.
The hurom elite juicer can juices both hard and soft produce, along with leafy greens with the help of the low-pulp, thus ensuring high juice yield. Also, this fruit and leaf juicer can hold a maximum capacity of just under 12 fluid ounces, which is an appropriate single serving size of juice.
If you are wanting to make larger quantities of juice, you'll have to do it in batches with this juicer. Hurom's new personal series juicer will meet all your juicing needs. Whether you're making orange juice, almond milk, the HP will rise to the challenge. It's compact size further ensures it will fit on any kitchen counter.
Best Citrus Juicer for juicing
SMEG Citrus slow Juicer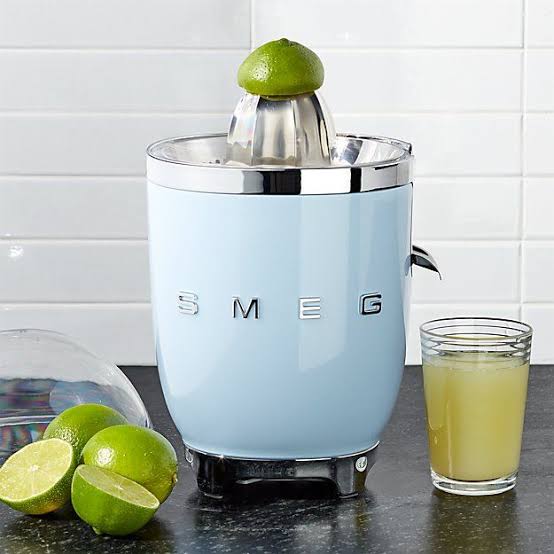 Looking for one of the best citrus juicers with maximum efficiency and high incorporated designed material? The SMEG CJF01 Citrus slow Juicer is the way to go, it combines elegant design and superb performance with reliability.
The Smeg citrus juicer is equipped with a powerful 70W motor with the integrated on-off sensor, complete with a juice collector and a non-drip spout which prevents spillages, keeping kitchen surfaces extremely free of stain. it's available in 7 varieties of(pastel green, pastel blue, pink, white, red, black, cream) colors so you can easily pick one to fit in your kitchen space.
The advanced functionality of Smeg citrus juicer is complemented by the remarkable ease of use and cleaning. It also comes with a cover to protect the appliance from dust when not in use, all of the components of the citrus juicer are easily removable.
Best Professional Juice Extractor
AMZCHEF Cold Press Juicer
If you are needing an entry-level juicer, the AMZCHEF slow masticating juicer can be a smart investment for you. It does an excellent job of securing plenty of nutrients, also using and cleaning it is relatively simple.
The different colour combinations (ivory white, red, or galaxy grey) of the juicer machine makes it easy for to you pick the perfect design that fits for your kitchen. It features a safety lock, which help simplifies the assembling, as well as intelligent protection chips. Thus making sure the appliance stops automatically after 20 minutes of operation.
AMZCHEF juicer uses masticating technology and utilizes a seven-stage auger approach to secure even more nutrients and the oxidation is only 3%, which means the juice will retain most of the minerals and enzymes from the fruits and veggies. The control button of the juicer is easy to use, and the beginners will sure feel comfortable using this product immediately.
FAQ's.
What's a Cold Press Juicer
When buying a juicer, it's important to understand the difference between slow juicer(centrifugal) and cold press juicer. Cold press juicers grind fruits and veggies using a slow mastication method without the use of added heat, resulting in better preservation of the vitamins and nutrients that naturally exist in fresh produce.
You might also want to take a look at our cold press juicer vs masticating juicer comparison to learn more about them and how they differ in functionality.
What to Look for in a Cold Press Juicer
If you are set for shopping of a juicer and you plan to buy a cold press juicing machine, here are some of What to look for when buying a cold press juicer which includes (1) Power of the motor, (2) Horizontal or Vertical, (3) Weight and Footprint, (4) Simplicity of Use, (5) Chute Size, (6) Noise Level, (7) Warranty, (8) Durability of Materials, (9) Accessories & Materials, and (10) Cost. All of this should be put into consideration. You can refer to the bottom to learn how all about this and how they matter a lot.
How do you pick a cold press juicer?
Power of the motor: The cold press juicer as a powerful motor which operates at a slow and steady pace no matter how many rock-hard carrots you juice! Your objective is the powerful torque the motor produces. It's designed in such a way to extract the juice slowly without apply heat and much the opposite of what you would look for in a centrifugal juicer. The revolutions per minute of the cold press juicer will be a fraction of the speed of a centrifugal juicer.
Horizontal or Vertical: As it quite plain that many manufacturers make this type of juicer, and some also make two (vertical and horizontal) configurations for it. The vertical design has a smaller footprint than the horizontal configuration and tends to have the same size, shape as a centrifugal juicer. The horizontal configuration allows for versatile accessories that help the appliance act more like a food processor. But takes more space in the kitchen.
Weight and Footprint: Cold press juicers don't take up as much space as a countertop microwave, although not a portable kitchen appliance, but actually can be fitted somewhere in the kitchen. If you'd be using your juicer more often, you may want to leave it on the countertop as most cold press juicers weigh at least 15 pounds and will take up a couple of square feet of your countertop.
The simplicity of Use: its no doubt that one would stop using a juicer or any appliance if it's a challenge to assemble, operate and clean. Though with a learning curve, Cold press juicers aren't overly complicated so you can be sure to make use of it without prior learning and by so doing, you will get to learn more about how to effectively use it.
Chute Size: The cold press juicer as a chute size that regulates the dimensions and amount of produce you can introduce to the juicer during operation, and it helps you keep it from overloading it your juicing recipes.
Noise Level: compared to their centrifugal juicers, the Slow juicers tend to have a quiet noise. They are relatively quiet appliances, you will find it very hard to come across a user complaining to have experienced a noisy burst from it. It's a safe one to use and free of noise. 
Warranty: Quality material and durability in the electrical engine in the case of some cold press juicers, no wonder you'll see warranty coverage of up to 15 years. The length of the warranty protection is a strong indication of the appliance's quality. You must pay close attention to it.
The durability of Materials: As with every Brand manufacturer, the price you're willing to pay determines the quality of the materials used in these juicers. Although the plastic design makes sense for some uses. But the stainless steel or carbon-infused parts tend to be more rugged and allow for precise operation. One thing that makes them common is the auger, which is likely to be made of Polyetherimide plastic irrespective of there design, they are the critical components of a masticating cold press juicer.
Accessories & Materials: manufacturer of most Juicers always boast about the versatility of there product, due to its additional accessories and materials which helps to extend the functionality of the juicing gadgets. Although, many of the additional accessories and attachments have little or nothing to do with juicing, but also help extend the functionality.
Cost: when considering buying a Juicer, its essential that you have a budget, as the cold press juicers ain't the cheap kind of Juicers in the market which you can just get without proper planning. Although, they are worth the investment when purchased as you will experience more yield from your juicing.