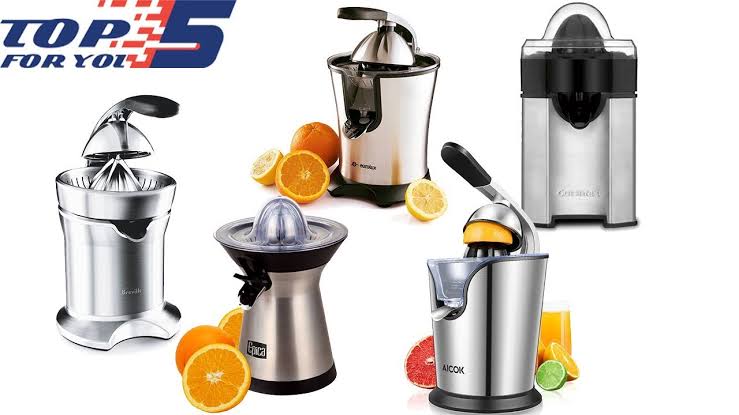 6 Best citrus juicers of 2022: [Manual & Electric]
Do Need a juicer to make your citrus juice? Well, you don't need to worry, because we have got your back. We've made findings and come up with some of the best citrus juicers which includes both the manual, commercial and electric juicers.
While choosing these citrus juicers, we endeavour to put into consideration those who need them either for home use or commercial purposes. We also included an Included buyers guide to help you know what to look for in a juicer, and how to choose the best citrus juicer depending on your preferences.
Benefits of citrus juice
Related Stories featured on Reviewmast 👇
Citrus according to prevention is a fruit rich in vitamin C, fibre, folate and potassium. It can be used to fight wrinkles, boost brain health and immune system, protect against brain cancer, and also help reduce the risk of kidney stone.
Citrus fruit can be consumed in many ways, and one of the possible ways is to make juice out of it. But to make your citrus juice, you will need a good juicer. Below are the recommended best citrus juicer reviews.
Recommended Citrus juice extractors – Top Picks
Best Overall: Breville bcp600sil citrus press
Best Value: Cuisinart ccj500 pulp control citrus juicer
Manual / Handheld: zulay professional citrus juicer
Best Commercial: SUNCOO citrus juicer
The Best Citrus Juicers (Reviews)
1. Breville bcp600sil citrus press – Best Overall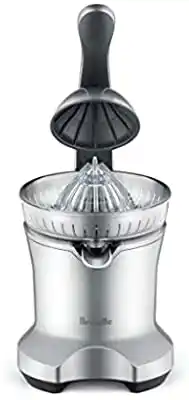 The Breville bcp600sil rank our top pick among the best citrus juicers for its wonderful features packed in a machine. It is designed to provide you with fresh juice from the smallest lime to the largest grapefruit without putting effort.
This motorized Breville citrus press juicer which weighs 7.1 pounds features a 110-watt motor base, plus a patented juicing fins and dome grip that provides pressure to maximise juice extraction. It also comes with a handed operation and drips stop juice spout for easy juicing. Plus a cone, filter basket and juice collector prevent drips while lifting off the base simultaneously.
Pros: 110watt power, quiet, Dishwasher safe BPA free body parts, 1-year warranty.
Cons: less durable plastic components, and not suitable large sizes of citrus, lime and grapes.
If you are looking to buy a citrus juicer without minding the cost, This Breville juice extractor should be your go-to. As it has all you need to make your tasty juicer.
2. Cuisinart ccj500 pulp control citrus juicer – Best Value
Are you on a budget, but still want a good juicer? The Cuisinart ccj500 pulp control citrus juicer should be your target. This juicer ranked second on our list for its affordability yet durable.
The Cuisinart ccj500 juice extractor which weighs four pounds, and has a brushed stainless steel and black plastic design feature an Adjustable reamer with 3 pulp control setting of slow, medium and high speed. Additionally, it comes with an Auto-reversing universal juicer cone that enables it efficiently deliver more juicing and an Extra-long Snap-Up spout prevents dripping while accommodating more glasses
Pros: Inexpensive, Adjustable reamer, auto-reverse, final spin features, dishwasher-safe parts, Limited 3-year warranty, BPA Free
Cons: Less durable gears and Pulp filter easily get a clog.
Although the Cuisinart ccj500 citrus juicer has Less durable gears with a Pulp filter that clogs easily, it's one of the best citrus juicers on the market. also, you will be required to pay for the shipping.
3. Zulay professional citrus juicer – Manual
The third on our pick on our list for the best citrus squeezer is the zulay professional manual citrus juicer. This commercial-grade handheld juice model can efficiently extract juice from produce such as orange, lime, lemon, grapefruit, and many other fruits.
The manual juicer features a 5″ (5 inch) diameter stainless steel strainer cup for making various sizes of fruits which is detachable and dishwasher friendly. It also comes with a Heavy cast iron that is secure and Stable to help prevent or reduce sliding around, tripping and falling while juicing.
Pros: 5-inch diameter cup, Durable, Secure and Stable, Commercial Grade, easy to clean.
Cons: Heavy, Fairly costly.
If you need a manual juicer for home use or commercial purposes, the zulay handheld citrus juicer machine would be a better choice to make. However, it's a bit pricey.
4. Black and decker Citrus juicer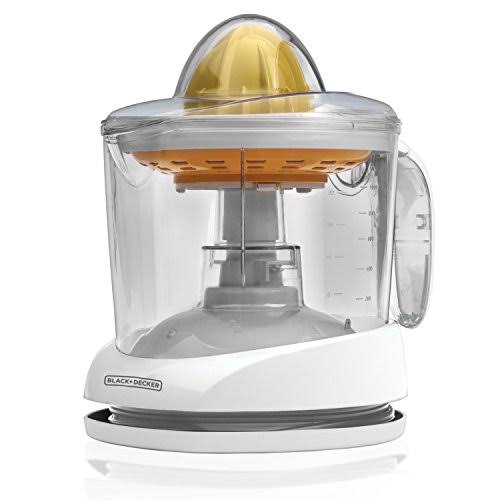 The CJ625 Citrus Juice machine happens to be the fourth on the list of our top pick citrus juicer. This juicer has a sizable number of features at a cheap cost. However, it's not as effective and durable as the top three reviews above.
The black + decker citrus juicer features dual Self-Reversing Cones for handling both large and small producers and Adjustable Pulp Control to help control the amount of pulp that goes into each batch. Additionally, it comes with a pulp basket, cord storage and a Drip-Free Pour Spout that doubles as a container.
Pros: Auto-reversing, Adjustable Pulp Control with Pulp Basket, Drip-Free Pour Spout, 34-Ounce Easy-to-Read Measurement pitcher and 2-year warranty.
Cons: Plastic material, less attractive, not so durable, requires frequent cleaning.
The BLACK+DECKER juicer is the best choice for those who are looking to buy a citrus juicer with an auto-reversing function. Also, they offer a generous two-year warranty.
5. SUNCOO Electric Orange Juicer – Commercial use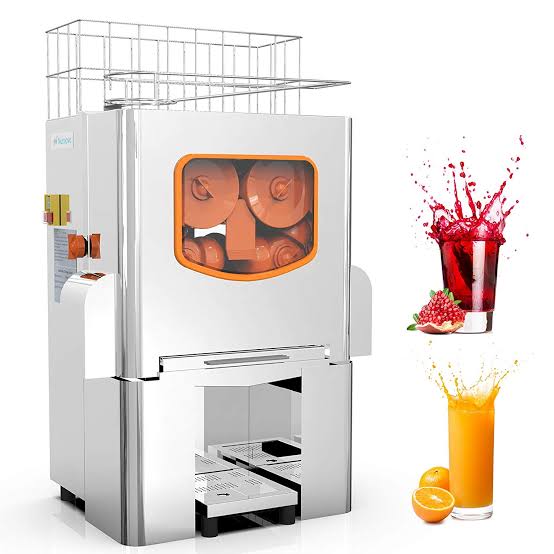 If you are craving for commercial citrus Juice extractor possibly because you intend to use it for business, and you are in the market to buy one, the SUNCOO citrus juicer stood to be the best commercial citrus juicer base on our findings. This heavy-duty juicing machine is designed for industrial use and not suitable for the home.
This 82.2 pounds heavy-duty juicer features stainless steel with a 120-watt copper motor and good safety. So you can confidently fill the juicer top basket with while citrus fruits and have the machine take up the juicing task. It's capable of peeling, juicing, and separating the juice from the pulp automatically.
Pros: Sturdy stainless steel machine with 120watt motor base, good for commercial use, automatic pulp separator, fast juicing, security function.
Cons: A bit Expensive, Heavy, less durable components made of plastic, not suitable for all citrus, No warranty.
Although this juicer works for every kind of citrus but doesn't come with a warranty. However, we discovered that it works best for orange. If you are more concern about buying a commercial citrus juicer with security functions, the SUNCOO juicer machine would be the best option to go for.
6. Smeg CJF01PBUS Citrus Juicer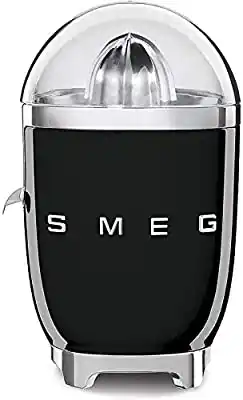 The CJF01 PBUS Citrus Juice machine which happens to be the last on the list of our top pick citrus juicer is of the smeg brand with a sizable number of features at a cheap cost. However, there is a downside to this juicer. Which is the material been made of plastic.
The Juicer model features a Powerful 80W motor with a built-in sensor and stainless steel anti-drip spout to help process and pour the juice directly into the glass or cup. It also comes with Stainless steel and anti-corrosive components for squeezing both small and large. fruits, and a BPA-free Tritan juicing bowl.
Pros: 80watt motor base with the inbuilt sensor, Cheap, stainless steel and anti-drip spout & corrosive,  easy to use.
Cons: Plastic material, not durable enough.
Despite not durable enough, the lightweight Smeg CJ625 citrus juicer is a good option if you are looking to buy a hand orange juicer. As it comes at an affordable price.
Buyer's guide for Citrus Juice machine.
Having gone through the top picks of the best citrus juicer, how do you decide which is good for you? Since they're more options to choose from among these citrus juicers review, We've compiled what makes a juicer the best and how we came up with them.
While making findings, we included the three varieties of citrus juicers: fully automatic, semi-automatic, and manual. Also, we put into consideration the price, durability, design, and warranty of each juicer. But how are those things of value? Let's take a look at there impact below.
Variety
Fully automatic: If you're interested in being a hands-off juicer, you may prefer to go for a fully automatic model, as its capable of handling the juicing by turning whole citrus fruits into juice without the need to interfering with the juicing process or lifting finger. But if you choose to interfere with the juice processing you may likely go for the Semi-automatic juicer
Semi-automatic: this juicer will require that you hold each produce on the reamer. And leave it to handle the rest task. Additionally, you may need to cut your citrus fruit in sizeable halves and place each of them one at a time on the reamer. Then the pressure-activated citrus juicer machine will then vibrate in other to extract the juice.
Manual: Although this should be the least desired type. However, its best for those who would choose to manually handle there juice extractor process. Though difficult to operate and slow in juicing, but tend to be quiet when on the operation.
Uses/ Purpose:
Going for any of the best models is not just the solution, but knowing your purpose of buying a juice machine is what matters. In as much as you plan to use the juice extractor for citrus, you may have to decide if you are juicing for commercial purposes, home use.
The best manual citrus juicer is no doubt different from the best commercial citrus juicer. Also if you prefer going for a manual juicer, then you may have to go fo the best manual model.
Durability:
Another factor to consider when shopping for a juicer is durability. If you are the type that often makes use of a juicer, either for home or commercial purpose, you may want to go for a juicer with tough materials like stainless steel or Tritan that is BPA free. Also, choosing a model with acid-resistant finishes that will prevent corrosion would be another great decision to help prevent juicing acidic fruit.
Size:
While you might not pay attention to the size of your model, it's very essential to consider what size would be good for you. You may need to plan by measuring the available size space within your kitchen. If you are having limited space, you may want to consider buying the compact design, as they are streamlined and lightweight. But if you have enough space to station the juicer machine, you may want to go for a bigger one with extra features.
Extras:
Another aspect to look for in a juice is the Pulp level & Non-Slip features. But Why? The pulp features determine the level of pulp extraction, with adjustable pulp settings as an add-on. Also the non-slip like rubber feet on the bottom enables your machine to stand solidly on the ground, preventing your juicer from falling away from the position and avoid having your juice turn away as a result of an unsteady fit.
Price:
While planning to go on shopping, you may want to decide if you are willing to spend more to get a high-end juicer. Most of the expensive juicers come with lots of valued features. However, if you are on a budget and you can't afford to buy a pricey model, you may want to go for a cheaper model with good quality. However, the features may be limited and less durable compare to the expensive models.
Warranty
Many brands offer a warranty on their products ranging from 6-months to 15- years. However, there are still some that don't give any warranty. Going for a model with a higher warranty coverage period should likely be your target.
 Conclusion
With our review, you can be sure of getting the best juicer for citrus. According to our findings, the Breville bcp600sil citrus press ranks the overall best citrus juicer on the market with lots of features attached. Although its a bit expensive. So you will need to spend hundreds of dollars to get it. 
However, if you are on a budget and you'd prefer an inexpensive model, the Cuisinart ccj500 pulp control citrus juicer may be a better model to go for. Also, the SUNCOO citrus juicer may be the best option for you if you prefer going for a commercial model, while the zulay professional citrus juicer may be the perfect match for those that prefer going manual or loves steady handheld juicing. You may also be interested in the best ginger shot juicers and best juicing oranges.