best commercial juicer machine reviews
Juicers are tools designed for easy extraction of juice from produce, and find a model to buy for home use is pretty easier to get. But when it comes to shopping for commercial purposes, it may likely become a pain on the neck.
If you are planning to go into juicing business, you are expected to invest your money into the full functional commercial juicer. Why? Because it allows you to make a large volume of juice at a go with full control of your juicing process.
For this reason, we decided to make our findings and guess what! We were able to come up with the Best commercial juicers which you can use for juicing straight up at an open café, restaurants, or large party.
Related Stories featured on Reviewmast 👇
What is a commercial juicer?
Unlike household juicers with lesser power, commercial models are heavy-duty juicer machine with better equipped internal functional parts to help handle larger juicing jobs on a more frequent basis. The internal parts of a commercial juicer, most particularly the part that regularly come in contact with acidic fruit and vegetable juice, are reinforced to withstand relatively more juicing cycles at a go with almost no breakdown. Most importantly they are fully equipped with a more powerful motor with overheating protection union to prevent constant breakdown.
How many types of juicers are there?
Although juicers are expected to accomplish some task, however, their juicing process is not the same. There are typically three major categories of juicer, Masticating,  Centrifugal and Triturating juicers. Additionally, we have Citrus Juicer. But to keep things straight and concise, we will only take a look popular once.
Masticating: this category of juicer also known as low-speed or cold press juicer is more efficient in juicing since they grind produce using an internal gear (known as an auger), in other to squeeze every last bit of juice out of every piece of fruit and vegetables thrown at it. Also, Masticators are far much better for juicing hard fruits and vegetables such as carrots, wheatgrass, kales, lettuce, spinach and leafy greens compared to centrifugal. However, they operate at a very low speed, so there the juicing process is slow.
Centrifugal: this type of juicer operates much like a blender. The centrifugal juicer has a motor that runs at a high-speed and typically equipped with large blades for slicing and dicing fruits, allowing the juice to flow out. But they are ineffective at squeezing juices out of production, and thus are somewhat likely to wasting food because of less dry pulp. However, compared to the masticators, they operate at high speed, so their juicing process tends to be faster.
Triturating juicers: also known as twin gears are a subclass of slow masticating juicers. Unlike the masticator with one auger, the triturating juicers are a heavy-duty machine with dual horizontal gears that are located close to each other. They tend to operate at slightly higher speeds thus resulting in better quality juice which is less susceptible to oxidation.
Trirurators can be used for leafy greens but not in large quantities. Though can be used for soft, watery fruits, this type of juicer is better used for hard produce. Lastly, they perform the duty of grinders and food processors.
Those 3 types of juicers are relatively different in there juicing techniques. So if you intend to buy a commercial juicer machine, you may want to pay close attention to there classes in other not to go wrong.
Which type of juicer is better?
Knowing your purpose of wanting to buy a juicer would better help you decide which juicer is better. If you intend on Juicing hard fruits and vegetables, and you do not mind having a juicer that operates at a slow process, we would recommend the commercial masticating juicer. But if you want a machine that not only stands as a juice extractor but also can double up as grinders or food processors to make nut pastes, pates and even noodles, you are better of with the triturating juicers.
And if you are more concerned about juicing at a fast process, you can't go wrong with the centrifugal models. Having seen want to expect in a juicer and types of commercial juicers, let's take a glance at our top picks of the best commercial juicer machine.
Best juicer machine to buy – Top 6 Pick's
Best Overall: Hurom HZ Masticating commercial juicer | this model rank the top choice for the best commercial model for its features |
Premium Choice: Sana Horeca EUJ-909 Premium Extractor | If you want to experience a premium juicing experience, this commercial cold press masticating juicer may be a better choice to make |
Best Value: Breville 800JEXL Elite Commercial Juicer | if you need a model that worth the price, this model is the best commercial Juicer extractor for your money spent|
Best Budget: Champion G5- PG710 Commercial Juicer | if you are with less cash and you need an inexpensive model, this model the best budget commercial juicer to buy on the market 
Best Motorized: Hamilton beach otto hje960 series | Best motorized Citrus centrifugal Juicer |
Best Triturating: Tribest sw2000 slow start model | Best Triturating commercial juicer with the versatility of making just more than juice, but baby food, kale, and more |
The Best Commercial Juicers – (Ratings)
1. Hurom HZ Masticating Commercial juicer – Overall Best
On reviewing our top choices, the Hurom HZ Masticating commercial juicer took the first position of the best commercial juicer model on our list. This slow juicer machine which is powered by the latest Alpha technology comes with a stainless steel finish and LED indicators for an optimized juicing experience, easier cleaning and the ability to make ice cream.
The Hurom HZ slow juicer features a 150 watts motor that operates at 43RPM that mimic the activity of hand squeezing the juice in other to make it taste more natural. It also comes with a Taste & Pulp Control that makes it possible to juice at a continuous process for up to 30mins non-stop, and a unique low-speed auger for better juice yield with bone-dry pulp.
Pros: 150 watts powered motor for quiet juicing experience, stainless steel finish and LED indicators, Pulp Control for continuous juicing,  Alpha technology for optimized juicing. 
Cons: narrow feed chute, a touch of body parts made of plastic, not suitable for juicing wheatgrass, some people have difficulty cleaning it up, not dishwasher safe.
If you need a Juice extractor machine to make your juice, base on its price value compared to its features, we believe the Hurom HZ commercial model may be a better choice to make.
2. PURE Juicer Two-Stage Masticating Juicer – Premium Choice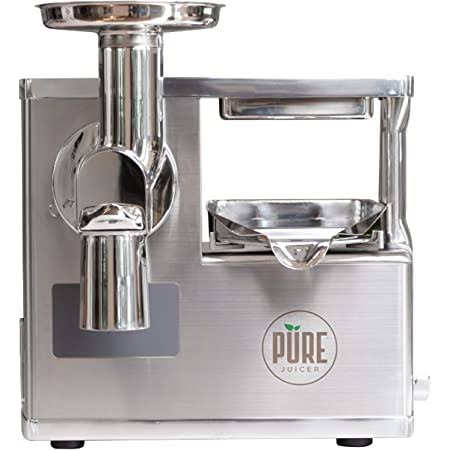 PURE Juicer Two-Stage model took up the premium stage of the top commercial juicers picks. This masticating juicer comes with a quality, food-grade stainless steel and is designed to Deliver more juice per pound of produce, so you can enjoy the silkiest, smoothest and tastiest juice made from apple, carrots, celery, pineapples and greens.
The pure juicer features a 372 watts powered motor,  two-stage juicing techniques of masticating/triturating to grind produce to a super-fine pulp to release enzymes for the highest quality juice, after which it would then move the pulp into the hydraulic press that exerts at 5400lbs of force in other to deliver fresh and silky-smooth juice.
Additionally, this premium juicer has tall sides, sloped gutters and a formed spout that dispenses juice without overflowing, plus it's easy to use and has a 12-year transferable warranty.
Pros: two-stage processing (masticating/triturating) for quality juice, food-grade stainless steel, it stands as a Grinder and Hydraulic Press, plus it has a 12-year warranty and its easy to use.
Cons: pricey, heavy, not safe around children because of the exposed press, 
As one of the best juicer on the market, If you are looking to make just about anything from your juicer, this model may be the better choice. Not only can you juice with it, but it's also versatile enough so you can make baby food, grinding coffee beans, mixing frozen treats, pesto, nut butter and so much more.
3. Breville 800JEXL Elite Commercial Juicer – Best Value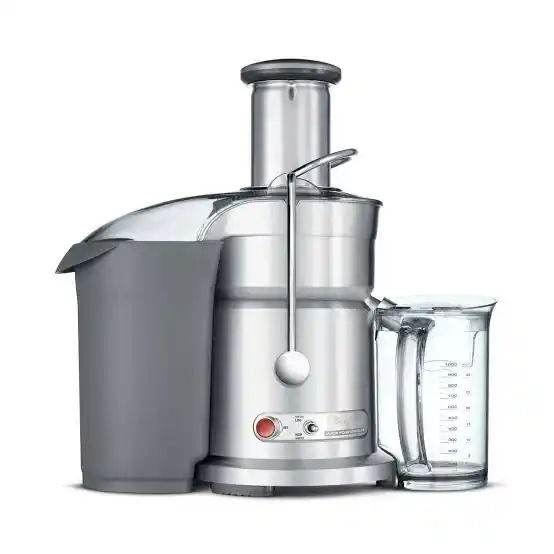 Breville 800JEXL Juice Fountain Elite is a Centrifugal style Juicing machine with polished Stainless Steel material. It has a unique extraction system made from stainless steel titanium-reinforced disc and an Italian-made micro mesh filter basket.
This Breville Juicer features a 1000 watt motor that runs at a high speed of 13,000 RPMs and a 3-inch extra-wide chute feed that makes it possible to Juice a large amount of produce in a Shortened Prep Time without pre-cutting.
Also, it comes with 2-Speed Electronic Control settings for juicing hard and soft produce.
The juicer low-speed settings are made for soft vegetables and fruits, while the high speed for hard fruits and vegetables, and it has a 35.2 fl oz juice jug plus a 3.2 qt Pulp Container which is all Dishwasher Safe. with a 1-year warranty.
4. Champion G5- PG710 Commercial Juicer Extractor – Best Budget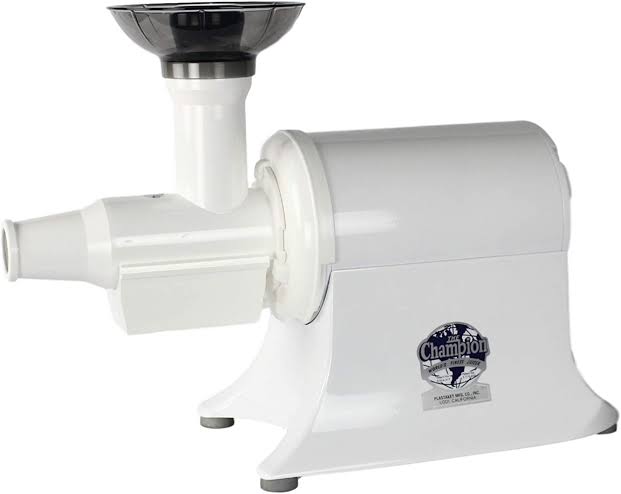 Champion Juicer G5-PG710 commercial juicer with stainless steel material and heavy-duty, durable body parts. It built is simply without the use of nuts, bolts, screws or clamps, with the versatility of making fruit sauces, baby foods, nut butter, ice cream, sherbets.
The Champion Juicer which weighs 20 pounds features a Heavy-duty front and rear ball bearing for a smoother juicing experience at maximum RPM, winding capacity, and a Larger feeding chamber that reduces the need to cut vegetables into smaller pieces.
This commercial juicer floating cutter for efficiently extracting juice from the pulp, plus a winding capacity which helps to increase the starting torque and allows the motor to run in a cool mode in other to increase the durability and prevent it from overheating.
5. Hamilton beach otto hje960 series – Best Commercial Centrifugal Juicer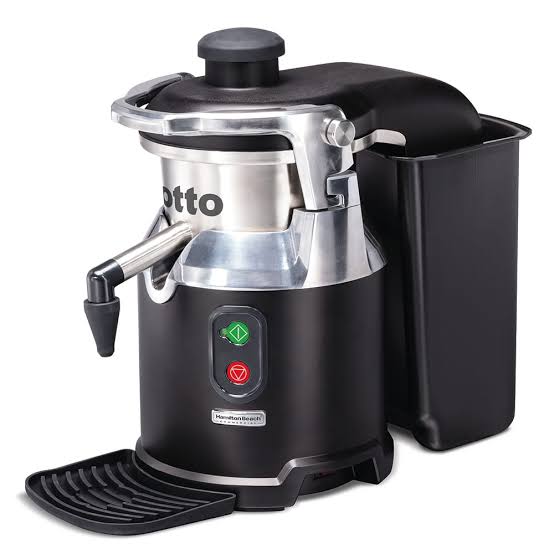 Hamilton Beach Commercial Otto is a centrifugal juice extractor with stainless steel material and a quiet induction motor. It's designed for maximum juicing in other to experience a higher yield from fruits and vegetables, and a overheat protection and ergonomic for continuous juicing without overheating which would have resulted in a breakdown.
The Hamilton hje960 juicer machine features a powerful Motor dual control setting that runs at a speed of 3600rpm with a dual cooling fan for consistent performance, stainless steel blades for smooth juicing and a large diameter feed chute to help Reduce preparation and processing time by accommodating medium-size fruits without the need for cutting. Plus 2 years parts warranty.
6. Tribest sw2000 slow start model – Best Commercial Triturating Juicer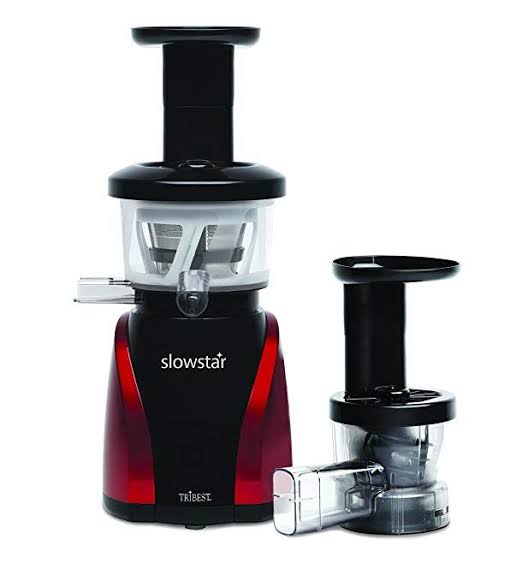 Tribest SW-2000 Slowstar is a Vertical style Slow Juicer and Mincer. Compared with juice from centrifugal juicers, this juicer model uses the Masticating techniques (cold press)to juice and mince produce in other to deliver fresh juices with minimal oxidation.
This Cold Press Juice Extractor features High torque, a powerful 200-watt motor that operates at a slow speed of 47RPM and 3-stage speed reduction gears, to provide fresh, delicious and tasty Juice. It also has a duo-blade Ultem auger that helps fasten up the cutting of products so you can extract more juice with less pulp, plus a convertible mincing attachment that provides the opportunity to make recipes like sorbets from frozen culmination, entire food sauces.
7. Nutrifaster n450 commercial juicer – Best in 2020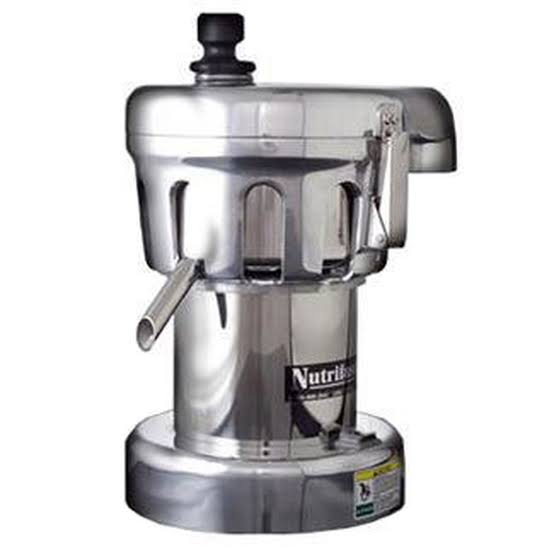 Nutrifaster n450 is a multiple purpose Commercial Juicer with polished Aluminium. This sturdy, Quiet and durable commercial model weighing 64 pounds is said to be engineered for heavy-duty business use such as in juice bars, health clubs, spas, restaurants, large parties and institutions.
The Nutrifaster n450 juicer model features stainless steel juicing parts and a powerful 1.25 HP motor that runs at 3450RPM, plus 1056watt for easy and conveniently making of high volume Juicing. Additionally, it has an Immediate pulp ejection for non-stop juicing so you can consistently juice six 18oz bottles in less than 10 minutes with No pulp getting through it.
8. Gourmia gmj9970 Commercial Handheld Juicer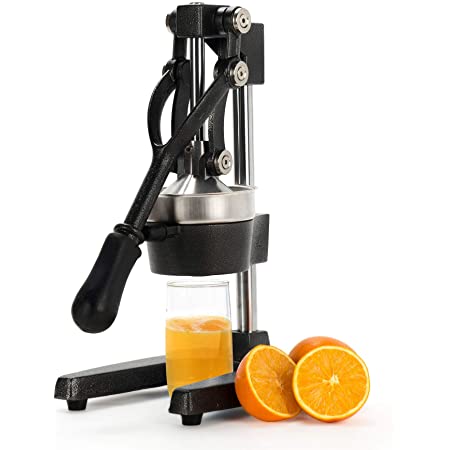 The Gourmia GMJ9970 Large Citrus Juicer is a Commercial Grade Press device with Heavy Duty Cast Iron Base and Handle for Juicing orange, grapefruit, lemons and pomegranates. This manual juicer can get you the most out of your fruits through its simple mechanism.
The Gourmia GMJ9970 juicer features a cast iron base, handle and stainless steel material that is highly durable in other to have a long-lasting machine. Although the model looks like be large, but can still easily in most cabinets because of its narrow design, plus it has suction cups for extra grip.
9. NICE CHOOSE WF-A3000 industrial Citrus Juice Extractor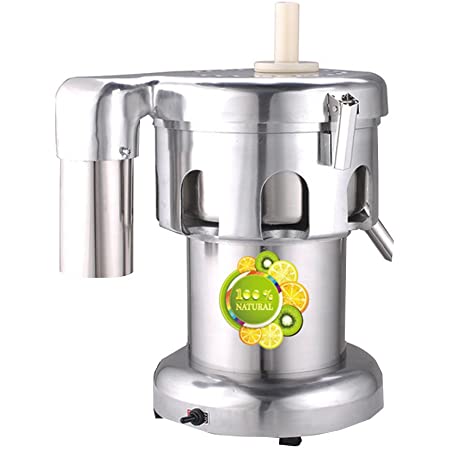 The NICE CHOOSE WF-A3000 took the least on our best commercial juicers reviews. This Automatic Centrifugal Juice Making Machine comes with Stainless Steel body parts and has an aluminium alloy crust created by advanced technology.
The WF-A3000 juicer extractor features a 370W powered motor that runs at a speed of 2800RPM, for juicing watermelon, cantaloupe, apple, pear, orange, peach, almond, pineapple, grape, carrot, celery. It also has a slag outlet for effectively preventing the slag from flying around, and a Pushing Rod to push the product gently into the machine. Plus Stable Base, Detachable Juicing Net, Juice Outlet, and it's easy to use.
How to Buy a Good Juice Extractor – Buyer's Guide 2021
Investing a huge sum of money into shopping for a good commercial juicer should be taken seriously, no one would love to buy a bad Juicer. Whether you are buying a commercial triturating juicer or masticating juicer (also known as cold press juicer, or you prefer going for the centrifugal, it's up to you to decide. But below are some of the Important things to consider whenever you are set to go.
Certificate: you must always check the certificate of the juicer you want to buy on the market. if you want to be on the safer side of shopping, always check with the local authorities on what your regulations are. Generally, products sold in the US for commercial use /purposes should have one certification such as NSF or UL. Having NSF and Intertek ETL or UL is the ideal juice extractor. You may want to learn more about juicer certificate issuance.
Juicer Type: there are 3 types of juicer, knowing which to buy is necessary. You can choose between them. I would recommend that you for the cold press juicers (also called slow or masticating juicer). Please refer to the heading: types of juicers in the opening part of the article.
Motor Capacity: Motor is the heartbeat of every appliance and the case is not exempt for a juicer. So when planning to get the best commercial juicer, you should ensure you pay attention to the motor. A powerful motor makes it possible to tear through large chunks of fruits and veggies without the machine clogging. But be aware that the more horsepower and wattage your motor has, the more expensive it will be. Also higher power means more noise from the engine while in use.
If you want a juicer with a fast juicing process, you may want to check the RPM, as it helps you gauge how fast you want your juicer to be. The higher the RPM, the faster your machine would operate. Additionally, Juicers are known to get heat up. To avoid overheating, you may want to go for those models that are labelled to work for 24-hours straight away, which means continuous operation.
Build and Features: Because you are spending lots of cash to buy a juicer of your dream, you will want to make sure its kept organized. Generally, keep the model organized should be a non-negotiable action of a good juicer producing company. Also, it helps keep the machine in a healthy state that is free of rust or corrodes.
Additionally, the building design for the juicer is necessary. BPA is notorious for its cause which develops issues like nausea, diarrhoea, and even cancer, going for BPA free body parts is very important, as it prevents notorious particles from mixing with the Juice while pressing juice from produce.
Price: while shopping for a juicer, you may want to consider the price tag for the commercial model of your choice. Typically, most of these juicers are expensive due to they be designed for commercial use. However, you can still see some among the with a considerable price. If you are on a budget but desire to buy a juicer, you may want to go for the budget juicer on our list. Meanwhile, there is most likely a deal awaiting you when shopping.
Warranty: it's critically important to be aware of the warranty service offered by the product company. Knowing well that you are investing a huge amount of money you should go for that with a minimum of 1-year to about 15 Years. 
Because warranty helps you save the extra cost and expenses you would have made should your juicer get faulty may be due to body parts missing, damage or yet whole juicer is on the defect. Going for a Juicer with little to no insurance coverage or body parts or machine would be the greatest mistake you would not want to make.
Conclusion: Best Commercial Models
Going through our collections of the top commercial Juicers, we were able to come up with enough models that would best meet your demand. Upon our findings, we discovered that the Hurom HZ model ranked the best commercial juicer. However, it occurs to be a bit expensive which is to say not everyone can afford to buy it. As an alternative, we do recommend Breville 800JEXL Juicer as the best budget commercial juicer for those looking to buy an inexpensive model. Also, you can go for the premium choice PURE two-stage Juicer.