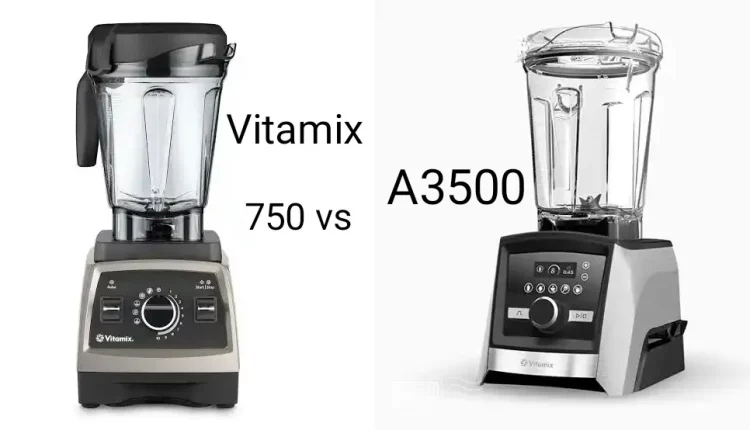 Vitamix 750 vs A3500: Which model has better Spec?
Are you looking for a high-performance blender for home use and so you stumbled across the Vitamix A3500 and its 750 variant? If yes, then you should consider checking out the difference. Because both blenders (750 and A3500) offer similar features and capabilities, however, the Vitamix 750 has some additional benefits over the A3500.
With so many choices around buying a blender, it can be daunting to find the right one for you. The Vitamix 750 series is designed for a wide range of people from beginners to advanced users who want a powerful machine at their fingertips.
 At Vitamix, they believe that every person deserves access to wholesome foods, which is why they are dedicated to creating quality products and providing outstanding customer service. This is demonstrated through their incredible innovation of new models and the development of premium blades to ensure you have a smooth blending experience.
Related Stories featured on Reviewmast 👇
We compared the features of both machines and came out with some interesting insights. Read on to see why the E320 is better than the 750. But which model would you choose? Read my guide as I compare the two top models so that you can decide for yourself.
Read Also: Comparing Vitamix E320 vs. A2300 and also Vitamix A3300 vs. A3500.
Differences between Vitamix A3500 and 750
The Vitamix A3500 is designed as an Ascent series with a digital touch screen for smart control, while the 750 is a G-series lineup with a preset dial.
The 750 is slightly more powerful than the A3500. However, it's noisier.
Also, Vitamix Ascent A3500 is more affordable than the 750 professional models.
Although the Vitamix A3500 and 750 have the same engine capacity, the 750 is slightly stronger because it uses more energy.
The A3500 has a timer, and it's wireless compatible through a mobile app, whereas the 750 is not. This means the Ascent A3500 is more featured-rich than its counterpart.
The 750 is slightly heavier than the Ascent 3500. It weighs 12.46 lbs compared to the A3500 weighing 14.92 lbs.
The A3500 has a longer warranty of Ten years compared to the 750 with seven years warranty.
When it comes to difference, the Vitamix A3500 blender wins because it takes the lead. But then, what could be the features they have to offer in similarity? Let's see the resemblance.
Similarities between Vitamix 750 and A3500
The Vitamix A3500 and 750 pros have the same powerful engine. A 2.2 Horse Power motor.
They are both quieter than most other Vitamix models.
They both have the same large Jar. A 64-Ounce Container size.
The pro 750 and A3500 have a blade made from the same stainless steel materials. However, the 3500 blade is 4inch, the same as the 750 blades.
The Vitamix 750 and A3500 have the same Control features (10 variable speed dials, pulse button & On/Off toggles).
Both have a lengthy warranty coverage to cover all defective body parts.
They are both easy to use for beginners like most of the other Vitamix blenders.
So far, we have listed the differences and similarities between these two models. Below is a quick recap of the comparison between the Vitamix 750 and the A3500.
Vitamix A3500 vs Pro 750 – Quick comparison chart
| | | |
| --- | --- | --- |
| Model: | A3500 | 750 |
| Lineup: | Ascent series | G-series |
| Motor size: | 2.2 HP Peak engine (1,440 watts) | 2.2 HP Peak engine (1,600 watts) |
| Pitcher Capacity: | 64-Ounce Jar | 64-Ounce low profile Jar with self detect technology |
| Blade type: | Laser-cut stainless steel | Laser-cut Stainless steel |
| Variable Speed Control: | 10-speed settings | 10-speed dial knob |
| On/Off Toggle: | Yes | Yes |
| Pulse button: | Yes (Touchscreen) | Yes (button) |
| Preset mode: | Yes (5 presets) | Yes / 5 presets |
| Timer: | Yes | No |
| Bluetooth compatibility: | Yes & Mobile App | No |
| Self detects technology: | Yes | Yes |
| Noise insulation: | Yes (Quieter) | Yes (less noisy) |
| Dishwasher safe | Yes | Yes |
| Attachments: | Cookbook, Manual & Tamper | Tamper, Manual & Cookbook |
| Colour Variant(s): | 7 | 4 |
| Dimensions & Weight: | 7.72 x 9.41 x 17 inch & 12.5 lb. | 7.72 x 9.41 x 17.4 inch & 14.9 lbs. |
| Warranty: | 10 Years | 7-Years |
| Best selling: | Rated #7 of 112 | Rated #8 of 112 |
| Cost: | See A3500 latest price | See the 750 latest price |
Comparing the Vitamix 750 vs A3500 features in detail
Even though both models are known to be such a powerful blenders, there are a significant amount of differences between the two machines. Below is a detailed description of both models when it comes to features, specifications, and capabilities.
Power & Motor Base
The motor is a basic part of a blender and It is essential to look at the Motor power when choosing a model. Looking through the models, I noticed they both boast of having a 2.2HP motor that is capable of crushing, blasting, and blending whatever ingredients you throw into the container.
However, the 750 has more increase in wattage than its counterpart. The 750 has 1600 watts, while the A3500 has just 1440 watts. This means the 750 is slightly more powerful because of the increase in wattage.
Verdict 1: they are an equally powerful model, but due to the increased wattage found in the 750, it will be a better option if you need a stronger motor.
Container Size & Material
Both the A3500 and the 750 have the same container capacity. The size of the low profile containers is measured to be 64-ounce capacity, an ideal one for those who want to make blends for a large family.
Another good thing about them is that they are both featuring a quality Jar (container). This Jar found is made of BPA-free materials. That is to say that they are very safe for food storage. However, the Vitamix 750 is plastic while the A3500 is Tritan material.
Verdict 2: no significant difference in a container, because they can equally contain the same amount of ingredients size and they are both good and safe.
Blades Size & Materials
Just like most other Vitamix models, the 750 pro and A3500 come with the same quality blades. The laser-cut blades are made of stainless steel materials and they are dishwasher safe. Measuring the blade's size, I also realize they are both the same size. The blades are the  4-inch heater and are designed to fit in the container with no slack so that they can handle even the toughest ingredient.
Control settings
The A3500 and 750 come with Variable Speed settings and a Pulse toggle. The 10-Variable Speed Control allows you to choose the preferred speed level at which you want to have your blender run and the Pulse feature let you manually fine-tune the texture of any recipe. However, the control features of the A3500 are digital and are all available in the touchscreen interface. The 750 is having physical knobs.
Verdict 3: Even though they both have the same ten variable speed settings and a pulse button, the A3500 have an edge over the 750 because its control features are digital. Thus making it look sleek and modern in appearance.
Extras (Preset modes & timer)
Both models are extremely well equipped with enough pre-programmed modes to keep you out of guesswork. They both come with five preset modes for various recipes achievement. However, the A3500 offers more than just 5 preset modes.
In addition to the preset modes, the Vitamix A3500 has a custom timer that allows you to set the time frame to which you want your blender to operate in other to achieve the recipe. Plus you can also access additional presets through the mobile Vitamix app.
Verdict 4: The A3500 wins. Considering that each recipe has a different period to blend, the A3500 custom timer feature allows you to set your preferred time to which your blender should run and automatically shut down after the time is up.
Attachments
They both come with some attachments which include Tamper, cookbook and user manual. The tamper allows you to scrape stubborn blends from the container body while still having it running, on the other hand, the cookbook exposes you to hundreds of recipe collection processing. Lastly, the User Manual is helpful for those that are new to using blenders. Although as an option, you may need to pay a few more bucks to get the Tamper added to your blender packages as it's not usually added as free.
Usability & Versatility
They are equally easy to use, so you do not worry about which model is easy to use. However, beginners would appreciate using the Vitamix A3500 because of its Interface (touch screen) as opposed to the 750 (knobs). Professionals wouldn't find the 750 difficult to use.
Also, considering their versatility, you are never going to make the wrong choice regardless of which model you choose between the 750 and A3500 models. So whether you're looking at blending hot soups, crushing ice, making baby food or smoothies, these two blenders do very well in their performance and they are equally durable.
Warranty & Unit Cost
Because the warranty of your machine can also contribute to how quality it can be, it's encouraged to always check on the duration when planning to buy one. Taking a quick look at both models (A3500 & 750), I discovered they both offer quite a long warranty span.
However, the Ascent A3500 warranty is longer than the 750. It has a full 10 years warranty, while the Vitamix 750 has seven years of warranty coverage. Even though the 750 looks shorter, it's still a good deal.
Lastly, they are not as cheap as most regular blenders because of their hyper-performance they are still quite affordable compared to most other high-speed blenders on the market. That being said, If you plan to get an affordable model, the 750 is still a better option when compared A3500 price.
Verdict:
Why I love the Vitamix 750
I love the Vitamix 750 because it has a stronger engine that can effortlessly crush hard produce quickly when operated at full speed, but the downside to it is that it's noisy. But still a great round blender you would always wish to have in your investment plan.
Why I love the Vitamix A3500
I love the Ascent A3500 because it has a smart feature that combines both technology and simplicity to make it easier and faster to operate in other to give the desired texture. Also, it is touchscreen-enabled, but the downside is that it's more expensive.
Frequently Asked Questions and Answers
What is the difference between Vitamix 750 and A3500?
The 750 is a G-series while the A3500 is an Ascent series, both powerful blenders. However, the A3500 is more improved. It has its control functions available on the touchscreen, plus you get the benefit of having a customizable timer and wireless communication with a longer warranty than the 750.
Is the A3500 worth it?
Yes! The preset modes, customizable timer and longer warranty make the Vitamix A3500 worth it. You do not need to have formal knowledge of handling a blender before you can use it. It is an ideal model for beginners and chefs alike.
Is the Vitamix A3500 loud?
Blenders are not quiet, but when compared to the Vitamix 750, it's discovered that the A3500 is quieter than its counterparts.
Conclusion: Which Vitamix should I choose, A3500 or 750?
The two models are equally powerful, however, the A3500 is easier to use. If you are looking for a high powered professional blender, then go for the A3500. If you are a beginner or someone who just wants a simple yet effective machine, then go for the 750.
I prefer the Vitamix 750 for blending small amounts – it's great for making smoothies, making sauces, etc., whereas the smaller jar makes it easier to measure what goes in and clean out the bowl. The A3500 is better suited for larger mixtures. It's a little newer than the 750. I'd go with it if you don't mind paying a bit more
I trust you find this Vitamix 750 vs A3500 comparison review so much interesting and helpful to you. If so, you might also find the Vitamix A2500 vs. A3500 to be insightful. Also, don't forget to check out our reviews about the Vitamix A3500 vs. A2300 just so you don't miss out on updates. Until next time when you are to come around, remember to stay safe. Cheers!