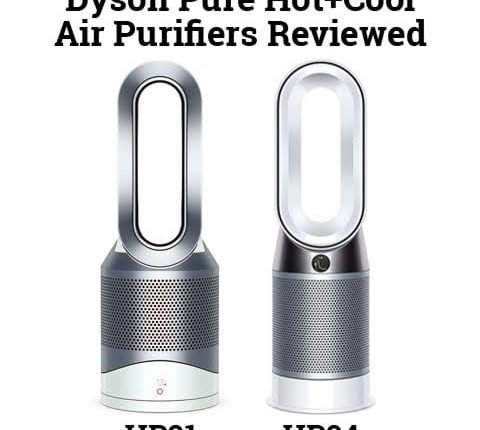 Dyson Hp01 Vs Hp04: Which model has improved features and functionality?
Are you interested in knowing exactly what the difference is between the Dyson purifier hp01 and hp04? Or do you want to know what makes them unique? If the answer to it is yes, then you are on the right page where you will learn about these through our Dyson hp01 vs hp04 comparison chart.
Dyson is a popular brand that offers a wide range of appliances ranging from hair dryers to vacuum cleaners, air purifiers, hand dryers, bladeless fans and heaters. The Dyson air purifiers are one of the best products you can ever get from the brand, as they offer a wide range of air purifier models, with similar features.
However, while preparing to purchase a fan, it is important to be aware of the notable differences and similarities between the air purifiers. If you are in a bid to buy an air purifier (also know as an air cleaner), knowing what features each model offers would help you make the right choice. In this article, we would make a review on the Dyson hp01 vs hp04.
Related Stories featured on Reviewmast 👇
Some days back, we compared Dyson hp01 and hp02 along with some other HP series such as the likes of Dyson hp02 vs hp04, and Dyson HP03 vs HP04. We understand you might be interested in knowing the differences between the Dyson hp01 and hp02 vs hp04. However, to make our review easier and detailed, we've simplified it by comparing Dyson hp01 vs hp04. This would include the similarities and differences between both models.
Also, we would answer some important questions such as: Is Dyson HP01 HEPA? Is Dyson HP04 discontinued? Is the Dyson HP04 worth it? Does Dyson HP01 purify the air? And Which Dyson air purifier is the best between the 2 models?
We understand you might be interested in knowing the differences between the Dyson hp01 and hp02 vs hp04. However, to make our review easier and detailed, we've simplified it by comparing Dyson hp01 vs hp04.
Differences between Dyson hp01 and hp04 purifiers
The HP04 has a screen display and at the same time reports the quality of air, while the HP01 only displays the simple and intuitive controls without a report attached.
The HP04 can oscillate at 350 degrees, while the HP01 can oscillate at 70° only.
While HP01 is built to use a combination of 360 Glass HEPA and Activated Carbon, the HP04 has a larger HEPA filter and a separate Active Carbon filter that helps it better capture air pollutants (gasses and odours).
The HP04 is more suitable when placed on the floor, while the HP01 can be positioned on the desk.
While the HP04 can be connected to WIFI and support Dyson's Mobile link App, Alexa voice control function, the HP01 is not WIFI enabled.
The HP04 has Directs, backward and forward airflow, the HP01 doesn't support backward air flowing.
Lastly, the HP04 is more expensive compared to the HP01 cooling system.
Similarities between Dyson hp01 and hp04 purifying system
The HP01 and HP04 as a cooling, heating and purifying system. Which means they both serve the same purposes.
The HP04 and HP01 both have the same tower design.
Both air purifying systems come with remote control.
HP01, HP04 Dyson Heater And Air Purifier comparison chart
Taking a look at the hp01 and hp04, we discovered that the differences in both purifiers are more than the similarities. The below chart would give you a better view of what these two purifying systems have to offer in terms of specifications.
| | | |
| --- | --- | --- |
| Model: | HP04 | HP01 |
| Style: | Tower | Tower |
| Purifier, Cooler & Heater: | Yes | Yes |
| LCD Display: | Yes | No |
| Oscillation: | 360° | 70° |
| Auto & Night Mode: | Yes | Yes |
| Jet focus & diffused Mode: | Yes | Yes |
| Backward mode: | Yes | No |
| Filter: | HEPA + Carbon | 360 HEPA GLASS |
| WIFI compatible, Dyson Link App, and Alexa compatible: | Yes | No |
| Remote control: | Yes | Yes |
| Air quality reporting: | Yes | No |
| Speed settings: | 10 | 10 |
| Room Size: | Large/medium | Small/Medium |
| Weight * Dimensions: | 19.7 lbs × 30.00 in | 11.9 lbs × 25.00 in |
| Warranty: | 24 months | 12 months |
| Price Value: | Check the Dyson HP04 best price on Amazon | See Dyson HP01 on Amazon |
Comparing Dyson hp01 vs hp04 pure hot + cool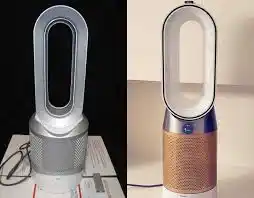 #1. Functions: The HP01 and HP04 both serve as an air purifiers, coolers and heaters. So if you intend to buy either of the two, then be confident that you can get all features from whichever model you buy.
#2. Filters: while both air purifiers offer a quality filter, the HP04 has an upgraded filter( a separate filtration system with a Larger HEPA & Active Carbon filter) which helps in separating quality air from contaminated air by capturing air pollutants. 
#3. Display: Both air purifiers have a display. While the HP04 has an LCD that gives real-time reporting on air quality, the HP01 only offers a simple display but does not report real-time data.
#4. Oscillation: while both air purifiers can oscillate, the hp01 can oscillate only at 70°, the HP04 can swing at 360° making it a better system for purifying, cooling and heating the room.
#5. Modes: While making our reviews, we discovered that both the pure hot+cool Dyson system offers Auto mode and Night mode where the displays of the devices dim and the air purifier runs quietly at night to prevent disturbance while sleeping. Plus Diffused and Jet focus control mode. However, the HP04 offers an additional mode(Backward Mode) Which makes it possible to use the purifier without turning on the heater or the fan.
#6. Control features: while the hp01 and H04 offers a magnetic remote control which makes it easy to control your purifier. However, the HP04 offers extra features (WIFI, Mobile link App and Alexa control).
#7. Warranty: Dyson offers fantastic warranty service to their pure hot and cool fans. So you should be expecting something great from them. As for the Dyson hp04 air purifier there comes a 24-month warranty. While the Dyson hp01 air purifier has 12 months of warranty coverage.
FAQ's about Dyson Purifiers
What's the difference between Dyson HP01 and HP04?
Going to the above reviews, we discovered that the hp04 has a backward airflow mode and an upgrade filter(HEPA + Carbon), plus it also supports Alexa, Dyson link App, and WiFI connection. These which the hp02 is lacking.You may also want to learn the difference between HP02 and HP04 Dyson hot and cool systems.
Does Dyson HP01 cool the air?
Sure! The hp01 cools the air. Additionally, it serves as a heating and purifying system. Also, the hp04 serves the same purposes, but with upgraded features.
How long does the Dyson HP04 last?
The Hp04 comes with a 2 years warranty offer. This means it would serve you several years if maintained properly.
Which Dyson air purifier should you buy?
Both air purifiers are cool to buy. Although, when considering which Dyson air purifier to buy, it's essential to be aware that there is some feature which is missing in the HP01 such as the Backward mode, Carbon filter and real-time Air quality reporting display. However, it's cheaper compared to the HP04.But if you think having the upgraded feature is essential, then it's better to consider buying the HP04 over the HP01. But be reminded that it's costlier than the HP01.
Conclusion: which is better, Dyson hp01 or hp04?
The Dyson hp01 and hp04 are both cool to use and serve the same functions. However, If you want an air purifier that will not only remove allergens but also odours and tiny particles, the Dyson Pure Hot + Cool HP04 is a better unit to opt for. Although you may need to pay extra bucks to get these features. But the investment is worth it.
 But If you don't mind having an air purifier with less oscillation capacity, WiFi incompatibility, or without Alexa support and absence of Backward mode, going with the Dyson Pure Hot + Cool HP01 would be a better option as it would save you the additional expenses you'd have made if you were to go for the HP04.
You may also be interested in either the hp04 or hp02 Dyson air purifying units.