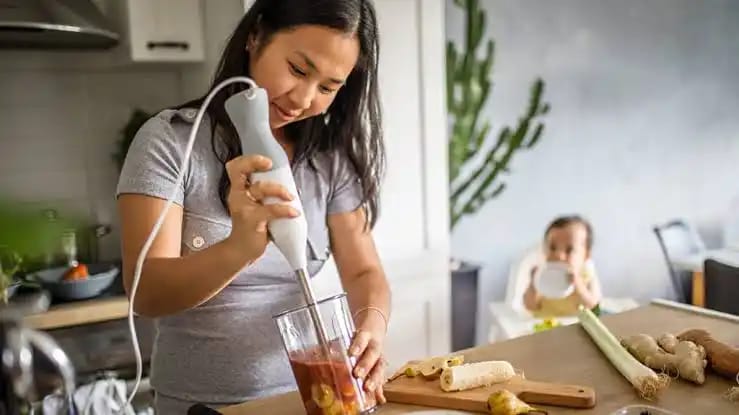 10+ Best baby food Makers [updated 2023] – Buyer's Guidelines
Have you ever thought about buying a blender for making baby food? Well, A few years back, pureeing baby food could be seen as a hectic task for nursing mothers due to the rigorous process that is required to make baby foods.
However, as we advance into the technology-filled age, here comes varieties of baby food makers such as blenders & mixers. But there is one question that you must ask yourself, which is: Do you need a baby food maker?
Well, the simplest answer is yes, you must have one if you are a nursing mum. However, deciding what food masher or maker is best to mill your baby food may become another tedious task to decide.
Related Stories featured on Reviewmast 👇
After all, making healthy and organic baby food is something every mum would want for their kids. So getting the right food miller to make your baby food is very vital.
Rather than using one of the regular food blenders to make baby foods, we decided to do thorough research and then we came up with our top picks of the best baby food makers on the market. Additionally, we also included some helpful information or guidelines for choosing the best food mashers to steam and puree baby food.
Top Baby food makers and steamers of 2021
Best Overall: Whale's Love 5-in-1 non-toxic baby food maker pouches feature a High-speed All-Round Stirring motor, touch Smart function, easy to clean and BPA free.
Premium Choice: BEABA 912509/ baba babycook steam cooker & puree baby food blender (steams, blends, defrosts and reheats fruits, veggies, fish & meat).
Best Value: Magic Bullet BBR-2001 baby care system & chopper to Puree, blend, steam, mash, prepare and grind apples, carrots, and every other vegetables and fruit or baby foods.
Most Affordable: OXO Tot baby Food Masher is one of the best affordable blenders for a baby that can be Easily used to scoop or serve pureed food.
Best Versatile: Sage Spoonfuls Baby Food-Maker/blender is one of the best available hand blenders to puree baby food
The 10 best blenders for making baby food
1. Whale's Love Baby Food-Maker pouches 5-in-1 – Best Overall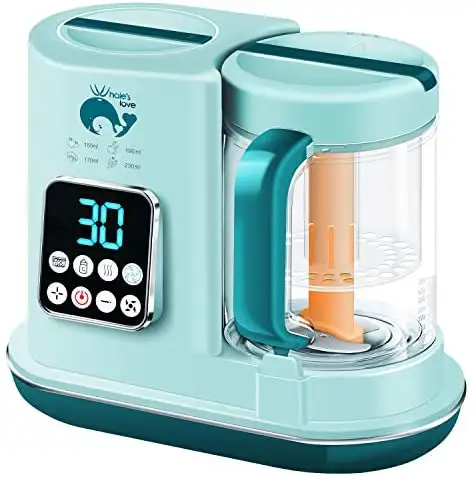 When looking to purchase a machine to make food for your baby, the 5 in 1 Whale's Love Baby Food Maker pouches ranked the top choice from our baby food maker reviews for their super wonderful features at a low price tag.
This best-rated baby puree maker features; High-speed motor base that spins at 18000RPM for fine-scale mixing and a Smart LED one-touch control panel/function to automatically help deliver nutritious purees. It also as 99% look like a feeding bottle that stands as a water tank that can be attached to the system for quickly heating or defrosting food.
The blender machine is designed with BPA free, lead-free, and odour-free safe materials, plus it's easy to clean before and after use. Making it a healthy and safe one for making baby food.
Also Read: The 10 Best blenders reviews of 2021
2. Beaba 912509 babycook baby food blender – Premium Choice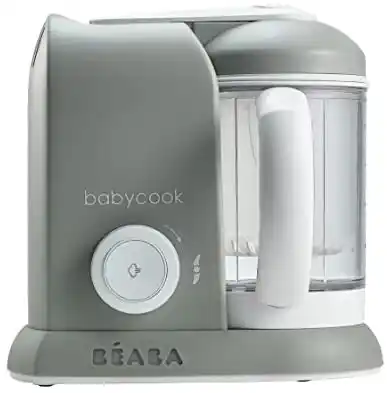 Whether you are looking to steam, blend, defrost and reheat veggies, fruits, fish & meat and also prepare potatoes. Though pricier than most other baby food makers, we discovered this beaba babycook premium food steamer and the pureeing system is super packed with the necessary functions to make food for baby.
As one of our review's best premium steamer blenders for pureeing baby food, the beaba babycook food prep machine features a large 4.7 cup bowl, food storage & container, an smart/Auto-shut off function after meal prepping, double safety-lock, anti-heat zone functions so that you can make a baby or toddler meal conveniently.
It also includes a cooking basket, mixing lid, spatula and recipe. Plus it has a BPA-free body part and easy to clean.
Also Read: Top 10 Blenders for they money 2021 Review
3. Magic Bullet BBR-2001 baby care system –  (Best value)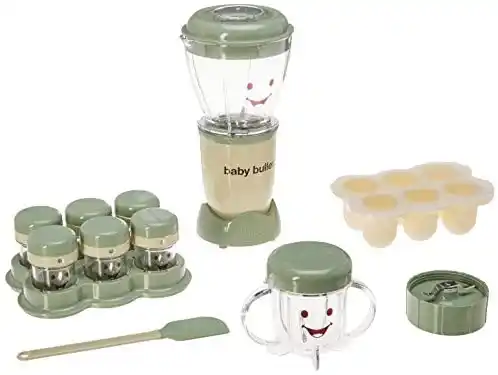 Need a baby food blender to make a meal for your babies and you are ready to spend more? Magic Bullet BBR-2001 blender for baby food has got value for the money, so you have all you need to make healthy baby meals in one food care system.
The Magic Bullet BBR-2001 baby care system & chopper features a one-speed 200 Watts motor base, 8-cups, 1-storage tray, 3-pieces batch bowl, blending & milling blade, and spatula making baby meal prep easy. Additionally, it comes with some kits so you can easily make fresh baby food.
Also, this food blender for babies has a BPA-free plastic material body, with dishwasher safe body parts, plus a 1-year warranty service and cookbook/manual.
Read also: Best baby food makers of 2021 – Top Picks & Reviews
4. OXO Tot Baby Food Masher/Mill – Most affordable
Whenever you need something cheaper to make a meal for babies, the OXO Tot Mash Maker Baby Food Mill should be your option. This blender ranked the Best affordable baby food makers on our review list for its amazing package for a small amount of buck.
The Oxo tot food Masher which weighs just around 0.21kg features a stainless steel material & plates for you to puree soft food to serve babies, the non-skid base for stable milling of baby food, and control pureeing thick meal by adding water to get the desired. As one of the best baby food mashers, you can easily scoop or serve pureed food from it.
Also Read: 8 Best blenders for smoothies & juicing in 2021
5. Baby brezza glass one step food maker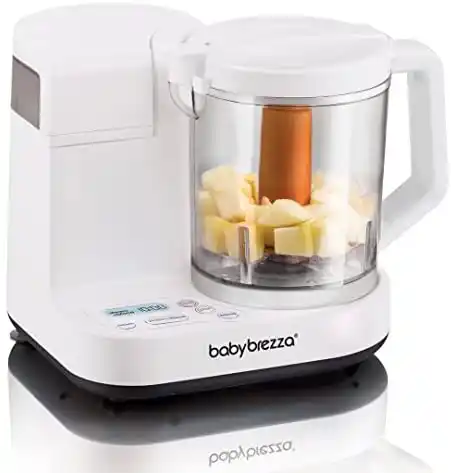 With the Baby Brezza baby food Maker, you can easily make your healthy, homemade baby food in splits of seconds by automatically blending it in the large, 4-cup capacity glass bowl without any transferring with the 3-speed settings at a push of a button.
The Brezza blender features a 220 wattage, stainless steel blade for precision blending, LCD control panel, glass bowl, spatula, recipe book, and a 1-year warranty. Although it's recommended that you cut the produce into ¼" pieces before blending/steaming for optimal result. Plus it's BPA free ad easy to clean.
Read Also: 10 Best Ninja blender reviews for 2021
6. Babymoov Duo Meal Station baby food maker for Twins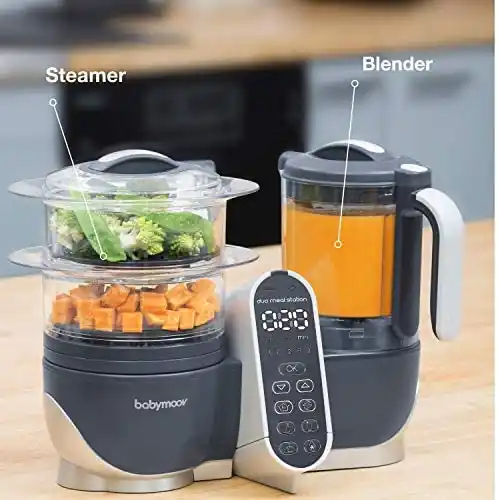 As the top six on our best steamer blender for pureeing baby food reviews, the Duo Meal Station gives you all you need to make a healthy and delicious meal. This 6-1 Food Processor with Steam Cooker also stands as a multi-speed blender, Baby Purees, Warmer, Defroster and Sterilizer so you can Make Healthy, Balanced, and Delicious Meals in Minutes.
The babymoov system features a central control panel which makes operating fast and easy, steaming and blending baskets for making just about baby food which includes steam, blend, cook, warm, and sterilizes the baby bottle and a 500W motor base with 3-speed settings. Additionally, its components of it are dishwasher safe & BPA free.
7. Sage Spoonfuls Baby Food-Maker – Best Versatile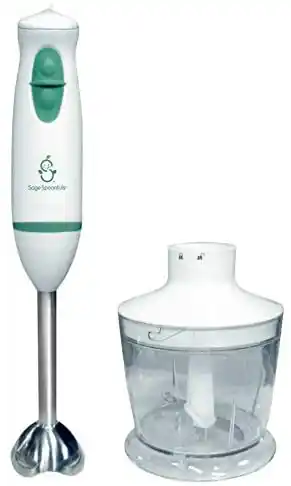 Step up your food pureeing easily and save time with the Sage Spoonfuls immersion blender for making baby food. The blending machine is versatile enough, enhance allows you to achieve different textures and consistencies for all feeding stages.
The sage pureeing system comes with a dual attachment (blender and food processor) and features everything you need to pulverise baby meal which includes a powerful stainless steel blade and a 120V/250W quiet motor that is capable of blending meat, vegetables, fruits, beans and poultry with ease.
Additionally, it comes with a manual book, plus its BPA free & dishwasher safe making it one of the safest baby food maker system.
Read also: Top commercial blenders reviews of 2021
8. NutriBullet NBY-50100 blender for baby food pureeing
NutriBullet NBY-50100 baby food making system top-up one among the rated Portable baby food blenders to make baby food. This small blender is designed to make delicious food that can be easily stored, freeze and grab a hold on whenever you intend to feed your baby.
This nutribullet blending machine features a 200 wattage capacity Motor base, blending blade, dual batch bowls and storage options, fridge and freezer. it also has a date-dial feature that keeps you on track and organised. With the NutriBullet Baby food blender, you can safely save money, save prep time and yet make fresh baby food.
Also Read: 7 Best blenders to buy on a budget in 2021
9. Elechomes 8-in-1 multifunctional baby food processor – Best Compact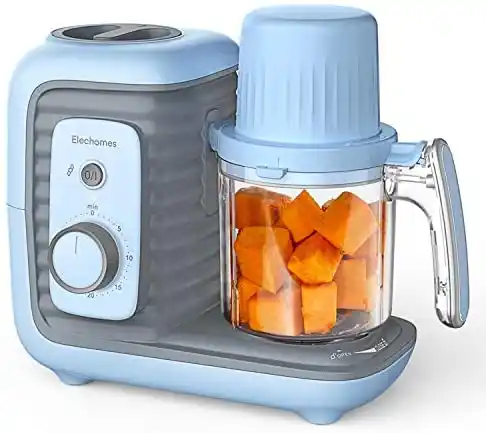 Want to make healthy homemade food without spending much time? Elochomes Food Mills for Cooking gives you all needs for you to make a yummy, nutritious meal in one compact design, while you save precious time and plan. Not only can the blending machine steam eggs & blend carrots, chicken, banana and apple, but can also chop, defrost or reheat them, warm milk, sterilize baby bottles.
The Elechomes 8 in 1 Baby Food Processor features a Low Water Protection that automatically stops the blender from working once the water level is low, Kid-proof Safety Switch protection function that ensures the jar is set correctly before working to avoid accidental issues, Set Your Steam Strength that allows you to set blender working duration of steaming and pureeing by Rotating the knob.
Additionally, it recipe booklet and Easy to Clean just by simply removing the blade and rinsing it
Read also: The 10 best blenders for bulletproof coffee
10. Homia Baby Food Blender Chopper & Grinder
Need to prepare a baby meal? The Homia Dansa Food Processor for Toddlers which has a plastic material design gives you all you will ever need to make your baby food so you can Steam, Blend, Chop at the touch of a button, Disinfect, Clean.
The blender feature a 20 Oz Tritan Stirring Cup, smart Touch led Control Panel, removable stainless steel blade, scalable water tank for full control over the measurement of water, Auto Shut-Off, 110V Only which makes it easy to use without having to stress yourself. Additionally, attached to it is a Steaming basket, Heat insulation cover, Splash cover, Baby bottle tongs, Recipe book, User manual and Gift Box.
11. Tommee Tippee Baby Food Maker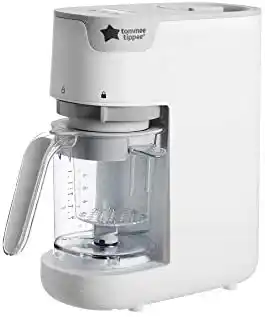 Ever plan to quickly make or steam your little nuggets food while you preserve nutrients at the touch of a button? The tommee tippee milling machine could serve you the needs. Although not one of the top-rated baby food makers on the market, this baby food cooker and blender serves as an alternative for those looking to buy a portable blender that is suitable for all ages and stages.
The tommee tippee which weighs just around 5 pounds is featuring a 7oz max blending jug and a handy steamer basket for faster steaming, multi-texture blending function that enables you to mix, mince, baby food to chunky texture from smoothies for infants or bigger portion for adventurous toddlers4 automatic steam to blend cycles, and a spatula. Plus it's safe to use, and easy to clean before and after use.
12. Grownsy baby food maker
Grownsy one of the best blenders for pureeing baby food is fully equipped with a whole lot of functions that you need to prepare food for children. This food maker not only serve as a puree blender for mixing but a food processor, food warmer, steamer, grinder and milling machine.
The grownsy baby pureeing blender mixer feature stainless steel blade, a smart led touch panel for easy operation, and Auto Cooking & Grinding function, a one-touch button to automatically Make up to 400ML of homemade & alive baby food in the same bowl, and a 24-hour heat preservation function.
Additionally, it comes with 8 Reusable Food Pouches so you can blend easily with the large capacity bowl.
How we choose the best blender for baby food – Buyer's Guide
We took a survey from various channels by users, and in conclusion of some of the most recommendable food pureeing machines, there are some important factors which you must consider before investing your money into buying a baby food blender. This way you will get the best out of your preferred blender.
Some of what you need to pay close attention to while shopping for a blending machine to make a meal for babies includes the functions, safety, durability, portability, cleaning, ease of use, and warranty. Let's take a quick look at the impact of all these things listed.
Function: there are various models available on the market, however, not all will offer you all you need to serve a baby a delicious, healthy meal. It's always advisable to go for blenders that can do just everything to make food. In this case, you will need a blender that can serve as a food processor, chopper, miller, and also have the storage capacity to secure your baby food.
Safety: when shopping for a model to make food for a baby, it's critically essential to keep in mind the health of your babies by always going for BPA free, lead-free, and phthalate-free materials. It's however advisable to avoid a model that doesn't clearly state what material is used for its construction. Additionally, having a smart security function/features would also ensure its safety around toddlers. 
Ease of use: ordinarily, breastfeeding mothers are always a handful as a result of tending to their babies, in this case, you would want to grab hold of a blending machine that is complex to use. In such a situation you would want to opt-in for an easy to use model.
Durability: it's no doubt there are stages when you will need to switch the type of food texture. Having a model which serves all stages of it from babies to toddlers would be a better option. As it will save you the unnecessary expenses of having to buy an additional blender.
Portability: Another great concern is the portableness of the model. Every parent should know that wherever a baby goes, his/her stuff should go. In such circumstances shopping for portable blenders would generally be a good idea. As it will save the stress of ever thinking of carrying a heavy model now and then.
Cleaning: With children in the house, clean up which is a huge task is a never-ending chore. While going for your preferred choice, You'll want a blender that's easy to clean before and after uses, so as not to take up so much of your time. To ensure that you are giving your child the maximum attention, and also ensure your baby is getting the best nutrition.
Warranty: generally, blenders come with various assurance periods. While some brands offer lengthy periods there are lots of blender band that offer shorter warranty periods. It's good if you can purchase a baby food maker with not less than 1-year warranty coverage. This way you will save yourself some additional expenses within that coverage duration if at all there happens to be a defect.
You can also go through our complete blender buyer's guidebook to learn more.
Conclusion: What are the best baby food makers?
Getting a Homemade baby food maker ensures that you can make a healthy and delicious meal for your kids. Also, it gives you full control over how you make the recipes.
In case you are prepared to buy one to make your baby food, Choosing from our collective list of blenders for making baby food will guarantee that you never go wrong while shopping for a blender to steam and puree your baby food.
And as a recap of our baby food blender reviews, we would recommend you go for Whale's Love 5-in-1 non-toxic baby food maker as we considered it the best overall blender for making baby food. However, if you are out of cash and you need something inexpensive, you may want to consider buying OXO Tot baby Food Masher a baby food puree machine.
Also, we recommend you: Sage Spoonfuls Baby Food-blender as the most versatile baby food maker among them all.