Vitamix A2500 vs A3300: Which blender is perfect for your kitchen?
Vitamix A2500 vs A3300: Which should you pick? To make smoothies, soups, sauces, etc, it is essential to have a good blender. There are lots of different types of blenders out there, but not all of them give you the same performance.
If you are looking to invest in either the Vitamix A2500 or A3300, but yet not sure of which one is right for you, then you are in the right place where you'll figure out their differences.
Vitamix blenders are some of the most popular kitchen equipment. They offer extra powerful functions at a reasonable price point. There are two models are under the same brand name (Vitamix): the A2500 and the A3300. Both offer powerful performance, but the Vitamix A3300 boasts a more innovative blade design.
Related Stories featured on Reviewmast 👇
Also, both models come with an impressive array of features, but the Vitamix A3300 offers some amazing added benefits over the A2500. Before buying any of these models, it is worth knowing the differences between these machines. The reason why I took my time to compare these two blenders side-by-side in other to figure out what they both have to offer.
If you are ready to purchase one of these Vitamix models, you may want to learn about the differences and decide which machine is right for you. Below is complete detail about the Vitamix Ascent A2500 and the A3300.
Read Also: Vitamix A2300 and A2500, and a similar one Vitamix 750 vs. A3500
Difference between Vitamix A2500 vs A3300
Although they are both powerful and with a 2.2 horsepower motor, the Vitamix A3300 is slightly stronger.
The A3300 has a touchscreen with all controls, whereas the A2500 uses a physical button.
Even though they both have a programable dial, the A2500 has 3 preset modes. Whereas the Ascent A3300 has not even a single program.
However, the Vitamix A2500 is rated higher than its counterpart according to consumer reports.
Vitamix A3300 and A2500: the Similarities
The A2500 and A3300 have the same powerful engine: 2.2 peak horsepower motor.
They both have a 64-Ounce Container Size: big enough for a large family.
Both Vitamix models have 4inch size laser-cut stainless steel blades.
The Vitamix Ascent A3300 has 10 Variable speed Control, likewise the A2500.
The A3300 and the A2500 have a pulse control and an On/Off toggle switch. Plus a timer.
They both are wireless-enabled using Wifi and APP.
They both come with equal warrant length: 10 years full warranty.
So far so good, I have pointed out the difference and similarities between the A3300 and the A2500. However, to make it easier for you to make the right choice of model to go with below is a Vitamix A2500 vs A3300 quick comparison recap.
A2500 Vitamix vs A3300 – Ascent Comparison Chart
| | | |
| --- | --- | --- |
| Model: | A2500 | A3300 |
| Lineup: | Ascent-series | Ascent series |
| Motor size: | 2.2 peak horsepower | 2.2 HP Peak engine (1,640 watts) |
| Pitcher Capacity: | 64-Ounce Container | 64-Ounce low profile Jar  |
| Blade type: | 4 count Stainless steel blades/ 4inch | 4 count Stainless steel blades/ 4inch |
| Speed control settings: | 10 Variable speed (Analog) | 10 Variable Speed dial (Screen touch) |
| On/Off Toggle | Yes | Yes |
| Pulse button | Yes | Yes |
| Preset mode | Yes / 3 preprogrammed dials | No |
| Premium dial | No | Yes |
| Timer | Yes | Yes |
| Bluetooth compatibility: | Yes | Yes |
| Self detects technology: | Yes | Yes |
| Noise insulation: | Less Quieter | More Quieter |
| Dishwasher safe | Yes | Yes |
| Attachments: | Cookbook, Manual & Tamper | Tamper, Manual & Cookbook |
| Colour Variant: | 4 | 3 |
| Dimensions & Weight: | 7.8 x 10.8 x 17.0 inch &12.0 lbs | 6.94 x 9.41 x 20.2 inch & 11.2 lbs. |
| Warranty: | 10 Years | 10-Years |
| Best selling: | Rated #14 of 112 | Rated #8 of 112 |
| Cost: | See the A2500 latest price | See A3300 latest price |
Comparing the Vitamix A2500 vs A3300 features in detail
Although both models look similar in design and with smart features, consumers have rated the Ascent A3300 up to the #8th position which is above the A2500 on position #14.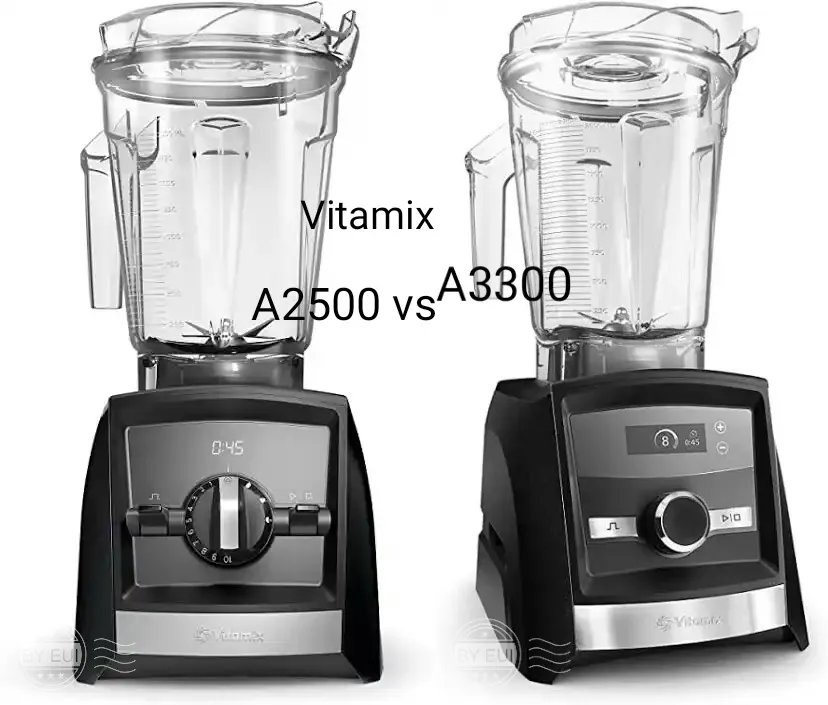 The reason is that it's a better choice for those who love to have a blender with a digitized panel. Whereas the A2500 is a good option if you are looking for a unit to make smoothies and almonds. Below is a detailed performance review of the Ascent A2500 and A3300 when it comes to features and specifications.
Motor Base & Power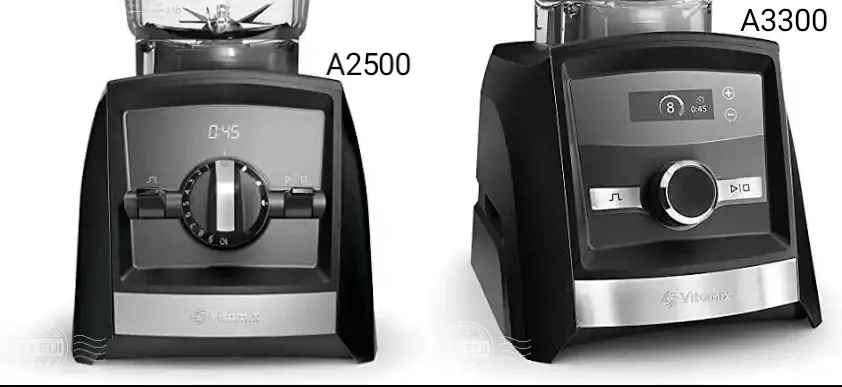 When it comes to power, the A3300 and A2500 motor are of the same power capacity. They both offer a 2.2 horsepower engine that is sufficient enough to handle tough ingredients as well as crush ice into smoothies. The build quality of these models is felt premium and are with durable output.
Furthermore, the A2500 and A3300 motor base include a radial cooling fan that keeps the units from overheating after a few minutes of blending. Additionally, there is a thermal protection system that keeps the machine in check and makes sure it's an automatic shut off if there is overheating.
Container Size & Material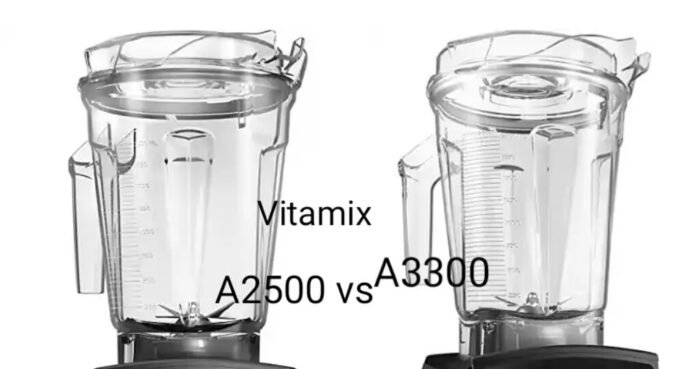 Taking the container measurement of the two models, I discovered they both have the same storage capacity. The Vitamix A3300 have a large jar. Likewise the A2500. The 64-Ounce Pitcher is a desirable one for those looking forward to making a large batch of recipe blends for big households. The Containers are made of BPA-free plastic materials and they ate equally dishwasher safe.
Blades Size & Materials
Just like every other ascent model with the same blade size, the A2500 have sharp blades that are 4-inch diameter long. Likewise the A3300 blades. The Laser-cut blades are designed to fit into the blend container without slacks. The blades are both made from stainless steel material, plus they are dishwasher safe. However, they are not removable.
Control settings
The A2500 and A3300 come with the same amount of Variable speeds. Including a pulse button and an On/off toggle. The Vitamix A3300 has 10-speed variables and so does the A2500. The Variable settings make it possible to adjust the speed level of your blender to the lowest and highest level for you to achieve the right blends.
On the other hand, the pulse button makes it possible to blend tough ingredients and get the right texture for recipes. While the On/off switch means you have full control of powering your blender.
Preset modes
Even though they both have program settings, the A2500 looks more improved than the A2300. While comparing both models, I noticed the A2500 has 3 preset modes. The three program settings are made for hot soups, frozen desserts, and smoothies.
Sadly, the A3300 have no program settings, however, with the digital timer, you can smartly achieve the same task as that of the A2500. All you need to do is to set the time for the blender to achieve the task depending on the recipes.
Extras & Attachments
Just like the Vitamix 750 pro, the A2500 and A3300 have a self detect container function. These two Vitamix models are designed to easily detect the container size attached to its motor base and automatically adjust to the recipe blending requirement and time in other to achieve the desired result. This means you do not need to manually configure your blender.
Additionally, you can easily control the models through the Vitamix mobile application that is available on the app store for iOS and the lay store for Android users. Also, there are attachments included in the blenders such as a tamper, User manual and Cookbook. The low-profile tamper makes it safe to push ingredients stuck around the container to the blade without pulsing your machine.
Usability & Versatility
Both blenders are easy to use, however, the A3300 is more recommended to beginners because of its straightforwardness and simplicity. That doesn't mean the A2500 isn't a good option. They are both versatile enough to handle various ingredients. These two Ascent models can be used for crushing ice, preparing almond butter and making smoothies.
Warranty & Unit Cost
Unlike the E310 and E320 with shorter warranty, all Ascent model comes with a very long warranty duration that lasts for 10 years. The Vitamix A3300 and A2500 warranty are of the same length. Both models offer a full ten years warranty that covers all body parts of the blender. With the warranty, you are not going to spend from your pocket to get any damaged body parts replaced. 
Verdict
I love the A2500 because it has 3 preset modes and a digital timer that allows you to easily make a variety of blends without doing any guesswork. Plus it's a great option for everyone including beginners and those with no previous experience. On the other hand, I love the A3300 because it's more straightforward.
Frequently Asked Questions and Answers
What is the difference between Vitamix A2500 and A3300?
The A2500 has three preset modes. Despite the A3300 being a newer model, it lacks program settings, but it's touchscreen-enabled. 
Is the Vitamix A2500 worth it?
Yes! The A2500 is worth the investment If you want to do away with manually setting up your blender for every recipe you want to make for a faster and smoother experience.
Conclusion: Is Vitamix A3300 worth?
The A2500 is great for the price. It has everything you would want from a blender at an affordable cost. The blades are strong which gives you the best performance when creating smoothies and even some dishes.
The Vitamix A3300 is a similar but upgraded version of the A2500. Fewer features and a better user interface. But with the same warranty! Make sure you buy A2500 instead because you will get access to 3 programs for faster processing.
If you're a newbie who's interested in purchasing Vitamix Blender, definitely consider buying the A2500 or even the latest A3300 with no program. You will not regret it.
I recommend these machines to anyone who is looking for a high-quality blender that they can use for a wide range of tasks.
We trust that you will find our comparison between Vitamix A3300 and A2500 helpful. If you do, why not take time to check out similar reviews where we compared Vitamix 5200 vs. A2500. You may also find this Vitamix A3300 vs. A3500 comparison to be super helpful when making your next shopping.