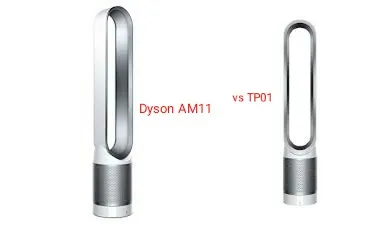 Odor! Dyson AM11 vs TP01: See Comparison and choose the best
Dyson AM11 vs TP01: the battle between both units. In the past few days, I've reviewed several numbers of Dyson fans from different series including the Dyson Tower purifier(TP) series. This time, I shall review one of the most popular Dyson air purifiers, the Dyson TP01 alongside the Dyson AM11.
It's great to know that Dyson is one brand you should consider investing in. They offer great value for their products, especially with their recent range of Air purifiers offering more powerful motors and features such as the AM11 and TP01. However, it's no debate that one tends to take the upper hand over the other.
Although they perform very well at filtering indoor air quality and removing pollutants like pollen or allergens, from two different series and with differences in features. But then, you may ask: Which is the best? Which Air purifier should you choose between the Dyson AM11 and the Dyson TP01.
Related Stories featured on Reviewmast 👇
In this article, I'll walk you through these two Dyson air cleaners: The AM11 model from the Dyson Air Multiplier (am) and the TP01 model from the Dyson Tower (tp) series. This article will disclose the difference and similarities between these two Dyson models (TP01 and the AM11). Read through to get enlightened about these two Units.
Difference between Dyson AM11 and TP01 air cleaner
The TP01 is a Dyson Pure Cool, while the AM11is a Dyson Cool system only.
The AM11 has an Oscillation amounting to 350 degrees, while the TP01 has only 70 degrees.
Dyson AM11 is heavier than the TP01, but the Dyson TP01 is taller than the AM11.
The AM11/has an LCD, while the TP01 doesn't.
The AM11 has auto-shutoff technology, while the TP01 doesn't.
However, the Dyson TP01 is more affordable than the AM11.
Looking at their differences, you can tell that the AM11 has more features compared to the TP01. But then, while both units are different in features, they still share some resemblance. Below are their similarities.
Similarities between Dyson AM11 and TP01 unit
The TP01 and AM11 serve dual functions (Fan and Purifier).
Both are Dyson's cooling systems: which means they can cool the room, office or nurseries.
Both are Dyson Air purifying systems: which means they can purify the polluted air.
The two units can not serve as a heater.
Both have two filters: a HEPA filter + Activated Carbon filter.
They both have a bladeless appearance.
They have the same speed settings: Upto 10-speed level.
They both have three different modes and a timer: the modes include Auto mode, Night mode and Backward mode.
They are both compatible with smart features: WiFi-enabled, Alexa Voice control and Dyson Link App.
They have the Same warranty service duration: 2 years warranty.
Taking a look at their look-alikes, we can tell that TP01 and AM11 have a lot to share in common. This is to say both units are great ones to have. In case you care to know, below is a table that shows a quick review of the Dyson AM11 vs TP01 in a side-by-side comparison.
Dyson AM11 & TP01 Comparison chart
| | | |
| --- | --- | --- |
| Model: | AM11 | TP01 |
| Lineup: | AM Series | TP Series |
| Design: | Tower and Bladeless | Tower and Bladeless |
| Dyson Air Multiplier: | Yes | Yes |
| Oscillation: | Yes/ up to 350 degrees | Yes/ 70 degrees only |
| Display Type: | Yes | No |
| Purifying: | Yes | Yes |
| Cooling: | Yes | Yes |
| Heating: | No | No |
| Filter type: | Yes/ HEPA & Active Carbon | Yes/ HEPA & Active Carbon |
| Speed level: | Up to 10-speed Airflow settings | Up to 10-speed Airflow settings |
| Timer: | Yes | Yes |
| Auto/Night mode: | Yes | No |
| Jet focus mode: | – | No |
| Backward mode: | Yes | No |
| Diffused mode: | – | No |
| WiFi-enabled, Alexa compatible & Dyson Link App | Yes | No |
| Remote | Yes | Yes |
| Height × Weight: | 8.6 inches × 8.09 lbs | 40.1 inches × 8.4 lbs |
| Warranty: | 2 Years | 2 Years |
| Price value: | See AM11 on Walmart | See TP01 price on Amazon |
Comparing Dyson AM11 vs TP01 fan in full detail
Now that you know what the AM11 and the TP01 offer and what they are capable of doing, let us see the benefits of those features in these units by comparing the Dyson AM11 vs TP01.
Dyson TP01 and AM11 Design (Appearance)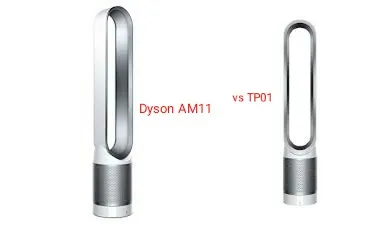 Looking through the Dyson TP01 fan and the Dyson AM11 design, I noticed both units look the same in appearance (Tall, Narrow and Oblong shape). But while analyzing them, i discovered the AM11 is quite improved than the TP01. The Dyson AM11 features are more, but not so in the case of the TP01. While the AM11 features various qualities from Modes to Oscillation, Display to timer and other Smart features, the TP01 comes with none except a timer. This is to say Dyson AM11 has the upper hand. However, the AM11 and TP01 do not have any visible fast-spinning blades.
Air Multiplier Technology
Just as usual, in terms of Air multiplication, The AM11 and the TP01 feature an Air Multiplier Technology that is being powered by Dyson. The Dyson Air multiplier technology makes the device appear bladeless while still able to distribute cool air across the room. As a result of the Dyson AMT feature, these units have no protective covers because they are bladeless and safe, leaving them scarless and easy to clean. Additionally, AM11 has an Oscillation of 350 degrees making it able to distribute purified and cool air around the room while the TP01 has a 70-degrees oscillating capacity. In this case, the AM11 wins for its improved feature.
System Functionality
Having a unit that can serve multiple purposes is a good idea. Thanks to Dyson for making both TP01 and AM11 serve aal function (Air purifier and cooler). The TP01 and AM11 can both purify and cool the air. If you need an air purify fan, you can bank on either of them as they can purify and fan all year round. The AM11 and TP01 fans have 10 airflow settings. These fans are powerful and run quietly.
System Filter Types
This machine comes with two types of filters, time to capture and the other to eliminate. The TP01 comes with two filters (360 HEPA Filter + Active Carbon filter). The AM11 also comes with dual filters (sealed HEPA + Active Carbon filters)
Modes. This means they are both capable of capturing 99.97% of ultrafine particles including pollen, bacteria, dust, pet dander, and other air pollutants in the air using the HEPA filter. At the same time, they also filter bad odours, gasses, toxins, smoke, and VOCs (Volatile Organic compounds) using the Carbon filter.
Connectivity (Smart features)
When it comes to smart features, the Dyson AM11 pure cool system comes with features like Link App and WiFi connectivity, the TP01 lacks such improvements. The Dyson Link App and LCD screen provide you with all real-time updates. Also, the WiFi-enabled feature makes it easy to use. Because the TP01 lacks these features which AM11 has, I can say that the AM11 is a better choice to make and should be an ideal decision because not only can you monitor real-time results from the mobile app, but also can change the airflow settings through it.
Modes
Modes are essential for ease of use. Going through the Dyson AM11 pure cool fan and the Dyson TP01 pure and cool fan, Here are things I discovered. The AM11 has three different modes including Auto mode, night mode and backward mode. On the other hand, the TP01 has not even had a single mode. The auto mode makes the job easier by allowing the unit to automatically adjust airflow, check the quality of air, and switch the device on or off.
Night mode allows the device to dim its display and run at the quietest setting while still retaining the quality airflow. The backward mode allows you to change the direction of fan cooling. That is to say with the TP01, you can not change your fan direction, or configure it to auto-adjust airflow and dim light, but you can do so with the AM11. You can also set a timer for your TP01 through remote control Accessories. But with AM11, you can set it both from the remote control or the Dyson link app.
Remote
Aside from the Dyson Link App which the AM11 has and can be used to control your device through a smartphone, the TP01 and AM11 come with a remote control accessory that allows you to adjust the settings of your unit without physically reaching for it.
Frequently Asked Questions and Answers
What is the difference between Dyson TP01 and AM11?
The Dyson AM11 offers smart features (WiFi, Link App and Alexa voice control. The TP01 doesn't have it. Additionally, the AM11 has a more oscillating capacity (350°) than the TP01 (70°).
Does the Dyson TP01 have a carbon filter?
Yes! The TP01 has an Active carbon filter and HEPA filter. The Active carbon filter is meant to remove Volatile Organic Compounds (VOCs).
How long do Dyson TP01 filters last?
Dyson recommended that you change the filters once every year after 12 months. However, that isn't always the case as the system will notify you of when it's due for replacement.
Which air purifier should I invest in?
Both the Dyson AM11 (Air multiplier) and TP01 (Tower purifier) air purifiers claim to provide great performance at a reasonable price. They both feature amazing filters and powerful blowers, so they are perfect choices for allergy sufferers or anyone who wants to stay fresh during hot summer days.
You also get both Dyson AM11 (amplifier) and TP01 (tower) air purifiers within the same price range. Both these air purifiers offer an excellent quality filter and powerful blower, making them very useful for allergy sufferers.
Conclusion
Concluding this Dyson model, I can say both units are a great option. Because they can both do almost everything alike such as purifying and cooling. They can also filter out germs and also capture tiny particles. When it comes to choosing one with great filtration, both models are not inferior to the other.
Additionally, The Dyson TP01 pure cool and the Dyson AM11 pure cool equally come with timers and Oscillations. Although the Oscillation capacity for the AM11 is bigger, the Dyson TP01 will do just fine as planned. Plus you can increase the speed level of the fan up to level 10 settings.
Overall, I think this comparison (Dyson AM11 vs TP01) is pretty clear cut. I would choose the Dyson AM11 because it has more features and more options. Aside from that, I'd rather go for the TP01 because it comes with necessary features, and most importantly it's cheaper. Also, feel free to check similar reviews I made against the AM11 featuring the TP02.