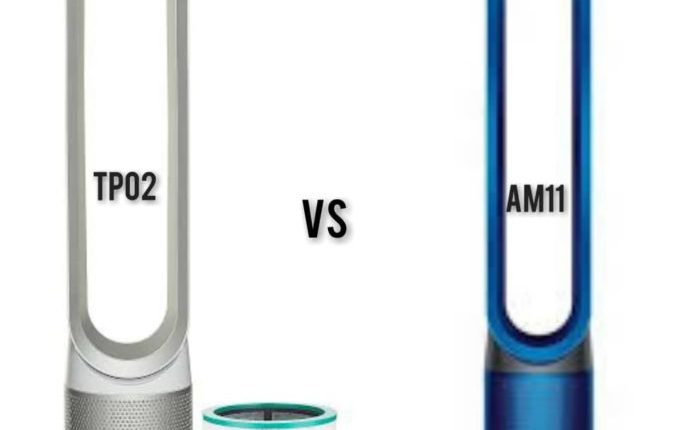 Dyson Am11 Vs Tp02 Comparisons: Which Air Purifier Is Better?
Between the dyson am11 pure cool air purifier vs tp02 Which should you buy?
Go through our review guide to decide to see what we have for you about AM11 & TP02 purifier.
Comparing the Dyson AM11 vs TP02, which one is the best? When it comes to an air purifier, the Dyson brand is one of the most competitive, and also favorite air purifiers in the market for its quality built premium cooling fan with an attractive design.
Despite being one of the most expensive air purifiers in the market for home use, the Dyson air purifying machine had never declined in terms of sales.
Dyson AM11 pure cool of the Air Multiplier Series class (AM Series) and TP02 pure cool of the Tower Series class(TP Series) is the brand's leading fans for the past three decades of service.
Related Stories featured on Reviewmast 👇
Earlier, I made an interesting review of some of the other Dyson air conditioner models such as the Dyson TP03 vs TP04 difference, the Dyson TP01 vs TP07, AM11 vs TP04, and the Dyson TP02 vs TP04.
While doing that, I took my time to make some findings about how long the filter replacement lasted, if it's WIFI supported, what room size or coverage it purifies, the manual, and the release date.
Additionally, i compared and highlighted the similarities and differences between the two models. 
So i thought featuring the Dyson am11 vs tp02 also will be helpful to those planning to buy an air purifier. But what is it about the Dyson am11 pure cool air purifier vs TP02?
Note: You can also take a look at all our dyson air purifier reviews, which you might also be interesed in.
Why Dyson AM11 vs TP02 fan?
The AM11 and TP02 are Dyson air purifier that also doubles as a fan. They are both equipped with a HEPA filter and Active Carbon as well, not just that, they are also powered by Dyson's very own Air Multiplier technology.
Although there are other cheaper alternatives in the market, people still yearn towards getting a Dyson air purifier. If you are one of those ever planning to get either the AM11 or TP02 air cleanser, you are on the right track to get a full detailed description of what you want to buy.
We will make a side by side comparisons of the two air cleansers, then look into their differences, similarities, and specifications to see if they are worth the purchase.
In this Dyson am11 pure cool air purifier vs TP02 pure cool link comparison review, we will show you the detailed difference between the am11 and tp02 Dyson purifiers, and also help you understand if they are worth it. But before then, let's take a review of what the Dyson tp02 and am11 are up to.
Dyson Am11 Spec Review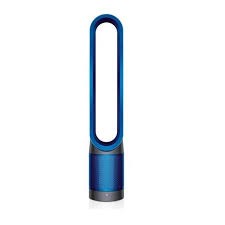 Dyson am11 is an air cleansing gadget that Removes 99.95% of harmful ultra-line which are as small as 0.1 microns particles. The Dyson Pure Cool purifier fan has a precisely calibrated air intake, combined with a high-efficiency sealed HEPA air filter which helps trap 99.95% of harmful ultrafine particles, in the filter media.
The 20W powered Dyson AM011 bladeless fan Air purifier is a very light weighted air-purifying tool that works with an air multiplier technology and weighs around 3.58kg and features a 418 Airflow at max setting, 2-meter cord, 190mm Amp Width. and HEPA filter.
Dyson AM11 also comes with an easy filter, which allows you to change the filter once every year rather than having to wash the filter every month or week. If you can't afford a new one, You can buy the Dyson AM11 refurbished. You can buy the renewed version here.
Dyson TP02 Spec Review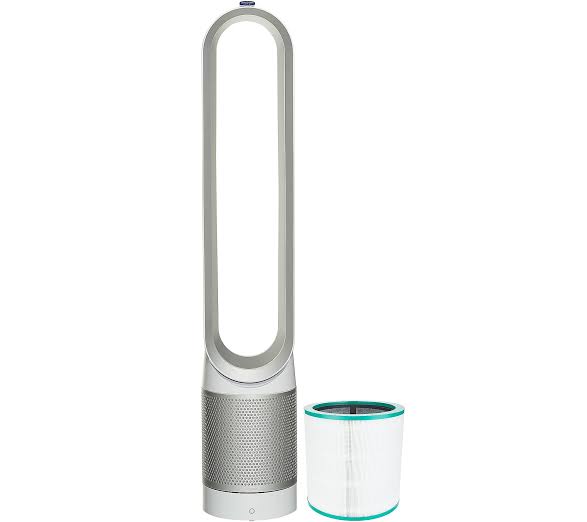 Dyson TP02 Pure Cool Link Wi-Fi Enabled Air Purifier fan is an air cleansing gadget that automatically removes 99.97 per cent of allergens and pollutants from homes such as pollen, bacteria and pet dander. The TP02 Intelligent purification automatically monitors, reacts and purifies and reports air condition data to your Dyson link app, were you can remotely control your environment
The TP02 cooling fan feature a 360-degree vacuum glass HEPA filter which removes indoor air pollutant, and the second layer of activated carbon that is meant to capture household odour and potentially harmful toxins such as paint fumes, a night-time mode monitors that reacts and purifies by using the quiet settings and the LED display dims to prevent disturbing light sleepers.
You can Easily change the filter rather than washing it every month. All you need to do is to replace it after a year of using it for 12 hours consecutively with the Dyson Pure Cool Link replacement filter.
Difference between Dyson am11 and TP02 air cleansers
The AM11 purifier has an oscillation that is amounted to 360 degrees while the TP02 only has 180 degrees oscillation.
The AM11 is more cheap compared to the TP02 cool link purifier.
The AM11 air cleanser has a 360 Vacuum-sealed HEPA filter while the TP02 has a 360 Glass HEPA filter.
The TP02 air purifier is WiFi-enabled and can be connected to the Dyson Link App for easy data collection and air control, while the AM11 does not support this feature.
The TP02 has Amazon Alexa integration while the AM11 is not capable of voice command as it does not support WiFi.
Having gone through the difference between Dyson pure cool and pure cool link, let's take a look at the similarities that the Dyson am11 vs Tp02 as to offer.
Similarities between Dyson am11 vs TP02 purifier.
The AM11 pure cool and TP02 pure cool link both have Active Carbon filters.
The TP02 and AM11 are both powered by Dyson's Air Multiplier technology.
The AM11 and TP02 cleansers have dual-functions (purification and fan).
Both AM11 and TP02 sport the same tower-style with a narrow oblong-shaped amp design.
The AM11 and TP02 are easy to clean and are safer to use than the traditional fans in the market.
The AM11 and TP02 purifiers come with a remote control accessory
Having gone through the difference between the am11 and tp02 purifiers, let's take a look at the full comparison difference between the Dyson am11 and tp02 cooling fan.
Dyson am11 vs TP02 pure cool link comparison – detailed Review
The Dyson am11 vs TP02 pure cool link conditioners comparison detailed Review will shed more light on what the two air purifiers have to offer, and also you will be able to make an objective decision on which Dyson fan you should buy, or which is best for your needs.
Starting with the design, let's see the clear difference in appearance between the Dyson a11 vs tp02 air cleansers.
Design
Dyson AM11 and TP02 purifiers design
Both AM11 and TP02 air conditioning devices have the same design with virtually equal measurements. Just like every other Dyson air purifiers, the AM11 and TP02 have a 3600 air intake capacity and oval AMP which gives the Dyson units an edge above other single intake air unit though with some minor differences attached. What are the differences?
Although the TP02 has a height of 40 inches, making it the tallest purifier in entire Dyson's family of air purifiers and a width of 8 inches. While the Dyson AM11 also has almost practically the same dimensions as the TP02 model with height and width of 40.8H and 7.72W inches, respectively.
Just like every other Dyson's purifiers, both units have a 3600 air-intake through the bottom grills, enabling it draws in more air at one time. The sucked air is hence passed through the layer of filters where germs and other unwanted substances are removed accordingly.
Note: In the end, after having purified the air, the purifier refined air is recirculated back into the room from the perforated holes located at the front section of the upper part of the air purifying machine.
Verdict: This means having purifying amp makes both units take up less space and are not spacious in comparison with the round amp air purifying machines by making the purification process quicker. 
Oscillation 
Dyson AM11 vs TP02 purifiers oscillation
The oscillating feature of Dyson AM11 and TP02 work just exactly like a pedestal air fan, it oscillates to a certain degree on its rigid base to blow the air in more than one direction consecutively.
Based on Dyson air multiplier technology, the Dyson bladeless fan is designed to deliver more focused exposure of cool air to more than just one person sitting in a single room at one time, by circulating purified air around the whole room.
The TP02 model has an oscillation of 180 degrees, and it is limited to front blowing only. TheAM11 Online sources indicate this device has 180-degree oscillation as well, just like TP02.
Note: Dyson purifiers are the only product brand that has been designed with the integration of this oscillating feature.
Verdict: As TP02 Pure Cool Link Tower Air Purifier oscillation range has been defined and to how understanding, we could say it's far better in many other features in comparison with AM11, the TP02 cool link unit is better in this regard since its been indicated clearly from our various sources
Air Flow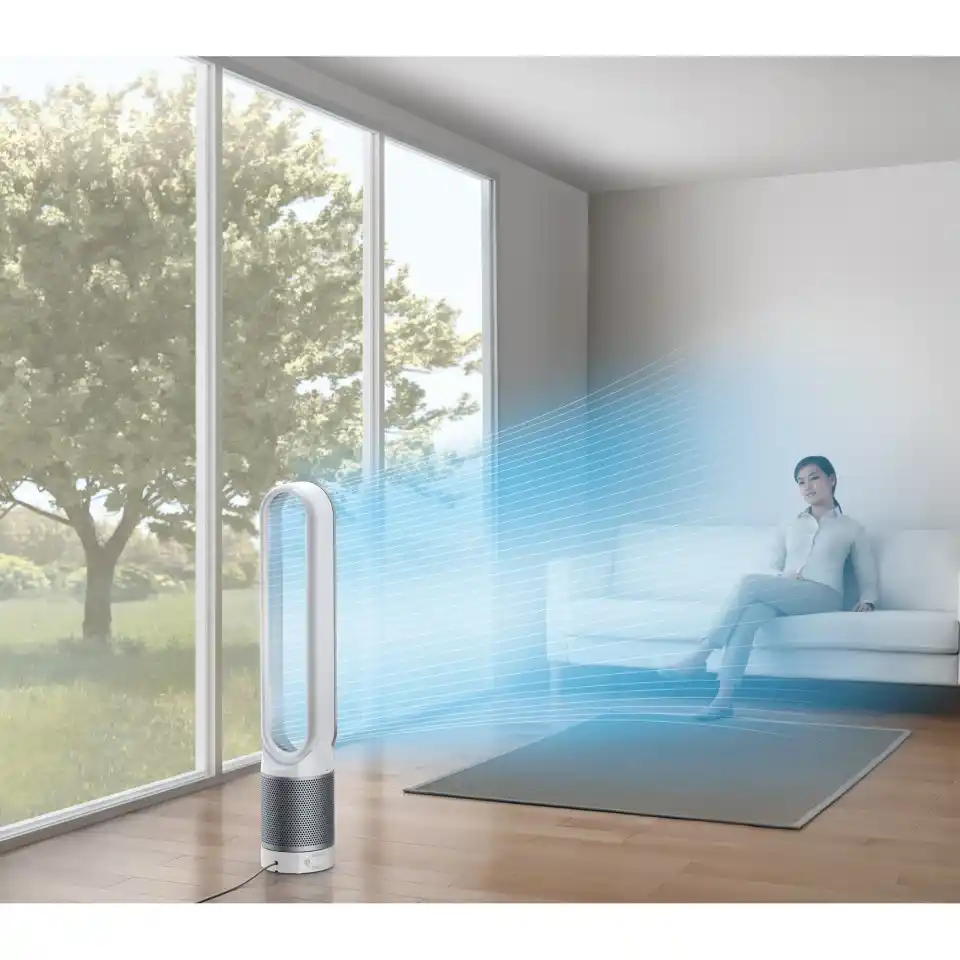 Dyson's TP02 vs AM11 airflow
At 114 gallons per second, the Dyson TP02 tend to have higher airflow than most air purifiers in the Dyson class of air purifiers. It is almost equal to 900 cfm. However, No data about ACH and CADR ratings as yet been provided by Dyson for its purifiers.
Also, there seems not to be an indication of the exact airflow of the Dyson AM11. Though many retailers have also mentioned that the airflow rating is not provided by the manufacturer.
Verdict: Airflow is one of the significant factors that contribute to improving the performance of any air purifier. The Faster the airflow into the air purifier equally means a lesser time needed to be taken to purify the room and vice versa.
As to our findings and review about the air flow, we discovered clearly that the TP02 has a higher airflow than most of the Dyson Air Purifiers. Also, it beats the AM11 in terms of airflow as well.
Dyson purifiers Filters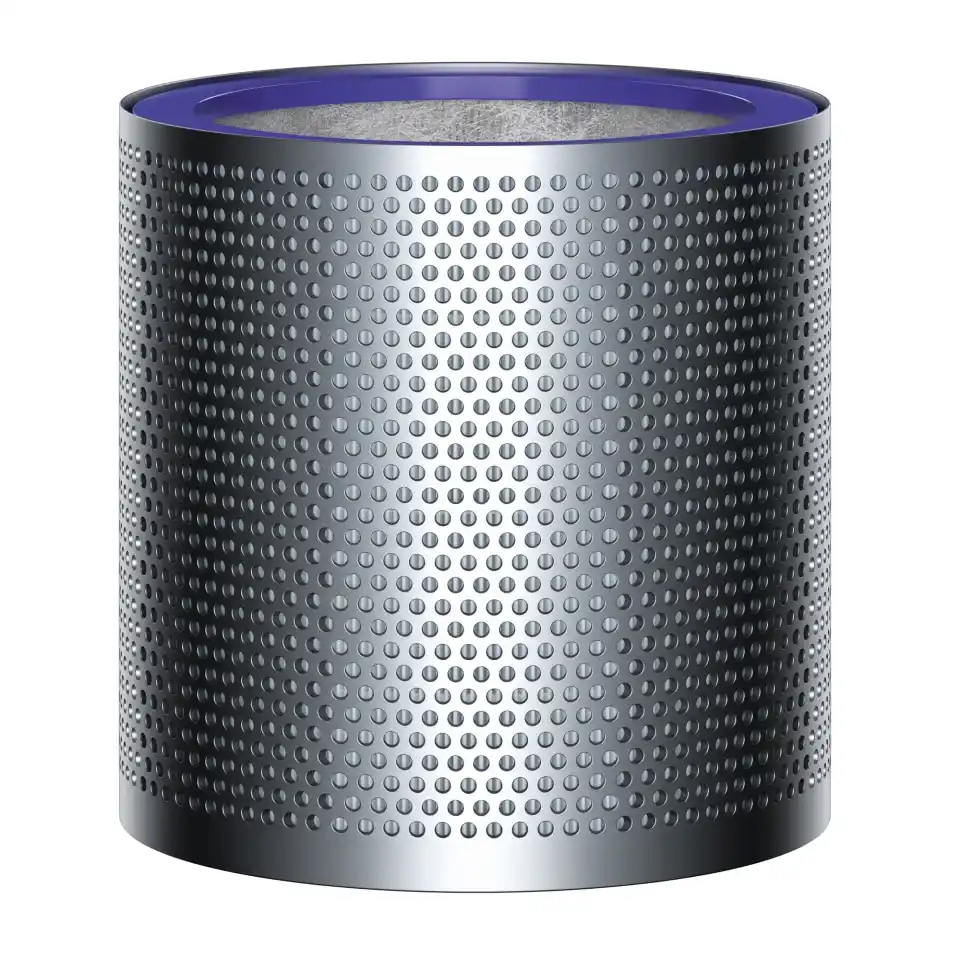 The AM11 and TP02 both abduct the same filtration power, the two purifiers units are equipped with two pre-installed filters; each purifier has a True HEPA Filter and an Activated Carbon Filter.
The True HEPA filter eliminates small airborne particles, including pollen, bacteria, and pet dander, and all other unwanted particles as low as the size of 0.3 microns in diameter. While the Activated Carbon Filter removes odours, smoke, and gases from the air generated.
Verdict: Both devices share the same numbers and type of filters, and they are also equally productive in the filtering process. Definitely, both as performed well in this regard.
Dyson Purifier Smart Controls

Dyson integration of smart sensors and WIFI/remote accessibility has improved the effectiveness of the Dysons cleanser and as made the overall control process more accessible and reliable.
Also, the advanced built-in sensors have given this unit an edge over every other competitor. While researching the Dyson AM11 vs TP02 smart control features, below are what we ended up with:
TP02 Control: Dyson TP02 has an in-built quality control sensor which automatically regulates the fan speed after grasping the amount of pollution in the air. It controls the purification in proportion to the needed requirement, and also conserves energy and makes the air cleansing process more efficient and effective.
The TP02 can be remotely controlled using either the Dyson Link App or the magnetic remote control, the benefit of the magnetic remote is that you can put it at the top of the air purifier to avoid misplacing it. Also, tp02 unit is Alexa compatible.
To let the unit work automatically, the single touch auto mode functionality on the purifier can instantly put the unit at night mode and dims all display. The unit operates at a minimal noise so that it may not sound annoying.
To experience a flexible use of the device for a certain number of hours, you can set the timer from as low as 15 mins to 10 hours with the TP02 unit features.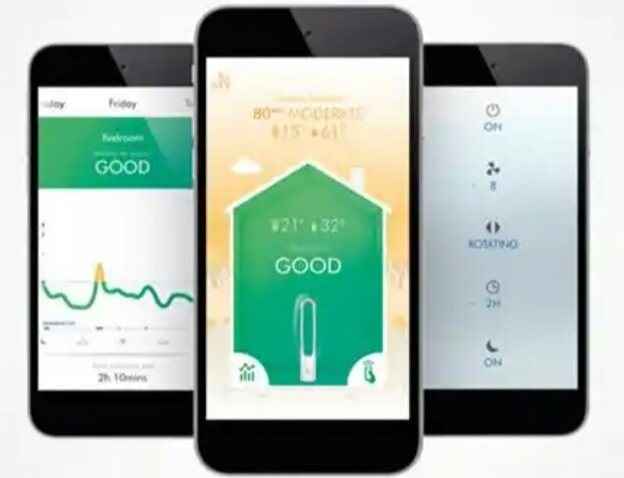 AM11: Compared to TP02, Dyson AM11 pure cool fan lacks most of the smart features such as the nonexistence of auto-mode or air quality sensor, so adjusting the fan speed manually every time according to your requirements is needed.
Also, there is no night mode in this unit. Although You can put the fan to regulate at slow speed and dim all lights manually, you won't find an available touch night mode activation feature in it.
However, both devices share some familiar features, like its magnetic remote control and compatibility with Dyson's Link App. And the timer can be set from 15 minutes to 10 hours just like the TP02.
Verdict: though despite AM11 sharing some functionalities with the TP02, its no doubt the TP02 is a better unit with a fully furnished air quality sensor. Also, the inclusion of auto-mode and night-mode in the TP02 makes it more preferable. This which the AM11 lacks.
Yet, Alexa compatibility makes remote controlling of the TP02 easier, these too you won't find in the AM11 air purifier unit. By looking at all these additional features in the TP02. It clearly shows that TP02 wins.
Dyson purifier display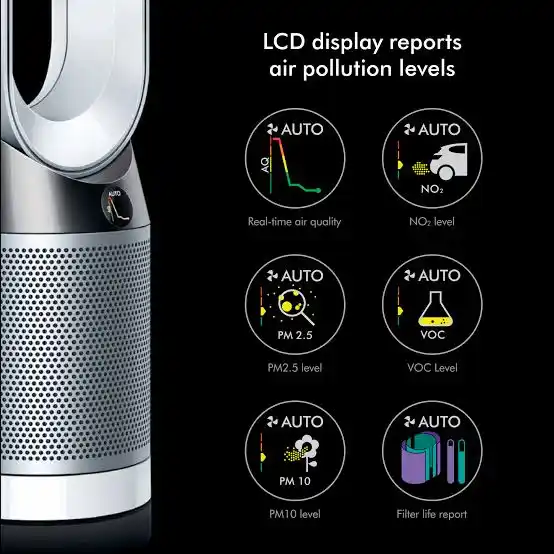 The Dyson cleansers have an in-built "Liquid crystal display" in both units. For the TP02, the LCD screen show various functions such as airspeed control, auto-mode, timer settings, sleep mode, and WIFI Strength. And It is located at the bottom of the air purifier.
By using the remote control, you can either modify or turn on the tp02 functions that are mentioned above in real-time by looking at the LCD screen.
AM11: As for the AM11, the LCD screen shows real-time fan speed level and timer settings as well. But there is no WIFI, auto feature, and night-mode.
Verdict: Both Dyson air purifiers possess an LCD screen to display the above-mentioned features that you can remotely control using a remote control or Dyson Link App.
However, With the TP02 unit, you will have more features to play with, these which are not existing in the AM11.
Purifier Room Coverage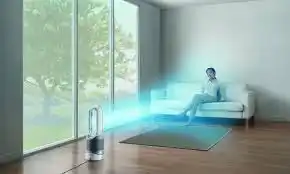 When it comes to coverage, Dyson's TP02 air purifier will work just fine in a 500 sq. ft. room. However, there hasn't been any precise data to depict the exact coverage for this AM11, but sources suggest that it can effectively cover up to an area of approximately 200 sq. ft.
Regardless of which unit you are going for, we can say the AM11  and TP02 can deliver already purified air to a large extent.
Verdict: Room coverage capacity should be taken into consideration before buying any of the product. Which the units vary.
Looking at the room coverage provided by both units, i think it will be a wiser decision going for the TP02 as it can be used in a larger room compared to the Dyson AM11 air purifier, which covers about half the TP02 coverage capacity.
Purifier Power Consumption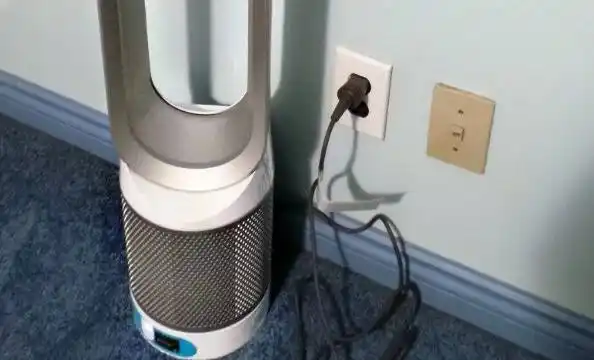 The Dyson TP02 consumes fifty-six (56)watts capacity of power when fixed at the maximum fan speed, while the Dyson AM11 consume a power capacity of about fifty-one (51) watts while also working at maximum fan speed setting. Although it is expected to be less for both units when a lower fan speeds.
Verdict: With almost the same power requirements, both Dyson units practically consume the same amount of power.
If you are ever aiming to save on electricity bills, we'd recommend using the air purifier units for a specified duration during the day. Although the timer feature in TP02 will be helpful in timing air cleanser for a specific duration.
Note: It's important to point to have it at mind that you won't have the opportunity to time the AM11 unit, as it lacks the timer functions which is a plus for the TP02.
Dyson AM11 vs TP02 Extra features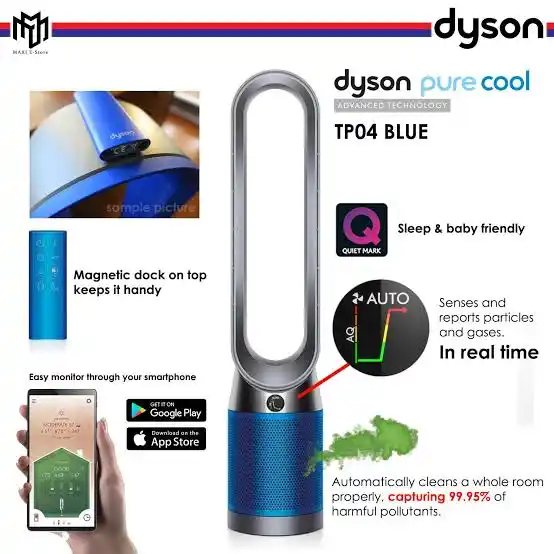 This category analyses the additional or extra features that you should look for in air purifiers, such as the fan speeds variations and air quality sensors.
Multiple fan speeds give you the ample opportunity to adjust the airflow as one desired. You can either set it to high speed for quick air purification, or low speed for gradual air purifying.
The Built-in smart sensors in the units allow for automatic adjustments in two fan speed according to air quality. And can be shifted between the 10 fan speed settings.
The AM11 can operate at numerous fan speed settings but doesn't support auto-mode functionality. On the other hand, the Dyson TP02 has both of the above-mentioned features. With multiple fan speeds and built-in smart sensors and it is flexible to use.
Conclusion: AM11 lacks some crucial features like the auto-mode and air quality sensors which are present in the TP02 unit.
AM11 and TP02 Warranty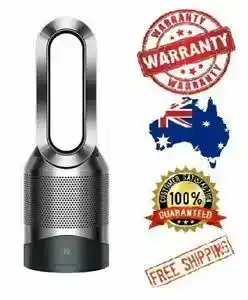 Both units are equally certified with two years of company warranty that covers both labour and parts costs. And should you face any issue or have difficulty using the Dyson products, you can always reach out to their highly responsive customer support team who are eager to help you with your query(ies).
Dyson Am 11 or Tp 02: Which is the best to buy
Having gone through the Dyson AM11 vs Tp02 pure cool air purifier comparison review, we can say both air cleansers performed great. Although there is a distinct difference in both unit, the features and benefits of TP02 and AM11 should be more evident.
The TP02 has more upper hands compared to the AM11. Because most of the features including auto-mode, Alexa compatibility, higher airflow, higher airflow, more room coverage, night-mode, smart sensor and WIFI-connectivity are present in the TP02 but not present or competitive in the case of AM11 compared to TP02.
The Two areas where AM11 have it hand up against the TP02 unit is the noise levels and power consumption, but these are not enough reason to consider it as the best choice! As there is more to choosing the right air purifier.
Although you can select any product from these two based on your needs and desires, choosing the Dyson TP02 Air Purifier over the AM11 purifier would be more of a great decision you will ever make.
Regardless of which unit that best matches your requirements, we believe you are in a better position to decide on your own which will suit you most based on our review.
Moreover, at the end of it all, you will be the one to use it and should always be more concerned about your health and that of your loved ones, or whomever you've planned to buy it for!
With our review difference and comparisons between the Dyson AM11 vs TP02 pure cool air purifier, This indeed looks to be the best time to act accordingly.
So why don't you place an order right away for your chosen air purifier, rather than you waiting for another day? As always, we look forward to having you around again, and we are wishing you happy shopping. You can also take a look at our Dyson hp02 vs hp04 and hp06 reviews.