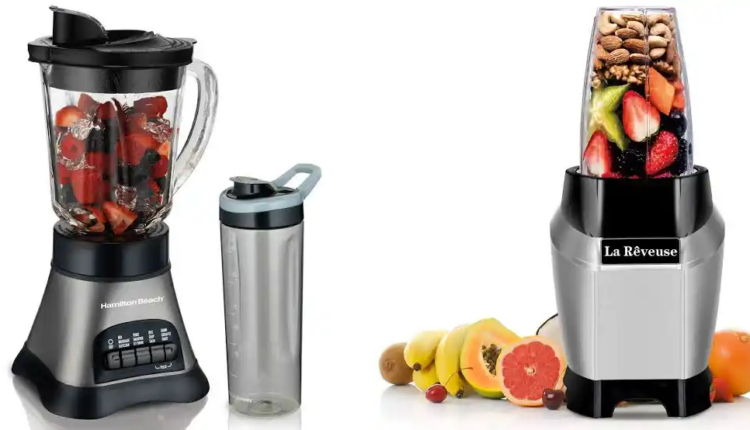 8 Best Dishwasher-Safe Blenders of 2023: Top Picks & Reviews
You'll agree with me that dishwashers are great machines to have around. I mean; who wants to go through all that stress of standing at the sink in the kitchen washing kitchenware that other people probably, most have likely used?
So, yes; the dishwasher is a very wonderful, and amazing tool to have around the house. But while being very helpful, not all kitchen appliances can go in the dishwasher.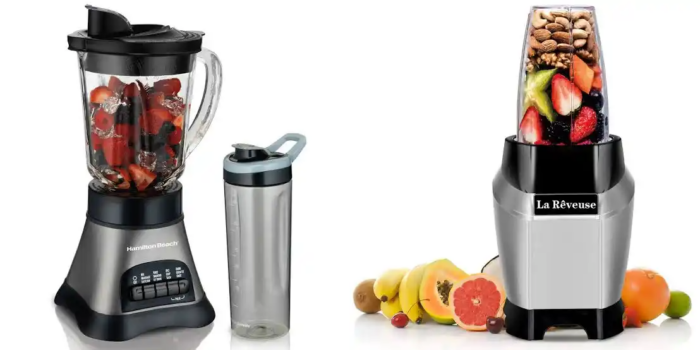 Related Stories featured on Reviewmast 👇
To all blender enthusiasts who would love to own a dishwasher-safe blender, this article will focus more on the best dishwasher-safe blender than just the best blenders. Because not all best blenders are dishwasher safe, likewise, not all dishwasher safe blenders are to be considered the best.
Discovering the Best Dishwasher-Safe Blenders could be partially difficult, especially among the different top makers and versions we feature in most of our articles. However, in this particular article, we are focusing more on a few points of quality, such as;
User-friendly & Easy-to-use features
Great quality & Notable performance
Durability, and Value for money.
Using these as buying guidelines, the following blenders in no particular order are considered safe for a run through a dishwasher.
The Dishwasher-Safe Blenders Top Picks
Best Overall: Ninja NJ601AMZ professional blender
Best Value: Hamilton Beach Wave Crusher Blender
Third Runner Up: Boniso 70-Ounce Countertop Blender
Best Budget: Ninja BL610 Total Crushing Countertop Blender
Best Personal:  NutriBullet NBR-0601 Personal Blender
The 8 Best Dishwasher-Safe Blenders
#1. Ninja NJ601AMZ professional blender ~ Best Overall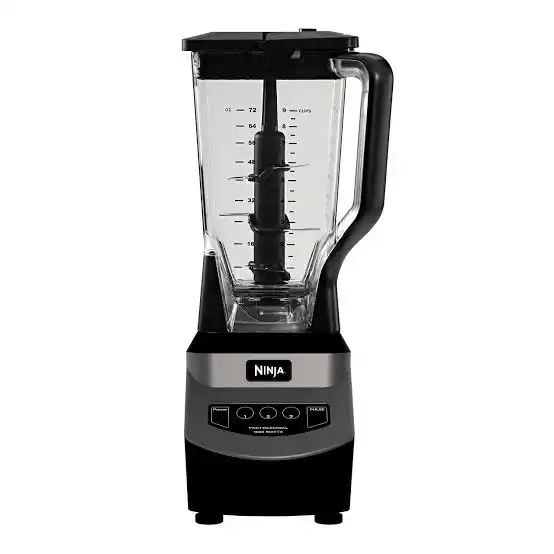 With a carrying capacity of 72 oz, this Ninja blender features a 1000W motor that adopts Crushing Technology. It makes the device powerful enough to pulverize vegetables into smooth smoothies with no issues. Besides, the XL-size container is versatile for making big batches in less time.
As a bonus, the 10-recipe inspiration guide gives you a variety of ideas to easily prepare smoothies, frozen drinks, and much more. This blender is deemed the absolute best for making leafy green smoothies. That is; it attacks vegetables with relative ease. 
Pros: Compatible with dishwashers, suitable for family or large gatherings, able to pulverize vegetables
Cons: Short power cord, not ideal for small spaces or on-the-go use. 
#2. Hamilton Beach Wave Crusher Blender
The Hamilton Beach Wave Crusher Blender is a machine with an all-inclusive combo system excellent for crushing and blending. It price is pocket friendly and a great choice for people shopping on a budget. This blender features 15 blending settings with clearly marked buttons for easy handling.
It also features a glass jar that can withstand extreme temperature changes. This powerful blender, aptly named has been proven to be strong enough to crush ice. Having its maximum power wattage of 700 watts and featuring a 40-ounce container, it is not a very big machine, but it gets the job done.
Pros: Long-term durability, compatibility with dishwashers, and affordable pricing
Cons: Minimal capacity and torque power.
#3. Boniso 70-Ounce Countertop Blender 
Arguably the most powerful option in its field, the BONISO 70-Ounce Countertop Blender emphasizes a 1800W motor and 6 thickened stainless-steel blades with multiple sharp edges. This perfect combo allows the unit to crush ice cubes or any tough ingredient with relative ease.
Furthermore, you can easily control the texture of the blends by choosing from the provided six-speed settings and three pre-programmed modes, giving the user an unparalleled feeling of control.
The most awesome part is; the machine has a self-clean feature. Soon as your blending is done, all you have to do is; fill the 70 oz. container with soapy warm water, and press the "P" button to engage the machine's self-cleaning function.
Pros: With its 1800W motor, it very easily ranks as the most powerful blender on the market. Its 6-speed setting and self-cleaning feature
Cons: It has no on/off switch 
#4. NutriBullet NBR-0601 Personal Blender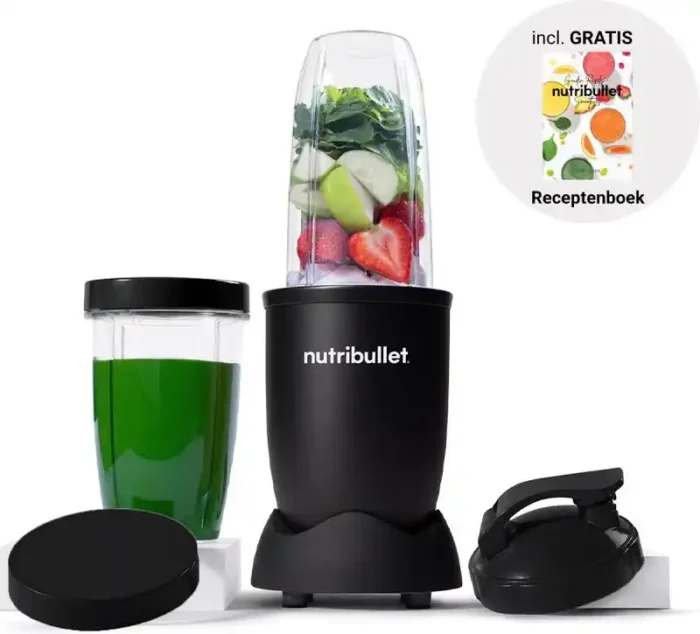 A great blender for blending on the go and featuring a 600-watt output, single speed setting, and a 24-ounce container capacity, the NutriBullet NBR-0601 is the best overall recommendation of many experts and enthusiasts including myself that's if you're looking for a small, handy blender for small spaces, traveling and/or camping.
This blender sports a 600-watt power, which spins the tiny blades in a unique vortex style to pull the content on the top into the blades, ensuring a consistent fineness throughout. More so, it's an automatic blender because it has no physical buttons, and the user will have to rely on the cup to pause and blend continuously.
Pros: Affordable, takes up little or no space during use or storage and it is dishwasher-compatible
Cons: Low durability and inability to blend large quantities.
#5. Ninja BL610 Total Crushing Countertop Blender
Priced at less than 100 dollars, the Ninja BL610 is no doubt a machine anyone looking for an affordable, easy-to-use, and uncomplicated blender should have. It's a slightly similar design to other blenders in the Ninja series, including the looks and some of the performance aspects.
It features a 1000W motor, a total crushing jar with a large capacity of 72 oz, and a stacked 6-leaf blade. However, the BL610 is a much cheaper model. The edges of its blades are also very sharp, which makes chopping easier and a little more consistent. It also has the option to blend in low, medium, or high speed. 
Pros: Easy to use, easy to clean with dishwasher, and very affordable
Cons: Inability to use a tamper during blending operations and inability to grind smaller ingredients
#6. Ninja (BL660) Professional Countertop Blender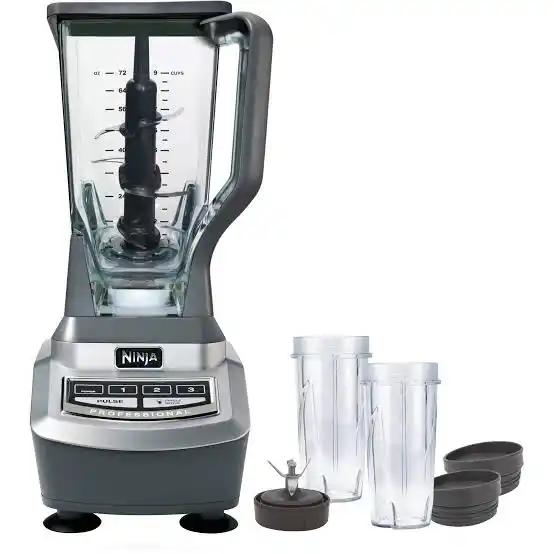 Known as a simple, yet solid blender, the BL660 model is another wonderful model in the Ninja series is a great mid-range blender that features extra cups, a 3-speed setting, 1000 power wattage, and a 72-ounce pitcher ideal for turning out large quantities.
Also featuring two ring lids to keep pressure without cracking, this blender is ideal for holding food in place. It also comes with a guidebook for easy use & recipe book that adds to the blender's lure. The motor and blades of this blender can be separated to facilitate safe dishwasher use. 
Pros: Easy to clean, versatile, dishwasher safe, variable speeds, and large container capacity
Cons: Noisy while blending, plastic material, and expensive
#7. Hamilton Beach 58148A Blender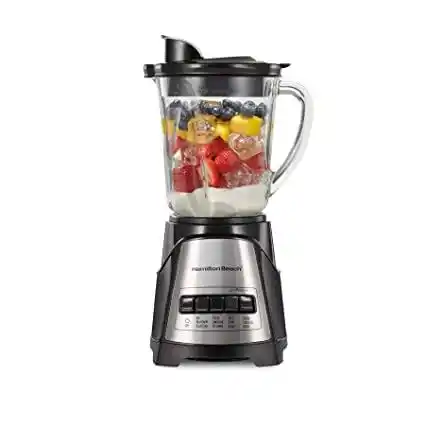 The Hamilton Beach 58148A Blender, one of the best shakes and smoothies makers is a very affordable, very versatile, and easy-to-use blender. The 700-watt power motor can quickly prepare soups, juices, protein shakes, smoothies, and even ice creams, and easily smash and mix ice and frozen fruits.
As a multifunctional blender with 12 different functions, the control panel consists of five simple and easy-to-read buttons that control and perform various tasks like, switch, mix, puree, and grate, among others. The dishwasher-safe main 40 oz glass jar, stainless steel blades, and lids make this blender very easy to clean.
Pros: Versatile, easy to use and clean, dishwasher-compatible.
Cons: Noisy during blending and small container capacity size
#8. La Reveuse Personal Smoothie Blender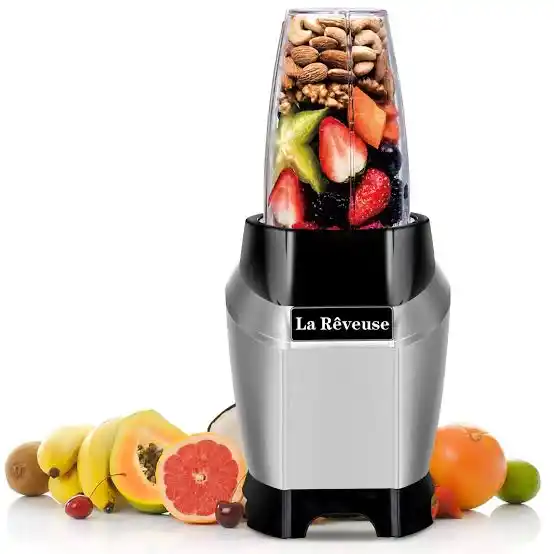 This personal smoothie blender is more like a water bottle as its container carrying capacity is a miserly 20 oz. However, that makes it even better suited for use in a dishwasher as the small size means that there are fewer parts to clean.
It also comes with overheating overload protection and an automatic recovery function. This La reveuse blender also features 6 leaf high-speed extractor blade, and it has been proven to be a great blender for making smoothies, shakes, and frozen drinks although in small portions. 
Pros: Easy to clean, versatile, dishwasher safe, variable speeds, and large container capacity
Cons: Noisy while blending, plastic material, and expensive
Buying Guidelines
Should you ever be in the position to go scouting for blenders without having any guides, these are the most important things you should bear in mind while looking through racks of blenders in shopping malls;
When purchasing the best dishwasher-safe blender, this is the next thing to look at. Always strive to find a product that has the features you're looking for. We advise you to focus on the most important or required elements of each product.
Getting a product that is excellent in every way is next to impossible. As a result, your chosen product may have both positive and negative qualities. As a result, focus on the most important advantages and demonstrate how they meet your best dishwasher-safe blender, requirements. Instead, the shortcomings in the product may provide insight into its worth in real-time applications.
Performance and Durability:
Regardless of user ratings, there are various ways to determine the best dishwasher-safe blender performance and durability you are looking for. Try to see where the materials used to make the product come from. As it is, the best products are made of the best materials available
Conclusion
In the quest to find the best dishwasher-safe blenders, having an understanding of the product is always important. Other performance-related factors may be included in these findings, but the top of the list should be detachability for those blenders that have too many parts and easy clean.
Those above earlier mentioned factors were taken into consideration while coining this article and research and comparisons were done to ensure that while coming up with the best.
We also came up with products whose functions mirror their market value. With the best dishwasher-safe blender, you don't have to stand at the sink, separating and cleaning the different constituent parts of your blenders, thus saving you considerable time.