Rainbow Vacuum vs Dyson: Which cleaner has better performance?
Whether you like it or not, you will agree with me that choosing the right vacuum cleaner is something worth it. This means you need to consider, inspect and analyze whatever vacuum cleaning tool you want to buy before you proceed to buy it. This way you can have a great experience using it.
If you are in a situation where you have to choose between the Rainbow Vacuum and the Dyson vacuum cleaner, here is where you'll get to understand what makes them special; which is worth the investment.
Just like we compared the Rainbow vacuum cleaner with a few other brands such as the likes of Sirena, Kirby, and other Rainbow competitors. In this article, we shall compare Rainbow vs Dyson, so that we can find out what these two Vacuum cleaner brands have to offer.
Related Stories featured on Reviewmast 👇
While we compare the Rainbow vacuum vs Dyson vacuum cleaner, here are some things to expect from us as a takeaway: we will talk about the difference between the two major brands/models, the similarities, and their valued features. This way you can be sure of going for whichever meets up your expectations.
So kindly sit back, pick up your glass of coffee, go through these reviews because a lot would be revealed to you so that you do not miss out on any of the unique and vital features that they both offer which you may need such as the Vacuum type/Design; Suction Power; Noise reduction; Multiple usages; Animal Hair/Pet Hair; Cleaning performance, Weight and Accessories.
Read Also: Rainbow vacuum vs Kirby or the top 5 Vacuum cleaners.
Why the Dyson V11 Vacuum cleaner
Dyson as a brand offers a wide range of products such as Air Purifiers, Hairdryers, Hand dryers, Bladeless fans and Vacuum cleaners. Such as in the case of the Air Purifying machine, Dyson offers varieties of Vacuum cleaner models which are built for different purposes.
While they can be found in the market, it is also good to be aware that each of these varieties is designed to achieve just a single task rather than multiple tasks. So if you buy an upright cleaner, you won't be able to use it as a handheld cleaner.
Among the types of Dyson Vacuum cleaners are cordless stick vacuum cleaners; upright vacuum cleaners; the canister vacuum cleaners, and Dyson handheld vacuum cleaners.
In this case, I decided to go with the Dyson V11 torque drive handheld vacuum cleaner over the Dyson DC65 model.
Why did we choose the Rainbow E2 Vacuum
Unlike the Dyson which you would need a separate vacuum for various needs, the multipurpose Rainbow vacuum cleaner tends to be versatile and can be used for multiple tasks such as cleaning motors, rugs, carpets, floors and more.
While the Rainbow offers several vacuum models which gives the user the possibility of simply changing the attachments when it comes time to clean up different messes. In this case, we have decided to go with the E2 Model which is one of the most sought after Rainbow Vacuum models.
So what is the difference between the Rainbow and the Dyson model which we chose?
Differences between the Rainbow Vacuum cleaner and Dyson
The Rainbow E2 has an Improved HEPA filter, while the Dyson V11 has a HEPA filter technology
The Rainbow E2 Type 12 has lower suction power than the Dyson V11
The Rainbow Model E2 has a lower Speed at maximum than the Dyson Model V11 with Higher RPM
The Dyson has a Higher Air Movement Volume per minute than the Rainbow
The Rainbow Model Consume lesser Power/wattage than the Dyson.
The Rainbow E2 is more versatile than the Dyson V11.
The Dyson V11 is more affordable than the Rainbow Model E2.
Similarities between the Rainbow and Dyson Vacuum Cleaner
The Rainbow and Dyson vacuum cleaner offers quality power suction.
Both Vacuums have the same startup speed of 3000 minimum RPM.
The Dyson V11 and the Rainbow E12 are both suitable for cleaning up Carpets and Floors.
Comparison Table for Rainbow vacuum vs Dyson
| | | |
| --- | --- | --- |
| Brand/Model: | Rainbow E12 | Dyson V11 |
| Cordless: | No | Yes |
| Suction Power: | 165 Air Watt | 185 Air Watt |
| Display: | ~~~~ | LCD screen |
| Filter: | Improved HEPA Technology | HEPA Technology |
| Speed: | 3000 to 23000 RPM | 3,000 to 125, 000 RPM |
| Air Movement Volume: | 80 cubic feet per Minute | 100 cubic feet per minute  |
| Bin Capacity: | 2.36 L | 0.75 L |
| Wattage: | 165 Watt | 185AW |
| Best used for: | Wooden & Tiled Floor, Carpet, Laminate and Car | Wooden floor, Carpet and upholstery |
| Weight: | 17.0 lbs | 6.68 lbs |
| Warranty: | 2 years | 2 years |
| Price Valued: | See Price of Rainbow E2 on Amazon | See Price of Dyson V11 on Amazon |
Comparing The Rainbow Vacuum VS Dyson in Details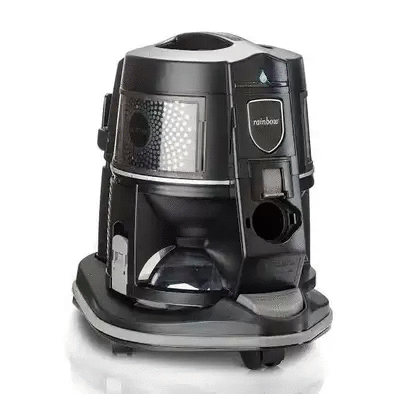 Vacuum type/Design
As we earlier mentioned about Dyson's Vacuum, it's good to remind you that all Dyson vacuum cleaners are only single-purpose devices including the V11 model. This means you won't be able to use it to perform multiple tasks. Should you buy an upright vacuum, then you can't use it as a handheld vacuum. Instead, you'll need to buy the handheld vacuum as a separate device.
On the contrary, the Rainbow vacuum including the E2 model is a robust vacuum cleaner that can serve as an upright, handheld cleaner. This is to say if you buy a rainbow handheld vacuum, you can also use it as an upright vacuum cleaner. 
Suction Power
When we compare the Dyson and rainbow vacuum suction power, it's no doubt that the Dyson stands so clearly from the rainbow. Because it comes with a great suction power which can remove microsized particle dust and debris from carpet and floors.
On the other hand, the Rainbow vacuum happens to come with lower suction power compared to the Dyson. Although the vacuum is also a quality and strong Device, it is not as strong as that of Dyson.
Animal Hair/Pet Hair
If you have a pet: be it a Cat, Dog, or whatever it may be, you will so much agree with me that pet hair is not an easy thing to remove from Carpets and Upholstery. Not even the regular Vacuum can do the task perfectly.
Thanks to Dyson which makes it possible to remove pet hair instantly and completely due to its great suction power. Aside from Dyson, Rainbow also offers a great vacuum cleaner which gives you the possibility of having to rub surfaces to clean pet hair. These two models/brands offer good suction power, so you can never go wrong choosing between the two models.
Multiple usages
When it comes to performing the harder tasks, the Dyson becomes the first choice of most people due to great suction power. However, that doesn't rule out the fact that the Rainbow is also a great one as it can be used for cleaning laminated floors, tiles, hardwood floors and carpets at the same time.
While the Dyson vacuum can not be used to clean all surfaces. If you are using it on floors and carpets, then you must get another one for upholstery as you can't use that of carpet and floors on upholstery. This makes the Rainbow vacuum gain the up hands.
Cleaning performance
When it comes to cleaning up, n gains more respect for its higher cleaning performance. As it can clean up to 100 cubic feet just within a minute. However, the Rainbow vacuum performs lesser as it cleans 80 cubic ft/min.
So, in a nutshell, We could say the Dyson V11 performs slightly better than the Rainbow E2 in terms of cleaning. Although the Rainbow is also a good option.
Noise reduction
Going through the models, we discovered both models performs better when it comes to noise reduction. While the Rainbow E2 comes with sound reduction acoustic foaming features that make it stand out, the Dyson V11 also does a better job. So whichever you choose between Dyson and Rainbow, you will never go wrong.
Weight
When it comes to weight, it's no doubt that the Rainbow Vacuum Pet Edition is a bit heavier than the Dyson Animal Upright Vacuum. While the Dyson V11 weighs only 17.0 lbs, the Rainbow is seen to weigh 19lbs which is an additional 2lbs compared to the lightweight Dyson vacuum V11.
If you are more concerned about the weight of your device and you so much consider the weight to be critical, the Dyson V11 would be a better choice to go with.
Accessories
To even go further, we discovered that the Rainbow E2 contains accessories and attachments that you will not find in the Dyson v11 Vacuum or with most other vacuum cleaners available on the market stores. This makes the Rainbow E2 a better choice to opt for.
Additionally, when comparing the Dyson and Rainbow Vacuum in terms of warranty Coverages, we discovered that Dyson offers only a 2-year warranty. On the other hand, the Rainbow E2 Vacuum cleaner comes with a whopping 5-year warranty which is limited for its motor alone and a 2-year limited usability contract.
FaQ's
Are Rainbow vacuums worth the money?
Sure! The Rainbow E2  is one of the best Vacuum cleaners which can perform several tasks and can also be used for multiple surfaces. This means the E2 is worth the investment.
What vacuum is comparable to a Rainbow?
While the Rainbow Vacuum could be said to be a reliable brand, there are a few more vacuum brands that are also outstanding in performance. Such as the likes of Dyson and Kirby.
What is the most reliable brand of vacuum cleaners?
Going through the best vacuum reviews, we discovered the Rainbow Vacuum and its competitors to be among the most reliable brands.
Conclusion
So which should you go for between the Rainbow Vacuum and Dyson? Well, the fact remains that there are varieties of things to put into consideration when shopping for a new vacuum cleaner such as filter, Speed, Suction, Air Movement, Bin capacity, price as well as a whole host of features.
Considering the comparison review made for Rainbow Vacuum vs Dyson, which gives out detailed information about these two brands and models, these will allow you to come to your conclusions of what Vacuum cleaner to buy after which you can then make your purchase.
If I'm to suggest, I will recommend to you the Rainbow E2 vacuum cleaner as it surpasses the Dyson in performance. Also, don't forget to check out a similar comparison I made for the Miele vs. Rainbow Vacuums.