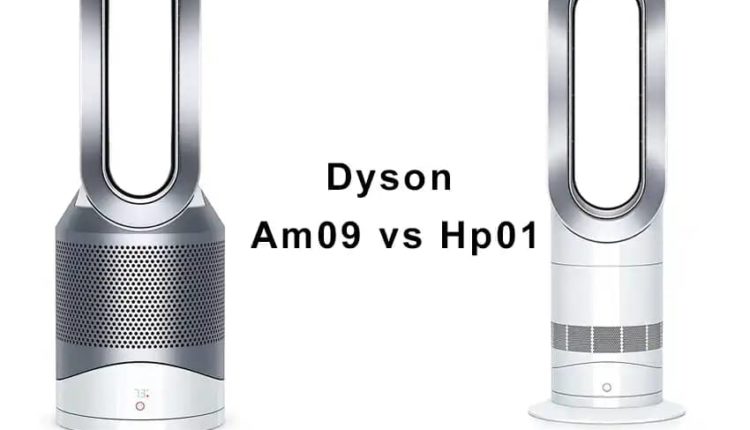 Dyson AM09 vs HP01 comparisons: which Purifier has improved features?
Best features review comparison chart for hp01 and am09 Dyson air conditioner. am09 has a heat mode while hp01 has it.
Ever wanted to know what is the difference between this Dyson heater or which is better between Dyson am09 vs pure hot and cool?
Stay tuned as we would Compare Dyson heater models and unravel every necessary detail between the Dyson AM09 vs HP01 which includes the similarities and differences between them. What more? You'll also learn about the features and specifications of these models such as the remote apps, airflows, etc.
To begin, it's good to remind you that Dyson is a popular technology company that has immensely contributed to the availability of home appliances. They specialize in building products such as hair dryers, vacuum cleaners, fans, stylers, humidifiers, hand dryers, air purifiers, and more, just to cater to various consumers needs.
Related Stories featured on Reviewmast 👇
After Dyson first "Air Multiplier" release in October 2009. Dyson later included it pure hot + cool air purifiers lineups series Models. A typical example of the HP Dyson air purifier is the Dyson HP01, Dyson HP02 and Dyson HP04 purifier
This HP series lineup has three core functions which are: air purification, heating, and cooling functions. Dyson also released the Hot + Cool fan heater which is an advanced model of the AM series and it comes only in one model, the Jet Focus AM09. Hence giving you a wide range of air conditioners to make a selection of the best air purifier for your need.
Dyson am09 vs hp01 pure hot + cool
A wide option of air-purifying machines is great because it gives consumers the possibility to pick from the ample collections of purifiers. But occasionally having many options for gadgets to choose from is hard because you don't know what to get considering that the available appliances are not cheap.
However, we've done our best to make things easier for you with the Dyson Am09 vs HP01 air purifier review. We took the time to break down the differences between the Dyson Pure Hot + Cool HP01 air purifier and the Dyson Hot + Cool Jet Focus AM09 fan heater.
Below is everything you need to know about the 2 Dyson air purifiers models. But before we get down to there difference and similarities, let's walk you through the Dyson am09 vs hp01 review.
Dyson HP01 Review
Dyson HP01 was the first air purifier with a fully-fledged "Triple Function capability": air purifier, cool, and Hot, and It was the startup of the hot + cool series. It was also widely recognised as one of the best air purifiers in the market when it was first introduced.
And as since been known as one of the most popular air purifying machines out there along with some others which includes: Alen, Molekule, Coway, and Blueair purifiers. Dyson HP01 is designed to remove 99.97% of allergens and pollutants which are as small as 0.3 microns.
It features an Air Multiplier technology to amplify surrounding air and experience an uninterrupted stream of purified airflow, Jet Focus control for long-range personal or room heating, Oscillates and tilts to circulate air across the room and safe slow-spinning blades or awkward grilles, a triple function for whether control, Second generation filter to Captures ultrafine particles, a curved and magnetize Remote control for easy control of the air purifier without physical contact.
With the Dyson HP01 Specs review, What do you think about it, Is Dyson HP01 worth it? Oh, not yet, before we conclude, let's get down to the Dyson Am09 air purifier review before we know which is worth buying.
Dyson AM09 Review
Dyson Am09 hot + cool fan heater looks pretty spectacular and is one of the favourite home heaters for most users when was released, The Dyson am09 purifier is fast and powerful for room heating and personal cooling all year round. With Jet Focus control.
The air purifier is one of the world's first bagless vacuum cleaners, and When it comes to efficiency, effectiveness, and looks, the am09 is a great one. however, it's expensive. It features both a cooling fan and a heater in one which is to say you can maximize and effectively use it all year round, no matter what the weather situation might be.
It also comes with Air Multiplier technology that amplifies surrounding air which produces an uninterrupted stream of smooth airflow, Smooth oscillation to experience direct airflow around the room, a Sleep timer that can be programmed to turn off after preset intervals, Remote control for easy controlling of your air purifier without physical contact, and a heating element that never exceeds 392°F which prevent burn.
With this Dyson AM09 Specs analysis, Is Dyson AM09 worth it? I'm sure we can't conclude on which is the best to buy as the Hp01 and AM09 as performed well.  let's get going with the difference between Dyson Am09 vs HP01 air purifier and make a side by side comparison to know which is worth buying.
Differences between Dyson AM09 and Hp01
The Dyson HP01 air fan has triple functions: it heats, cools and purifies the air throughout the room. On the contrary, AM09 has no purifying benefit, so you are only left with the hot + cool function.
The HP01 has a 360 Glass HEPA filter and Activated Carbon which captures allergens and pollutants in the air as well as odours and all other harmful toxin's. On the Contrary, the Dyson AM09 effectively distributes the heated or cool air throughout the room.
The HP01 Unit has an auto mode and sleep timer. While the AM09 Unit doesn't have any of those two features.
The HP01 has been awarded the Quiet Mark accreditation and is certified asthma and allergy-friendly. On the contrary, the AM09 unit is yet to be confirmed.
The HP01 machine is more expensive compared to the AM09 unit.
Going through the Dyson AM09 vs Hp01 multifunctional Gadget, we could clearly see the difference between the 2 units. But just also there are some similarities they both share.
Below are some of the core features they both share, this you shouldn't overlook as it will help you make a better choice when you are ready to buy.
Similarities between AM09 and HP01 fans
The Dyson HP01 and the Dyson AM09 units both have heater and cooling functions.
The duo units both feature bladeless and tower designs, and they also have a LED display features.
They both have the Jet Focus Mode and the Diffused Mode
The both dyson machines do not support the use of WiFi connectivity..
Both come with a curved and magnetized portable remote control.
The HP01 and AM09 both have the same width, length and Height. (Height 24.9 inche × Length 6 inche × Width 8.7 inche).
From our review about the dyson am09 vs hp01 fan, its clearly shown that the two units posseses six functional features in similarities. These is a tight review as the decision on which unit to buy relies solely on there differences. Below is a side by side comparison chart for the Hp01 and Am09 units. Which will give you a clearer understanding about our review.
HP01 vs AM09 Compare Dyson heater models
| | | |
| --- | --- | --- |
| Product | Dyson Pure Hot + Cool HP01 | Dyson Hot + Cool Jet Focus AM09 |
| Style | Tower and bladeless | Tower and bladeless |
| Cooling & Heating | Yes | Yes |
| Purifying | Yes | No |
| Jet Focus Control mode | Yes | Yes |
| Auto mode | Yes | No |
| Diffused mode | Yes | Yes |
| Backward mode | No | No |
| Night mode | Yes | No |
| Oscillation | 70 degrees | N/A |
| Accessories | Remote Control | Remote Control |
| WiFi connectivity, Dyson Link App, and Alexa compatibility | No | No |
| Filter | HEPA | N/A |
| Display | LED | LED |
| Air Speed | 10 | 10 |
| Noise level | N/A | 64db |
| Weight | 11.9 lbs | 5.91 lbs |
| Suggested room size | large | N/A |
| Warranty | 12 months | 24 months |
| Value/Price | Hp01 price on Amazon | Am09 price on Amazon |
Compare the Dyson AM09 vs HP01 conditioner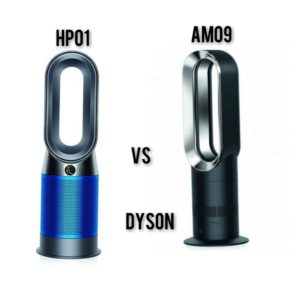 Like we earlier made mention in our earlier dyson am09 review and Dyson hp01 review above, The HP01 and AM09 are fans that's capable heating and cooling the room temperature.
However, the AM09 possess more extra function: Purifier. Making a triple functional unit that is capable of purifying, heating and cooling the environment temperature compared to the HP01 with one Dual function: heating and cooling functions only.
The AM09 unit is one of the Dyson's premium fan models. It has the classic Dyson appearances: bladeless and oblong-shaped. It's pleasing and safer than regualar traditional fans because it doesn't have exposed spinning blades base on the Dyson's Air Multiplier technology.
The Dyson AM09 unit act as a heater and cooler in one. Aside from it being bladeless, neither does the HP01 have any awkward grilles. The AM09 air cleanser also has no visible heating elements that could hurt, and it automatically shuts off when it's tipped over. This makes it a safe one to use with babies and pets around without ever worrying about having cuts.
Dyson 09 also has an LED display that shows the mode, speed, and temperature at which the fan is set to operate. Although not WiFi enabled, it has a remote control that you can use to switch to hot or cold, change the intensity of the air that is to be distributed, you can as well control the sleep timer to avoid distraction or noise while sleeping, and also adjust the temperature to suit your need.
Also When it comes to quality air filter, HP01 sports the same design, bladeless and oblong, just like the AM09 but somehow larger and heavier compared to the HP01 unit. It has a HEPA filter that captures 99.97% of allergens, as small as 0.3 microns, dust and pollens, bacteria and pet dander, and other air pollutants. It also has an Activated Carbon that traps fumes, household odors and Toxic toxins.
Just like the AM09, the HP01 also has an LED display and features the exact heating and cooling functions of the AM09. The HP01 and the AM09 both have a 10 Air Speed settings and programmed to automatically shut off if eventually tipped over.
Both series of Dyson fans have the: Jet Focus Control Mode and the Diffused Mode which allows adjusting of the airflow from a diffused, broader distribution to a more focused, or direct stream possible.
However, HP01 gets two additional modes: the Auto mode and the Night mode. The HP01 has been awarded the Quiet Mark accreditation and is certified asthma and allergy friendly fondation. Also it has won and been awarded the PTPA seal of approval families trust.
Both the Dyson HP01 and the AM09 are great and impressive air purifying machine. However, the price tag of HP01 is a little huge if you are on a budget. Reason been for the added air purification feature and the extra 2 modes that was added to it. More function, higher price tag.
Is Dyson pure hot and cool worth it?
Sure, the dyson pure hot + cool air purifier is worth the money. For the hp01 and am09 units which we review, they are perfectly cool for the price tag. However, if were to be the one shopping, i would go for the hp01 because of it extra features that is missing in the am09 unit. 
What is the difference between Dyson HP01 and HP04?
While making our side by side review, we found out some notable difference between the dyson hp01 and hp04 tower units is found in the display, connectivity, filter and price value. Here is a complete details of the 2 units.
Is the Dyson Air Purifier worth it?
Dyson air purifiers are worth the price tag. An example of the unit which is worth the unit is the hp01 purifiers. However, there are some other good air purifying machines made by dysin, so you can go doe
Is Dyson HP01 worth it?
Sure, the hp01 is worth the price value for it added feature. Likewise the am09 model.
Verdict
So far so good we've come up with a cool review of the dyson am09 vs hp01. So If you are to ask me which would i pick form the two units if I was the one to use it, I would rather go for the HP01. Despite being expensive than the AM09, certainly I know I will get what the value of what i pay for.
Despite that the AM09 is cheaper, if i was to consider the feature that it offers for the price tag to get the job done compared to the HP01, I think it's quite expensive for the features it offers. However, It's a great fan but it's not something that I would pick personally that is why i would recommend Dyson HP01.
Conclusion
At the end of it all, its you that will use either the am09 or the hp01, you've got the right to make your choice of unit which you desire, base on your budget or preference. So why don't you shop for dyson air purifier now that its still available before it becomes unavailable due to high demand?
We look forward to seeing you come around some other time to make your choices of kitchen tools. Do have a wonderful shopping experience.