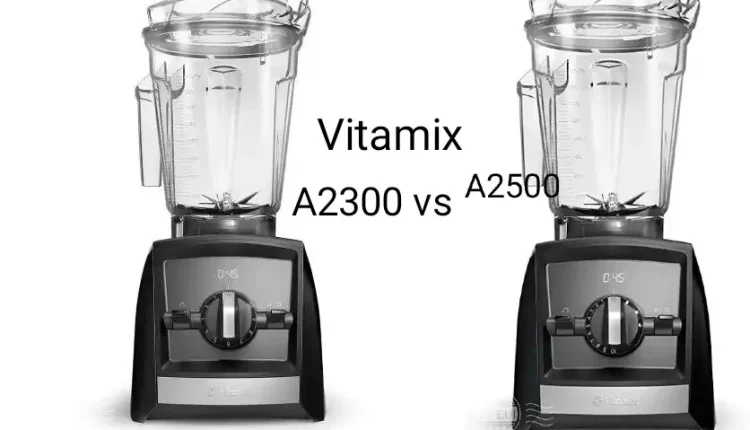 Vitamix A2300 vs A2500: which one is self-cleaning?
Vitamix A2300 vs A2500 what is the difference? You want to choose a blender that fits your lifestyle. And maybe even better, you don't want to spend too much time thinking about it. If you're ready to invest in a blender, read our comparison between two Vitamix ascent models, the A2300 and A2500.
Just like you may know, Ascents differ from other blenders due to their unique design. Each blade has been specially designed to perform its function. In addition to performing the blending function, each blade can be used to crush ice, chop nuts, blend soups, etc. This means that a blender can do more than just produce smoothies.
The Vitamix A2300 and A2500 are two different blenders that can be used for both blending and pureeing food items. They differ in size, shape, blade speed, horsepower, and overall functionality.
Related Stories featured on Reviewmast 👇
You might be curious to ask: Which version of the Vitamix Ascent blender should I get? The Vitamix A2300 or the Vitamix A2500? Well, even though these blenders are very similar, they each offer slightly different features and benefits. So you might want to consider which one suits your specific needs better.
Don't you worry, we have made the comparison between the Vitamix A2300 vs A2500 a very easy one for you to differentiate what each Vitamix model has to offer. Let's take a quick look at the differences between them to see why you might want to consider buying either model.
Read Also: Vitamix A2300 vs E310 and the Vitamix ascent a2300 vs. a3500
Difference between Vitamix Ascent 2300 and 2500
The Vitamix A2500 have 3 preset modes, while the A2300 have none.
The A2500 have a self-cleaning function, but 2300 doesn't.
The Vitamix Ascent A2500 is slightly quieter.
The A2500 is slightly not heavy like the counterpart.
The A2300 is more affordable than the A2500.
Similarities between Vitamix A2300 and A2500
They are both powered by a 2.2 peak horsepower motor.
The Vitamix A2300 and A2500 have equal BPA-free container capacity: 64-Ounce Jar.
The A2500 and A2300 have the same 10 Variable speed dial.
They both come with a pulse button and an On/Off toggle.
These two Vitamix models come with a digital timer feature, wireless connectivity, and self detects technology.
The warranty duration for both blenders is 10 years full warranty.
To make it easier to make the right choice of the blender to get between this model below is a quick recap of the Vitamix A2500 versus the A2300 comparison
Vitamix A2300 vs A2500 Comparison chart
| | | |
| --- | --- | --- |
| Model: | A2300 | A2500 |
| Lineup: | Ascent-series | Ascent series |
| Motor size: | 2.2 HP-peak engine (1,440 watts) | 2.2 HP Peak engine (1,500 watts) |
| Pitcher Capacity: | 64-Ounce low profile container | 64-Ounce low profile Jar  |
| Blade type: | 4-count hardened stainless steel blades /4inch | 4 count Stainless steel blades/ 4inch |
| Variable Speed control | 10-Speed dial | 10 Variable speed dial |
| On/Off Toggle | Yes | Yes |
| Pulse button | Yes | Yes |
| Preset mode | No | 3 preset modes |
| Timer | Yes | Yes |
| Bluetooth compatibility: | Yes | Yes |
| Self detects technology: | Yes | Yes |
| Noise insulation: | Less Quieter | More Quieter |
| Dishwasher safe | Yes | Yes |
| Self-cleaning: | No | Yes |
| Attachments: | Cookbook, Manual & Tamper | Tamper, Manual & Cookbook |
| Colour Variant: | 4 | 3 |
| Dimensions & Weight: | 7.8 x 10.8 x 17.0 inch &12.0 lbs | 7.94 x 11.0 x 17 inches & 11.9 lbs. |
| Warranty: | 10 Years | 10-Years |
| Best selling: | Rated #31 of 112 | Rated #23 of 112 |
| Cost: | See the A2500 latest price | See the A2300 latest price |
Comparing the Vitamix A2300 vs A2500 features in detail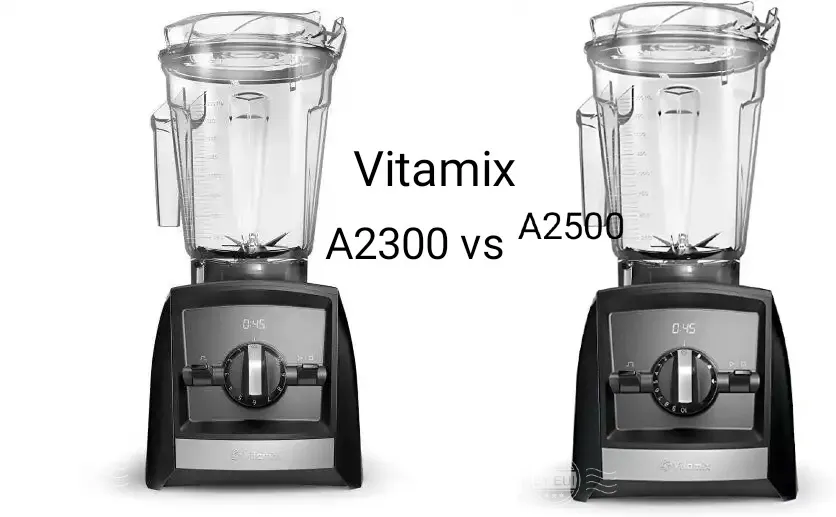 Because the A2500 does a better of crushing ice to smoothies, consumers have rated it the #23rd position out of 112, leaving the A2300 to rank the #31st position out of 112.
While making findings for these two models, I discovered they both look the same with just slight differences. Below is a detailed review of both models when it comes to features and specifications.
Motor & Base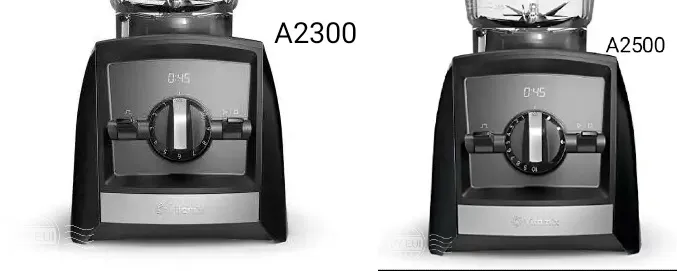 Motor power is necessary when choosing a blending machine. While trying to look out for the motor capacity of these two models, I discovered that both the A2300 and the A2500 motor power are the same. They both have 2.2 horsepower engines which are enough to blast tough ingredients into smoothies.
The 2.2 HP motor uses the same electric energy that's equivalent to 1500 watts. Also, the exceptional build quality of the A2500 motor base makes the blender look premium. Likewise, the A2300 motor has an outstanding build quality. These two models are equally strong and you will notice no difference in motor power and energy consumption.
Container Size (Pitcher)
Choosing the right blender base on container capacity is very important. While looking through the products, I discovered both Vitamix models have the same low profile container. The A2300 and A2500 container capacity is measured to be 64-Ounce, which is a huge one for large-scale food preparation for bigger households.
The 64Oz Jar for both models is made of BPA-free materials, and safe to use for storing foods. Additionally, this Ascent series models have a self detect container function that makes your blender Automatically detects the blender jar you attach to it and adjust settings accordingly. The container of both the A2500 and the A2300 is equally dishwasher safe.
Blades material
Aside from the same powerful motor valued at 2.2 HP peak and 64-Oz pitcher that this model features, the Ascent A2300 and A2500 both come with the same strength and quality blades. The laser-cut stainless steel blades are made of BPA-free materials. And they are measured to be 4 inches in diameter long. The hardened stainless steel blades are designed to chop into pieces produce.
Additionally, the Ascent A2300 and the Ascent A2500 blades are not only BPA-free, but they are also dishwasher safe. There is no difference in the Vitamix A2500 and A2300 blades. As both model blades are designed not to rust, or bend even when handling tough ingredients.
Control settings (Variables)
The A2300 and A2500 have the same control functions. The control settings include ten-speed dials, a pulse button and an On/Off toggle. The 10-Speed variable settings allow you to select different speed levels at which your blender should operate to achieve the desired results. Also, the Pulse button allows you to easily change speed level, while the Power Switch allows you to turn on/off your blender.
However, is advised not to power on your blender at the highest speed, rather, it's always recommended that you start your blender from the lowest speed (1) and gradually increase the speed level to the highest speed (10) if there is any need for it. When operated on the lowest speed level, A2300 and A2500 are quieter than the Explorian E310.
Programmable modes
Preset modes also known as pre-programming modes allows you to achieve various texture on blends a hands-free. Looking through the two Vitamix models, I discovered the A2500 have 3 preset modes, but the A2300 does not. The three preset modes dials on the Ascent A2500 motor base allow you to prepare 3 different recipes (Smoothie, Frozen Drink, Hot Soups) with your hands off your machine. Plus the preset dial on the A2500 also allows for a self-clean function.
However, to allow your Vitamix A2300 to benefit from the pre-programmable feature, you will have to install the Vitamix App on your Android or iOS smartphone and gain access to 17 preset modes. In addition to the 3 preset dials on the A2500 base, you can also access more dials using the smartphone App.
Winner: The Vitamix Ascent A2500 wins because you have the benefit of accessing additional three preset dials in addition to the 17 preset dials that can be accessed through the Vitamix App when connected through Bluetooth.
Extras & Attachments
These two Vitamix Ascent models have a digital timer and a self-clean program. The Timer allows you to set a duration for your blender to run and then manually turn it off after a certain period of operating. However, with the preset mode on 2500, you need not manually turn it off as it will automatically stop working once the expected recipe texture is achieved.
Additionally, both model comes with the same amount of attachments including a tamper stick, a User Manual, and a Cook recipe book. With the Vitamix recipe book, you have the opportunity to choose from various food recommend processes and make a tasty delicious meal for yourself and your household. The Tamper stick allows you to remove sticky blends from the blender container body on the go without the need to pulse.
Ease of use & Cleaning
The A2500 and A2300 are both easy to use and highly recommended for beginners and chefs alike. However, the Vitamix A2300's simple features make it a better option for beginners who don't need many features and just want to blend. The Vitamix A2500 is better for those who wish to take their blending skills to another level. Plus the touchscreen interface makes it sleek and more advanced.
They are also both easy to clean, just in a few minutes, you can manually clean these two models. However, the A2500 self-clean function allows you to quickly clean up your machine before and after use.
All you just have to do is to drop a bar of dishwasher soap, power warm water into the Jar, operated your unit to the highest speed level for 60 seconds, rinse with clean water, and you are good to go.
Weight
Having a blender that can easily be moved from one place to another is a very important thing to consider when purchasing a blender. Scaling these models, I found out they are not as heavy as their counterparts.
However, the A2300 is more lightweight and easy to move than the A2500. The Ascent A2300 weighs 11 pounds, while the Ascent A2500 weighs slightly above it.
Warranty & Cost
For most blender brands, a longer warranty could mean quality products. And like every of the Vitamix models from the Ascent series, the A250 and A2300 have 10 years full warranty for all body parts.
The ten years warranty offer is designed to cover all body parts of your machine against defective body parts as a result of a company production error. However, the A2300 is slightly cheaper. Although the additional cost for the A2500 is a result of the preset functions and it's justifiable.
Verdict:
The A2500 is a better choice for those who need a smart blender that can handle various tasks with fewer requirements for manual input. It offers you three preset features and a timer that keeps you away from guesswork by handling the blending task efficiently. The A2300 is for those looking for a more affordable but powerful blender.
Frequently Asked Questions and Answers
What is the difference between Vitamix A2300 and Vitamix A2500?
The difference is that the Vitamix A2500 have 5 program settings for easy and faster preparation of food. The A2300 has no preset.
Is the Vitamix A2500 worth it?
Yes! If your plan to make a variety of dishes without having to waste time manually setting up your blender, then it's worth getting the A2500.
Conclusion: which is right, Vitamix A2300 or A2500?
Both the A2300 and A2550 are high-performance blenders that can blend most types of fruits and vegetables smoothly. But the Vitamix A2500 has some minor features that make it a better choice. So it's up to you if you want to pay extra for these features when buying the Ascent A2500.
The price of the Vitamix A2500 is higher than Vitamix A2300 compared to the size and shape of the container.
Therefore, the Vitamix 2500 is considered the best value due to its cost-effectiveness and versatility. Plus, this blender has 3 preset programs, so you won't miss out on any recipe! Overall, the A2300 performs well enough, but the A2500 offers improved mixing power.
We hope you find this Vitamix A2300 vs A2500 comparison review to be interesting and helpful in making the right decision. If you like this article, you may want to check out similar ones we made such as the Vitamix A2300 vs. A3300.
Also, for you not to miss out on our previous updates, you may want to consider a quick look at Vitamix A2500 vs. E310. Until next time, do have a happy blend.