Dyson Tp04 Vs Tp06: which one offers better performance?
Are you a bit confused about which Dyson air purifier to buy between the Dyson tp04 and tp06 possibly because of their weight or do you intend to know which of these models is worth the investment?
If yes, then worry no more as you are on the right page where you'll get to know what this duo tp series fans has to offer, as this will enable you to make the right choice. Anyway, We understand you might be interested in the Dyson tp01 vs tp04 vs tp06 reviews.
However, Here in this article, we are being particular about the Dyson tp04 vs tp06. But what exactly will you learn about these Dyson tp04 and its upgraded version? You will learn the similarities and differences between these two Dyson upgrades. Additionally, we made a detailed comparison between these two Dyson fans by comparing them so you could have a better decision to make.
Related Stories featured on Reviewmast 👇
Although it would be nice to remind you that on different occasions, we have reviewed similar Dyson air purifiers such as the likes of Dyson tp00 vs tp04, hp04 vs hp06 and Dyson tp02 vs tp04 models.
This time, we decided to make reviews of the Dyson tp04 and tp06 to see the comparisons between these models. To begin with, let us see the difference between Dyson tp06 and tp04.
Difference between Dyson TP04 and TP06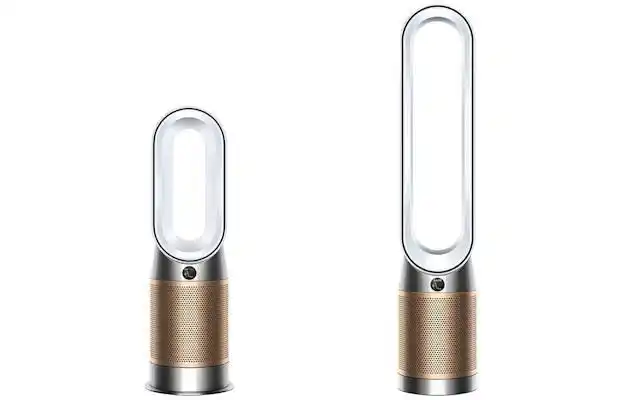 The TP06 is designed to capture and destroy formaldehyde along with other ultrafine particles, but the tp04 is only capable of capturing ultrafine particles.
The TP04 can only connect to Amazon Alexa voice feature, However, The TP06 is not only compatible with Amazon Alexa but it can also work with Siri.
Like earlier mentioned, the TP04 looks a bit bulkier compared to the TP06 version.
The TP06 is slightly shorter and lighter compared to the TP04 counterpart.
Moreso, as an upgraded version which the TP06 is, it is discovered to be expensive than the TP04 .
Note: Having gone through the dyson tp04 vs tp06 differences, its time we go through the similarities between these two tower fans.
Similarities Between Dyson TP04 and TP06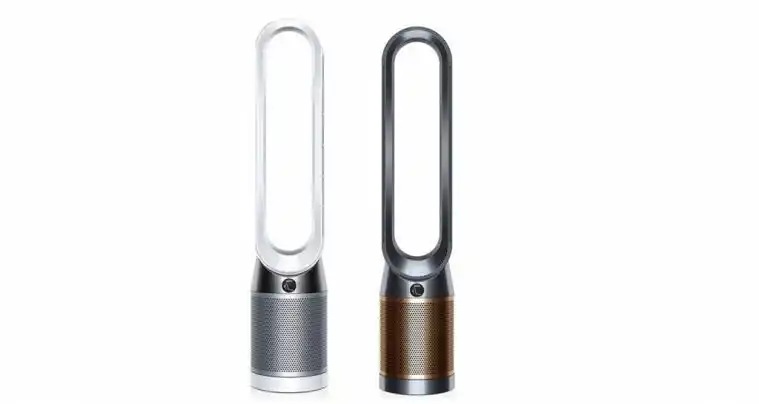 First, the TP04 and TP06 have the same tower-style build and are designed to cover large spaces.
Second, both the TP06 and TP04 is powered by Dyson's Air Multiplier technology.
Third, the TP04 and TP06 both have the same oscillation of 350 degrees.
Fourth, the TP04 and TP06 have the same filtration system: which is "Glass HEPA Media with Active Carbon".
Fifth, the TP04 and TP06 models are both 2-in-1 functional machines. They serve as an air purifier and can also work as a fan.
Lastly, this DUO TP fans have WiFi connectivity feature and can be linked to the Amazon Alexa and Dyson's link app.
Don't just take our review on the Dyson tp04 vs tp06 differences and similarities for it, to learn better about these Dyson air purifiers, take a look at the comparison between them below.
Comparing Dyson TP04 vs TP06 pure+cool link in Detail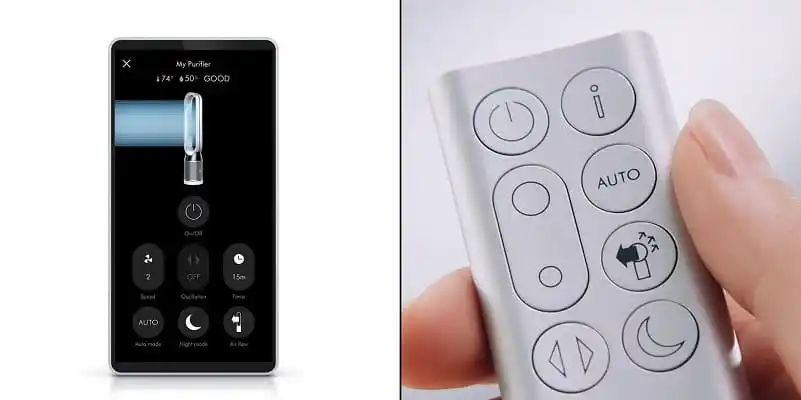 These Dyson's TP series air purifying systems are sleek looking fans with a tower appearance designed to improve the air quality in homes, offices and event halls. The good thing about these tp purification system is that they are huge so they could effectively cover the room where you placed it without leaving any of the edges unpurified.
Even though the TP04 and TP06 look very similar in terms of their amp and build structure, there is something that keeps these models different and unique from one another.
#1. Although the TP04 looks bulkier compared to the upgrade which looks more sleekish, the TP04 and TP06 both have the same tower-style build with a narrow oblong-shaped amp. The TP04, however, is heavier and a little taller when compared to the latest TP06.
#2. Based on inspections, we also discovered that The TP04 and TP06 are excellent air purifiers. They are both fixed with a Glass HEPA Media filter that enables it possible for the removal of allergens and filtering 99.97% ultrafine particles, as small as 0.3 microns, including pollen, bacteria, dust, pet dander, and other air pollutants in the air. Plus an Activated Carbon filter which removes odours, smells, and gasses, toxins, smoke, and VOCs (Volatile Organic Compound).
#3. Additionally, the TP06 has a Dyson Cryptomic technology which makes it possible to trap and destroy harmful formaldehyde particles that can be found on many household products, this technology/function was excluded from the TP04.
#4. When it comes to Air Multiplier technology, all Dyson's air purifying systems are almost with it. This air multiplier technology in Dyson TP04 & TP06 fans and air purifiers makes it possible for them to effectively project and circulate purified air across the room all year round. Plus they each have an oscillation of 350 degrees, 10 airflow settings, plus they run very quietly.
#5. What about connectivity? The Dyson TP04 and TP06 both support WI-FI connections. So you can connect your unit to a mobile phone through the downloadable Dyson Link App which was created by Dyson to allow their customers to activate, schedule and monitor their devices. Another benefit of the app is that it shows you real-time air quality reports.
#6. Although both of them have Amazon Alexa integration which means you can voice control your units using Alexa's voice service. Additionally, the TP06 is compatible with Siri, unlike TP04 which doesn't support Siri. This gives the TP06 more voice control options compared to TP04.
BONUSES: Does remote control matter to you? The great thing about the tp06 and tp04 is that they both come with remote control packaged in the box. This allows you to control your air purifier without physical contact. And Like every other Dyson air purifier remotes, the remote for these models can automatically be magnetized to the top of the machines so they could be easily reached when needed.
They also each come with a free inner carbon filter and HEPA filter for when you have to change their filters already. However, these free filters require replacement once exhausted. So you might want to get another replacement filter from the market stores like Amazon, Dyson, BestBuy or aliexpress.
Like most air purifiers, the Dyson tp06 and tp04 are bladeless. These purifying systems have no fast-spinning metal/blades inside that would have made it unsafe around kids, nor is there any protective shield around it that would have prevented you from having easy access to cleanups. Also, this would give no causes of injuries, as it's very safe to be around everyone.
Additionally, The TP04 and TP06 also have a Child Safe feature which automatically turns off the machine when it's tipped over or triggered by an unusual situation –this smart feature is great when you have kids or pets that love to play, run or walk around the house unrestricted.
Lastly, when it comes to modes options, there are a whole lot of options available on the tp04 and tp06. The Dyson tp04 and tp06 equally have an Auto mode that allows the devices to automatically adjust to Airflows, check air quality periodically, and also turn the devices on/off.
These devices also come with a Jet Focus mode for a focused airstream; Diffused mode for broad air distribution, a Night mode that dims the screen display and purifies the air using the quietest setting, a perfect feature which you will always need at night and when about to sleep to avoid disturbance/distraction while sleeping; and Backward Airflow mode, a mode that enables you to turn off the cooling feature without completely turning off the air purifier.
#7. Additionally, Since the TP06 is an upgrade and more advanced, it got two extra modes: Custom mode and Forward Airflow mode, an exception in the tp04. With all the additional features and benefits packed in the Dyson tp06, it tends to make it costlier. Although, the Dyson tp04 is expensive already. But with extra bucks on the Dyson tp06 for its extra features.
Tp06 vs Tp04 comparison chart
| | | |
| --- | --- | --- |
| Model | TP04 | TP06 |
| Style | Tower | Tower |
| Cooling | √ | √ |
| Heating | √ | √ |
| Purifying | √ | √ |
| Air Multiplying Technology | √ | √ |
| Cryptomic technology | No | Yes |
| Oscillation | 350 degrees | 350 degrees |
| Display | Led | Led |
| Air quality report | Yes | Yes |
| Air quality in real-time | Yes | Yes |
| WiFi connectivity, Link App & Alexa compatibility | Yes | Yes |
| Night & Auto mode | √ | √ |
| Diffused & Backward mode | √ | √ |
| Jet Focus Control mode | √ | √ |
| Forward mode | No | Yes |
| Custom mode | No | Yes |
| Child Safe | √ | √ |
| Apple Siri | No | Yes |
| Air Speed | 10 settings | 10 settings |
| Power usage | 2100 W | 40 W |
| Area coverage | 290 ft | N/A |
| Particulate matter | 2.50 PM | N/A |
| Scheduling | Yes | Yes |
| Weight × Height | 10.98 lbs × 41.5 inches | 10.69 lbs × 41.3 inches |
| Noise level | null | null |
| Filter | Glass HEPA Media and Activated Carbon | Glass HEPA Media and Activated Carbon |
| Accessories | Inner Carbon Filter + HEPA filter | Inner Carbon Filter + HEPA filter |
| Color | White/Gold | White/Gold |
| Warranty | 24 months | 24 months |
| Price | Dyson TP04 best price on Amazon | Dyson Tp06 already discontinued |
Dyson tp04 vs tp06 comparison table
Having gone through the comparison reviews, we could indicate here that the main difference between the Dyson Pure Hot Cool HP04 and TP06 is that the TP04 catches allergens and traps them inside the filter while the Dyson TP06 destroys them. Plus the Tp06 is the Cryptomic technology feature.
Read Also: Dyson HP04 vs HP06 Compared: What's new in models
Conclusion: Which is better Tp04 or TP06?
Dyson as a company is a brand that has already built a strong reputation in the market by there making of premium products. The TP04 and TP06 are such good air purifiers, moreso they function also as a fan. What more? They have high quality air filtration systems which are ideal for people with asthma and allergies. They are also great for light smokers and pet owners. The TP06, however, has an additional feature (Dyson Cryptomic technology) that traps and destroys formaldehyde.
If you are in a situation where you are left to make a decision between which Dyson air purifier fan to get between the tp04 or tp04, here are some of the important things that you should consider before making a choice:
Generally, Dyson air purifiers are not cheap. Reason been that they are made of high quality materials and their designs are outstanding. If you are trying to save money or looking to get an affordable air purifier, you may want to look for other alternatives. But if you are already determined on getting a Dyson Pure Cool Tower, particularly from the tp06 and tp04, opting for the TP04 is a good idea. Because It has a slightly difference with TP06 and it costs a lot cheaper compared to the TP06.
If you think you have high levels of formaldehyde in your home and you think spending on investment is not an issue, picking the TP06 would be great. Because It has a Dyson Cryptomic technology that captures and destroys harmful formaldehyde, plus it has two more extra mode options, the Custom mode and the Forward Airflow mode. So if you want to have these extra options for you pick the TP06.
If you are the type that owns a home powered by Apple, opting for TP06 is the best since it supports Siri. But do not forget like we had said earlier that the TP04 is already deemed as a great air purifier for those with no issues of formaldehyde in their homes.
If your aim is just to get an air purifier without the interest in formaldehyde eradication, then you should stick with the TP04, otherwise, go for the TP06. Also, don't forget to check out the complete benefits of air purifiers to health.