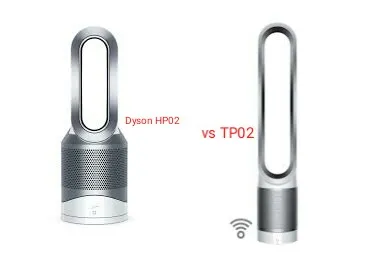 Dyson HP02 vs TP02: which one has better improvement?
Between Dyson HP02 vs TP02: which air purifier is the best? I've received this type of question times without number from my active readers. Well, to be frank, in my opinion, both units are great depending on what you need it for. Read on to learn the difference and grab the right one for your needs.
Dyson has always been known as an innovative company that creates some of the greatest technology around. They also produce some of the finest air purifiers in the industry. Few among the units of purifying systems are the TP02 and the HP02, which come with unique features and technology.
After so many encounters with the Dyson Air Purifier model from various series, I've noticed one thing; they all serve their purpose well, but each one has its pros and cons. In the case of the Dyson HP02 and the Dyson TP02, there is no exception  
Related Stories featured on Reviewmast 👇
Both Air cleaners offer great cleaning power at the expense of having a lack of other features or additional fee. Aside from that, both purifiers are quite different in terms of performance and features.
That is why I did thorough research about these devices and then highlighted their differences as well as the similarities. For that reason I've done a quick rundown of the Dyson HP11 Pure Hot+Cool and the Dyson TP02 Tower fan. Below are the major differences between the Dyson models.
Difference between Dyson HP02 and TP02 fan
First, the major difference between Dyson units is that the Dyson HP02 is from the "Hot+Cool series", while the Dyson TP02 is from the "tower series".
The HP02 can blow Hot and Cool air, while the TP02 can't.
The Dyson HP02 has more mode options: Auto mode, Night mode, Backward, Jet Focus Control, diffused mode, and Timer. While the TP02 has a fewer mode: just Timer, Auto and Night Modes
The HP02 is slightly heavier than the TP02
Dyson TP02 is more affordable than the Dyson HP02.
Now that you know the difference between the models, do you care to know about their similarities? If yes, kindly read on to see what they have to share in common.
Similarities between Dyson TP02 and HP02 Pure Cool
First, the major similarity between Dyson's HP02 and HP04 is that both of them are Dyson's brand.
The Dyson TP02 and HP02 can equally purify the air and also serve as fans.
Both units have two filters (True HEPA & Active Carbon filter).
The HP02 and TP02 can equally oscillate at only 180°
They both have the same 10-speed settings
Both Units come with Auto and night time mode, and a timer.
The Dyson HP02 and TP02 are both easy to clean and safe around kids or pets.
The Dyson TP04 and HP02 can be easily controlled through the Dyson Link App.
Both air purifiers are Alexa compatible for voice control and WiFi-enabled.
Both units have a simple remote control for quick and faster control.
Having revealed what the Dyson models (TP02 and HP02) have to share in common and also the differences between the units, below is a quick recap of what the Dyson TP02 and the HP02 has to offer.
Models Comparison chart 
| | | |
| --- | --- | --- |
| Model: | TP02 | HP02 |
| Lineup: | TP | HP |
| Style: | Tower and bladeless | Tower and bladeless |
| Display: | LED | LED |
| Air Purifier: | Yes | Yes |
| Heater & Cooler: | No | Yes |
| Auto mode: | Yes | Yes |
| Night mode: | Yes | Yes |
| Diffused & Jet focus mode: | No | Yes |
| Backward mode | No | Yes |
| Timer: | Yes | Yes |
| Filter type | 360 Glass HEPA with Activated Carbon | 360 Glass HEPA |
| Air Speed settings: | Up to 10 speed | Up to 10-speed settings |
| Oscillation: | 180 degree | 180 degree |
| WiFi-enabled, Alexa Compatible & Dyson Link App | Yes | Yes |
| Safe Use: | Yes | Yes |
| Remote: | Yes | Yes |
| Weight + Height: | 8.00 lbs + 40.00 inches | – |
| Warranty: | Two Years | Two Years |
| Price: | See TP02 on Amazon | See HP02 on Amazon |
Comparing Dyson HP02 vs TP02 unit in full detail
Taking a look at their comparisons, we can tell that the Dyson HP02 hot and cool air purifying system has more to offer than the TP02. However, let us see the benefits of those features these units have to offer. Sit back and read through the benefits of those features one after another.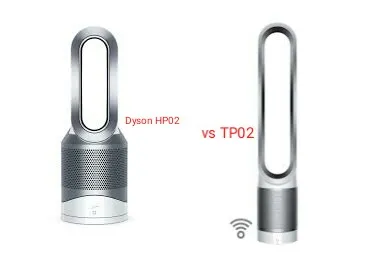 Dyson HP02 vs TP02 Design (Appearance)
The HP02 and TP02 have a great design structure with slight differences. Accessing these units, I discovered the Dyson HP02 is a pure hot and cool unit which means it's a 3 in 1 unit, while the TP02 is a pure cool 2 in 1 unit. Unlike TP02 which is designed as a "tower" unit, the HP02 is designed to be placed on the desk. However, the TP02 has a higher airflow compared to HP02. If we are to talk of credibility, these two devices are both great, but the HP02 takes the upper hand for its outstanding functionality.
Air Multiplier Technology
Like every Dyson unit, these models also feature t180-degree0 degree oscillation and "Dyson AMT". The Air Multiplier is a technology developed by Dyson to complement the design and appearance of their units. This patented technology from Dyson powered the fan making it possible for their fans to not have exposed blades. Hence resulting in them having a bladeless cooling device. Unlike traditional fans with blades and guards, the Dyson Air multechnology-powered powered fans look sleek and modern in design because of its hafas spinning blades, leaving the device bladeless and with no guards for easy cleanup. Also, it becomes safe to use around children and pets because of their bladeless appearances.
Functionality
The TP02 and HP02 are just so good at the features they offer. However, there their tower design, this duo aridenticaldentical because of their functionality. Accessing the functionaries of these units, I notice HP02 serves three purposes, while the TP02 serves just two purposes. The Dyson HP02 is a purifier, heater and cooler. On the other hand, the TP02 is a purifier and cooler. The HP02 is just the right choice to make for those who need a device to do more than just purifying and cooling the environment, but also for heating. On the other hand, the TP02 is a good option for those who need a device that can just purify and cool the room. In this case, the Dyson HP02 is a pure hot and cool witness for its 3 in 1 functionality.
Dyson Filters
Coming over to the filtration system of both units, I notice devices are capable of filtering germs, with the capacity to filter and capture using their two-way filtration (HEPA filter + Active Carbon filters). The HP02 and TP02 are capable of filtering 99.97% of microscopic airborne particles that are very small in sizes such as ultra-fine dust, allergens and other air pollutants in your home using the HEPA filter. The Activated Carbon captures bad odors, gasses, toxins, smoke, and VOCs (Volatile Organic Compound). The TP02 has a HEPA filter to filter, but can not effectively capture like the HP02.
System Connectivity
comparing these Dyson pure cool models in terms of smart connections, i can tell both units have smart features supported. Both the TP02 and HP02 can be connected through the WiFi-enabled features. Likewise, you can read and monitor real-time reports through the Dyson smartphone App. You can as well take full charge of its Alexa Voice command control features.
Modes
Both devices come with modes: Auto mode, Night mode and Backward mode. Although the HP02 has more modes such as diffused and Jet focus control modes. The TP02 and HP02 have an Auto mode that lets your device automatically check the quality of air, adjusts the airflow, and turns the device on or off whenever it's necessary. Meanwhile, the Night mode of the HP02 and TP02 dims the display and sets the device to its most quiet settings
Remote
Aside from the Smart feature which includes the Alexa voice command and Dyson Link App for fast and easy device control, you can also control your device without physical contact using the simple magnetic remote control accessories. With the Dyson Link app, you can turn your smartphone into a remote control by downloading the App from android/ios stores and installing it on your smartphone.
Frequently Asked Questions and Answers
What's the difference between HP02 and HP04?
Dyson HP02 is a pure hot and cool fan and recognises as 3 in 1 device, whereas the Dyson TP02 is a pure and cool fan and recognises as 2 in 1 device. This means the HP02 unit can perform three functions such as purifying the air, cooling the environment during hot days and heating the room during cold periods, whereas the Dyson TP02 pure cool can only purify and cool the room but can't heat the room. Also, HP02 has more modes compared to TP02.
Does Dyson TP02 cool the air?
Yes! The TP02 is a pure and cool system. This pure cool fan by Dyson is designed to serve as a cooler and air purifier. Hence the name TP02 pure cool.
How many square feet does the Dyson TP02 cover?
The TP02 has a 400 to 500 square feet coverage capacity which is enough to cover a large area.
How many square feet does a Dyson HP02 cover?
The HP02 has 360 square feet to even 500 square feet coverage. This device is designed to cover large spaces.
Conclusion:
Overall, I think this duo (HP02 and TP02) are pretty similar in terms of design, functionality and connectivity. It depends on what type of needs your family has to make a healthier home.
If you are to ask between Dyson HP02 Vs TP02 Which One Should You Choose? From all the above comparisons I have made so far, I would recommend the Dyson HP02 hot & cool unit due to its ability to provide more functions, easier to set up and use. But if you want just a simple purifier and cooler unit, then the TP02 should work best for you.
So if you're looking for a hot and cold purification device, make sure to try out the Dyson HP02! If you're looking for a simple purification device, then you might want to give the Dyson TP02 a try! Also, don't forget to check out my review made concerning the Dyson HP04 and the HP06.