The 5 Best Blenders for Hummus in 2023 & Top Picks
Hummus is highly rich in protein and delicious which can easily be flavored or spiced into several other varieties right there in your kitchen and likewise very easy to make. It can easily replace other fatty dips that offer less in terms of value nutritionally.
Just as your taste and desire are essential in getting things, so does it in the making of your hummus: the texture, flavor, preference, etc making hummus production an art.
Although in time past, food processors have been used to make this delicious snack, the blender can work likewise and much better than the food processors, leaving you a much creamier and smoother hummus.
Related Stories featured on Reviewmast 👇
There are different types of blenders out there that can make delicious hummus. They come with varying features and price tags. So choosing such a blender is important if you want to create hummus at home. Let's see which models stand out from the rest.
Favorite Hummus Blenders – Top Picks
The 5 Best Blenders for Hummus
#1. NINJA MEGA KITCHEN SYSTEM – Best Overall
This blender has one of the best designs when it comes to food processors and kitchen blenders. The blender has a complete set of kits having three major components: the normal large cup size, a smoothie cup and a food processor. With its large cup size, it comes in handy in making large batches of hummus by your preference.
The big cup has an allowance that gives room for the addition of lemon juice and oil to hummus while being prepped or blended giving us a consistent and even flavour. The blender has the strength to whip through the thickest hummus.
The base of the blender can easily be cleaned and all the other three components, that is, the jar, smoothie jar and food processor can perfectly and conveniently sit on the base. The blender however has a downside. Due to the nature of the jar, hummus and other puree tend to stick to the blender.
PROS:
Has a unique blade design
Has a powerful motor 
BPA-free Tritan plastic 
Easy to clean base
CONS:
Ingredients get stocked at the corner of the main jar due to its shape.
#2. VITAMIX E310 EXPLORIAN BLADE, PROFESSIONAL GRADE
This grade of blender offers one of the best-powered motors in this line of work. They can easily produce some of the smoothest of all hummus due to the shape of the jar. The blender however has a pulse button and 10 variable speed settings.
Its jar which is 48oz made from BPA-free Tritan plastic can easily take ingredients for various drinks and soups or anything you may want to blend. And it also has a self-cleaning ability 
PROS:
Easy to clean
BPA-free Tritan plastic
Variable speed and pulse button
It's very powerful
CONS:
Expensive
There's no need to brace the base of the blender 
#3. HAMILTON BEACH POWER ELITE BLENDER
In terms of affordability and versatility, this blender is alone the best option. The brand is known for making appliances with a reasonable performance which are quite affordable too. 
The main jar is made of glass with a well-designed pour spout which makes pouring of hummus and also eases the addition of liquid ingredients to the hummus while blending. The blender has 5 variable speed settings and can be easily cleaned.
PROS:
Powerful and affordable
The main jar is made of glass
Easy to clean
No sticking of ingredient to glass body or odour
CONS:
#4. MUELLER AUSTRIA ULTRA-STICK 500 WATT IMMERSION HAND BLENDER
Thus blender has a motor of 900 watts and a 9 variable speed setting though it has a low profile, unlike the previously mentioned ones. The motor's wattage is good enough to easily make hummus which is usually or can easily be done in a bowl on your countertop.
PROS:
Motor wattage is 500 watts.
Little storage space needed 
CONS:
Takes a long time.
Works best with small batches of hummus. 
#5. OYSTER BLSTPB-WBL MY BLEND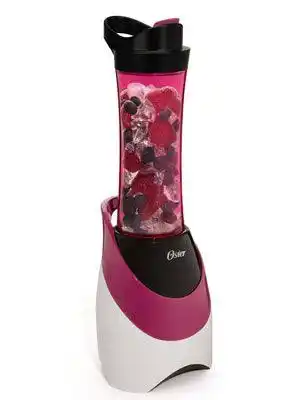 Having a 1000 watt base from whence it gives off 600 watts for blending action and can easily make creamy hummus in less time. The blender has 6 cups and a 6 point blade design that makes the blender very effective and also gives it a reduced processing time.
PROS:
Large jar
Blade design aids fast blend
CONS:
It's very loud while being used.
Guide to choosing blenders for making Hummus
Listed below are a few things to consider when picking the best blender for your hummus production.
Power
Size
Speed
Design
Jar material
Warranty
POWER
Hummus production requires more power. The rule of the game here is the beefier blender makes great hummus. The average power needed to produce is 500 watts. However, the more power the better the blender. The best blender for hummus should however have a motor power rating of 1000 plus wattage. 
WARRANTY
Buying a blender and having to fix or buy another in a matter of a month or a year is usually disheartening and a waste of resources, therefore, your best blender should last long enough at least 3 to 4 years. 
JAR MATERIAL
Are you looking at getting a blender made of glass or a plastic jar? Each of these materials both has its advantages and disadvantages. So careful consideration should be made when deciding which one to buy.
SIZE
The size of your jar also matters a lot in your decision-making process as this is influenced by the number of people you would be serving per time and if you will be using it for, either personal, family or commercial purposes. 
CONCLUSION
Hummus is a diet, delicious and allergy-friendly food that is quite easy to make and can as well be easily flavored. Making it at the comfort of your home saves you money and also ensures that you get your desired flavor per time. A good blender can help make perfect hummus.
Therefore having well considered all the available options and forms of blender that best fulfils all this is the Ninja Mega Kitchen System.