Are Ninja blenders dishwasher safe? [ ultimate Cleaning process]
Most Blenders are dishwasher safe and so are Ninja blenders dishwasher safe? This and many more questions are what most people want to know whenever they plan to get a blending machine from one of the Ninja models.
Ninja blenders are undoubtedly sharp and easy to use. Gives its best at chopping and making our smoothies which makes the cleaning a necessary procedure.
Ninja blenders, above all, are easy to clean which makes them safe to use. Despite the enormous task a ninja blender may perform, ( Multi-tasking), blending, smoothening, and chopping dry and hard ingredients, the blender is designed for easy cleaning and getting rid of food residue.
Related Stories featured on Reviewmast 👇
The ninja blender parts are detachable or removable and can be disassembled when washing. The lid, the cup and the pitcher are all dishwashers safe, unlike the motor base which like every other motor base is not dishwasher safe.
Can you put the ninja blender in the dishwasher?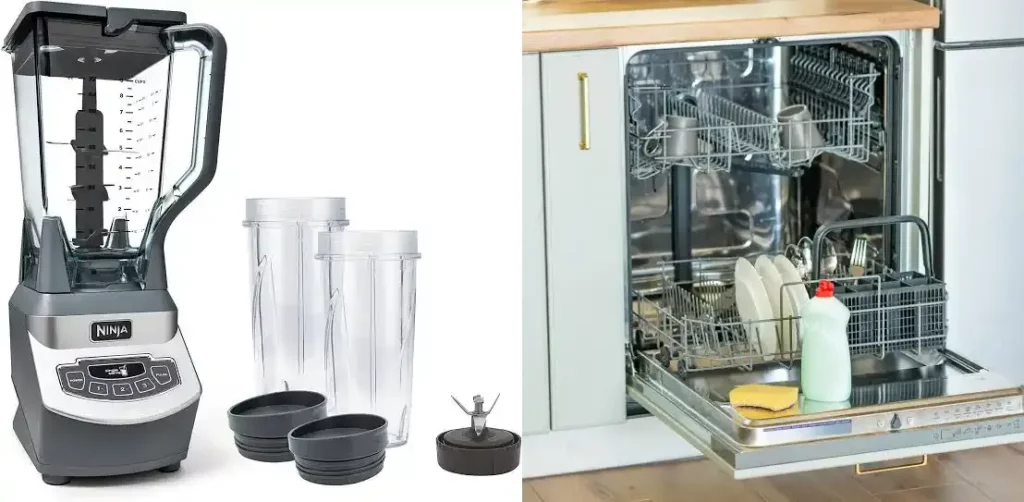 It is safe to wash your Ninja blender in the dishwasher except for the motor base which is not dishwasher safe just like any other motor base.
The Ninja blender parts are detachable and dishwasher safe. Nevertheless, while washing the blades, extra are child be applied as they can cut through the skin.
The motor base should not be put into the dishwasher because of the electrical compartment.
How do I clean my ninja blender?
Ninja blenders have removable parts. From the lid to the cop to the blades and motor base which makes it easier to clean part by part.
When cleaning the blender, the first step is to
Disassemble the blender carefully. 
Make sure the blades are removed from cups before putting them in the dishwasher. For easy cleaning, it is best to clean or rinse blades and cups immediately after use. Not to worry, they are dishwasher safe. 
The motor base is not dishwasher safe. It is advisable to wipe it clean with a damp cloth when unplugged.
How to wash ninja blender in a dishwasher.
The secret to the clean and long-lasting blender is not far fetched. Blenders need to be cleaned thoroughly from time to time because of food residues that can attract germs or blunt blades. Here are a few tips to help you clean your blender:
Unplug your ninja blender.
Carefully disassemble it. The lid first, u hinge blades, cup and pitcher.
Place the lid and blades on the uppermost of the dishwasher rack. Keep the temperature low as high temperature can cause damage to the cups, pitcher and lid.
The base is not dishwasher safe because of its electrical compartments. It is best to wipe it clean with a damp cloth when unplugged. For stress-free cleaning, rinse or clean the blades and cup immediately after use.
How long do I run my ninja blender?
It depends on what you want to blend, Mix or chop.
If you want to blend or chop won't take more than 3-4 minutes, it is safe to run the blender through. If otherwise, blenders need rest at intervals after being run for about 3-4 minutes before turning on again to prevent overheating.
Which of the Ninja blender is dishwasher safe?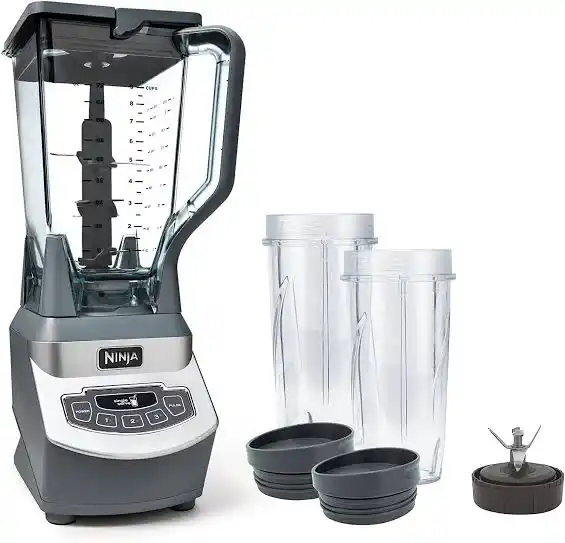 Whether you need a professional model that can last a lifetime, If you're looking for a person that could be used on the go, or better still a Kitchen System Blender that is a great choice if you want to save space in your kitchen, then Ninja gets it all.
Although my recommendation goes to the Ninja Professional Series Blender, you can always check out our top dishwasher safe blenders.
Conclusion: Are ninja blenders dishwasher safe?
Ninja blender is dishwasher safe except for the motor base. The lid, cup and blades part of a Ninja blender can be safely washed in the dishwasher.
However, the motor base is not because of its compartments. It can be damaged if washed in a dishwasher. You should use a damp cloth to wipe clean the motor base when unplugged.