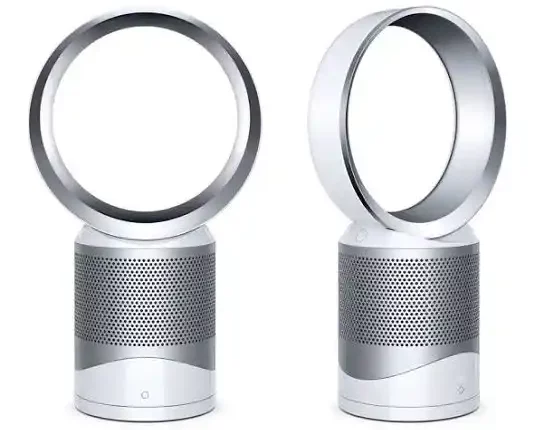 Tilting! Dyson DP01 vs DP04: which model filters better?
Choosing between the Dyson DP01 and DP04 one to buy is something that is worth it and should be considered. If you are curious to know which of this two dyson air purifiers you should go for, then you certainly are on the right place.
Here we have compared the Dyson DP01 vs DP04 to see what it offer in terms of speed, coverage, remote function availability, filter durability, room size, link app and more.
Just like we did earlier while making reviews on some other Dyson air purifiers such as the Dyson hp02 vs hp04, and the am11 vs tp02. This time, we shall talk about the Dyson DP01 and DP04 which include their differences and similarities.
Related Stories featured on Reviewmast 👇
Additionally, we shall make a Comparison between them to get a better understanding of what these two air purifying fans have to offer.
To begin with, let's take a look at the difference between the Dyson Dyson DP01 and the DP04.
Difference between the Dyson pure cool DP04 and DP01
The DP04 has a more Advanced air filtration system: Improved Glass HEPA Media filter with Activated Carbon, while the DP01 has a regular 360 Glass HEPA + Active Carbon filter.
The DP04 has more modes than the DP01 unit with fewer modes.
The DP04 is heavier and taller compared to the DP01 unit.
Due to its upgrade features, The DP04 is more expensive than the DP01 with an extra buck.
Similarities between Dyson DP01 and DP04 pure cool
The DP04 and DP01 models both offer same function: Purifier and Cooler(fan)
Both Dyson Purifier fans (DP04 & DP01) are powered by Dyson's Air Multiplier technology.
The DP01 and DP04 both eliminate upto 99.97% of allergens and pollutants as small as 0.3 microns.
The DP01 and DP04 are safe to use and easy to clean.
The DP01 and DP04 both have simple remote controls, Alexa voice command feature and are WiFi enabled.
The DP01 and DP04 are both Quiet Desk Units compared to the Tower Series (TP02 & TP04).
Quick Comparison table for the DP01 & DP04
| | | |
| --- | --- | --- |
| Model: | DP04 | DP01 |
| Design & Style: | Desk fan, Compact and bladeless | Desk fan, Compact and bladeless |
| Function | Purifier and Cooler | Purifier and Cooler |
| Heating: | NO | NO |
| Display: | LCD | LED |
| Filter: | Improved Glass HEPA Media filter with Active Carbon | 360 Glass HEPA filter |
| Auto & Night mode: | YES | YES |
| Diffused & Jet focus modes: | YES | NO |
| Backward mode: | YES | NO |
| Max Air Speed Settings: | 10 | 10 |
| Oscillation: | 350 degrees | 350 degrees |
| Child Safe: | NO | NO |
| Remote Control: | YES | YES |
| Smart features: | WiFi connectivity enabled, Dyson Link App, and Alexa voice compatibility | WiFi connectivity enabled, Dyson Link App, and Alexa voice compatibility |
| Dimension: | 8.77 × 13.85 × 27.2 inches | 8.77 × 8.8 × 24.3 inches |
| Weight: | 10.25lbs | 6.6lbs |
| Warranty: | 2 Years | 2 Years |
| Price Value: | See DP04 price on Amazon | See DP01 current price on Amazon |
Comparing the Dyson DP01 vs DP04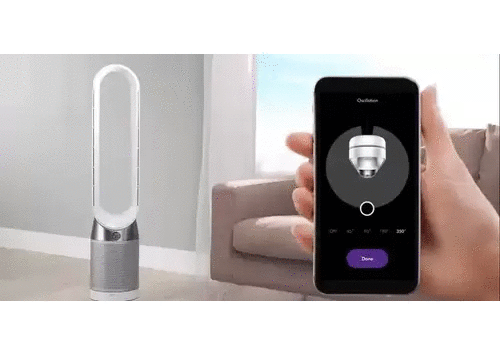 Considering these Desk Purifiers reviews, we notice that both models can be easily placed on a table, the floor or anywhere else a normal air purifier would stay.
Also, we discovered some slight differences but several similarities between models. Let's see how it goes below.
Design and Style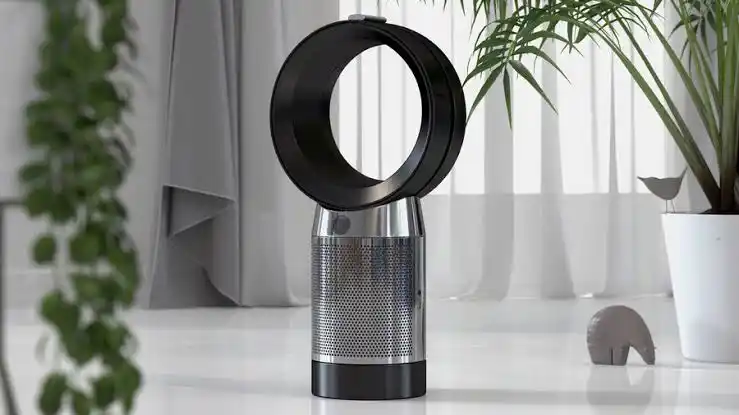 Talking about the design, the DP04 and the DP01 has not had many differences, except for their height and weight. Just that the DP04 is a bit taller and heavier than the DP01.
According to our findings, it's discovered that the DP04 weighs 10.25 lbs/pound, while the DP01 weighs just 6.6 lbs. Also in terms of height, the DP04 measures 27.2 inches, while the DP01 stands on the short side at roughly 24.3 inches.
Both units come with a built-in fan, which makes them appear bladeless.
System Filters
Filtration is a major factor that is to be considered while making an assessment of which air purifier fan you should go for. In the case of the DP01 and DP04, we discovered both Dyson pure and cool devices are capable of filtering the necessary.
While the DP01 runs on the regular 360 Glass HEPA filter with Active Carbon, the DP04 is built on an upgraded filtration: an improved Glass HEPA Media with Activated Carbon filter which makes it more powerful than the DP01.
Both units are capable of filtering up to 99.97% ultra-fine particles which are as small as 0.3 microns from the air. Including pollen, dust, allergens, and pet danders. Added to that, they are both capable of absorbing offensive odours, toxins, gasses and all sorts of VOCs (Volatile Organic Compound).
Unit Display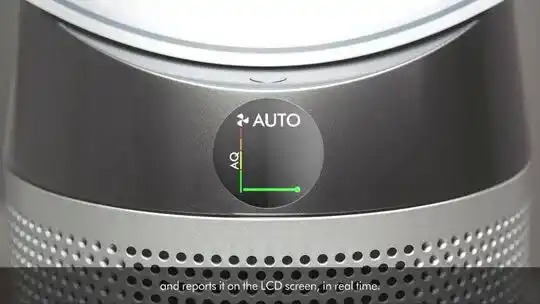 The DP01 comes with a LED display screen which deprives you of the real-time result of the atmosphere. On the other hand, the DP04 comes with a smart display screen (also known as LCD) which reports and allows you to take notice of the real-time air quality report on the screen such as the particle name; the VOCs; allergens, gasses, smells and so on. It also allows easy changing of airspeed modes at a fast instance.
Device Oscillations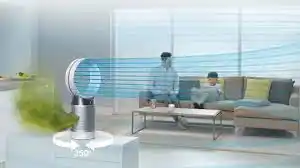 While the DP01 Oscillation can be adjusted to 70 degrees, the DP04 even does better as it can be adjusted up to 350 degrees; which means it can give a healthy result making it a perfect choice of larger rooms.
The DP01 has an airflow of 334 litres/sec, while the DP04 has a better airflow of 419 litres/sec.
Dyson Air multipliers
Talking about the AMT, the DP01 and the DP04 Dyson pure cool systems are powered by Dyson's Air Multiplier technology which makes it possible for the devices to deeply distribute purified air across the room. Additionally, both devices have an inbuilt spinning blade which makes the fan appear bladeless, making it safe and easy to clean.
Purifier fan Modes
While the DP01 supports only two modes: the Automatic Mode and the Night Mode settings, the DP04 comes with extra modes added to the Auto and Night Modes such as the Jet-Focus Mode, Diffused Mode and Backward Mode.
The Night Mode is responsible for making the LCD dim at night while the device continues purifying the air using the quietest settings; the Jet Focus Mode helps to keep the airflow in a direct and focus condition; Diffused Mode for broader air distribution across the room, and Backward Airflow Mode that enables you to make use of the device even without the need turning the fan on.
Smart features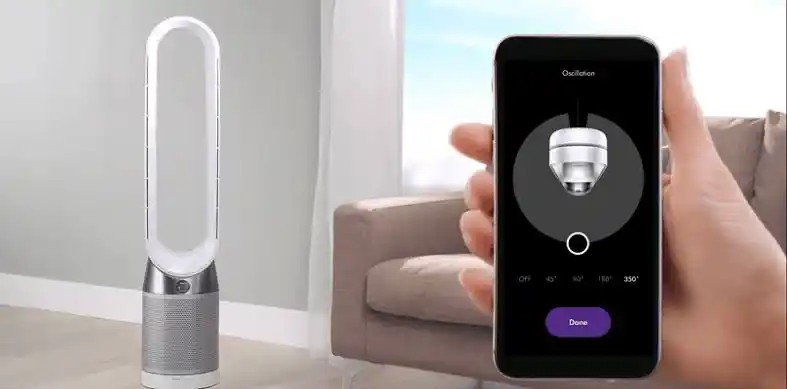 When it comes to smart controlling of your Dyson purifying and cooling system, the DP01 and the DP04 are well equipped to do the smart work.
Both the Dyson DP1 and DP04 are WiFi-enabled. You can also control your device even when you're not home just by connecting the units to your smartphone with the help of the Dyson Link App.
Remote & Extras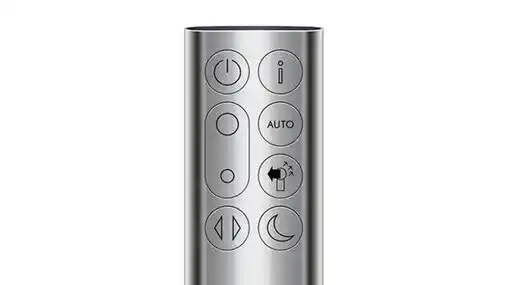 Additionally, the Dyson pure cool DP01 and DP04 support a voice command feature via Alexa. These Devices also have simple magnetic remote controls that enable you to easily control the device even without physically touching them.
Lastly, both Dyson pure cool devices come with an equal limited 2 years official warranty coverage; within these two years, you can have the manufacturer defective parts to be replaced without spending extra bucks from your personal finance.
Frequently Asked Questions
Which Dyson purifier is the best?
Dyson has a wide range of Air Purifier Fan and Air purifier Cooler and Heater. Either of these 3 categories of Dyson units can be discovered with their Series (TP, DP, BP and AM).
The TP series stands for Tower Purifier; The DP stands for Desk Purifier Series; BP = Body Purifier Series; and AM stands for Air Multiplier Series.
The BP series is best for personal use, which means if you intend to go for a single-serve purifier, this portable BP model is suitable for such. On the other hand, the DP series is best for small rooms, while the TP are best for large room sizes.
This wide range of series allows you to choose from the available system based on your needs.
How long does the Dyson DP04 filter last?
As suggested by Dyson, it's recommended that you change the purifier filters at least once every year. However, the case isn't so critical as you might always need to follow up with the Device real-time display which would give you a notice when there is a need to change the filter already.
So changing the Dyson DP04 filter should be based on either using the Recommended 1-year duration or making use of the device real-time instruction. Likewise for the DP01 unit.
What is the Dyson DP01 room size capacity?
The Dyson DP04 covers a large room size capacity, while the DP01 more less than it
Not to forget, both the DP01 and DP04 Dyson purifier fan can filter tiny particles as small as 0.3 microns.
Why was Dyson DP04 discontinued?
No! Both the DP01 and DP04 are widely available on the market for easy and faster purchases. However, it seems the DP02 and DP03 are already officially discontinued as they cant be easily found anywhere.
Also, you can easily get a refurbished version of the DP01 and DP04, But not so in the case of the DP03 and DP02 which can't be seen.
Unlike the Tew version of DP04 and DP01 which are a little more expensive, the renewed version stands a chance to be cheaper which makes it easily affordable for those on a budget.
Do these DP models make noise?
No! Both Dyson DP01 and DP04 are designed in such a way that that wouldn't allow them to make noise; they work quietly when compare to some other series and are even quieter than a few more other Series.
Conclusion: About the Dyson pure cool DP01 vs DP04
Just like the TP01 and TP04, the Dyson DP01 and DP04 are great air purifiers. They both offer 2-in-1 functions (purifier and fan) which make them a good investment.
These air purifiers are perfect for people struggling with asthma and allergies; because they are capable of filtering out allergens and air pollutants. Additionally, they are also suitable for pet owners as they can capture tiny particles that are as small as 0.3 microns.
Aside from having a HEPA filter, the Dyson DP01 and the Dyson DP04 also come with a fixed activated Carbon filter; these make it a good one for light smokers.
If you are in a situation where you are considering which to buy between these units, here are some major things to consider before you make a decision
If you want a device that would permit you to make use of one of its functions without interfering with its other function, the DP04 would win the competition as it enables you to use the air purifier function without the need of switching on the fan. Also, you can turn on the fan with no need of switching on the air purifier; these things are not possible when you Opt for the DP01.
Also if you want extra mode aside from the Automatic mode and Night mode, the DP04 wins in this aspect again. As it comes with more modes such as the diffused mode, Jet Focus control mode, and Backward mode, plus the Auto and Night Mode. If the few extra modes are not necessarily needed, then, by all means, I recommend that you go for the DP01.
Lastly, If you want a more affordable air purifier fan that still does the job of having to purify and cool the room perfectly fine, the DP01 would be fine. But as we mentioned earlier, you will be losing out on the extra modes which come as an added feature for the DP04 upgrade.
By now, you should have come to a conclusion about whic Air purifying device to choose between the Dyson DP01 vs DP04. You may also want to take a quick look at my reviews about the Dyson TP04 and TP01 fans. Until next time when you'll come around, remember to keep yourself safe.