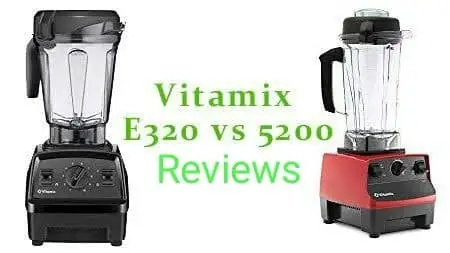 Vitamix e320 vs 5200: Whats the Comparison?
Honestly, there is nothing better than having the right culinary tools while planning to prepare your favourite dish. Just like every other kitchen tools, blenders are one of that essential kitchen gadget you'll surely need for your daily recipe prep such as smoothies, salsa, Margaritas and mega nuts
Thanks to the makers of this Vitamix e320 explorian blender and some other blender brand producers, who have made the availability of some liquidizers a very easy one to afford, without having to spend much money wanting to buy a blender.
In this article, we're going to make a precise comparison between the Vitamix E320 vs 5200 blenders. Though the classic model is one of the oldest Vitamix blenders, yet is versatile, with a powerful motor and high-end material which it was built with, making it a formidable blender even in today's use.
Related Stories featured on Reviewmast 👇
But why do we chose to review the Vitamix Next Generation Explorian E320 blender against the best-selling C-series 5200?
Read Also: Vitamix E320 vs. E310 or the Vitamix E320 vs 5300
Why Vitamix e320 vs 5200
A few days ago, i made an interesting review on which i featured some of the most popular Vitamix blenders such as the Vitamix 5200 and 7500 blender, i also did a thorough review on this two(2) C-Series blender, which are the Vitamix 5200 vs 5300 and similar blender series like Vitamix E320 vs V1200 and Vitamix 5200 vs 750.
So this time, i thought doing findings and making a review on the Vitamix e320 vs 5200 isn't a bad idea.
Its no doubt Vitamix has tried all their best to make it an easy one by introducing a lot of blenders also known as liquidizers. This includes the pricey, affordable and budget-friendly, from which you can make your choices, and ensuring that you are never left behind with no blender to make your favourite home meal.
Although, having to make the right choice of blender for your need might be a difficult choice to make, due to a lot of availability of models such as the Vitamix e310, 5300, 7500, etc.
From our research conducted, Its quite clear most Vitamix fans, have been so anxious and wondering, what could be the difference between the Vitamix e320 and 5200 when been compared and contrasted.
Now that you've known why we choose to compare the Vitamix e320 and 5200, let go about introducing the NextGen e320 explorian blender and also Classic series 5200 blender in a review, after that, we make a comparison between both blenders, to see which is the best to buy.
Also, we will differentiate between the two mixers, base on price, features, durability, ease of use and value for the money.
Difference between Vitamix e320 and 5200 features
Vitamix Explorian e320 reviews
The Vitamix E320 is described as one of Vitamix's 'budget blenders', even though it is more expensive than the typical entry-level blender "Vitamix e310".
Despite the lower price, it has the same build quality as the flagship 5200 and also includes a powerful 2.2 motor which is mostly found in all the G-series Vitamix blenders,  a 64oz low profile container and a 7-year warranty.
The e320 explorian blender is slightly more powerful with a 10% increase in horsepower and larger stainless steel blades compared to the 5200 classic series. The 10-variable speeds control button allows for refining of every texture or ingredients to provide the best results of soups or purees.
Also, it's got a pulse feature which simplifies the blending process, thus increasing efficiency, a pitcher which though is smaller than the 5200 but works perfectly, and a cookbook which you can use as a guide on "how to easily prepare food" for large families and party.
The Vitamix e320 blender is capable of cleaning itself just by dropping the soap and warm water within 30-60 seconds. Lastly, you don't have to worry about the storage stocking, as it can fit under most kitchen cabinets.
E320 Features
Automatic over-heat shut off
High-Performance Motor 2.2 HP
Easy Cleaning
Pulse Feature
64 oz low profile BPA-Free Tritan container
Dishwasher safe container
10 variable speed
11″ x 8″ x 18″
7-year Full Warranty
What's inside the package of the E320 explorian blender?
As you go about removing the seal and unboxing the package, you will find in it a very powerful Motor Base, 1 Low-Profile Tamper, 1 Low-Profile 64-ounce Container and a Cookbook(manual).
Despite having all these accessories, the Vitamix e320 exploring blender still lacks something which we thought could have been good to have though not important. But what is it, that the e320 blender lack? Check out our "Pros and cons".
Pros of Vitamix E320
#1. It has a pulse button. This Vitamix e320 pulse gives you more ample opportunity, to make a variety of ingredients in terms of consistencies and textures.
#2. It' $100 less than the 5200. Allowing you to spend less, yet achieve more.
#3. It has a more powerful motor base and larger stainless steel blades, making it slightly more efficient.
#4. It's just as durable as the Vitamix 5200 model
#5. Its wider low-profile pitcher makes storage much easier to place under-cabinet.
#6. A Free recipe book (cookbook)included.
Cons of Vitamix E320
#1. Sadly, the e320 NextGen does not have a variety of blender color to choose from. Which is just limited to Black.
Having done our findings and make our Vitamix e320 review, let's also see what the Vitamix 5200 Standard Series have in place for us.
Vitamix 5200 standard package reviews(Black)
The Vitamix 5200 blender comes from the C-series lineage which is one of the older blenders, and as well could personal be addressed as a legend, because of it being one the blenders in the market.
Regardless of the age of this blender, it has still managed to stay on demand because of its powerful and quality blending performance which many people look for in a high-end blender.
The combination of the 10 variable speed control and the 'high' feature allows for a wide range of blend consistencies and textures in just a few minutes, such as it 2.0 horsepower motor base engine, 2 containers (64ounce container for blending wet ingredients & 32-ounce container for crushing hard ingredients).
It also comes with a radial cooling fan and thermal sensors which prevent the unit from overheating especially when blending tough ingredients, stainless steel blades that heat up at the highest speed setting, which is perfect for making hot sauce.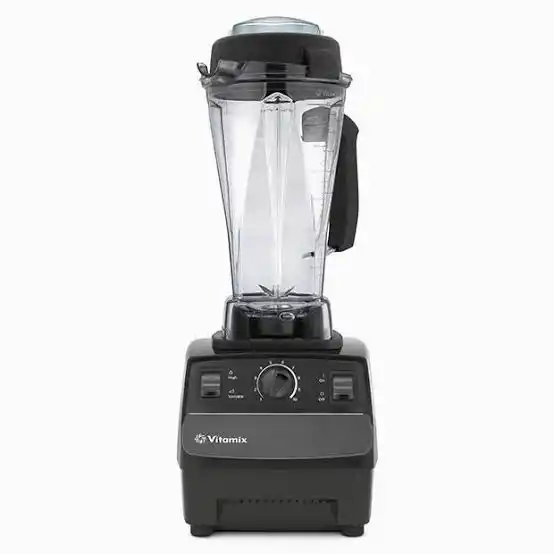 Features
64-ounce container
Variable Speed Control
2.0 HP motor
Hardened Stainless-Steel Blades
Self-Cleaning
Dimensions: 8.8 x 7.2 x 20.5 in
7- year full warranty
What's inside the package of the Vitamix 5200 blender?
As you go about removing the seal and unboxing the package, you will find in it a very powerful Motor base, 64 oz. Container, Getting started guide, DVD and a Classic tamper.
Despite having all this, the flagship Vitamix blender still lacks somethings which are a drawback and we thought could have been advantageous if it was to be corrected. But what is it, that the 5200 blender lack? Check out its "Pros and cons" below.
Pro's of Vitamix 5200
#1. It is versatile and prepares hot/ cold soups, smoothies, and juices. It can also be used as a grinder or a food processor.
#2. Very durable
#3. User-friendliness
#4. It is powerful and blends everything
#5. Dishwasher safe parts
#6. The automatic overload protection protects the blender from overheating.
Con's of Vitamix 5200
#1. It is loud
#2. It doesn't fit under low-hanging kitchen counters because of its tall pitcher.
#3. The fixed stainless steel blades make cleaning out food residue difficult.
#4. It lacks a pulse button
#5. More expensive than the E320 despite it being an older model.
Vitamix 5200 package series – Details & review
Despite having made a review on the Vitamix 5200, it will be nice to let you know that you can find the Vitamix classic 5200 in four different packages, which are the standard, super, compact and deluxe packages. Although differences are mainly on the size of there containers. Below is a detailed review of there differences.
#1. Vitamix 5200 standard package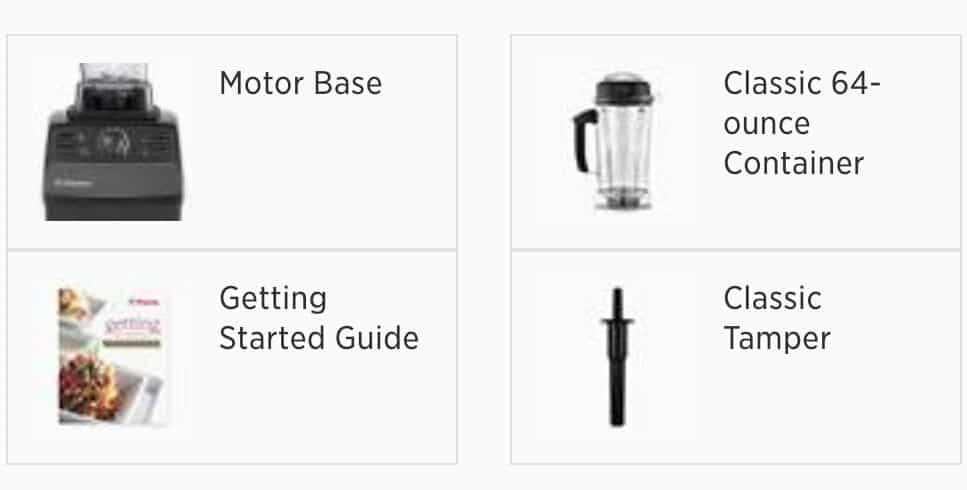 The standard package version (also known as the getting started package) of the Vitamix 5200 blender comes with a 64-ounce container and also a tamper tool for high-performance blending such as processing of thick and dense ingredients.
#2. Vitamix 5200 Super Package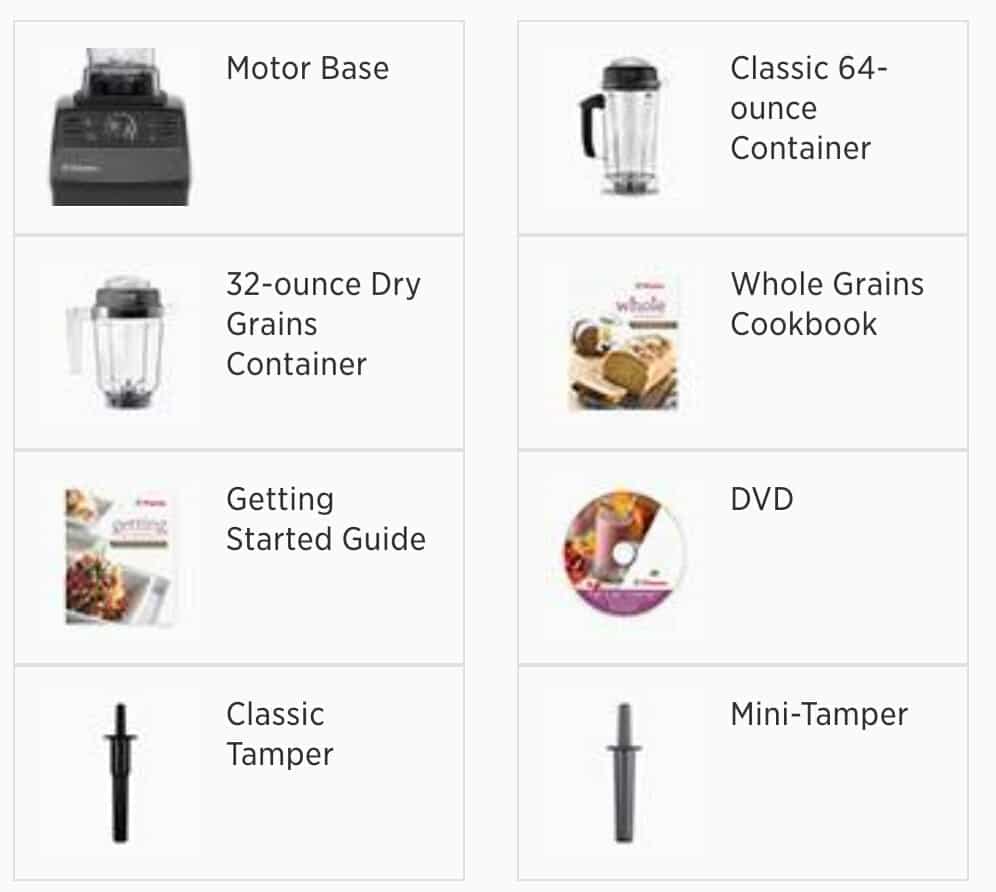 The super package version of the Vitamix 5200 liquidizers comes with a 64-ounce container and also a 32-ounce container for blending dry grains into your family's menu for gluten-free bread, baked goods and cereals. You also get a regular tamper tool and a mini tamper for this standard package. And its regular 7-years full warranty.
#3. Vitamix 5200 compact Package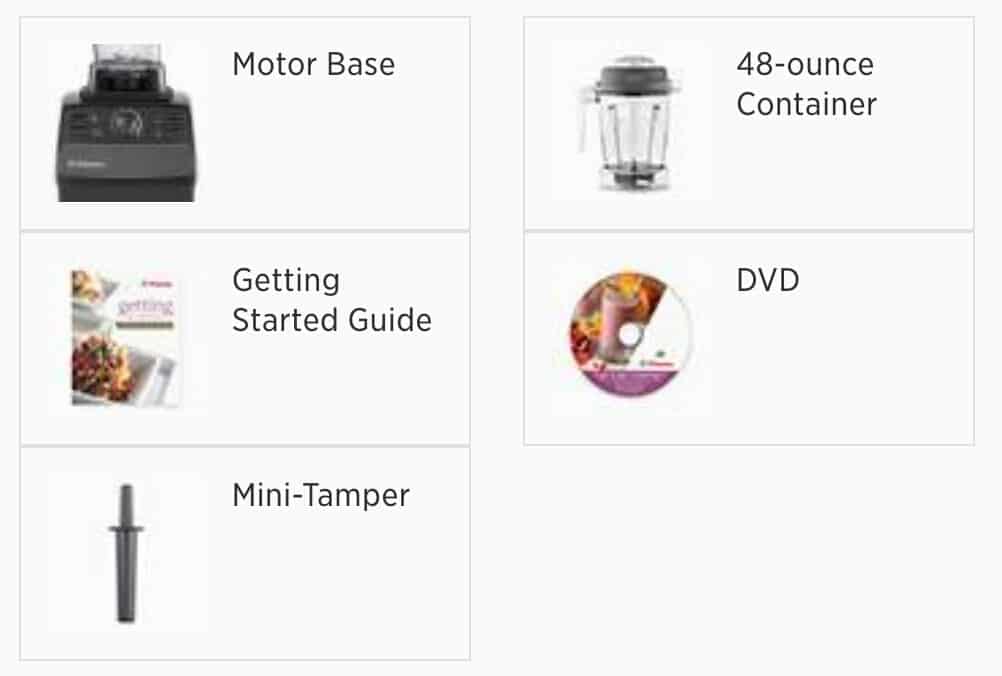 This compact package version is a smaller version of this blender whereby it comes with a 48-ounce container together with 1 mini tamper for processing of medium batches of your favourite recipes and can easily fit under most kitchen cabinets. It also backed up by a full 7-years Vitamix blender warranty.
#4. Vitamix 5200 Deluxe Edition Package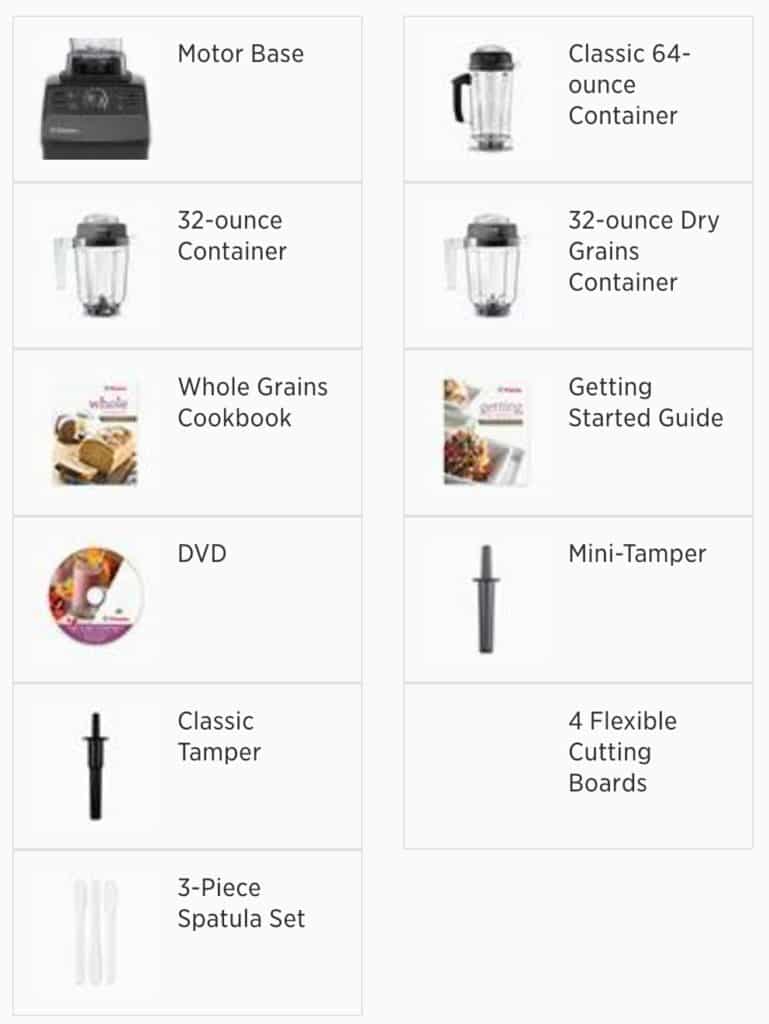 The Vitamix 5200 deluxe complete kitchen Set is packaged with two standard containers (64-ounce container & 32-ounce dry grains container for preparing doughs and grinding fresh flour). You'll also get a regular tamper and a mini-sized one, a 3-piece spatula set and four flexible cutting boards.
Having gone through the Vitamix 5200 vs explorian e320 review, we could depict that both have done so well in their ways. But what is the comparison and difference between the Vitamix e320 vs 5200 models?
Comparing the Vitamix e320 vs 5200 in details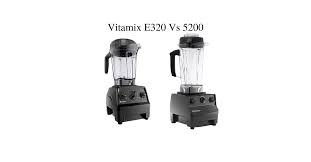 Well, why one is older and lacks some needful thing yet costlier, the other one also lacks the availability of various colors to have made choices from. Let's take a clearer look at their differences and then make a comparison to see which Vitamix model is the best to buy among the Vitamix e320 vs Vitamix 5200 blender reviews.
The following details below are the comparisons and differences between the 5200 and the Vitamix e320 explorian blender
Power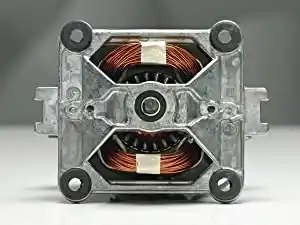 The Vitamix e320 has a more powerful motor than the Vitamix 5200. It's as a 2.2 horsepower and weigh 10.5 lbs, while Vitamix 5200 has 2.0 HP and weigh at 10 lb. With the additional horsepower in the motor, the Vitamix e320 can blend in high speeds which is suitable for tough ingredients.
Although, the difference is of the Vitamix 5300 is not much wide compared to the e320, as the Vitamix 5300 is also capable of pulverizing hard ingredients like nuts. By observing closely, we discovered the two blenders are powerful like the other Vitamix blender series. Despite all, the Winner goes to Vitamix E320 for its additional input in horsepower.
Blades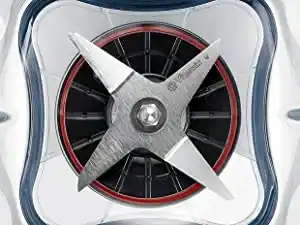 These two Vitamix blenders differ in terms of blades. The Vitamix e320 have 4-inch diameter stainless steel cutting blades and has a wider profile container which makes the blade longer to cover the area of the container for an efficient and effective blend.
On the other hand, the Vitamix 5200 has a stainless steel blade measuring at 3-inch in diameter due to the nature of the narrow container. Winner (Vitamix e320).
User interface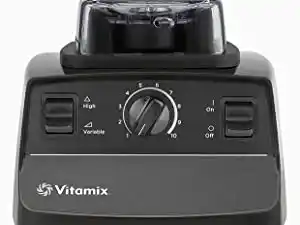 The interface of the duo is almost similar, just that the difference is brought by some additional features that are present in the Vitamix e320 but absent in the Vitamix 5200.
One of the outstanding additional features that were absent in the 5200 but were present the E320 is the pulse function button. However, Vitamix 5200 uses a variable switch and speed dial to switch from low to high speeds. Which could be hectic. Aside from that, the rest of the interface comprises similar features of Vitamix blenders.
Noise Levels
It's not a strange thing to know that Most of the Vitamix blenders are natural noisy but on comparing Vitamix e320 vs 5200. However, on making our finding, we discovered the Explorian e320 is less noisy compared to the classic 5200. This difference occurs simply because of the motor base integration as the e320 has a design motor base derives from the next-generation housing.
Containers
What about the containers of the Vitamix e320 vs 5200? Well, it's quite clear the containers differ in their design. While the Vitamix e320 is having a wide base and low profile, the Vitamix 5200 container, on the other hand, is a bit taller and narrow, this could be an advantage when preparing smaller amounts of ingredients.
Having seen the difference between the vitamix 5200 vs e320 blenders, let us take a look at there similarities, this will give us a clearer understanding about which is better and best to buy between the e320 and 5200.
Similarities between Vitamix 5200 vs e320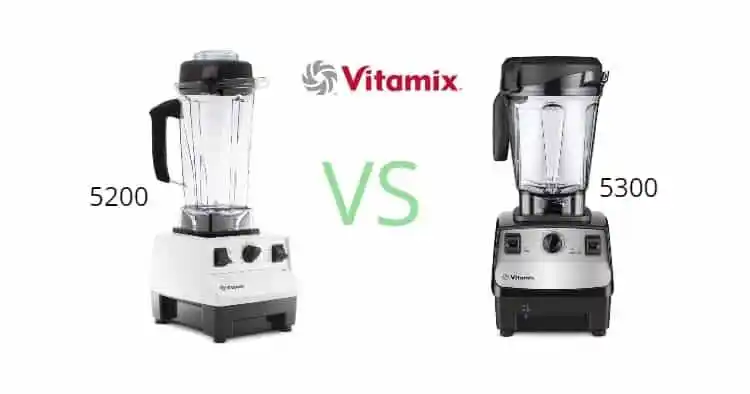 Having made our reviews, and comparison and highlighted the clear difference between the various packages of Vitamix 5200 vs e320, let's take a look a quick look at the similarities they both share.
Despite the Vitamix e320 explorian blender and the Vitamix 5200 professional-grade blender haves some differences such as in the case of the motor base, blades, interface, container and noise level, yet they both share something in common. Below are some of the clear similarities between the two blenders.
#1. Cooling Mechanism
It's clear to say that both Vitamix e320 and 5200 blenders are well protected against overheating.  They are well fitted with radial cooling and also have thermal sensors which make the blender auto shut down in case of high temperatures. However, If you notice an unusual increase in heat, you can as well shut it down immediately and reset the blender.
#2. What about design?
While doing findings and making a review, we discovered that Despite been that the containers of the blenders differ, yet the design is quite similar. The Vitamix e320 inherits most of it features from the Vitamix 5200. By mere looking at the blenders you could tell its a Vitamix blender because of there familiar appearances.
#3. Performances
Both of the Vitamix 5200 and e320 blenders are built to deliver high performance when blending as they all can grind tough ingredients into smoothies. Even, the motor power of the two blenders doesn't create a big difference in terms of performance.
The wider pitcher and longer blades on the Vitamix e320 create great space to extract the best blend by reaching all the body. Although due to the wide container in the e320 it could sometimes be challenging to blend small amounts of ingredients. Amazingly, the Vitamix 5200 offers great blending capability from small to a large amount of food.
#4. Ease of Use
Vitamix blenders are one of the easiest to use blender even for a beginner. This can locate all the controls. They contain the basic controls to operate the blender which is indicated their functions.
The speed dial variable settings help you to blend from low speed to high speed depending on the ingredients. Both Vitamix 5200 & e320 blenders come with a cookbook to help you start using the blender.
Note: It is crucial to remember that neither blender is dishwasher safe.
#5. Cleaning
Both Vitamix 5200 and e320 have a self-cleaning function to help clean the blender within a few seconds. This is done by filling the pitcher with warm water and drop the bar soap, by turning the variable dial it cleans itself. The wider pitcher of Vitamix e320 can be easily cleaned using hands.
#6. Warranty
Both the Vitamix E320 and 5200 offer a seven-year warranty when you buy them brand new. This includes both labour and parts.
Note: please be reminded that the reconditioned blender warranty differs from the official 7 years warranty offered by the company.
#7. Prices
The Vitamix E320 explorian blender is cheaper compared to the Vitamix 5200 classic blender. You can check out the E320 blender current price and the Vitamix 5200 classic current prices.
Have you taken a look at the current price of the e320 and 5200 blenders you felt like you can't afford the current price tag at which they are been sold?. Oh don't worry, we've got you an alternative with same features, which is the certified reconditioned Vitamix blender.
The below guide will help you understand how you can go about purchasing the certified reconditioned Vitamix e320 or 5200 blenders.
How to Buy a Refurbished Vitamix blender?
Vitamix blenders are no doubt expensive. Hence, if you want to knock at least a $$ bucks off an E320 or a 5200, we suggest you buy one that has been declared 'certified reconditioned'.
'Certified reconditioned' is the term used by Vitamix's as a means of saying refurbished. However, their refurbishing process is strictly more thorough than the way most other blender brands subject their returned product. But, How?
Well, Under a rigorous 17-step process, Vitamix checks whether each blender component is functioning as expected, and replaces any defective parts. Not just that, they also as far as replacing any missing extras such as tampers and cookbooks, then repackage it as just like brand new, but place it under the reconditioned category.
The advantage of buying a reconditioned Vitamix  E320 or 5200 blender is that you get a brand new blender at a much lower price compared to the actual newly built one. The only drawback is that you only get a five-year warranty.
However, that shouldn't be an issue considering how durable Vitamix blenders are. You can get the certified reconditioned blender using the links below.
Buy Vitamix E320 reconditioned blender(Renewed) or if you do prefer the 5200 series, then you can buy Vitamix 5200 recondition blender(Renewed).
FAQ's About The 5200 And E320 Models
Want to know what customers like you are saying about the Vitamix 5200 and the Vitamix e320 explorian blenders? Below are some regular questions and answers which has been of help to users and might be of help to you.
#1. Can Vitamix e320 make hot soup?
Yes, the Vitamix e320 does make hot soup. The Explorian Vitamix e320 liquidizer has a 2.2 horsepower which capable of turning your recipes into soup within a few minutes. You can start with cold water to mix the ingredients using the blender until maximum results are achieved.
#2. Can you juice with a Vitamix?
Yes, you can make tasty juice using your Vitamix blender, So you Do not need a juicer if you already have a Vitamix blender. However, If you can afford to own a juicer separately, then you can check out our review list of the best juicer machine.
#3. What can Vitamix e320 do?
Sure, The Vitamix e320 is a strong and solid blender, it's capable of doing a lot of task such as Baby Food, Hot Soups, Batters, Frozen Desserts, Non-Dairy Milk, Food Prep, Smoothies & Juices, Dressings & Sauces, Nut Butters, Flours & Dough
Dips & Spreads and lots more. With the e320, you can perform a lot of prep.
#4. Why does my Vitamix smell like burning?
It's normal to experience and passive burnt like smell when heavily used. When you are making use of the blender, the electricity going through the motor heats the engine. This heat is capable of vaporizing oils and other stuff on or near the motor. Thus gives this burning or hot smell.
PS: whenever you experience or passive such smell, all you need is to pulse and not continue using the blender, leave it for roughly 30secs – 1min before you proceed with your blending.
#5. Is the Vitamix 5200 loud?
Yes, most powerful blenders are mostly noisy, and for the fact that Vitamix has a series of powerful blenders, so if you hate noise, you may want to stay away from these model. However, its a bit cool than the e320 which is even more loud. The vact is that both the Explorian blender and 5200 is loud.
#6. Does the Vitamix E320 self clean?
Though the Vitamix doesnt indicate a self-cleaning feature, its worth knowing that With a drop of dishwasher soap and warm water, you can have it clean itself with 60 seconds.
Conclusion: Which model of Vitamix is the best?
If you are ever wondering Which is the best Vitamix blender to buy between the 5200 and e320 (also known as Vitamix Explorian), we believe with our "Vitamix e320 vs 5200 review challenge", you should be able to come to a conclusion on which is best for your needs.
Despite the e320 and 5200 having some differences, it's quite clear from our comparison that they both are great in terms of performance and functionality.
Although the 5200 may suit some people better, the E320 explorian should be declared the best overall blender base on our vitamix e320 vs 5200 comparison challenge.
In my opinion, you Should Buy the Vitamix 5200 that if you care about more color options aside from black, or if you are the type that makes food only in small batches.
Aside from that, i will suggest you buy the Vitamix E320. Because with it, You can make salsas and sauces very often. You can also make use of it to cook for a larger household, and its cheaper compared to Vitamix 5200.
With our clear difference and comparisons between the Vitamix explorian vs 5200 blenders, This indeed looks to be the best time to act accordingly.
So why don't you place an order right away for your chosen blender, rather than you waiting for another day? As always, we look forward to having you around again, and don't forget to check out similar reviews about the Vitamix E320 vs 7500.