5 Best Juicer for carrots juice of 2022 – Pick's & Reviews
Unlike orange juice, Carrot is a root vegetable that is often claimed to be perfect for healthy foods. It's a crunchy, tasty and highly nutritious vegetable that is a good source of beta carotene, fibre, vitamin K1, potassium, and antioxidants. One of the possible ways to enjoy carrots is by making use of them to prepare a tasty juice by extracting it through the user of a juicer.
However, getting the right juicer for your need might become a daunting task due to several available juicers in the market. For this reason, we conducted our research and also came up with our reviews of the best juicer for carrots you can buy.  We also included a buyer's guide for you to understand what is needed when choosing the best juicer for carrots juice preparation.
Best machine for carrot juice – Top pick
Related Stories featured on Reviewmast 👇
Below our top pick of best carrot extractors, we recommend every planning to make a tasty carrot juice. You can also check out our interesting review of the best celery juicers, and also the best personal blenders.
Best Overall: Breville 800JEXL carrot juicer
Best Quiet: Omega J8006HDS carrot juicer
Best inexpensive: hamilton beach 67601A
Best Vertical: tribest slowstar vertical slow juicer
Having gone through our quick review of the best carrot juice extractors, let us have a detailed review to get the full specs of the juicers.
Best juicer for carrots – Reviews
1. Breville 800jexl fountain elite juicer – best overall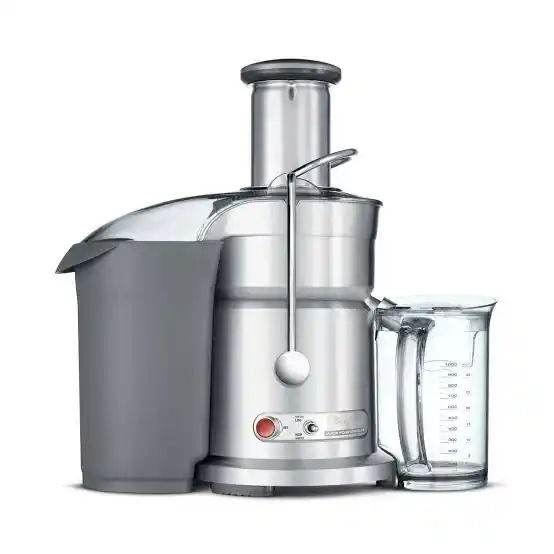 Coming up with the first on our list for the best juicer for carrot is the Breville 800JEXL juice fountain elite juicer. This Large capacity pulp container with integrated handle juicer runs on 1000 watts of two Speeds control settings which are 13,000 RPM or 6,500 RPM, the 13,000RPM high speed for juicing hard produce and the 6,500RPM for soft ingredients. It's a perfect juicer for those who are looking to embrace the power of professionalism and are looking to experience a commercial performance.
This Rolls Royce' of Juicers features die-cast metal that is perfectly matched with power. It has a Heavy-duty 1000 watt motor base with a dual Speed control function making it a Unique Extraction System. Also attached to it is the unique 3" extra-wide chute feed tube for short prep time without pre-cutting and a dual-Speed Electronic switch Control button that is meant for softer or denser produce which includes vegetables and fruits. Easy clean-up & dishwasher safe and BPA-free parts to ensure safe use and its 
Pros: Steel Housing, Two Speed Settings, 1 Quart Capacity, Extra Large Chute and BPA free material
Cons: Pricey compared to others on the list, Some reports of unusual rusting.
If you are looking to make a perfect carrot juice, the Breville 800jexl centrifugal juicer is the best buy juicer you can always look up to make a tasty carrot juice.
2. Omega j8006hds Quiet Masticating Juicer
Omega J8006 carrot juicer is our recommend juicing machine for those looking to buy a quiet juice extractor. If you are the type that loves juicing in the morning and would like to get a quiet juicer to prepare your favourite vegetable juice which includes carrot, beets, celery, or wheatgrass and leafy greens such as kale, cabbage and spinach. With this Professional grade Omega juicer, you can make a healthy juice without heat.
The Omega J8006 masticating juice extractor features a powerful 2-Horsepower motor base, adjustable 5-settings for maximum juicing, an automatic pulp-ejection function for continuous juicing, four stabilizing feet, and quiet operation. It also runs at 80Rpm which helps to juice at a slow process Without Heat to easily access nutritious enzymes that help to improve immunity and overall health. This omega juicer is Easy to clean and has a 15-YEAR warranty.
Pros: Quiet Operation, Easy to Use, Easy to Clean, & 15-year warranty.
Cons: Requires ingredients to be finely chopped.
With This Omega J8006HDS Multi-purpose Nutrition System juicer, you can do so much from juicing from blending to mincing and grinding.
3. Hamilton Beach 67601a juicer – best value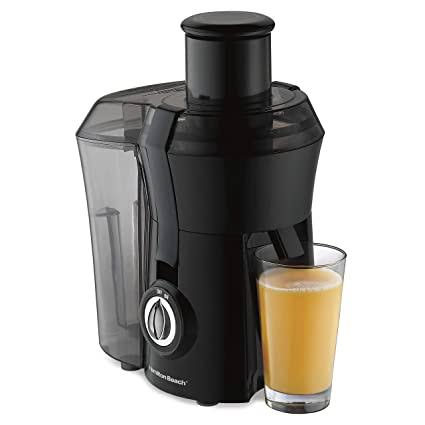 On our list of the third-best juicer for carrots is the hamilton beach 67601A pro juice extractor. The budget-friendly juicer is a 3 inch Big Mouth Feed Chute that Fits Whole Foods so you can make an ideal juice drink that's fresh, free of preservatives with less pre-cutting and more continuous juicing. You can conveniently make your juice without the need to stop the process for you to empty the pulp.
The hamilton beach big mouth pro juice extractor features a powerful 800-Watts motor base that's Makes Fresh Juice quickly and a Stainless-steel micro-mesh cutter/strainer that can turn a dense beet into a smooth juice in few seconds. It also comes with a Latches lock juicer lid that is securely fit into place, plus Dishwasher safe parts, a Recipe and juicing tips to get you started.
Pros: powerful motor, large chute feed, best valued for money, easy to clean, BPA free parts and cleaning brush
Cons: not too cool for liquid and struggles with volume.
If you are looking to make a variety of Healthy, homemade juice in seconds, and you need the best cheap juicer to make carrot and beets juice, then the hamilton beach 67601a juicer is the best choice to make.
4. Tribest SW-2000 slowstar vertical juicer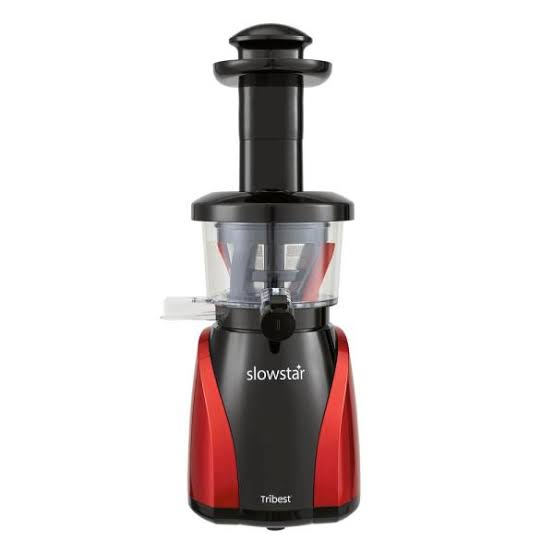 Coming on our list of the fourth-best carrot juicer is the tribest SW-2000 cold press juicer. If you have limited space in your kitchen and yet you need a juicing machine to make your favourite beets and carrot juice, you will need to opt for the tribest slow start juicer. It is a slim juice extractor and has an upright design that can fit in your storage cabinet or on your kitchen countertop.
The Tribest SlowStar Juicer machine features a powerful and efficient 200W motor for a higher juicing yield in less prepping time, a 47 RPM super slow speed, making this juicer almost silent, Duo-blade auger for fast and easy juicing. Its juicer cap makes it easy to switch between containers while juicing without creating a mess, mincing attachment and a 10-year warranty.
Pros: Power motor for effective juicing, vertical shape which fit into counters and cabinets, mincing attachment and 10years warranty.
Cons: Not cheap, Small feed chute which requires a lot of precutting.
If you having a little space in the kitchen and yet need the best juicer for carrots and beets prepping to make your favourites juice, then the tribest juicer is the best choice to go for.
5. Breville bje200xl compact juice fountain – Best Uk Juicer
Though cant is compared to our top picks of best juicers for carrots juice prepping. Breville bje200xl juicer as unique 3" extra-wide chute feed that allows you to juice whole fruits and vegetables without pre-cutting just in a short prep time with its unique extraction system that's made out from stainless steel and a titanium cutting disc for an optimum juice and nutrient extraction.
The Breville bje200xl carrot juicer features a 700Watt motor base, stainless steel cutter with a speed setting of 14,000 RPM, plus a large chute, and a heavy-duty design that should ensure that it will stand the test of time. It also comes with a safety locking arm that makes it impossible to operate without the locking arm and juicer cover properly fix, a froth separator that makes a clean, crispy cup of juice, and a micro-mesh filter that extract the juice from the produce.
Pros: Easy to Clean, Large Chute, 1-year limited warranty
Cons: not cool for leafy greens, Not very thorough
If you need the best compact juicer to make your favourite carrot and beets juice. the Breville bje200xl compact juicer is a good option for UK based residents.
carrot juicer machine – Buyer's Guide
Are you ready to start juicing and do you need a juice extractor to get going? Below are some of the important features to note down when picking a juicer for easy juicing of your favourite fresh carrot juice.
Type of Juicer: There are there are different types of juicers for juicing, the one you go determines our efficient your juice will be. However, the most popular types of juicing machines are the masticating juicer and the centrifugal juicer models.
Masticating juicers also known as cold press juicers are the best type of juicer you can always wish to have if you aim to achieve and drink natural juices that are made either from carrots, beetroot, apple, celery or every other vegetable or fruit produce. The masticating juicer models are often quieter than the centrifugal models, it uses gears that rotate at a steady rate to juice contents through the sieve and presses out the liquid slowly from the produce. You can learn more about the best masticating juicers.
Centrifugal juicer is Crafted with sharp blades that run at a high speed and wrap up juicing in no time. It separates the juice from the pulp and filters it through its sieve. While you can expect a faster juice process, you are sure to spend less time chopping through whole produce. Centrifugal models are best suitable for those with little storage space in the kitchen as they take up less room due to their streamlined design.
Size and Weight: when planning to buy a juicer most especially if you are having less space for storage, you must consider the size as well as the weight of your juicer machine. This will determine if you can place the machine at the top of your counter. The vertical shape juicers they are slim sized in design. The Horizontal-shaped style, such as masticating juicers are best suitable if you have enough kitchen space. However, if you need something lightweight, the Centrifugal juicer models are the ideal machines to pick from.
Durability: when thinking of getting a juice extractor most especially a Commercial carrot Juicer or any other commercial juicer, it's often advisable to get to know the durability of the juicing machine. The quality and features of the juicer you are opting for determines the price value. A heavy-duty build streamlined juicer with high-quality and durable materials is always recommended. However, they are often the pricey type you can see on the market. But they are often worth the price tag due to their versatility and durability. 
Warranty: last on our list of guides to choosing the best juicer for carrot juice is the warranty. Like every other kitchen tool available on the market, the warranty period of a juicer machine plays a significant role in how quality and durable the juicer is. Although that doesn't mean a longer assurance would always define a quality juicer nor a shorter assurance define a less quality juicer, but it helps give a value of what the company believes to be the best gadget they can offer.
FAQ's about carrot Juice Extractor
Which juicer is best for carrots juice?
If you intend to make carrot juice or any other fruit or vegetable juice, and you are wondering which juicer is best for easy juicing of produce such as beetroots, celery, apple, ginger and carrots, we would be happy to recommend to you the Breville 800JEXL as our overall best juicer machine for carrots and beets juice. Those are the popular brand of juicer that is best for carrot juice
When is the best time to drink carrot juice?
Carrot juice is a great tool for cleansing the body from harmful toxins and compounds, it's a great means of curing diseases and health-related diseases. While there is no actual time to drink carrot juice, it's essential to know that carrot juice is sugary, so it's advisable not to drink it when going to bed at night. Rather you can consume it in the day or some hours before going to bed.
Conclusion:
Having gone through the list of our recommended carrot juicers that are suitable for your needs and wants, base on our findings and reviews, we discovered that Breville 800JEXL carrot juicer ranks the overall top X best juicers for carrots and beets juicing.
However, if you need a quiet juicer to make your favourite carrot juice then the Omega J8006HDS is the most recommended juicer. Also as an alternative, the Breville bje200xl is the best carrot juicer machine for those residents in the UK and Australia. You can also take a look at our collection of Best manual juicers for carrots and Commercial carrot Juicer reviews.