Best Easy-To-Clean Blenders of 2023: Top 5 Picks & Reviews
Nobody likes stress. Right? And Nobody wants to spend unnecessarily long hours on one task. Well if you're in the same shoes as "Nobody" and you're looking to buy blenders that will not keep you in the kitchen long after your blending operations are done, then you're in the right place.
I'm sure that while you're after easy-to-clean blenders, you're also after quality blenders. I mean; who wants to buy something they can easily clean if it won't get the blending operation done? Of course, no one wants such.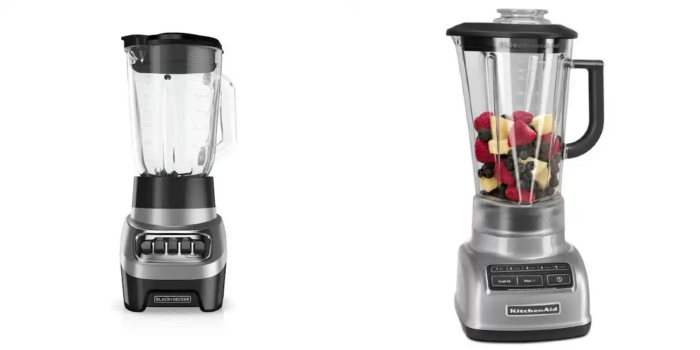 Related Stories featured on Reviewmast 👇
So, in the course of this article, we're going to be bringing to your notice the "8 blenders that are easy to clean" but still fit the bill; and will equally get your blending operations done with satisfactory results. To begin, let's see the top favorites.
The Easy-To-Clean Blender Top Picks
Best Overall: Ninja BL610 Professional Countertop  Blender
Best Value: Vitamix 5200 Professional-Grade Countertop Blender
Best Affordable: Black+Decker PowerCrush Blender
Most Versatile: Nutribullet (NBR-0601) Personal Blender
Best High-End: Cuisinart SPB-7CH SmartPower Bar Blender
The 8 Best Easy-To-Clean Blenders
#1. Ninja BL610 Professional Countertop  Blender
Ninja BL610 is a powerful blender with 1000 watts of an engine which is perfect for preparing smoothies, juices, and other recipes, this blender is easy to clean due to the BPA-free, dishwasher-safe plastic 72oz jar. The jar provides you with enough capacity for your entire family.
This Ninja blender is very easy to operate as it has a variety of settings that make it valuable for different recipes. The sets include power, pulse, low, medium, and high buttons which allow you to break your ice into many pieces.
Lastly, after using your blender, all you must do is put the removable parts in the dishwasher safe and prepare your blender for another task.
Pros: Dishwasher safe, easy to use, easy to clean, large container size, affordable pricing
Cons: Noisy during blending, the Jar is of plastic material.
#2. Vitamix 5200 Professional-Grade Countertop Blender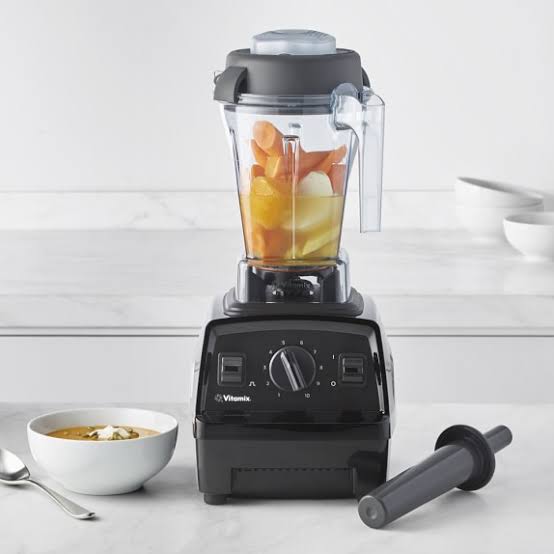 Not satisfied with the first option and still looking for another best blender that is easy to clean? Well then, the Vitamix 5200 is what you want because, unlike others that require you to either put in and take out of a dishwasher or require you to take some time detaching their parts, the self-cleaning function of the Vitamix 5200 does all the work for you.
It features a 64-ounce capacity container that is enough for medium/large families and it is one of the most versatile and durable blenders with 1380 watts of high engine power. It is also great for making hot soup.
However, it requires you to put some warm water and a drop of dish soap into the blender and blend for about 60 seconds, and you will see and feel the magic.
Pros: self-cleaning feature, unique durable design, quick cooling capacity, and consistently smooth blends
Cons: Noisy during blending and quite expensive
#3. Black+Decker PowerCrush Blender 
If you had an affordable multi-functional blender in mind, then you will love this Black+Decker model. Valued at a fraction of the price of the Ninja Professional, this blender features a 700-watt motor, 4-speed settings, and a 6-cup glass jar. Thanks to the hinged ingredient slot, you can add liquids and solids with the lid on during blending.
The Black-Decker boast a 4-Tip QuadPro Blade Technology that creates a powerful vortex and constant flow for smooth results. Its well-designed spout keeps the user from making a mess while pouring. And with regards to cleaning; all parts, the jar, blades, and lid are dishwasher-safe.
Pros: Affordability, dishwasher compatibility, 6-cup capacity, and a thick, sturdy glass jar
Cons:The base is not sturdy enough, thus making it a little bit difficult to attack ice and frozen fruits
#4. Cuisinart SPB-7CH SmartPower Bar Blender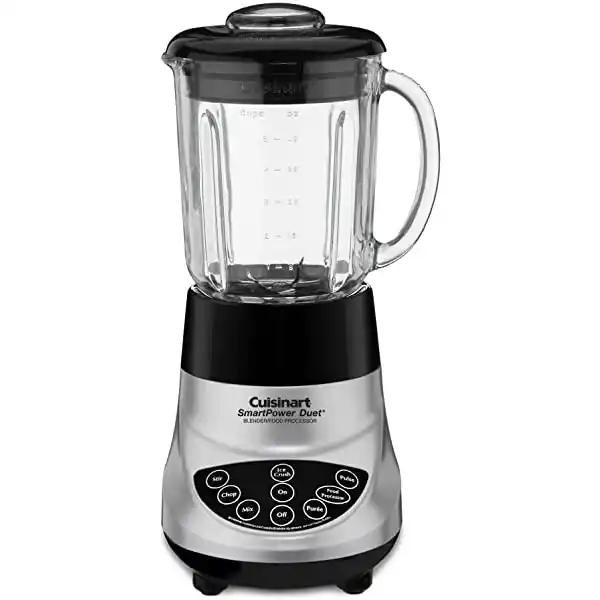 This blender gives you 7 programmed options and a touchpad that is easy to read and use. With just a simple push of a button, you can pulse, mix, stir, liquefy, puree, crush ice, or chop. If you have a small family, the 40-ounce glass jar will be adequate, but you can always blend more than once if it's a big gathering.
For easy cleaning, the glass jar is dishwasher safe, and it can be taken apart very easily. The blades, on the other hand, have to be immersed in warm water and hand-washed.
Bearing a 500-watt motor, the blender can handle many tasks with relative ease, but usually has some trouble cutting through ice and frozen fruits.
Pros: 7 programmed options, dishwasher-safe jar, easy-to-clean blades, easy-to-read, and use touchpad, and a 3-year warranty
Cons:base is not sturdy enough, has difficulty cutting through ice and the plastic components sometimes run the risk of getting heated up during blending operations
#5. KitchenAid KSB1575MC Diamond Blender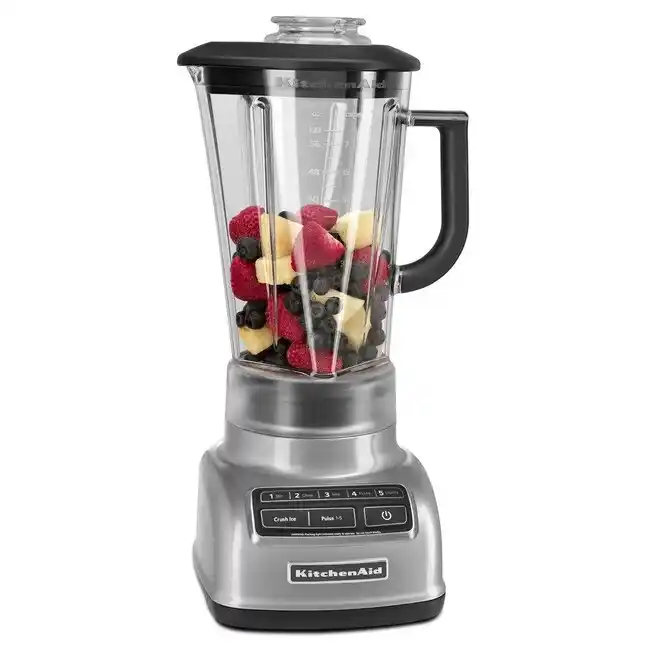 The motor on this KitchenAid KSB1575MC Diamond Blender may not be as powerful as the motor on most of the other blenders featured so far, but it gets things done. Whether you want to stir, mix, chop, puree, or liquefy, it has 5-speed settings to achieve various textures. Its BPA-free plastic jar is stain and scratch-resistant and can hold up to 60 ounces.
This model comes with a self-cleaning option, and the jar is dishwasher-safe. Owing to a marvelous piece of technology called the Intelli-speed motor control, this blender can sense the content of the jar and adjust the speed accordingly, while its soft-start feature enables the blending to start slow to pull the ingredients into the blades for even texture.
Pros: Self-cleaning feature, dishwasher-safe blending jar, Intelli-speed motor control, soft-start function, and a 5-year warranty
Cons: The blender is noisy during blending and its blades cannot be disassembled
#6. Nostalgia 64-Ounce Margarita Maker & Slushie Machine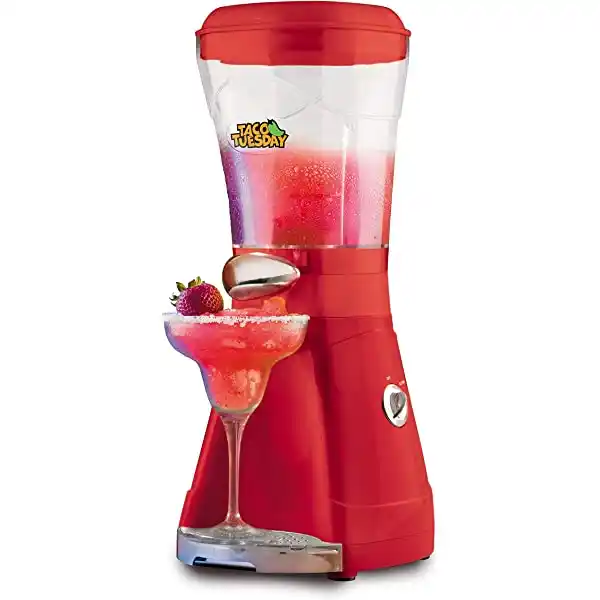 With its consistent performance, ease of use, and quality build, this Nostalgia machine easily earns its spot at #6. From accuracy to portability to power and sturdiness that is very impressive, this blender features an easy flow spout to flawlessly dispense consistently smooth, frozen, and a 64-ounce capacity perfect for making daiquiris in sizable, copious quantities.
Its stainless-steel blending cage combined with a powerful motor finely shaves beverage into a delicious mix with no large, uneven chucks like regular blenders can leave behind and the detachable shaving-blending chamber and base make for an easy clean-up. This blender is a magnificent choice if you're looking for top-notch results and great value.
Pros: Easy flow spout, large enough capacity, detachable parts that makes it easy to clean
Cons: Limited speed setting. The detachable parts can also be a liability as it leaves the blender susceptible to damage
#7. Ninja (BL660) Professional Countertop Blender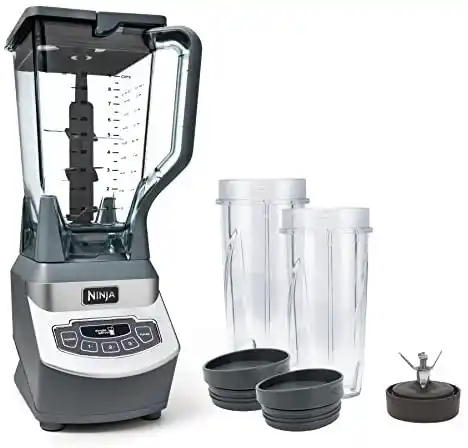 Simple, yet solid, the BL660 is a great mid-range blender that features extra cups, a 3-speed setting, 1000 power wattage, and a 72-ounce pitcher ideal for turning out large quantities. This is easily among the best blenders because it can perform all the basic functions with little effort and with accuracy.
Also featuring two ring lids to keep pressure without cracking, this Ninja blender 660 is ideal for holding food in the place. It also comes with a guidebook, despite its seemingly easy-to-use interface. And the recipe book it comes with adds to the blender's lure. The motor and blades of this blender can be separated to facilitate washing, making for easy cleaning.
Pros: This blender is easy to clean, versatile, features variable speeds, and is dishwasher-safe
Cons: However, the blender is also expensive
#8. Nutribullet (NBR-0601) Personal Blender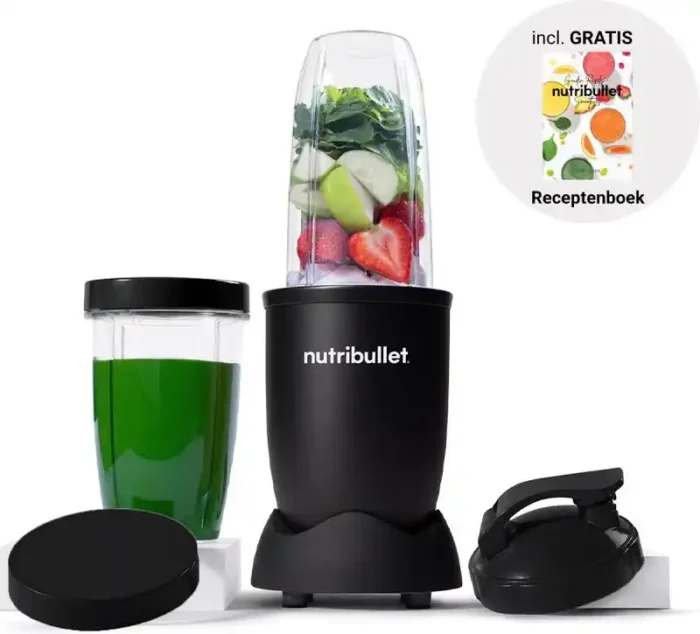 For a convenient and affordable way to blend your healthy meals, a Nutribullet personal blender is the best option. This personal blender is a small, portable, lightweight machine that quickly is used to create juices, protein shakes, smoothies, soups, and other meal items.
As if that's not enough, the bullet-like design will give you comfort for easy cleaning. Just rinse with water and soap and put the cups in the dishwasher. The Nutribullet powerful 600-watt motor and the extractor blades will provide you with all the nutrients from your ingredients.
This personal blender comes with multiple attachments like the 24 oz cup, extractor blade, to-go lid, lip ring, and recipe book, allowing you to make various drinks and food. They're also relatively affordable, making them a good option for on-the-go meal preparation.
Pros: Easy to clean, dishwasher safe, versatile extractor blade, 1-year warranty 
Cons: Plastic material that easily suffers wear and tear, also noisy during blending operations. 
How we chose; Buying Guidelines
Before we call it wraps, it is pertinent that I intimate you of the important factors considered while choosing the above-mentioned recommendations you must check the;
Power of the motor.
The capacity of the blender.
The material and design of the blender.
The functionality.
Overall Performance.
The operating system of the blender. 
With the above factors, duly taken into consideration, you're bound to end up with the perfect easy-to-clean blender for your needs
Conclusion
Finally, a strict commitment to the above recommendations and I promise you; you can take out and use your blender whenever you want without the fear of how you'll clean it out.
Try not to deviate from the list of our top easy-to-clean blenders which I've carefully chosen and you'll be amazed how much time you'll save yourself. I hope this guide will help you select the one that meets your requirements the most.