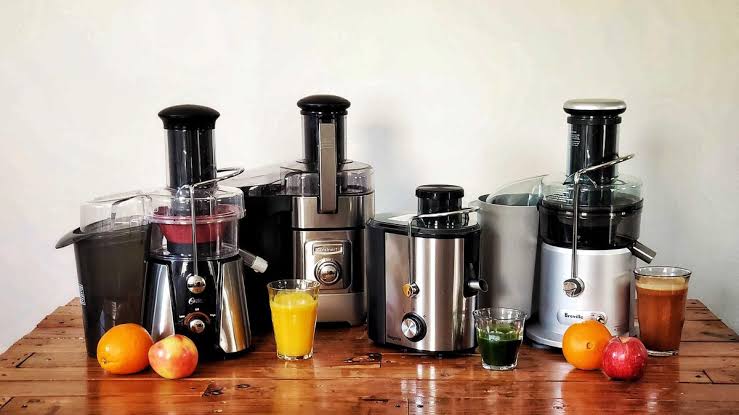 5 Best Breville juicers of 2022 – Buyer's Guide
Breville is one of the popular or well-known brands that are specialised in producing machine for juicing. They are also among the good brand in products such as tea maker, blender, and some well known essential kitchen tools.
While i was busy making reviews about the best cookware, i discovered a lot of people wanting to buy a juicer. However not limited to just a certain brand, but various brands of juicers available on the market. So i decided to make some findings and pick up some of the top popular juicer brands which include the Breville juicers.
Although we've made reviews of some of the best juicers by brands and models, which includes the best black and decker juicer reviews, and also the best hurom hp slow juicer. This time, we thought about making findings and coming up with the Best Breville juicer reviews. However, before listing the best Breville juice machine, we need to understand the difference between this Breville juice extractor.
Related Stories featured on Reviewmast 👇
What is the difference between the Breville juicers?
There are three categories of Juicers on the market to buy which includes Masticating, Centrifugal and Triturating juicers. These three types of Juicers vary in how they process and extract juice from it produces. So you must understand what to look for when choosing a juicer. But you might wonder what Breville juicer should i buy.
The Breville juicer models which we review consist of both the best juicers for vegetables, greens, and some other produce. You can also refer to our juicer buying guide below to learn more about what to look for in a juice extractor, and how we came up with the best Breville juicers.
Breville juice extractor – Top Pick's
Best Overall: Breville 800JEXL Juice Fountain Elite Centrifugal Juicer
Most Quiet: Breville je98xl juice fountain plus juicer
Best Value: Breville bje200xl Juice juicer
The Best Breville Juicer Reviews
1. Breville 800jexl juice fountain elite Juicer – Best Overall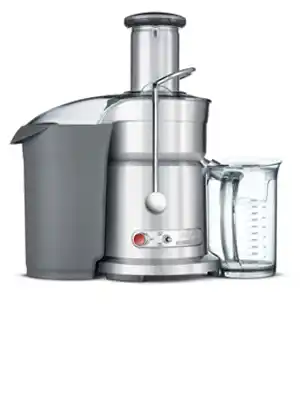 Breville 800JEXL Fountain Elite which belongs to the centrifugal class is the most favourite and well-rated Juicer model amidst the Breville brand. With it, you can get the most juice possible out of your fruits and vegetables without having difficulties. It can also be used for kale and beetroots.
The Breville 800JEXL elite juicer runs on a powerful 1000 watt motor and provides 2 control speed settings of 13,000 RPM or 6,500 RPM so you can adjust and take control of your juicing. Also, it as a 3-inch extra-wide feed chute that makes it possible to accommodate full produce in other to save you time and effort of chopping produce into pieces, a direct central feed system for maximum juice extraction, titanium Reinforced cutting blades and BPA free material with dishwasher safe parts.
Pros: 1000 watt motor, 2rpm speed settings(13,000 & 6500 for hard and soft produce), 3-inch wide chute, BPA free parts, 1-year warranty.
Cons: Pricey and Not suitable for leafy greens
If you care more about commercial performance, and you don't mind going for a centrifugal juice extractor, the Breville 800JEXL should be the best Breville juicer to buy due to its Unique Extraction System with Shortened Prep Time possibility.
Read More: Best Juicers for celery juice
2. Breville je98xl juice fountain plus – Most Quiet
Breville je98xl fountain plus is our second choice on the list of the Breville juice machine. The juicer comes from Nutri Disc and the patented juicing system extract more nutrients and transfers less heat in other to protect enzymes and maximize nutrient absorption and makes it possible to juice a variety of produce.
The Breville je98xl juice extractor features an 850-watt motor and dual Speed control settings for juicing hard and soft produce. It also comes with a powerful cutting disc to juice fruits and vegetables in large chunks with the rind on. Also, this juice also an extra-wide 3-inch feeder chute that accommodates large chunks of fruit or vegetables, a large-capacity pulp collector, Easy to clean BPA free and dishwasher safe parts.
Pros: Just 850-watt motor, 2-Speed settings, Quiet,  not much expensive and 1-year warranty.
Cons: Not suitable for greens such as kale and spinach.
The Breville je98xl juicer although not the best it lacks professional quality feels. If you care more about a quiet juicer to make juice, this Breville juicer would a good choice to make.
Read More: Best Juicers for ginger juice
3. Breville bje200xl Juice Extractor – Best Value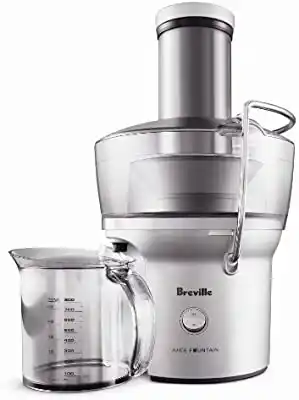 Breville bje200xl juicer though is a small juicer, but delivers the expected performance and can conveniently collect pulp within the footprint of the unit to conserve counter space. This heavy-duty compact juicer is suitable for juicing veggies and fruits.
The 9.68 pounds Breville bje200xl Juice Extractor features a 700 watt motor with single speed settings that runs at 14,000 RPM for max extraction. It also has a Stainless steel cutting blade for unique Extraction, a unique 3" extra-wide chute Shortened Prep Time and Built-In Froth Separator that stand as a Juice Jug. Plus a dishwasher safe body parts and 1 Year Limited Warranty.
Pros: 700-watt motor, portable, dishwasher safe and 1-year warranty.
Cons: not large enough for family size, loud, and single speed control settings that run at 14,000rpm.
The Breville bje200 is a compact and lightweight juicer that can be used to juice for 1-2 people. its also cheap compare to the other juicers. Which is About one-third the price of our overall Top Pick
Read More: Best Juicers for carrot reviews
4.  Breville BJE430SIL Juice Fountain Cold Press Juicer
Coming up as fourth on our top pick of the best Breville juicer is Breville BJE430SIL Juice Fountain. This juicing machine minimizes damage to delicate vitamins and minerals from heat and processing. So you can juice your favourite produce.
The Breville BJE430SIL extractor which weighs 11 pounds features an 850 Watts motor, stainless steel cutting disc and 2 Speed electronic Control setting that runs at 1300 rpm for hard and denser produce and a low speed of 6500 rpm for leafy vegetables and Soft fruit. Additionally, it comes with a 3-inch wide feed chute that makes it possible to accommodate large produce without worrying about getting it chopped and a 70ounce capacity jug. Plus its dishwasher safe with a 1-year warranty.
Pros: 850-watt motor, 2-speed settings, wide chute, Safety Locking, 1-year warranty.
Cons: doesn't produce dry pulp.
The Breville BJE430SIL juicer as dual-speed control settings that makes it possible to juice both hard and soft produce. Although doesn't generate dry pulp, we still considered it one of the best Breville juice extractor.
Read More: Best Juicer blender combo reviews
Juicer Buying Guide:
Like we earlier stated, Breville is a well recognised and trusted brand in the juicing world. They have got many juicer models you can choose from depending on your budget and requirements or specifications.
But to get the one that best suits your needs, we did a good job by listing some essential feature of a good juicer which includes and not limited to power (motor), extraction, control speed settings, usability, loudness, and warranty. All this we kept into consideration while coming up with the best Breville juicers
Motor: it's essential to know that the motor is the backbone of every machine. The higher the watt, the stronger the motor. While there are juicers with low power, there are some that are higher. Typically juicer power ranges from as low as 550wattage to as high as 1500wattage.
Also, higher power motors mean more noise. So if you need a quiet juicer, you should be okay with lesser power of about 650watt.
Extraction: Typically, Juicers are uses sucking techniques to suck fruit and veggies through and give you a glass of juice to drink and leftover pulp that is meant to be thrown away. A great juice extractor tends to extract much juice from the produce and leaving it with dry pulp. Although Juicers can vary widely in their effectiveness, with some machines and settings leaving you with a soggy, dripping mass of pulp that would require you squeeze it out manually with your hands, while some juice out the liquid from the produce and leaving you with dry pulp.
Control: Another indicator of a good Juicer is the speed control settings. If you are the type that is always in a hurry probably because you've got places to go, and you need to make some fruit or vegetable juice, you might think you only want one setting that requires not much tweak – fast. Although your juicer doesn't need settings to perform, it is a very nice thing to have such a feature. The centrifugal run at a slow speed of around 6,500 RPMs and the fast speed is around 12,000 RPMs. Those juicers with just one setting only possess a higher speed(12,000).
Usability: Also, while choosing your preferred juicer from our best Breville Juicer reviews, its necessary you put some finds into its usability to learn how easy it is to use. A good juicer should be Easy to Setup, Use and clean.
Loudness: Juicers are either loud or louder. It's critically important to put your mate and or family into consideration when shopping for a juicer. If you are the type that love sneaking out of your home at 5 am with a to-go cup of freshly brewed juice while your family are asleep. Then you probably would want to go for a quiet juicer. The lesser the power, the more quiet juicer you are likely to get.
Warranty: if you are going to purchase a juicer, its important to go for a juicer with a longer warranty. So if anything goes wrong, rather than having to pay for a repair, good warranty coverage play its role in helping you get the opportunity of having your Juicer repaired or replaced with no charges. Breville offers a 1-year limited warranty on all of their juicers, so if something should go wrong with your Breville juicer, all you need to do is to contact the company directly to get it sorted.
Types of Juicers: Triturating vs Centrifugal vs Masticating.
There are three types of juice extractors(also known as a juicer): which are centrifugal, masticating, and triturating. Also know that the masticating juicers are also known for there names such as: "single gear, cold press, and slow juicer". Whichever name you to choose to call it, they are all the same. You can find the best Breville juicer from among these three categories of juicers
Triturating: Triturating juicers are high-end, specialized juicing machines, and they are of the pickiest dedicated juicers. Although expensive, they are capable of juicing almost anything and also retaining the highest percentage of nutrients and enzymes. However, you do not need this type of juicer except you are an Olympic athlete.
Masticating: Masticating juicers are much more common in the average household, they are meant to slowly extract juice from produce with little to no heat through the pulping mechanism.
These slow juicers are preferred by some people mainly because they take their time to extract a greater amount of juice from produce and also prevent degradation of juice caused by heat, which can result in loss of nutrients and fancy enzymes. Also, you can make use of this masticator for non-juicing tasks, like making baby food, or nut butter.
Centrifugal: Centrifugal juicers are the most commonly used type found in homes and are time-saving.  They can be bought for fewer dollars, or even still much less money, and they good at extracting plenty of juice and nutrition from your produce. You can also use it to juice whole fruits and vegetables, without having to worry about chopping them. If you want to make juice with ease, you may want to go for the centrifugal juicer.  All the Breville juicer models we've reviewed here are centrifugal.
Conclusion:
From our review, we were able to come up with the best Breville juicers. According to our findings, we discovered that the Breville 800JEXL model ranked as our overall Best Breville juice extractor. As an alternative, the Breville BJE430SI model took the second position from among the models, although not as quality and durable as the top pick.
If you something cheaper, you might want to go with Breville bje200xl  model, as we considered it to be the cheapest Breville juicer despite its wonderful features. In all we have said, the fact remains that choosing the best juice machine is something that should make personal base on what features you are expecting to see your juicer model have.