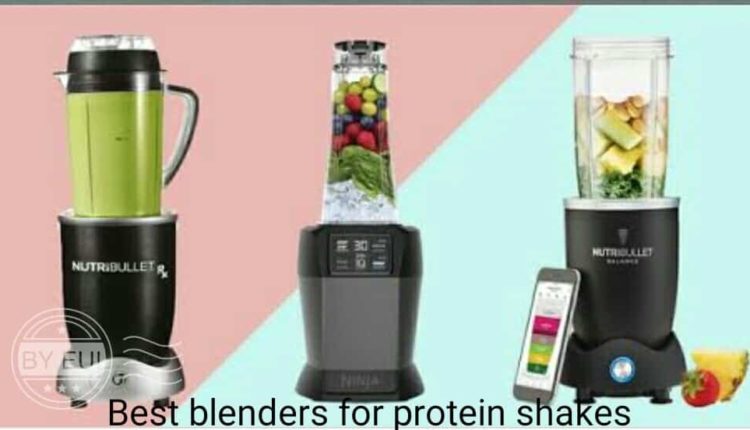 8 Best blenders for protein shakes [2023 update] – Top picks & Reviews
Our top picks of protein shakes maker which includes the quiet, professional, cheap & portable protein blender.
Are you looking to get a new protein shake blender? If yes, then you are in the right place to find the best blenders for protein shakes.
Blenders are one of the best tools to make a protein shake, however, not all blenders are good for protein shake prepping. So to make it easy for you to pick the right blender, Just like we made a review of smoothie blenders and that baby food maker, we shall make a cool review of the best blenders for making protein shakes.
However, It's good to know that Protein shakes according to Healthline is a drink typically consumed before or after a workout to aid in muscle recovery. Protein shakes which is an important nutrient for weight loss are usually made with frozen fruit/ice, protein products such as protein powders, and a liquid.
Related Stories featured on Reviewmast 👇
Getting enough protein can boost metabolism, reduce appetite and help lose unnecessary body fat without losing muscle. But for you to make your task easy and free of odds while preparing protein shakes, the best blender for protein shakes is what you need hunt out for.
However, when searching for the right blender to buy for making protein shakes, it's not always easy to tell which of the blender models are a good deal to make choices from so as not to regret ever spending your money and end up not getting the value of what you paid for.
Due to that reason we came with some of the best blenders for protein shakes with a sizeable amount of good reputation and ratings from those that had already been using them. Below are our recommended top models of blenders to buy.
Read Also: Why are blenders noisy? and the Best quiet blenders
Top blenders for making protein shakes – My Pick's
Whether you are looking for a cheap, quiet, or portable blender for shakes, here we've got you covered up. Below is our list of blenders that we consider the best for making protein shakes which includes the quiet, professional, cheap & portable protein blender. 
Best Overall: Nutri Ninja Pro protein shakes Blender
Editor's Choice: Nutribullet NBR-1201 shakes blender
Best Countertop: VELOCITY Ultra 7.5 1 HP Cuisinart Blender
Best Rated (Consumer report): Magic bullet blender
Budget Pick: Hamilton Beach 51103 Blender
Most Quiet: Oster Protein-Shake Blender
Best portable: NutriBullet Pro 13-Piece High-Speed Blender
Best Single serve: OYeet Personal Blender
Best Travel: CHULUX Blender Maker
Having gone through our recommended top models of best blenders for protein shakes preparation, let us go further with a detailed review of blenders you can buy.
Best blender for protein shakes – Reviews
1. Nutri Ninja Pro – Best Overall Blender for protein shakes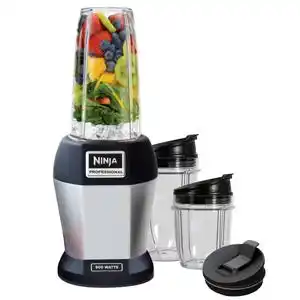 The Nutri Ninja BL456 Pro is one of the best blenders on the market for making personal-sized tasty protein shakes that are easy to take on the go. This incredible Nutri ninja pro mixer which is categorised as one of the most powerful blenders on the market is powered by a 900-watt motor, and It's so strong that you'd only expect to find it on a far more expensive blender lineup.
The Ninja blade is designed to crush evenly hard fruits and vegetables into something drinkable substance so that it will press through most standard protein shakes with no trouble. This blender model includes two portable cups that also serve as the blending container. With just a turnon on the travel lids, you're good to go using it. However, this machine is very loud when been used.
Pros: Affordable, Powerful motor, Two portable cups with lids, Great blade, quick start guide and 75 recipes cookbook, Made of break-resistant BPA-free plastic, Dishwasher-safe parts, One-year limited warranty.
Cons: Difficult to remove top after blending, Must hold down while blending, Very Noisy when on the use.
With Nutri Ninja pro, you are definitely on the safest side of Easily creating a simple protein drink with just protein powder and ice or a tasty concoction of drinks and veggies. I'd say this is just the overall best blender for protein shakes because it makes creating protein shakes fast, fun and easy.
2. NutriBullet NBR-1201 – Editor's Choice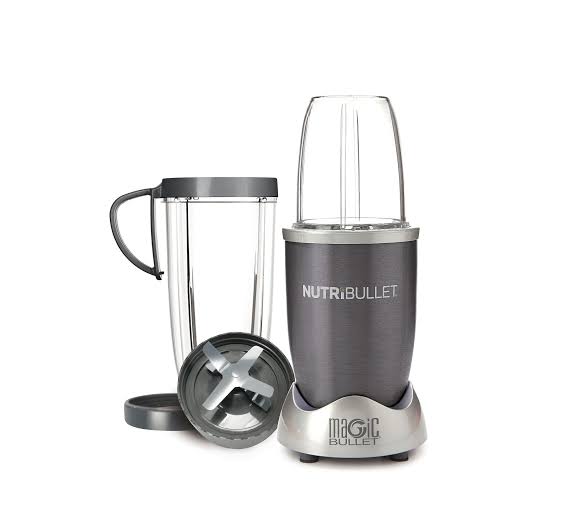 When thinking about the fastest and easiest blender to blend through just any kind of nutrient-rich product such as protein shake, then a shake blender should've been your blender choice. while some lenders are great for making protein shakes, there are some others extractors beyond that, and also the flexibility you need to blend just about anything you can think about blending.
The NutriBullet NBR-1201 extractor which falls under the latter category features a 600-watt motor and includes in it two different powerful stainless steel blades (extractor & milling blades) that can be used to create different textures and consistencies, no matter who-lasting you're blending.
With nutribullet High-Speed Blender, You also get two blending jars of different sizes (24 & 18oz) that double as cups, recipe book, BPA-free pone-speeds that are long-lasting and Durable, a cup ring with handle, and a 1-year warranty.
Pros: Good power, Multiple cups, Multiple blades for shredding, one-speed Grinding & Chopping toughest ingredients, cheap
Cons: Should only be run for one minute continuously, Only one-speed setting, under the blade is difficult to clean.
I will personally recommend this to you as my choice best blender for protein shakes if you're looking for a versatile blender for short-term use at a low price.
3. VELOCITY Ultra Cuisinart Countertop Blender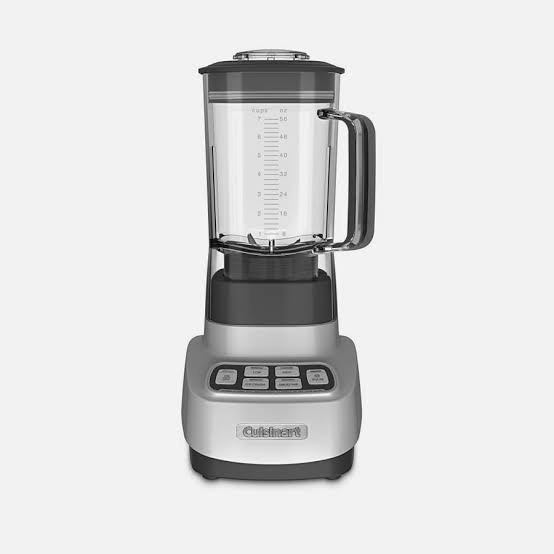 If you have ever thought about getting a High-performance countertop blender to make shakes, then the Velocity Ultra 7.5 blender will be the best for you. The Velocity ultra blender features 1 horsepower motor, 56-oz. BPA-Free Tritan plastic jar with comfort grip handle, and a Premium ultra-sharp stainless steel blade assembly for crushing and blending produce.
Also included in the blender is a 3 function button which are Low & High speeds Pulse function. This blender is designed with Pre-programmed functions to crush Smoothie, shakes and Ice Crush, it also as Electronic touchpad control with LED indicators, Tight-seal lid with 2-oz. measuring cap, Brushed silver base and a 3-Year Warranty
Pros: BPA free parts, sharp blades, 3 function button, 3-years warranty.
Cons: Not easy to clean
Velocity ultra blender is a good choice for those looking to makes shakes and every other nutrient-filled product. I'll recommend it as the best countertop blender for protein shakes, and smoothies.
4. Magic bullet blender – Consumer Reports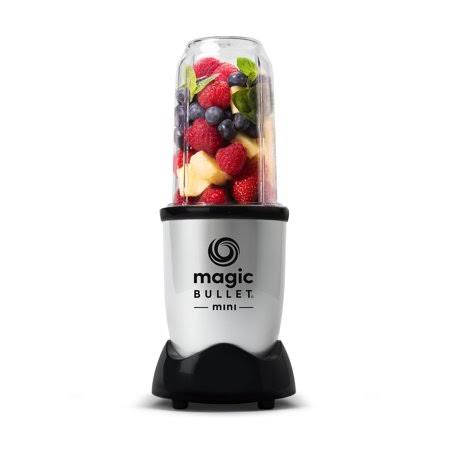 The Magic Bullet blender runs in a small size but is deemed a mighty mouse because of its effectiveness in power. With a simple design, the Magic Bullet blender & mixer is easy to use and with its compact size, it's convenient and easy to store. The Magic Bullet is powered by a 200 watts motor and a special design blade that is capable of blending shakes, making almond butter, and crushing fruits & ice, and making it a time-saving gadget.
It Comes with multiple cups of a max of 16 oz that is BPA free and completely dishwasher safe, which makes cleaning up simple There are no buttons or switches, which makes function simple, a recipe book to get you started and a 1-year warranty.
Pros: BPA free body parts, 1-year warranty, easy to clean, multiple cups.
Cons: somehow noisy, not suitable for making hot soup and hard products.
If you are aiming to buy a blender to do just virtually any food prep task in seconds, i will gladly recommend Magic bullet.
5. Hamilton Beach 51103 Blender – Budget pick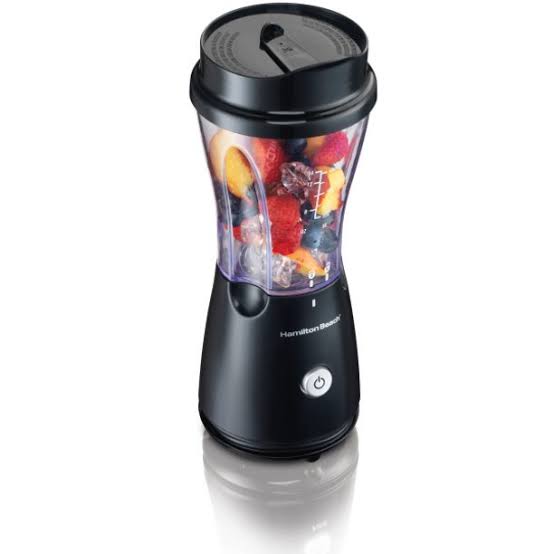 The next time you decide to make a nutritious breakfast, or blend shakes, and simply take the jar off the base and hit the road, but yet on a budget, then the Hamilton 51103 blender is the way forward. The Hamilton beach 51103 personal blenders are our choice when looking to buy a cheap blender for making protein shakes without breaking the bank.
This budget-friendly mixer is a time-saving blender and perfect for office, workout or gym. It features 200-watt motor capacity, Stainless steel blades, One-touch blending function button, Compact storage, 14-ounce blending jar that doubles as a to-go-cup, a Travel lid, and a Use and Care Guide.
Pros: inexpensive, Good for shakes, easy to take around, time-saving, simple to use.
Cons: not strong enough to blend hard substance & 1-cup.
If you plan to make shakes bud on a budget, then i will suggest the Hamilton blender as the best blender for protein shakes. Not only can you use it for shakes, but you can also use it to blend & grind through simple substances on the go
6. Oster Protein-Shake Blender – Most Quiet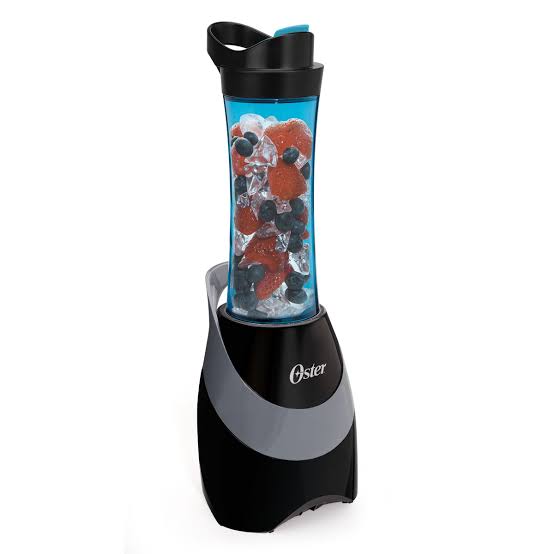 If you need a quiet blender to Blend your favourite smoothie or shake and small enough to keep on your counter every day. Then the next on our list of best blender for protein shakes making is the Oster blender. Oster is an excellent single-serve blender that's not just one of the best, but also the one of the quiet set of blenders
This blender model features a 250-Watt motor capacity and 4-blade, a Built resettable fuse that revives the motor in 15 mins to prevent overheating, a Dishwasher safe components which a 20 ounce BPA free plastic sport bottle, 3 Year Satisfaction Guarantee & a 1-Year Limited Warranty
Pros: Quiet, Easy to use, Stylish bottle, Push-to-blend & 1-year warranty.
Cons: No durable enough
Not only can you make use of this blender to make protein shakes, but you can also use it to blend fruits, vegetables, or other superfoods you wish to add to your shake.
7. NutriBullet Pro 13 High-Speed Blender
The nutribullet pro-high-speed blender is a compact size blending machine made to get the most out of every ingredient on everyday use, the supercharge nutrient extractor is powered by a 900watt motor capacity and a unique extraction blades to break down, pulverize, and emulsify whole fruits and vegetables, and also turn anything into smooth, sippable nutrition such as shakes.
Nutribullet pro 13 is easy to use and easy to clean blender, which can be used to pulverize, and emulsify. However, it's advisable not to use it for more than 60 seconds at a time to avoid heating. Included in the package are a 900-watt motor base, stainless steel blades and two high-impact BPA-free 32-ounce cups. It also has a 2 to-go lid, 2-lip ring, 2-lip ring with handle & health recipe book and a 1 year Limited.
Pros: Easy to use/clean, multiple cups, 1-year warranty, guide book
Cons: not durable enough
The NutriBullet Pro blender is available in various colours, i would recommend it as the best blender for protein shakes.
8.OYeet Personal Blender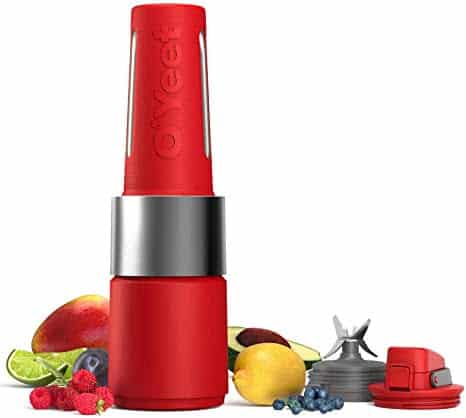 The Oyeet blender is one of the most powerful personal blenders for making nutrient and vitamin extraction. By Loading up your blender and then push and twist, you can start blending your favourite whole foods, like nuts, berries and spinach. Not just that, you can also blend shakes such as protein shakes.
This easy to use Oyeet blender features a 1000 watt motor capacity, that runs at 3000rpm to crush ice and frozen ingredients,18-Ounce cup, and a one-touch sports bottle with Safety Lock function. It also includes Tritan BPA free Dishwasher Friendly parts. This powerful blender crushes ice in 5secs and makes a variety of smoothies under 50 seconds.
Pros: versatile, easy to use, user manual, BPA free parts
Cons: not powerful
With Aicook Oyeet blender, you can easily pulverize ice and frozen fruits, and make thick smoothies, green smoothies, breakfast shakes, protein shakes and keto shakes
How to choose the best protein shakes Blenders – Buyer's Guide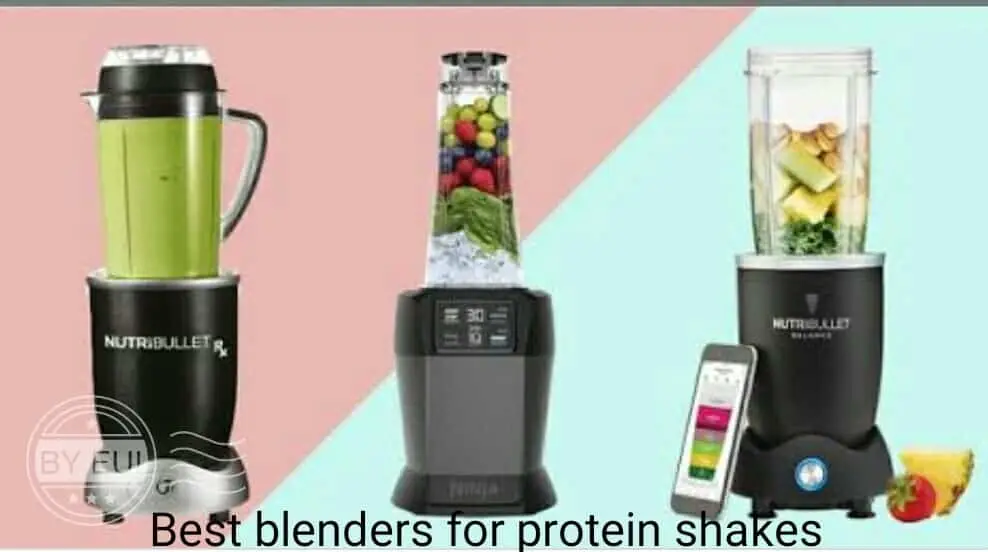 Having gone through our collection of the best blenders for protein shakes, we can tell that they all are good in their way. Even though no particular blender could be said to be the best choice for everyone, some things are expected to be considered whenever you plan to purchase the right blender model for your need.
Below are essential things to make up a great blender.
#1. Power: although a lot of power isn't needed when blending protein shakes unlike when crushing ice, it would be wise to choose the right model of blender that not only can it make shakes but also crush ice and makes smoothies, this way you will cut the cost of having to buy multiple blenders just for different purposes.
While a 300-watt power capacity is enough to blend protein shakes, going for a 500-wattage motor base is the recommended choice, in other to yield a positive result.
#2. Blade: another important feature of a good blender is the blade. Unlike the power which generally needed in every good blender model, the blades play a very vital role in the quality of the blender.
While some blenders come with multiple stainless steel blades that enable you to have the choices to control the texture and speed of the blend with a good degree of precision, blender with a single blade is mostly the expensive type but they tend to yield a better result. So blades are typically essential when determining the overall best blender.
#3. Container: Another thing to consider when buying a blender is the contain capacity. While some companies make the rounded-rectangles or squares shape container instead of the circular style.
We have discovered that the rounded-rectangle models tend to be better as it works to funnel ingredients back towards the blade, instead of having to send them endlessly around the edges of the container just like it sometimes happens in the perfectly-round type of containers. So going for the round-rectangle models is a better choice to make.
#4. Variable: Blenders with variable speed control functions give the users the option to start slowly and gradually build up the needed speed to reach their desired consistency. It also allows the user to puts far less stress on the motor, helping extend the life of a blender and also layer in multiple ingredients at different times with varying textures.
While some blenders offer manual speed control knobs, some tend to offer a digital touchpad with pre-programmed settings. This too is essential but not as important as the motor power and blades.
#5. Material: In general, investing your money and time in high-quality appliances that are built with top materials pays off in terms of durability, versatility, and longevity.
When choosing the best blender for your needs, you must opt for the right one. It's recommended that you go for BPA-free containers that are also dishwasher safe. The decision you can make is to balance quality, safety, and value.
Frequently Asked Questions & Answers
What is the best way to blend protein powder?

Protein powders are the simplest form of nutrition to incorporate into your daily routine. They are easy to take both before and after workouts and can be used as meal replacements. Blending protein powder allows you to achieve the perfect balance of carbs, fats, and protein, making it much more effective than drinking them separately. We recommend using a blender to mix a proper protein shake for maximum results.

Can you use a regular blender for protein shakes?

YES! But please don't use your food processor or your juicer. These items are meant for making smoothies only. Blenders are designed to provide extra power that allows them to pulverize ingredients into smaller particles. This makes blending much easier than if you were using a regular blender. There are many different types of blenders out there such as immersion blenders, countertop blenders, and stand-up blenders. All of these have their pros and cons. I recommend you get yourself an immersion blender because they're easy to clean and works well for making protein drinks.

Do blenders destroy proteins?

The answer is yes. All oils that are extracted from seeds contain protein, which is usually destroyed by heating at high temperatures. This can result in your oil being unusable if done improperly. A good blender should provide enough pressure to break down the cells of a seed without destroying the protein structure. That is why we recommend that you make a choice from our recommended blenders for protein shakes.

What is the best portable protein shake blender

The NutriBullet NBR-1201 has been around since 2005. This amazing little device has come out with many different models, but this model still remains the gold standard. Its small size makes it easy to take everywhere. I personally like having the smaller sizes when traveling, as sometimes its hard to pack everything into my suitcase that i need.
Conclusion: Which is the best blender for protein shakes?
So far, we were able to make a list of blenders that we considered to be the best for making protein shakes. However, we recommend that you go with Nutri Ninja pro because it stands out to be the best among the rest of our picks of protein shake blenders.
We trust that you find our reviews quite helpful. If you do, you may also want to take a look at our recommendations for the Best Baby food makers and also blenders for crushing ice and smoothies.