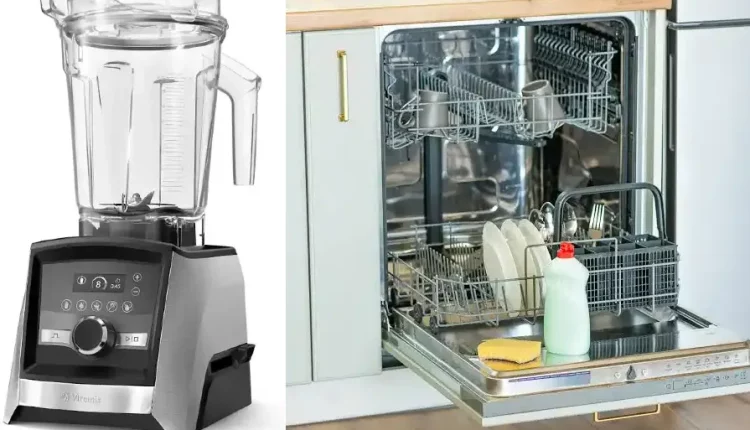 Are Vitamix Blenders dishwasher safe? The Noise damping guide
One of the latest trends in kitchen appliances is using blenders to make smoothies and other dishes. If you want to buy a Vitamix blender, should you consider buying one that is safe in the dishwasher? If yes, then are Vitamix blenders dishwasher safe?
When it comes to the satisfying blending of frozen desserts, smoothies, soups and lots more, you can always go for a Vitamix blender. Also, you are assured of getting the right product for your money.
While using these blenders you should always remember to clean them thoroughly after each time they are used. This includes washing out the blades and the container itself. The good news is that it is conveniently easy to clean. But, can it be cleaned in a dishwasher?
Related Stories featured on Reviewmast 👇
Many people also have this question in mind. Never worry, This article is here with answers to your questions and lots more. Read on to learn more!
Can I put the Vitamix blender in the dishwasher?
Well, the answer is straightforward, Not All. Also, for a long-lasting experience using your Vitamix blender, we do not recommend washing them with a dishwasher. Because not all body parts are dishwasher safe. There will be likely damage to the blender if washed in a dishwasher.
Read Also: Are Ninja blenders safe in the dishwasher?
Is a Vitamix blender dishwasher safe? How to clean it: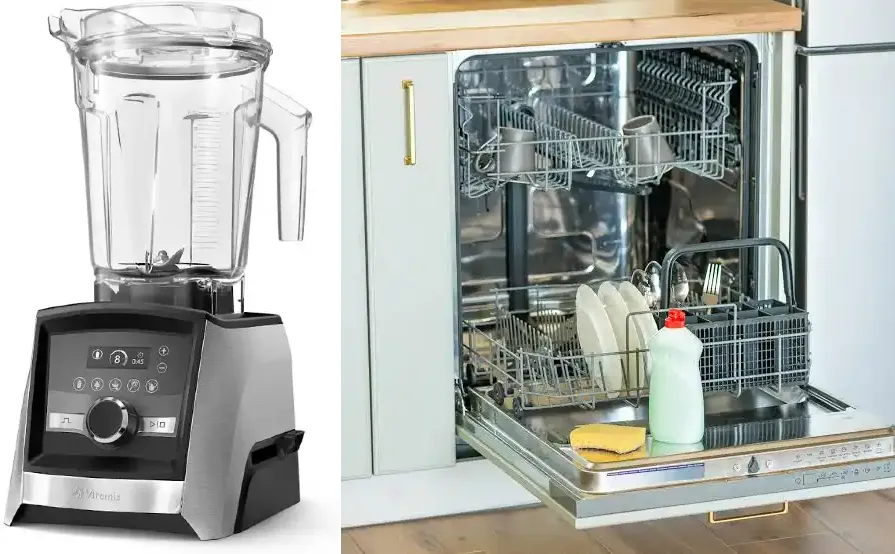 As much as you may want to enjoy using your Vitamix blender for a long time, you may as well want to know the do's and don'ts and the basic steps of cleaning it to ensure its longevity.
The Vitamix blender parts differ according to their series and models. But the general parts are container lids, motor base, the container also known as the cup, centring pad, splash guard, cover, steel blades, plug and more.
Except it is the new models of the Vitamix series, S30 and all the new venture models ( which are top-rack dishwasher safe). Vitamix blender parts are not dishwasher safe. Yes, including the container.
However, there are safer ways to clean the Vitamix blender container that can also be called cups.
How to clean the Vitamix container
Here are a few tips on how to wash a Vitamix container.
Add a drop of dish soap into the container. Fill it halfway with warm water.
Cover it with the lid and turn the dial to speed 1, increase the speed and let it run for some time.
Pour out the foamy content.
You can use an old toothbrush to especially scrub the inner parts and blades.
Rinse and towel dry.
What dishwasher safe blenders are there?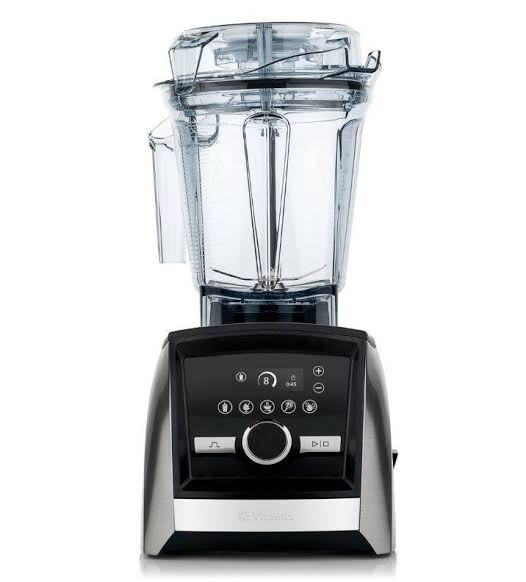 Wondering if there are any dishwasher safe blenders out there?
Of course, there are. But like most blenders, any part with electrical compartments like the motor base is not dishwasher safe.
In short, the motor base of every blender is not dishwasher safe. Exposure to water will certainly damage it. So, while the other parts of some blenders are safe, the motor base is not.
While we help you with lists of dishwasher safe blenders, keep in mind that the motor base is not dishwasher safe. You should wipe the motor base clean with neat damp clothes.
It is important to get the quality for your money when shopping for a dishwasher safe blender, peep the top 10 safe blenders according to TechRadar, a technology with a high rank in us.
Vitamin A3500.            Rated with 5 stars
Nutri Bullet Blender      Rated with 4 stars
KitchenAid Artisan.     Rated with 4.5 stars
Breville super Q.          Rated with 4.5 stars
Ninja Blender QB3001  Rated with 4 stars
Kitchen and K150.        Rated with 4.5 stars
Breville(fresh and furious) Rated with 4.5 stars.
Smeg blenders.            Rates with 3 stars
Nutribullet magic bullet( kitchen express) Rated with 3.5 stars
Read Also: 5 Best quiet blenders for you
How Do I clean my Vitamix blender?
Have you noticed a foggy or cloudy look in your blender cup or there is an unwanted stain or food residue? If you love your blender you may want it to appear like new for as long as possible.
Since the common Vitamix blender is not dishwasher safe, lots of people have been wondering about a better way to keep the blender clean and new. If you are in this shoe, then you are on the right page.
We will be helping you with tips on how to clean your Vitamix blender.
       How to clean a Vitamix blender.
Add some drops of vinegar into the cup and drops of dish soap
 Cover the cup with its lid and fix it tightly on the base.
Plug the base into a socket and turn the dial to speed 1, increase it gradually and let it run for 40-60 seconds.
Pour out the content and use a sponge or old toothbrush to scrub the blades and inner parts.
Rinse it thoroughly and dry.
Read Also: Best Vitamix blenders on the market.
Conclusion: Are Vitamix Blenders dishwasher safe? 
Except for some recent models of Vitamix blenders, the Vitamix blender is not dishwasher safe.
Because the heat emanating from the dishwasher can cause damage to the blender parts. It can also corrode and dull its blades. Generally, it can shorten its life term.
There are alternatives to cleaning the Vitamix blender. While you can make use of the self-cleaning feature, you can also apply the hand wash method. Feel free to take a look at the reasons why blenders make noise.